Should I Go With a Moving Company or Use Moving Containers?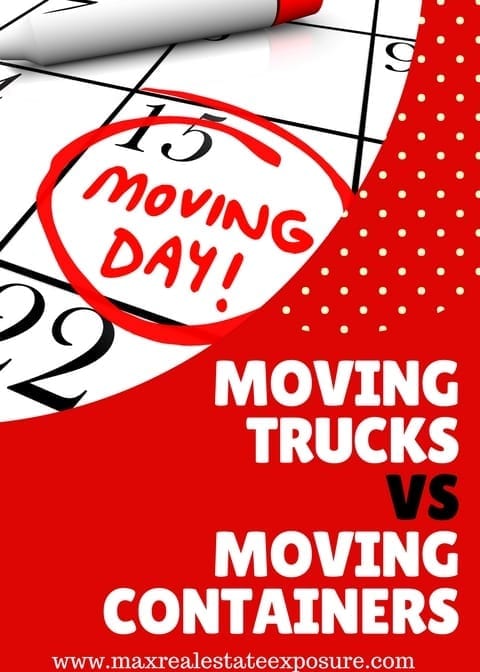 One of the questions homeowners often ponder is whether they should go with a moving company or use storage containers. There are pros and cons to many of your moving options.
When you start planning your move, you will discover that you have a wide range of options for getting your things from one place to another. You can use moving containers, a moving truck, have professional movers do it all or hire labor for loading and unloading.
If you are trying to save money, you will find that some options work better for you than others. Or maybe you are going for convenience? If so, you may be willing to pay more. Ultimately, the moving method you choose will be based on what is most important to you.
Deciding between hiring movers vs. having storage containers in your yard certainly has pros and cons. While there is a myriad of choices for picking movers, the most recognizable name in onsite moving is PODS. Whether you are a business or homeowner PODS is a reliable option for self-storage.
Before deciding to go with a moving container or a moving company, be sure you check out these solid moving tips. By being well prepared, you'll increase the odds of moving with a little less stress in your life.
Containers Or A Moving Truck – Which To Choose?
Let's take a closer look at the two main options, moving containers or moving service.
Pros of Moving Containers
1. Convenience
The container company brings you the container to fill up. Once you have filled it, the company will take it away and transport it to your preferred destination. All you have to take care of is the loading and unloading – either do it yourself or hire someone.
2. Storage
If you are going to need some time before you unload your possessions, moving container companies are usually able to keep your container for an extended period of time. Containers stack easily so that they can store it at a location without too much trouble on their end. Storage containers can come in handy when you are trying to get your timing options down for buying and selling the house.
3. Flexibility
Moving container companies are often happy to leave a container at your place for a month or more. You can take your time loading it or unloading it, something that some people value. A month is a long time, a lot longer than the single day you often have with a moving company to get all your stuff in the truck. You also can easily access your things right in your yard which can be very convenient.
Moving receptacle vs moving trucks - which is best for you?
Click To Tweet
Cons of Moving Containers
1. Cost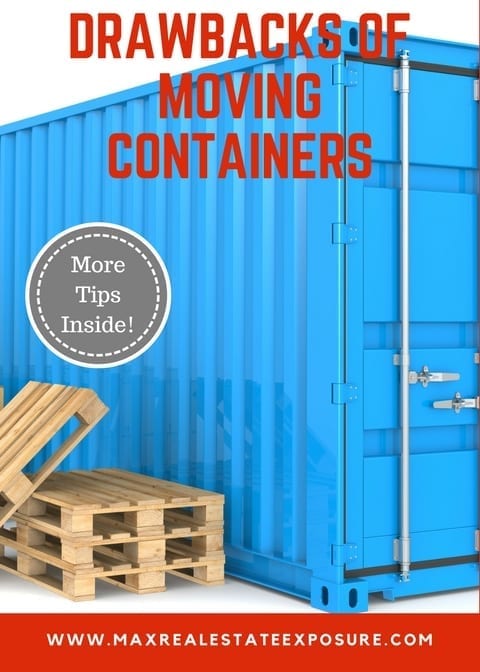 You would think that something as simple as moving containers would be relatively inexpensive, especially compared to hiring a moving truck. But in reality, moving containers are often the more expensive option.
You pay for convenience. It is a good idea to do your homework before you assume you will want containers, particularly if you are on a budget.
2. Accessibility
Your things will be in a metal container that you cannot get to until it is unloaded at your home. You cannot expect to have access to any of your things in the container, even if you are going to be many months between leaving the first home and arriving at the second home.
In contrast, with a moving truck, you can put all your things in a storage facility where you can get to them if you need them.
Be sure to check out some great tips for choosing a storage unit if you decide to go that route.
Moving Container Companies
The following are some of the more well-known self-storage moving container companies:
Pros of Moving Trucks
1. Options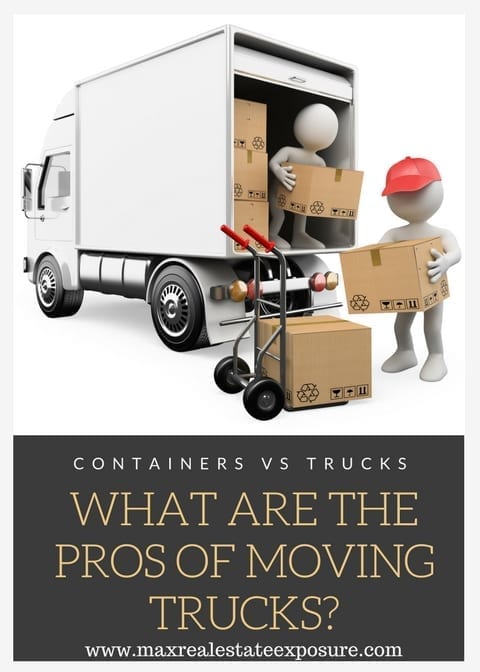 Moving containers come in a few size variations, but there are usually many more truck sizes available to you than there are containers. You also have the option of doing everything yourself, from packing up all your things to putting them on the truck and driving them to your destination.
The other possibility is to hire labor to load and unload while you drive the truck and its contents to your new home. You have options, and some people like having options.
2. Control
Because you can do everything yourself, you have a lot more control over your things than you do with a moving container company.
Depending on how you feel about leaving your possessions in the hands of strangers, it can be comforting to know that you always know where your stuff is and you can get to any of it if you really need to.
3. Cost
Your ability to do much of the work yourself means you can often save money by using a moving truck. Even if you choose to have a moving company take care of the work for you, there is still a possibility that using a moving truck will be cheaper than moving containers.
4. Accessibility
Depending on the arrangement you make with the moving company, it is possible to have access to your things through pretty much every stage of the moving process.
If you plan on waiting a while before you move your stuff into a new home, you can unload the truck at a storage facility of your choosing. Storing your things can add some cost, so make sure you get quotes for expenses including storage if you think you will need it.
Cons of Moving Trucks
1. Convenience
Moving is hard work. The more you do yourself, the more time and energy you will need to devote to the move. If you are a busy person, transferring to a challenging job, etc., doing all the heavy lifting may not be something you want to commit to. Even if you hire a moving company, your stuff will need to be unloaded within a day or two, whereas a moving container gives you much more time.
2. Hidden costs
There are a lot of potential hidden costs in using a truck that you need to be aware of and account for. Gas, lodging, food, time – all of these are costs that can add up to significant expense, whether you are doing the moving or hiring someone else to do it. Just because the moving container seems more expensive does not mean that it is once you add everything up.
Moving Companies
Some of the top moving companies in the industry include:
Mayflower Transit
United Van Lines
North American Moving Services
Graebel
Atlas Van Lines
Bekins
Wheaton World Wide Moving
Here is an excellent resource that provides information on some of the best moving companies. Of course, it is never a bad idea to check out local movers as well. The moving companies mentioned above are large national firms. It is entirely possible you may get a much lower price for moving by going local.
Make sure you take the time to call a few local moving companies as well for quotes, especially if you are not moving out of state.
More Moving Resources Worth Viewing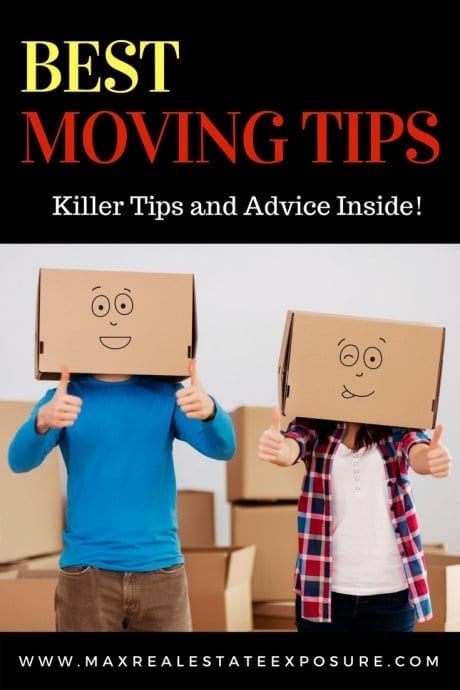 When it comes to moving there is a lot to do. It is very easy for things to go by the wayside when life gets in the way.
Take a look at the resources below that can be found here at Maximum Real Estate Exposure which offers an abundance of helpful information. There are many moving topics to keep you on track.
Moving can be a stressful and challenging part of any home sale. These resources provide some useful tips for making the process easier.
Additional Helpful Moving & Home Selling Articles Worth Reading
Use these additional home selling references to make wise decisions. Always be well prepared before making a move into your next home!
---
About the author: The above Real Estate information on moving containers VS moving trucks was provided by Bill Gassett, a Nationally recognized leader in his field. Bill can be reached via email at [email protected] or by phone at 508-625-0191. Bill has helped people move in and out of many Metrowest towns for the last 31+ Years.
Are you thinking of selling your home? I have a passion for Real Estate and love to share my marketing expertise!
I service Real Estate sales in the following Metrowest MA towns: Ashland, Bellingham, Douglas, Framingham, Franklin, Grafton, Holliston, Hopkinton, Hopedale, Medway, Mendon, Milford, Millbury, Millville, Northborough, Northbridge, Shrewsbury, Southborough, Sutton, Wayland, Westborough, Whitinsville, Worcester, Upton and Uxbridge MA.