Picking a Storage Unit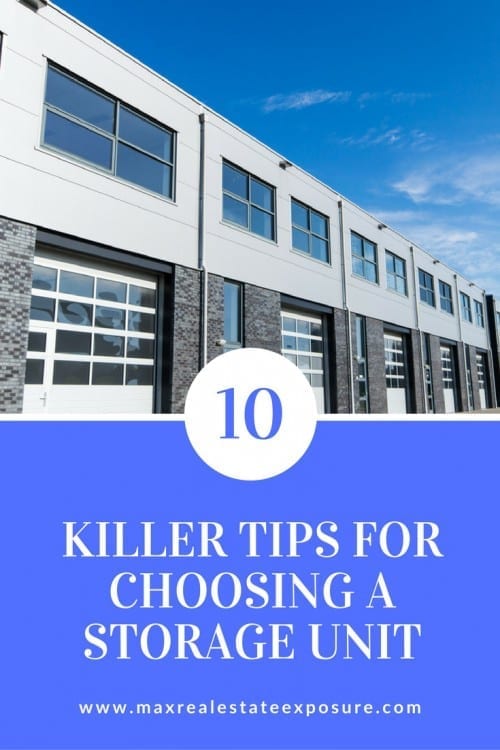 You have just sold your home but will not be moving into your new place for a while. The need for some storage facility to house your belongings has become painfully clear. So how do you go about choosing a storage facility that will match your needs without breaking the bank?
The answer will become apparent with the best tips for choosing a storage facility!
With well over 10 million Americans using self-storage solutions today – according to the Self Storage Association – the demand for storage space is substantial. Fortunately, storage providers are going to great lengths to meet this demand.
This means that it is still possible to find good deals on a storage unit. However, there are a few things worth keeping in mind as you start your search. Before you move all your stuff in you, want to make sure all the necessary criteria are met.
Most real estate agents understand that making a "double move" is one of the least desirable aspects of selling a home. Rarely does anyone decide they would like to sell their home and put all their belongings into a storage facility! Moving from the home, you sell to the next place immediately is typically the preferred choice.
Sometimes having a layover in between the permanent move can't be avoided, so we have provided some of our best advice for picking a temporary storage facility.
How to Choose a Storage Facility
1. Get specific about what you are storing – Storage units can be found in a range of sizes and designs. With so many storage options you can usually find exactly the kind of unit you need – but only if you are clear on what those needs are. Make a list of all the things you plan on storing in your unit. These may include:
Boxes
Paperwork
Heirlooms or antiques
Furniture
Automobiles
Appliances
Once you get specific about what you are storing, you will be better able to choose your unit. Relevant paperwork may need a climate controlled unit, while an automobile might need a facility with strong security.
2. Decide if you require a climate controlled unit – Climate controlled storage spaces keep the temperature within certain parameters, and they control for humidity. Depending on where you are storing your things this may or may not be important.
In dry climates, your antique family furniture could crack and split. In humid environments, it could mold and mildew. Climate control will help prevent this from happening.
Keep in mind that climate control will cost more, so you should only select this kind of unit if you need it.
3. Choose your size – Larger storage units naturally cost more per month. This is why it is good to get an idea of just how much space you will need so you can avoid paying for extra, unused space. However, you may also be planning to store more things over time, in which case it might be worthwhile to pay for the larger unit.
Another size factor to consider is the actual design of the particular unit. Some units are relatively narrow but have a lot of vertical space. Others have lower ceilings but are wider. For some items, it may not matter, but there are definitely situations where you may prefer one layout over another.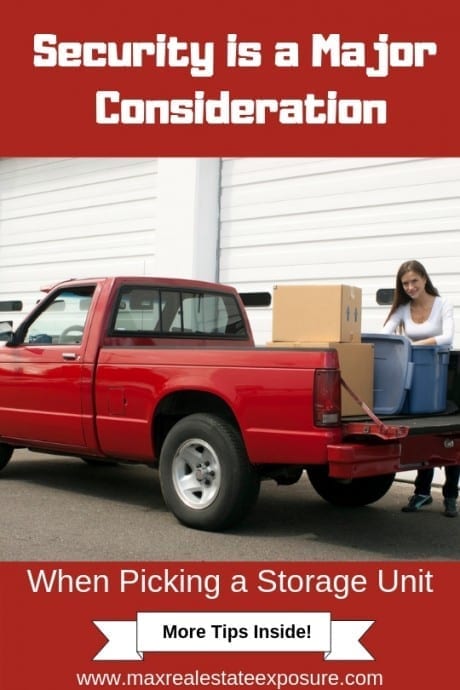 4. Consider location – The rules of real estate apply to storage facilities like every other business. A facility located in the heart of the city will probably cost more than one outside of town, where space is at less of a premium. It is possible to save some money by choosing a facility further outside the city – as long as you will not need regular, quick access to your things.
One of the better tips for selecting a storage facility is figuring out just how many times you think visiting the facility will be necessary.
5. Remember that cost can vary widely – The price for a storage facility can vary quite a bit, even in the same area and with similar features. Many storage facilities are independently owned, meaning business owners can set their own prices.
This is why it is always good to shop around once you have a good idea of what you want because you may be able to find a better deal just by making a few phone calls.
Just make sure of the exact features you are paying for – things like climate control, security and ease-of-access may mean different things to different companies.
6. Verify security – No one wants their items stolen. This is why most storage facilities offer some sort of safety measures to protect their units.
However, not all facilities are as security-focused as others. Security measures could include security fencing, limited access, individual security locks, video surveillance, and even security guards.
How secure you want the facility will depend on what you are keeping there, but it is definitely worthwhile to verify a company's security measures before you sign on with them.
7. Insurance – Call your homeowner's insurance provider and check if your things are insured when stored in a storage facility. You may find that you need to choose a unit with certain security features or climate control to qualify for insurance coverage.
You may also discover that your insurance company is not willing to cover your items while in storage. If this is the case, it should still be possible to purchase insurance from the storage facility you are renting space from.
8. Shop for deals – Storage facilities will often run promotions to attract new customers. Even if the particular vendor you are interested in is not advertising a deal, it is still worthwhile to ask about any promotions they are running.
You can also mention the fact that you are considering going with another company – also mentioning the promotion the competition is running – and see if your preferred facility will try to match or beat this deal. There are no guarantees, but it certainly doesn't hurt to ask.
9. Choose carefully – While you may want nothing more than to find a space to drop off your stuff, it is definitely worth it to take some time and choose the best storage facility for your needs. The fact is, moving is rarely enjoyable – even moving the stuff in and out of your storage unit. Once you have signed on and deposited all of your things, you will be far less motivated to make a switch.
One of the helpful ways to check on the storage facility you are thinking of choosing is to Google their name. The purpose will be to check and see if you can find any reviews that may not live up to what you would expect.
Another site that sometimes can be helpful for checking up on a particular business is Yelp. Both of these sites can and should be used as references. It is also never a bad idea to consult with friends or relatives who may have recently moved and used storage containers as well.
10. Check storage payment policy – While it may sound crazy, some storage facilities can have unusual payment plans if you do not pay on time. On occasion, these agreements can be extremely harsh if you do not make a payment on time.
In some instances, the contracts are written such that the storage company can auction off your possessions. Obviously, this is something you would never want to happen! Make sure you review the contract you sign with a fine tooth comb.
How to Organize a Storage Unit
When you have finally chosen your storage unit, you don't want to go about storage your possessions willy-nilly. You should have a plan in place to organize your storage unit correctly. Accessibility is a key consideration when you are packing the storage container.
Here are some quick pointers on how to arrange what you own in your unit.
Before putting in, your possessions make sure the unit is completely clean.
If needed put down some sheets for protection.
Make sure your largest possessions are loaded in first.
If you have boxes that are to be stacked the heaviest should go on the bottom to avoid damage.
Make sure you leave a way to get to the back of your container is you need to access what is placed there.
Things that you feel might frequently be located should be put at the entrance to the storage unit.
When stacking boxes make sure, anything you have labeled is facing the door, so you know what's inside.
What Are My Storage Facility Alternatives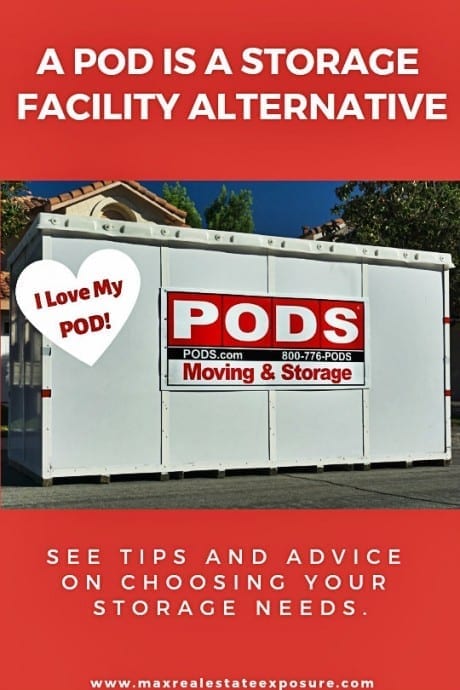 Sometimes choosing a storage facility is not necessary due to the amount of space needed or a strong desire for your possession to remain in very proximity to where you are currently living.
In some cases, it may be more prudent to use an onsite storage vehicle such as PODS.
The beauty of using a POD is that it can be placed right in your yard! Accessing your possessions with a POD is of course very simple. These self-storage arrangements come in some sizes and pricing. You can visit the PODS website for all the details in your local area.
The whole process of selling a home and then moving can be daunting at times. There is a whole lot of things going on in your life, and it is fairly easy to make mistakes that you will regret later.
To minimize the chances of this happening, I have put together an excellent reference on things to remember after selling a home. With this handy-dandy list, you will be well prepared to make your whole experience of moving go a lot smoother.
Additional Resources For Selecting a Storage Facility
Use these 11 tips and additional resources to make sure you choose the best storage facility for your needs!
---
About the author: The above Real Estate information on tips on choosing a storage facility was provided by Bill Gassett; a Nationally recognized leader in his field. Bill can be reached via email at [email protected] or by phone at 508-625-0191. Bill has helped people move in and out of many Metrowest towns for the last 32+ Years.
Are you thinking of selling your home? I have a passion for Real Estate and love to share my marketing expertise!
I service Real Estate sales in the following Metrowest MA towns: Ashland, Bellingham, Douglas, Framingham, Franklin, Grafton, Holliston, Hopkinton, Hopedale, Medway, Mendon, Milford, Millbury, Millville, Natick, Northborough, Northbridge, Shrewsbury, Southborough, Sutton, Wayland, Westborough, Whitinsville, Worcester, Upton and Uxbridge MA.