Best Moving Companies for Long-Distance Moves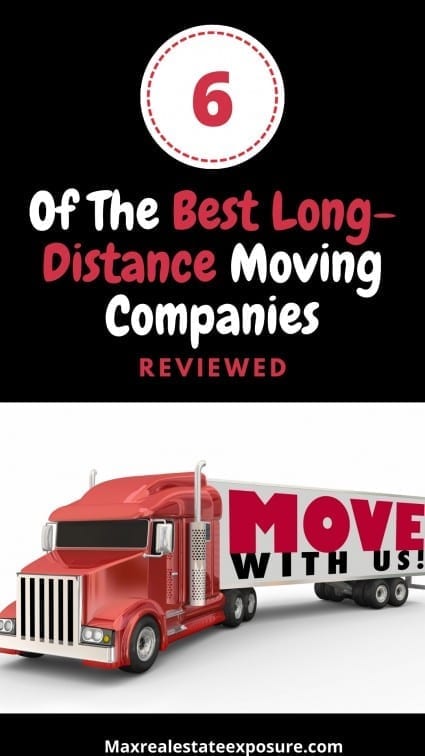 Do you need to find one of the best moving companies? Are you going to be relocating across the country? Maybe you have just found out you'll be transferred due to your job?
Making a long-distance move or even just to a neighboring state can involve more complications and expense than a local move where you rent your own moving truck. There will be more stress and more to think about to avoid problems. Despite this, a lot of people choose to try and do everything themselves.
This is understandable, as the costs involved in hiring moving companies can be significant. However, the task of moving over a longer distance is going to be more difficult than people might imagine. It can be a daunting task to face after dealing with the selling process, and this is why using the best movers is a better option for many people.
We highlight some of the best moving companies for a long-distance move and what you need to think about to make the process as stress-free as it can be.
You should be able to put your trust in your moving company. You don't want to lose your precious possessions and valuables. They should be reputable and provide an excellent moving experience. The movers we've selected have good customer feedback, industry awards and have been in business for a long time.
Researching a mover is one of the smartest things you can do when buying or selling a home. Getting stuck with the wrong moving company can really make your life miserable!
Let's go over some of the best moving companies. All of these companies will be able to handle a long-distance move.
Moving Company Near Me
Lots of folks will do Google searches to find a mover. Search terms such as moving company near me, moving companies near me, movers near me, or movers nearby are what will be used to locate a great moving company.
When doing this, you're more than likely going to see a mix of smaller moving companies along with some of the top moving companies featured here. You can save some time by looking over these reviews. We have compiled the moving companies that are worth your time speaking with. You can expect great customer service with all of them. These companies all specialize in interstate moves.
Bekins Van Lines
Headquartered in Indianapolis, the Bekins Van Lines company has been operating since 1891 and covers 95 percent of the United States. They have won quality awards from the Logistics Management Magazine and have a customer rating of 4.8 out of 5.
Bekins offers long-distance moves across the country as well as internationally. They let you quickly assess the approximate cost of moving with them through their online calculator. Discounts on moving supplies are available through the company as well. Bekins Van Lines has over three hundred locations and employs over fifty-three hundred people.
Bekins is a great cross-country moving company.
Allied Van Lines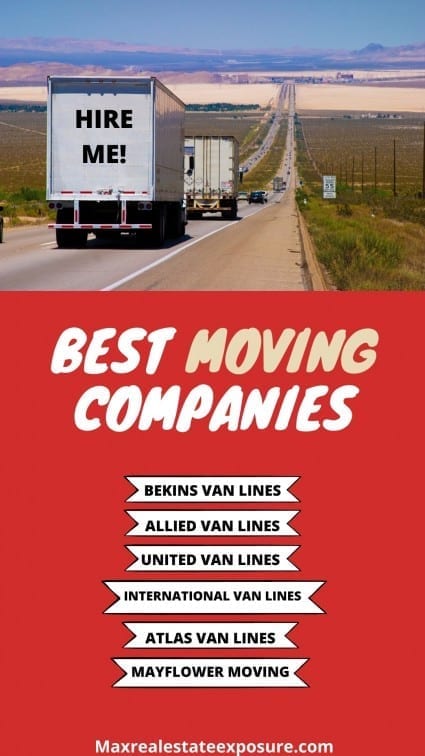 Allied Van Lines has more than 88 years of moving experience and an award from Newsweek as one of America's best customer service businesses of 2020. You should be in good hands with these movers.
The company provides a flexible approach to your move, with the stretch wrapping for your fragile items and a personal moving plan created by your relocation consultant. You can check the progress of your items during the move through their online tracking service.
Allied Van Lines is ranked as one of the best moving companies. They boast over 750,000 moves in the United States over the last fifteen years.
United Van Lines
Tracing its history back to 1928, United Van Lines has helped over 1.2 million Americans move in the last 10 years alone. The business has recently become a cooperative, owned by its agents, and has received quality awards for its service.
A full-service long-distance move is offered, with extra assistance in cleaning your old home and packing your home electronics.
United Van Lines has a reputation for being one of the best moving companies for sure. You can use their location service to see if there is a United Van Lines location in your area. United Van lines is another excellent interstate moving company.
International Van Lines
A relative newcomer to the moving business, with only 20 years of service, International Van Lines has all the same been rated number 1 in industry publications. They have been rated the #1 moving company by Consumer Advocate for three years in a row.
International Van Lines offers a free month of storage for each customer and easy access to customer support. They aim to provide the best moving experience ever. A claim which seems to be supported by excellent feedback from most customers. They provide both International and domestic moving services.
Atlas Van Lines
Atlas Van Lines was formed in 1948 by a group of entrepreneurs in the moving business. They have a Better Business Bureau A+ accreditation and have good customer reviews.
Atlas Van Lines gives you access to their network of 430 agents to help in meeting your individual moving needs. Offering vehicle transportation, storage services, and packing for your possessions. Atlas is a well-known long-distance moving company with a solid reputation in the industry.
Mayflower Moving
Mayflower moving taglines itself as the most trusted national moving company. The company has more than ninety years of leading the long-distance moving industry. Mayflower is federally licensed and promises to provide you with across-country or interstate moves.
Mayflower provides services to more than one hundred fifty countries around the world. They will help you plan and manage all aspects of an international move. Mayflower handles everything from packing to customs clearance management. When looking for an outstanding long-distance moving company, you can expect great things from Mayflower.
The Best of The Rest
While Bekins, Allied, United, International, Mayflower, and Atlas are all considered excellent moving companies, you may find there are local moving companies that are just as good. It makes sense to check around to see if there is a moving company nearby that might be an excellent fit.
You may want to ask your real estate agent for references for top-shelf moving companies in the area. A real estate agent will usually have a pulse on what movers have outstanding reputations. It is worth asking.
What to Look For in a Moving Company
Has excellent reviews online – when picking a moving company, you obviously want to hear good things about them.
Recommendations from family and friends – online reviews are great, but there is nothing better than excellent advice from someone you trust.
A great reputation – you should be able to count on all the best moving companies you've read about here.
Being licensed and insured – like any other industry, you want to make sure your moving company has the necessary qualifications. Anyone can slap a company name together and call themselves movers.
Accurate pricing – the last thing you want with a mover is bait and switch or a company that does not give you the whole picture.
Offers all of the services you need – you'll want to make sure the mover you select can do the complete job for you.
Watch out for scammers – The American Moving & Storage Association started a consumer protection program called ProMover on January 1, 2009. The ProMover program eliminates the worry and problems of moving by assisting consumers in locating professional movers. Here is a list of certified Promovers put together by The American Moving and Storage Association. You can check movers in every state with this resource. All of these movers have been vetted for the highest quality standards.
Video Review Best Long Distance Movers
Take a look at the excellent video review of the considerations when hiring a long-distance mover via Moving Authority.
Tips to Improve Your Move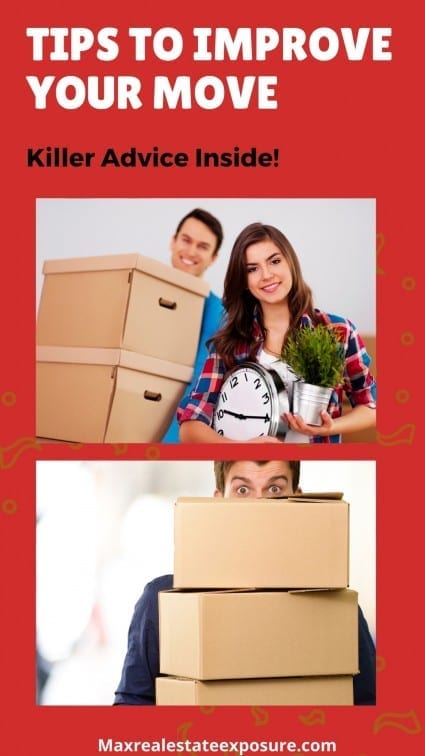 Even when you have selected from the best movers, you can do things to make sure your moving experience is successful. We'll take a look at some of the factors which could affect how well your move goes.
Get Solid Estimates
Moving home is expensive, so you should take the trouble of getting a few different quotes. This isn't something which should cost you anything, only save you money. Make sure you have a full understanding of the services they include so that you can make a fair comparison.
While most moving companies have an online estimate tool, this won't be accurate, and only a visit from a representative will give you the full picture. They will estimate your possessions' weight, factoring in the distance of the move and any extra services you require.
When you get the written estimate, just picking the cheapest might not be the best choice and could be a way to get your business with more charges to follow.
There are three different types of estimates that you might encounter. You will find non-binding estimates which could mean significant extra charges depending on the weight of your stuff. There is the guaranteed price estimate which could attract extra costs for anything not included in the estimate. And there is the guaranteed not to exceed the estimate, which could end up costing you less.
Planning For Your Move
You need to prepare for your move at least 6 weeks before it is going to happen. Contact movers for estimates early so that you can book them for the date you need.
Most of the movers we've highlighted should provide some point of contact to help coordinate your move. If they have a staff member coordinating with you directly and overseeing your move, things are likely to go very smoothly. They will be able to address any concerns you have, keep you informed of progress, and set up extra services if you need them, among other tasks.
Make sure you start getting your moving boxes so you'll be prepared to start packing.
Extra Moving Help
The basic service from most movers might not cover all the things you need. Consider the other services they offer and get an estimate of the price from their representative. All of the top moving companies will provide ancillary moving services based on your needs. Make sure you ask upfront, so you have an idea of what they charge.
Packing and Unpacking
While the movers will carry the boxes and furniture out of your old home and into your new one, packing is normally an extra cost. You can take the stress out of packing your things securely by letting the experts do it. They can unpack your things as well if you need them, with the cost likely to be more than $25 per hour per person.
Vehicle Moves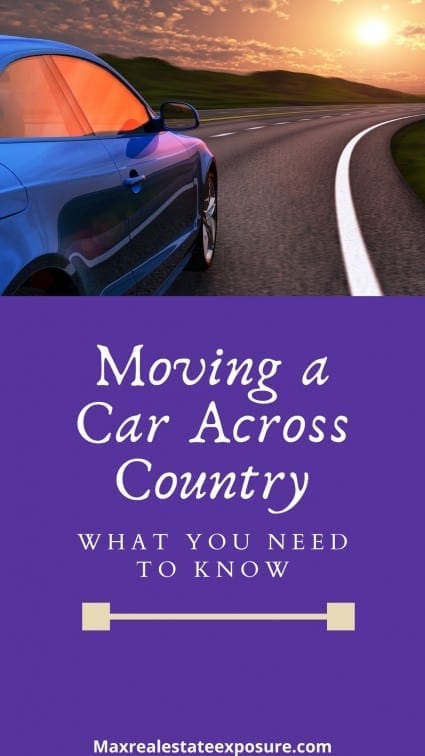 Expect a charge of at least $500 to move extra vehicles to your new home. Moving a car or truck pricing is bases on a couple of factors including how far a move, the size of the vehicle, the weight, how it is transported, the time of year, and where it is picked up.
You can expect to pay between $500-$2000 for a long-distance move of a four-door sedan and $550-$2300 for an SUV or pickup truck.
How the vehicle arrives at its destination will also play a significant role in the pricing. There are two options, including door-to-door shipping and terminal shipping. Door-to-door will be the most convenient, but you will pay more to have your vehicle picked up and dropped at your house.
Terminal shipping can save some significant money, however, you will deal with the inconvenience of having to pick it up somewhere else.
Here are a few things to think about when moving your car across the country:
Figure out the destination you want to ship to and from.
Get your pick-up and delivery dates squared away early.
Do your research on finding the best car delivery company if it is not the same as the mover you've selected.
Get a quote and book your delivery order.
Have the car picked up.
Insurance For Moving
The movers need to have basic insurance for your items, but is it enough? If you have many expensive things, consider extra insurance to make sure you are properly covered. Let's face it, when you least expect it, the worst of all possible scenarios happens. Insurance is there for you when you find out you've got a significant problem.
Moving insurance works similarly to car insurance. You can be as careful a driver a possible, and it is still possible to get into an accident. The same holds true when it comes to moving.
Moving insurance will provide protection for your things that get damaged during a move. What your insurance covers will depend on your policy, but it can range anywhere from fires or floods to a mover accidentally dropping your China cabinet.
Moving companies are not allowed to sell insurance, but they are required to provide valuation options under federal law. You can acquire insurance from third-party providers who will write your policy. Take a look at this excellent resource on what you need to know about moving insurance. It will fill you in on all of the considerations to think about when hiring a mover.
Think About Storage
Do you need storage? Some companies offer free storage units when you use them, but this will only be for a limited time. You can use our guide on what you need to know about storage units along with the expected cost.
A long-distance move can bring unexpected problems with it. If you use the most reputable and best movers you should experience less stress, beginning your time in the new home and state the right way.
Consider Tipping Your Mover
If your mover does an excellent job, you should provide them with a gratuity. Like any other service industry, movers love to get an appropriate tip. You can use the guide for tipping a mover to get an idea of an appropriate amount. Keep in mind there are no hard and fast rules about exactly how much tip you should provide.
FAQs For Moving Companies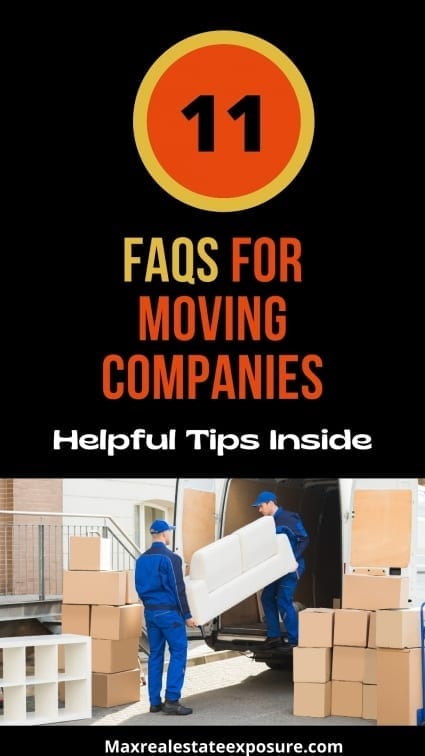 Given how important moving is, it makes sense to ask many questions before moving a commitment with a moving company. Here are some of the popular questions to ask.
1. If I am not doing a long-distance move is looking for moving companies near me online a good way to search?
Yes, as long as you do your homework once you have a few moving companies in hand.
2. How much does a moving company charge per hour?
When hiring a moving company, you can expect to pay between $60-$80 per hour. Rates can vary depending on where you are located.
Keep in mind that when paying a mover, it is not just the time moving you from point A to point B but the time spent helping you pack and loading them onto the truck.
3. What is the cheapest day of the week to move?
Any day during the week will be cheaper to move than during the weekend. Moving on the weekends is much more popular than during the week.
Due to supply and demand, moving companies can charge more for weekend moves. Many moving companies will recommend any other days but Friday, Saturday, and Sunday.
4. What is the average a moving company charges for a 3 bedroom home?
The cost a moving company will charge for a 3 bedroom home will vary tremendously based on the distance traveled, the home's size, and when the move is made.
You can expect to pay on average somewhere between $2,500 to $10,500.
5. How long does it take for a moving company to move you?
On average, you can expect a small apartment to take two hours. A tiny home can take roughly three hours. A 3 bedroom home takes around four to five hours. A 4 bedroom home can take six hours or more depending on the size.
6. How much will it cost to hire someone to pack your house for you?
The cost to pack a home depends on how much needs to be packed. Rough estimates for packing costs range between a few hundred dollars to a few thousand. The cost generally includes packing and moving furniture.
7. Is it worth it to hire a professional moving company?
Whether it makes sense to hire a moving company is really a personal decision. Professional moving companies do charge quite a bit of money, but it is back-breaking work. You can save a lot of money making a DYI move.
8. Can you hire a moving company just to pack and load a truck?
Yes. Most moving companies will be open to just offering some services.
9. Do you pay a mover before or after your move?
Professional long-distance moving companies do not charge you before your move is completed. You should not expect to pay a large deposit to the most reputable moving companies like those mentioned here.
Be leary of moving companies that want an upfront payment. You will lose complete control of the process when doing so. Shady moving companies make a practice of scamming people this way.
10. Will movers move things not in boxes other than furniture?
Yes. You can expect a moving company to move items that are not in boxes.
11. What is a full-service move?
A full-service move is exactly what professional movers do for you. You can expect them to do everything from start to finish, including packing, loading, unloading, and driving from point A to point B.
Other Valuable Moving Resources
Use these previously published articles to get even more helpful moving advice.
Final Thoughts on Picking a Top Long-Distance Mover
When buying or selling a home the moving is usually the part that most people dread the most. Without a doubt, it is a lot of hard work. Choosing a mover will be one of your most vital tasks. Make sure you take the time and do your homework. Moving companies for long-distance will be worth your time researching.
Hopefully, this guide on selecting the best moving company has been useful.
---
About the author: The above Real Estate information about the best long-distance moving companies was provided by Bill Gassett, a Nationally recognized leader in his field. Bill can be reached via email at [email protected] or by phone at 508-625-0191. Bill has helped people move in and out of many Metrowest towns for the last 34+ years.
Are you thinking of selling your home? I have a passion for Real Estate and love to share my marketing expertise!
I service Real Estate Sales in the following Metrowest MA towns: Ashland, Bellingham, Douglas, Framingham, Franklin, Grafton, Holliston, Hopkinton, Hopedale, Medway, Mendon, Milford, Millbury, Millville, Natick, Northborough, Northbridge, Shrewsbury, Southborough, Sutton, Wayland, Westborough, Whitinsville, Worcester, Upton, and Uxbridge MA.
Summary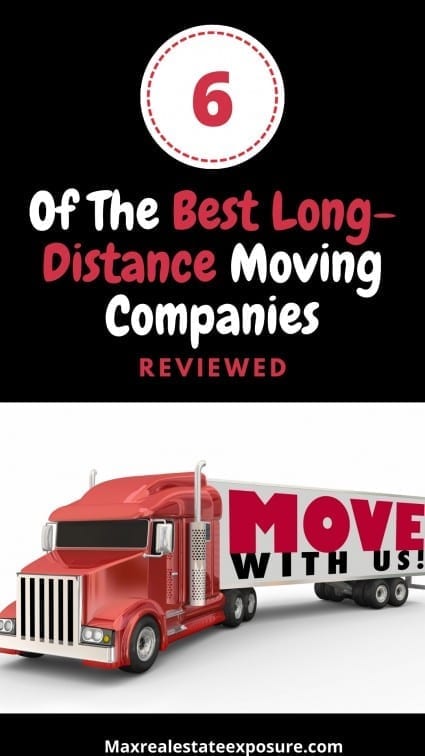 Article Name
The Best Long-Distance Moving Companies
Description
See a review of the best long-distance moving companies as well as valuable advice on how to make your move go as smooth as possible.
Author
Publisher Name
Maximum Real Estate Exposure
Publisher Logo