Getting the Timing Right – Your Options for Buying and Selling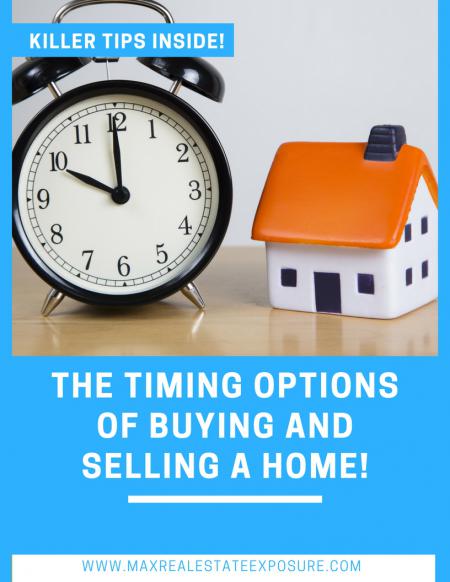 The timing of selling a home and buying another one is delicate and requires solid planning before you act. You want to make the sales and buying process, and the transfer between the two, as painless as possible.
But unless you are a financially secure enough to carry two mortgages at the same time, feeling uncomfortable is probably inevitable. You are going to be in a stressful position for a period of time.
Fortunately, you are not the first to make the change. Plenty of other people have successfully sold a home and bought another one, and you can do the same!
Lots of people ask their real estate agent every day how to time buying and selling a house.
What you need to do is formulate a plan from the get go so buying and selling in the same time frame is not so stressful. Unfortunately, there are many who think they know how to pull off buying and selling simultaneously but really don't.
Below you'll see a review of the timing options of buying and selling a home. Use the information to your advantage and you"ll be the best position to accomplish your goals.
1. Selling your home before buying.
Selling a home before buying the next home is the most common scenario and for good reason. For most home owners, selling before buying is a necessity.
Carrying two mortgages at the same time requires real financial stability and is not possible for most home owners.
Unless you are financially secure enough to qualify for a second mortgage on your new home, while also keeping your current mortgage, you will need to sell before you buy.
2. Buying your home before selling.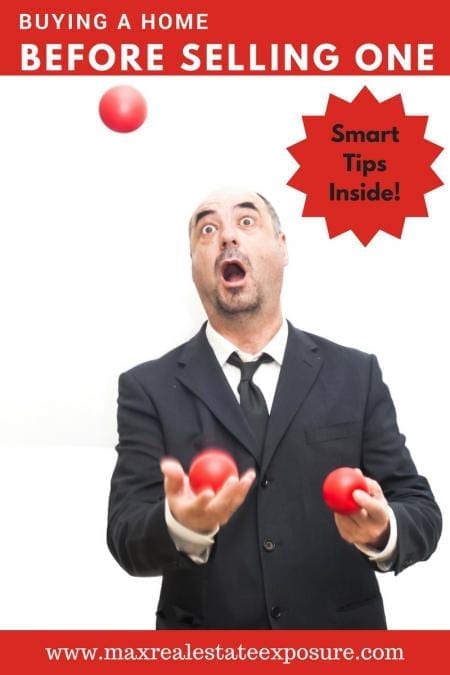 Buying a home before selling your current home, is definitely the most convenient way to change homes. You can shop for exactly what you want without the stress of needing to move immediately.
You can also make any repairs or renovations you want before you ever start moving in. When you finally do move in, the house will be exactly as you want it to be.
Of course, to buy before selling you are going to have to have the appropriate finances. You will need to have the necessary income and financial where with all to successfully get a mortgage from a lender.
The lender will need to feel comfortable that you can reasonably afford to pay both mortgages at the same time – for the entirety of the life of the loan.
Lenders are not interested in whether you will sell your current house, or how quickly you believe you can sell it. They are only interested in your ability to pay the second mortgage and the first as well.
The same can be said for the owner of the home you want to purchase. They are going to want to know you are qualified to purchase their home without selling your existing home.
Unfortunately, far too many people think they can buy their next home and just fly by the seat of their pants. It does not work this way!
An exceptional real estate agent is going to insist that you prove you can purchase a second home without selling your current one.
In fact, when I am representing a seller one of the first things I do is check on the buyers financial qualifications. If they own a home they will need to prove they don't need to sell it in order to buy my clients home.
Their mortgage pre-approval letter will need to state something along the lines of this: "The purchase of 50 Main Street is not subject to the sale of any other real estate." The seller needs protection to know the buyer will be able to purchase their home without selling.
3. Buying and selling at the same time.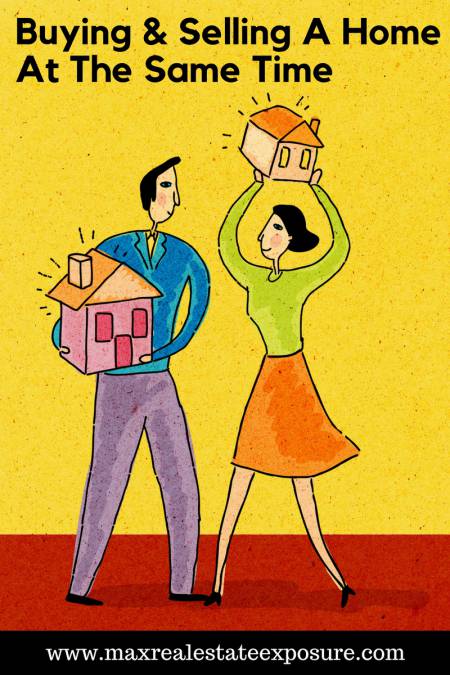 Buying and selling at the same time is extremely common. Most people take this path out of necessity, as well as convenience. They cannot buy a new home until the first one is sold for financial reasons. So they put their home on the market and as soon as it is under contract, they press forward to find their next home.
Timing the sale and purchase is stressful because you do not have control over everything that is happening. You hope the sale will go through, but it might not. You hope the seller of your next home will accept your offer and close the deal, but they may not.
Some people who buy and sell at the same time find themselves in a situation where their old home is sold but they have not located their next home yet. This is where the stress rises. There may be a struggle to find a home that really fits.
In a strong sellers real estate market where there is a limited amount of homes for sale there is always a catch 22. One the one hand selling a home is easier and you get top dollar. On the other hand finding a home is far more difficult.
In some situations the best option is renting after the first home sells. A short-term, or even month-to-month, lease ensures you have a place to live while you work out the details of the home purchase.
Take note – it is good to be cautious and prepared when buying and selling at the same time, because things can go wrong. However, plenty of people do this successfully, so there is a good chance you will be able to pull it off. In my thirty years of selling homes, things usually fall into place without a hitch.
Having an experienced real estate agent at your side through this process is invaluable, because he or she can facilitate the process, ensure efficiency, keep applying pressure and work round the clock to accomplish your goals. You may have to work or have other obligations, but your Realtor is on the job every day to make sure you sell and buy successfully.
4. Sale contingent on owner finding suitable housing.
Some sellers who are planning on buying after selling will try to put a clause in their listing stating "sale is contingent on owner finding suitable housing". The clause indicates that the sale will only go through if the owner is able to find "suitable housing", usually in the form of another house to buy. Frankly, this is one of the dumbest things you can do as a seller.
Putting such a clause in your listing will make your home ten times harder to sell. It makes it much more difficult to find buyers, because very few sellers are going to be including a similar clause. Buyers want to know that if they make an acceptable offer on a home, it will be theirs.
Do you really think a buyer is going to want to spend money on home inspections, applying for a mortgage, hiring a lawyer, etc, only for you to say a month later "sorry we didn't find a house." This puts a buyer in a horrible position, especially in a competitive real estate market.
When you put a suitable housing clause in your listing agreement you can kiss getting multiple offers on your home good bye. You will narrow the buyer pool dramatically for those who will consider such a clause.
When timing buying and selling a home putting this kind of language into your listing is a terrible way to go. Keep in mind just because a real estate agent says they will do it doesn't mean it's acceptable. There are tons of weak real estate agents that will do just about anything to get a listing.
A sale contingent on owner finding suitable house clause is DUMB!
Click To Tweet
5. Buying a home on contingency.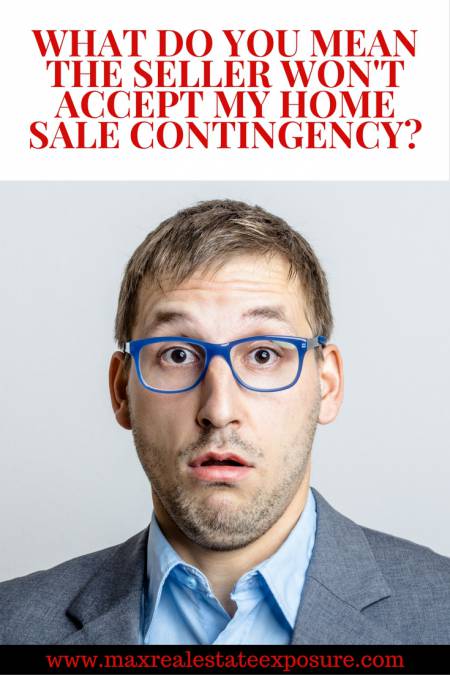 The flip side of #4 is buying on contingency. In an effort to avoid the stress and uncertainty of buying and selling at the same time, some people will attempt to buy a home while including a clause that states that they will only close on the purchase if they are able to sell their current home.This is what's known as a home sale contingency.
Most sellers will not be interested in such an offer. They can find plenty of other buyers who will agree to a standard purchase arrangement. There is too much chance that the contingency buyer will not be able to sell his or her home, which means all the time and effort put into the sale will be for nothing.
If you are in a seller's market, there is almost no chance that anyone will go for a contingency clause in your offer.
Even if you aren't in a seller's market, you will still struggle to find a seller who wants to accept a contingency offer – especially if he or she is represented by a great real estate agent.
A top agent will know that the clause is not in the interests of the seller.
With a home sale contingency in a contract, it is one big gamble for the seller.
6. Right of First Refusal.
One alternative to a home sale contingency is a right of first refusal. A right of first refusal gives a buyer the first option to purchase a home before another buyer can do so.
For example, you find a home you really want to purchase but already have a home you want to sell. Instead of going ahead and purchasing the home right away you offer with a right of first refusal.
This means if the owner of the home you want to purchase gets an acceptable offer, you would have first crack to step in front of them.
A first right of refusal clause is only advantageous to a seller if a buyer qualifies to purchase without selling their home. If a buyer can't purchase without selling, it makes no sense for a seller to accept a ROFR. A seller could find themselves trying to find a new buyer months down the road – NOT GOOD!
7. Renting an existing home instead of selling.
There are circumstances where you may not be qualified to purchase another home without selling the one you own first but can rent it instead. By covering the existing mortgage on your home, it's possible you could qualify to purchase another home without selling.
Lenders will only count a certain amount of rent you take in towards your qualifications. It becomes important to speak with a top mortgage broker before putting your plans in motion.
If you have never rented your home before understand that getting the right tenant is paramount. Doing so is not always easy. In the long run, however, it's vital because you could spend thousands of dollar in repairs or improvements. It is not uncommon at all to have to replace flooring and do extensive amounts of painting. Rarely will you find a tenant who will treat your home like you would.
Talk to Your Agent About Your Timing Options
As you can see there are a few timing options on how to buy and sell a home at the same time. Your real estate agent is the best person to talk to about your timing options when buying and selling. He or she knows the local market and can tell you what plan will work best for your specific circumstances.
Above all else keep in open mind. Use the information you have acquired here to make smart decisions. Timing a buy-sell should not be taken with a grain of salt. Take your time and make the right move for you!
Other Helpful Home Buying and Selling Resources
To continue educating yourself on the home buying and selling process give these great articles a look.
---
About the author: The above Real Estate information on the the timing options of buying and selling a home was provided by Bill Gassett, a Nationally recognized leader in his field. Bill can be reached via email at [email protected] or by phone at 508-625-0191. Bill has helped people move in and out of many Metrowest towns for the last 30+ Years.
Thinking of selling your home? I have a passion for Real Estate and love to share my marketing expertise!
I service Real Estate sales in the following Metrowest MA towns: Ashland, Bellingham, Douglas, Framingham, Franklin, Grafton, Holliston, Hopkinton, Hopedale, Medway, Mendon, Milford, Millbury, Millville, Northborough, Northbridge, Shrewsbury, Southborough, Sutton, Wayland, Westborough, Whitinsville, Worcester, Upton and Uxbridge MA.