Who Should Know When Changing Your Address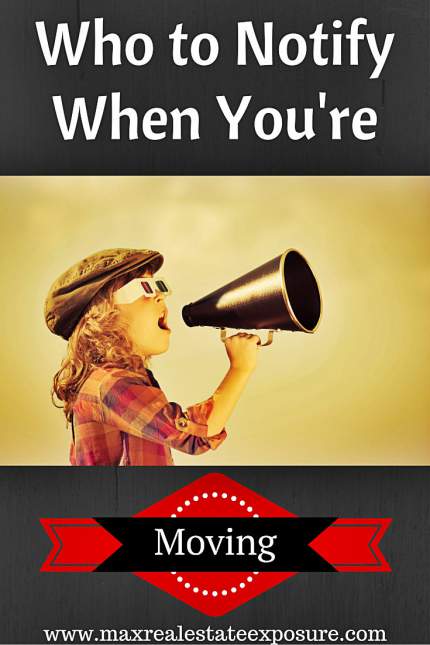 Who are the most important people and organizations to notify when you are moving? An excellent question, right? When you move, it is essential to understand who should know you're changing your address.
Moving is a process that takes a lot of time and energy, more than many people are prepared for. There are so many things to do, especially once the moving boxes are packed, and you head to your new home.
One task that many people tend to put off is notifying everyone about the move, but it is a job that is a necessity if you want everything to go smoothly.
It is also something that can usually be done leading up to the move before everything gets hectic. Taking care of all your notifications now, before you are hauling boxes up the stairs, will pave the way for a successful transition and knock one thing off that long moving checklist.
Knowing who to notify when you are moving is something many people forget about until they realize it has become a problem.
Working as one of the top Real Estate agents in Westborough, Mass, I am often asked when people should be notified of their move. The timing, of course, is critical. Failure to notify necessary parties could become an issue in the not too distant future. Don't let it become your problem!
Read on for a reminder of all the various parties that need to be told about your move. With this list in hand, you can make sure you are getting everyone up to speed on where you're headed.
Be sure when packing for your move, you don't inadvertently put away all of your essential contact information for reaching these parties!
Here is a detailed list of everyone to inform of your move. This change of address checklist should make your move go much more smoothly.
Employer
Your company will want to have an accurate address on file for you, so make sure and tell the organization you work for about your move. If you are leaving the employer for another job, giving enough notice is essential. Two weeks is the minimum most employers expect, but a month or more may be more appropriate if you are in a professional position.
If you are making a transfer and staying with your current company, you will still need to notify them when you are moving and check after the move to verify that your address has changed.
Friends and family
Chances are your close friends and relatives are aware of your upcoming move and may have even suggested some of their best moving tips, but sending out a group email or text giving your new address can still be helpful so they can update your contact info.
Sometimes people forget to tell extended family and friends about a move. If you want anyone to be able to get in touch with you – or surprise you with gifts in the mail! – then, letting them know about your new address would be a good idea.
USPS
When thinking about who to notify when moving, the local post office is probably the most important! You obviously could create real problems for yourself if you end up missing vital pieces of mail.
The U.S. Postal Service makes it easy to change your address online, or you can go into a post office and fill out a change of address form. Following their step by step guide to changing your address is easy.
When you notify the USPS, it will start forwarding your mail to the new address on the date you request. You can fill out the form ahead of your move and list whatever forwarding time you like. Keep in mind that there is a small fee for requesting forwarding online.
Current Landlord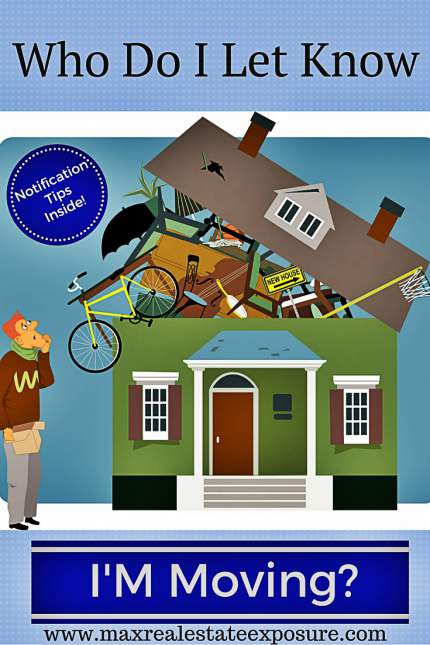 You want to make sure that you notify your landlord of your move-in adherence to the terms of your lease. Most owners ask for 30 days notice and penalize you for moving before your contract ends.
IRS
For obvious reasons, the IRS is a necessary party to notify when you are moving. Can you imagine if you were audited or sent an important tax document and never received it? Not communicating with the IRS would almost certainly cause a lot of undue stress.
You can fill out an IRS change of address form and send it in to update your information with the tax organization. By updating, you make it easy for the IRS to send you any relevant documents.
For obvious reasons, the internal revenue service should be one of your top priorities to notify of your move. In fact, letting any government agencies, you are affiliated with would be critical.
Credit Card Companies
Using your credit card often requires inputting your current billing address. Unless you want to remember your old address every time you use a card, you should update your address with each card company.
Updating your address will also ensure your statements come to you each month, which is crucial if you do not use paperless billing.
Insurance Providers

Your car insurance company bases your rates on the area you live in and how you store your vehicle, among other factors.
Update your address with the insurer to ensure you don't run into any problems, should you need to file a claim.
Home, health, and life insurance companies are also crucial parties to notify when you are moving so that appropriate documentation can reach you in a timely fashion.
When moving, you may want to go with local providers. Make sure you check out how to save money on insurance by bundling service providers.
Your Pets Veterinarian and Kennel
If you have a pet, it will be essential to notify your veterinarian and kennel. Remember, your pet's health history will be necessary for your new health provider to have. This is one of the things discussed in how to move with pets. Use these thirteen tips for moving with pets to make your life less stressful.
Government Agencies
If you regularly interact with any other government agencies, like the Social Security Administration, you will want to notify them of your new address to avoid any potential problems with payments and documents. You will also want to update your voter registration if necessary.
Bank or Credit Union
Your bank will need to know about your change of address. Update your address to make sure your banking documents come to you directly, and so you can use your new address with any debit/credit cards you have with the bank.
Other Financial Institutions
Besides notifying your local bank, don't forget to inform any other financial institutions where you may have a stock portfolio, bonds, and mutual funds such as Charles Schwab or Fidelity. Not only will you want to be getting your monthly statements but even more important will be receiving any tax statements.
Make any financial entity a top notification priority when moving.
The DMV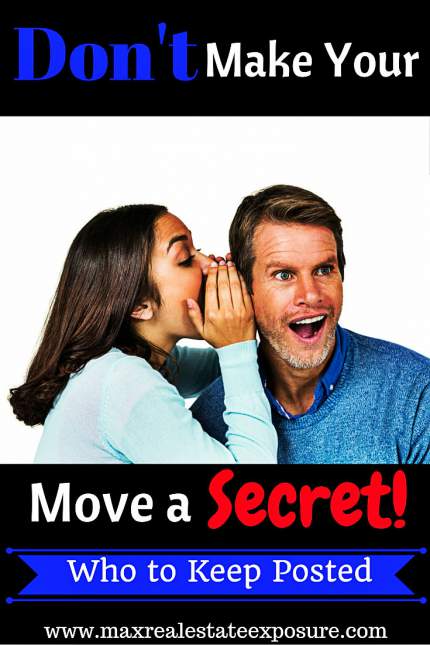 The DMV will want to know about your address change, even if you are not moving to a new state. It may give you a new government id with an updated address.
If you move out of state, you will be expected to register your vehicle as well. Here is a list of department of motor vehicles in every state.
Utilities/Phone/Internet
If you are moving to an address that is serviced by the same utility company at your previous address, you should be able to transfer service.
Even if you are not using the same provider, you will want to notify utility providers about your move, so you don't pay for services you aren't using after your move.
See how you can notify two of the largest phone/internet providers below.
Subscriptions
Some of the essential organizations to let know you will be changing your address are the publications you subscribe to.
If you subscribe to any magazines, newspapers, or other publications, you will surely want to let them know about your move.
While notifying the post office of your relocation should help with receiving your subscriptions, it is always wise to notify the vendors directly as well.
Medical Care Providers
Updating your address with any medical providers, like doctors, dentists, and optometrists, is a good idea as well. By updating your information, you can ensure that any bills or other correspondence come to your new home.
Schools
If you are going to school, or you have children in school, make sure to notify them about your address change. This should include both local schools as well as colleges if you have children attending them.
Other Miscellaneous People/Groups to Inform You're Moving
Religious organizations such as a church or synagogue.
Gym or sports club.
Voter registration.
Charitable organizations or memberships.
Reward programs like frequent flier miles or hotel bonuses.
Car breakdown services such as Triple AAA.
How to Let People Know You Are Moving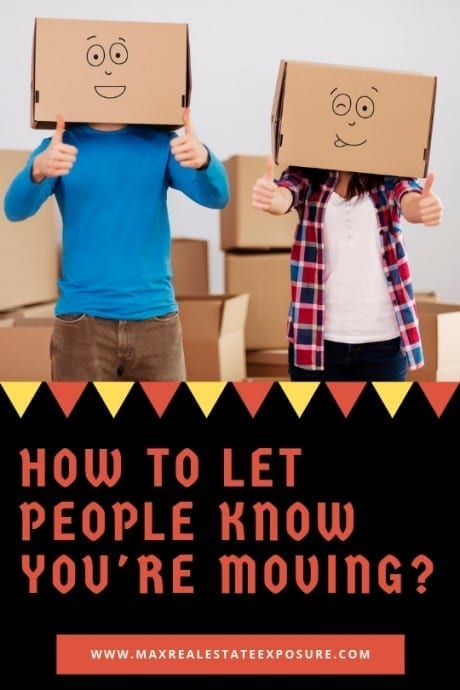 One of the best additional ways to let people know you are moving is by using social media channels.
If you are an avid user of Facebook and Linkedin, these are all great places where you can send out a message to friends and followers, letting them know of your impending move.
A quick message giving them your new address will undoubtedly be helpful to those who will need it.
Another very cool service is called Updater, which will help notify people of your move. This is actually an excellent app for property managers, real estate agents, and moving companies.
From the founder and CEO David Greenberg about Updater, "After my last move, I knew there had to be a better way to manage the process.
It was insane – the amount of time I spent contacting the utility companies, updating my contacts, and so on. I looked for a solution online, and when I saw none existed, I knew that there was a huge opportunity to build it from the ground up."
This is precisely what he did! Notification of an address change doesn't have to be a laborious event.
Final Thoughts on Who to Let Know You're Moving

Who to notify when moving out of state is probably even more critical as you will be separating yourself by a greater distance.
Many of these things mentioned in the list will become even more important as you settle into your new environment.
By taking the time to notify everyone before you move, there will be one less thing to do during the process. Be sure when organizing your things for storage, you know exactly where to find all of the contact information for those you need to reach most.
Hopefully, this checklist of everybody that should be notified of an address change has been helpful!
Other Helpful Moving Articles
Use the additional resources to make your upcoming move a smooth one!
---
About the author: The above Real Estate information on who to notify of your move was provided by Bill Gassett, a Nationally recognized leader in his field. Bill can be reached via email at [email protected] or by phone at 508-625-0191. Bill has helped people move in and out of many Metrowest towns for the last 34+ years.
Are you thinking of selling your home? I have a passion for Real Estate and love to share my marketing expertise!
I service Real Estate Sales in the following Metrowest MA towns: Ashland, Bellingham, Douglas, Framingham, Franklin, Grafton, Holliston, Hopkinton, Hopedale, Medway, Mendon, Milford, Millbury, Millville, Natick, Northborough, Northbridge, Shrewsbury, Southborough, Sutton, Wayland, Westborough, Whitinsville, Worcester, Upton, and Uxbridge MA.