Greater Metrowest Massachusetts encompasses cities and towns west of Boston in the counties of Middlesex, Worcester and Norfolk.
Middlesex County, MA – As of 2011, Middlesex County's population is 1,487,768 people, and is the twenty-third most populous county in the nation.
Norfolk County, MA – As of 2011, the population of Norfolk County is 660,302 people, and is the 28th highest-income county in the nation and the wealthiest county in Massachusetts.
Worcestor County, MA – As of 2011, Worcester County's population is 785,460 people and is the largest county in Massachusetts geographically.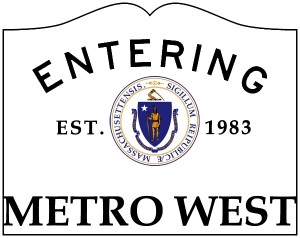 By 2006, the designation name "Metrowest" gained widespread acceptance and became synonymous with prosperous businesses.  The MetroWest Regional Transit Authority was also formed in 2006.
When a local newspaper referred to the area between Worcester and Boston as "Metrowest" in the 1980s, few could have predicted just how much growth would come to this region of Massachusetts. Seeking more affordable real estate than was available in the city, both businesses and home buyers have flocked to the area over the preceding decades – and the Metrowest region continues to grow in both population and economic potential.
Made For Commuting
If you are interested in living in the Metrowest region and commuting, you are not alone. Much of the growth of the area is attributed to its easy access to the larger cities on each side of the region. There are a number of commuting options, including rail and multiple highways, to get to both Boston and Worcester. As long as you verify your commute before you buy a home, you should have no problem getting a property that puts you in easy reach of your work and other commitments.
A Home For Every Buyer
While the home buying options within Boston are somewhat limited for all but those with substantial incomes, the Metrowest region consists of neighborhoods and towns that offer a more varied, often more affordable array of homes. Of course, there are also a number of high-end neighborhoods where you can find the most luxurious homes. But you can also find homes that are more reasonably priced, which means you have more choices and more opportunities to find the perfect combination of size, location, community and price.
Metrowest Massachusetts has seen unparalleled economic development and job creation over the past thirty years. The 495/MetroWest Corridor Partnership calls the Metrowest region the "Arc of Innovation" because it is home to many of Massachusetts' largest and fastest growing companies.
The name "Metrowest" is used by certain regions west of major metropolitan areas in other states like New Jersey, but the designation term has not achieved the level of acceptance it has garnered in Massachusetts.
Choose A Realtor That Knows Metrowest Mass
While the Metrowest region offers a lot of opportunities for home buyers, it is important to understand that it is a large geographic area, and there is considerable variety in real estate, neighborhoods, lifestyles, commute times and other features that matter when you are buying. If you are interested in buying a home in the area, make sure to work with a real estate agent that is familiar with the area you are interested in. You can find what you want in a Metrowest home, but it can be extremely helpful to have a knowledgeable guide in the process.
Of course if you are selling a home it should be painfully obvious you want a marketing expert representing you. Look for an agent who goes above and beyond when it comes to marketing. The last thing you want is a "post and pray" real estate agent. This is the kind of agent that puts a sign in the yard, puts it in MLS and then prays it sells. Not what you want as a home seller!
Cities, towns and villages in the greater Metrowest Massachusetts region include:
Middlesex County Massachusetts  
Acton
Arlington
Ashby
Ashland
Ayer
Devens
Bedford
Belmont
Billerica
North Billerica
Pinehurst
Boxborough
Burlington
Cambridge
Carlisle
Chelmsford
North Chelmsford
Concord
West Concord
Dracut
Dunstable
Everett
Framingham
Nobscot
Saxonville
South Framingham
Groton
Hudson
Lexington
East Lexington
Lincoln
Littleton
Littleton Common
Lowell
Malden
Marlborough
Maynard
Medford
Melrose
Melrose Highlands
Natick
Newton
Auburndale
Chestnut Hill
Newton Centre
Newton Highlands
Newton Lower Falls
Newton Upper Falls
Newtonville
Nonantum
Thompsonville
Waban
North Reading
Pepperell
East Pepperell
Reading
Sherborn
Shirley
Somerville, a city
Stoneham
Stow
Sudbury
Tewksbury
Townsend
Tyngsborough
Wakefield
Waltham
Watertown
Wayland
Cochituate
Westford
Forge Village
Graniteville
Nabnasset
Weston
Wilmington
Winchester
Woburn
As the most populous county in both Massachusetts and New England as a whole, Middlesex County is notable both locally and nationally. In fact, the county boasts the tenth most millionaires per county in the United States.
Middlesex County offers a wide variety of homes at different price points, ranging from affordable condominiums to luxurious homes that meet the highest standards.
Norfolk County Massachusetts
Avon
Braintree
Brookline
Canton
Cohasset
Dedham
Dover
Foxborough
Holbrook
Medfield
Millis
Milton
Needham
Norfolk
Norwood
Plainville
Quincy
Randolph
Sharon
Stoughton
Walpole
Wellesley
Westwood
Weymouth
Wrentham
Norfolk County has the 28th highest income per capita in the United States, and is the wealthiest county in the state of Massachusetts. Because Norfolk County is the wealthiest in the state, you can find some very high quality real estate here. But luxury homes are not the only options in Norfolk County. There are also some more affordable options to be found, particularly if you are working with a Realtor that knows the area.
Worcester County Massachusetts  
Ashburnham
South Ashburnham
Athol
Auburn
Stoneville
Barre
Berlin
Blackstone
Bolton
Boylston
Morningdale
Brookfield
Charlton
Clinton
Douglas
East Douglas
Dudley
East Brookfield
Union Chapel
Fitchburg
Gardner
Farnumsville
Fisherville
North Grafton
Saundersville
Hardwick
Gilbertville
Hardwick
Old Furnace
Wheelwright
Harvard
Holden
Jefferson
Spindleville
Hubbardston
Pitcherville
South Lancaster
Leicester
Leicester Center
Cherry Valley
Rochdale
Leominster
Lunenburg
Whalom
East Millbury
Millville
New Braintree
North Brookfield
Northborough
Chapinville
Whitinsville
Rockdale
Linwood
Oakham
Oxford
Paxton
Petersham
Phillipston
Princeton
East Princeton
Royalston
Rutland
Cordaville
Southbridge
Spencer
Sterling
Sturbridge
Fiskdale
Sutton
West Sutton
Manchuag
Templeton
Baldwinville
Otter River
West Upton
Uxbridge
North Uxbridge
Linwood
Ironstone
Wheelockville
Warren
Webster
West Boylston
Oakdale
West Brookfield
Westminster
Winchendon
Worcester
Worcester County is the largest county in Massachusetts. geographically, with a long history of both manufacturing and socially progressive movements. Because it is further from Boston and the center of manufacturing in the area, Worcester County is one of the best places to find a home that is priced competitively – giving you more home for the money.
Worcester County is an excellent choice if you work in the city of Worcester, because your commute time will be relatively short in most areas of the county. You can find all types of properties here, including condominiums, single-family homes and nicer luxury and executive homes.
Bill Gassett – Metrowest Massachusetts Real Estate Expert
If you're thinking about selling your Metrowest MA home, condominium or other real estate, allow me to help make the transaction a smooth and pleasant experience.  If you're in the market to  buy real estate in Metrowest MA, you'll find a variety of residential options to choose from to fit your lifestyle budget and needs.
Whether you're looking to buy or sell real estate in greater Metrowest MA, my goal is to provide expert advice and exceptional customer service utilizing the latest, cutting-edge Internet marketing technology available.
A few of my accomplishments that I am proud of include:
Graduated with B.S. in Marketing and Management Northeastern University Boston, MA.  Active participant in the Cooperative Education Program.
Full time Realtor for past 29 years servicing Metrowest MA.
Member of National Association of Realtors & Greater Boston Real Estate Board.
Prior to joining RE/MAX in 1996 was one of the top agents in MA for the Prudential Real Estate.
Have been ranked one of the top 5 RE/MAX agents in Massachusetts each year, for thirteen out of the past fourteen years.
#1 agent at RE/MAX Executive Realty – a six office company with over 135 agents. RE/MAX Executive  Realty is on of the largest RE/MAX company's in Massachusetts with offices in Hopkinton, Holliston, Medfield, Grafton, and Marlborough Franklin.
Elected to RE/MAX Hall of Fame.
RE/MAX Lifetime Achievement award.
Have been ranked as high as #19 RE/MAX agent in the United States.
Featured in Who's Who In Real Estate.
In 2012 was the #1 RE/MAX Realtor in all of New England.
In 2013 was the #1 RE/MAX real estate agent in Massachusetts.
In 2015 was the #5 RE/MAX Real Estate agent in New England.
I have been listing and selling homes in and around greater Metrowest Massachusetts for the last 29+ years.  Call or send me an email so we can discuss how I can best serve your real estate needs!
Bill Gassett ~ Metrowest MA Realtor
RE/MAX Executive Realty
22 South St #203 Hopkinton, MA 01748
Phone: 508.625.0191
Fax: 508.435.5550
Email: billgassett@remaxexec.com
Connect with Bill's Metrowest Real Estate profile on Google+
Map of Greater Metrowest Massachusetts