Avoiding Problems With Moving Companies
Although hiring movers can save you a lot of work, there are certain risks to hiring a professional moving service. Things can go wrong, and disputes with movers do happen – probably more often than they should. Knowing how to avoid moving disputes, and how to resolve them if they arise, is a necessity if you are going to hire a moving company.
In the home sale process the move is probably the number on cause of anxiety with most folks. Moving can be a dreadful experience and at times just the thought can keep people from making a jump to a new property.  Knowing how to be prepared for moving can be half the battle when trying to make your life simplified.
Once you are actually done packing your home and are ready for the movers to arrive the last thing you will probably want to think about is resolving some kind of dispute with a moving company! Below you will see some of the best advice on how to avoid the most common problems with moving companies.
Common Moving Disputes
Damaged Or Lost Items
Moving is tough, and it is hard sometimes to avoid damaging things as you move – especially fragile items. Although the movers you hire are supposed to be professionals and take all appropriate cautions, there is still the possibility of something getting broken or lost. You need to be aware of this possibility and take appropriate steps to minimize your risk.
When you hire the mover, you will have the option of purchasing Full Value Protection for your things. The protection will cost extra, but it ensures that if anything is damaged or lost, that the insurance will fully cover the cost of the item. If you do not want to pay for this coverage, you will sign a Waiver of Full Value Protection. You will still be given some compensation for items that are damaged or lost, but only 60 cents for each pound.
When you consider that your flat screen television could weight 40-50 pounds, you can see how this particular coverage is not really adequate for the needs of most people. Not too long ago I had sold real estate in Franklin MA and the owner unfortunately found out they had some missing items when the truck was unloaded. These sellers however had moved numerous times and realized just how important moving insurance can be.
You should take photos of all of your things before the move, so you have records to show the insurance company if anything is damaged. According to the U.S. Department of Transportation, you have nine months to submit a claim after the move is completed. But remember that the moving company will need time to address the claim – 30-days to acknowledge it and 120 days to determine a settlement.
Movers are human beings just like any other business there can and will be mistakes. Most of the times these mistakes are not intentional. Having photos becomes vital in the event you need to prove to the moving company exactly what your property looked like prior to it becoming damaged. Be especially careful to photograph anything that is expensive. Murphy's Law says this is what the movers will end up damaging! Below is a list of smart things to do to minimize your chances of avoiding major problems with a moving company – especially them disagreeing with you!
Smart Moving Checklist
Make sure you are careful to look over everything for damage as you unpack.
Immediately make a list of anything you find has been damaged or is missing all together.
Photograph anything you have found that is damaged.
Get a handle on what the replacement cost is for any lost or damaged items.
Get in touch with the moving company for a claim form, fill it out and return it immediately with your list and photographs. Make copies of everything for your records.
Reach out to your insurance company and let them know what is going on.
Hostage Shipments
It may seem like the plot for a movie, but there are actual instances of movers keeping the possessions of customers hostage until the owners pay an additional fee beyond their initial payment. The term "hostage shipments" is an official one, used by the federal government to refer to this act. The movers may show up at your door and tell you that they will keep your things, or possibly even sell them, if you don't pay them more money.
These kind of unscrupulous movers can usually be avoided by doing sufficient research before you hire a moving company. You can look at reviews and at Better Business Bureau ratings to see if people have had previous issues with the mover you hire. Going with the least expensive moving company may not be the best idea if they have a bad track record. While something like this happening is rare it is always smart to Google any moving company you are considering hiring. If there is any bad press about the particular company, you will be sure to find it.
If a mover does try to hold your things hostage, there is recourse. The Federal Motor Carrier Safety Administration has a Consumer Complaint Hot line that you can call at (888) 368-7238. The federal organization claims that it tries to respond to hostage shipment as quickly as possible, so you can expect some sort of resolution.
Late Deliveries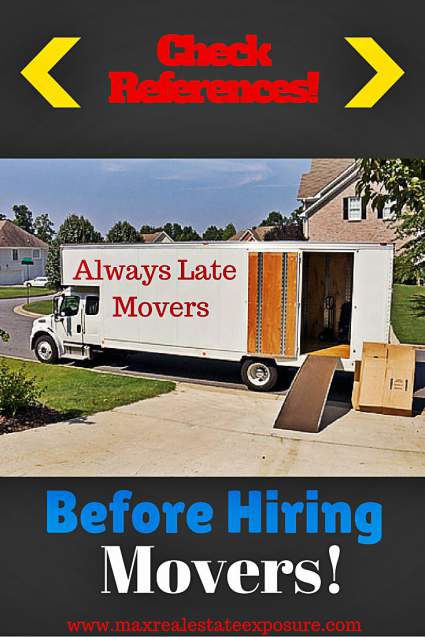 Another problem moving company customers sometimes encounter is late delivery of their possessions. When you think late delivery, you may imagine the arrival of your things to be a few days late. Unfortunately, sometimes the delays can be much, much longer – perhaps even a month or more.
There are multiple recorded instances of moving companies taking much longer to deliver than they say they will. Not all companies are guilty of this, of course. If you are careful about who you hire and you make sure they are well-rated by multiple sources, you will probably not need to worry about ridiculously late deliveries.
It is important, though, that you take into account that such delays could possibly happen. Knowing this, it makes sense to avoid putting anything on the moving truck that you need badly. If you need certain things for your work, like your computer, you may be better off taking them with you in your car rather than putting them on the moving truck.
If you do wind up in a situation where the movers have not delivered your belongings when they said they would, you should first contact the company and get an explanation. They may only be held up by something that is unavoidable. But if the delays extend beyond what you consider reasonable, or if the moving company stops answering your phone calls, you can place a complaint with the Federal Motor Carrier Safety Administration at the number provided above.
Do Your Proper Research
One of the best ways to avoid a dispute with a moving company is to do the proper research on them to begin with. It goes without saying that checking a moving companies references is imperative! While we have mentioned Google as a good place to start, another helpful avenue could be Yelp which also publishes reviews of others who have used a specific companies services.
The moving industry also has a good site to check up on moving companies. This website will give you information on whether the company is properly registered with the U.S Department of Transportation. There is also other helpful information like safety ratings, contact information, complaints and registration status.
Avoid Problems Through Proper Preparation
Once the movers load your things into the truck and driver off, there is not much you can but wait and hope for the best. But before you hire someone, you can do your research and make sure you hire a mover that is respected and has a history of taking care of customers and their things. You should also consider taking Full Value Protection if you are moving anything of substantial value. And if you do wind up in a situation where you feel the movers are treating you poorly, you can always contact the Federal Motor Carrier Safety Administration and file a complaint.
By taking precautions you are surely going to be able to avoid some of these common disputes with your moving company.
Additional Helpful Moving Articles
Use these additional articles to make smart moving decisions and at the same time relieve some of the stress associated with moving.
---
About the Author: The above Real Estate information on disputes to avoid with moving companies was provided by Bill Gassett, a Nationally recognized leader in his field. Bill can be reached via email at billgassett@remaxexec.com or by phone at 508-625-0191. Bill has helped people move in and out of many Metrowest towns for the last 28+ Years.
Thinking of selling your home? I have a passion for Real Estate and love to share my marketing expertise!
I service Real Estate sales in the following Metrowest MA towns: Ashland, Bellingham, Douglas, Framingham, Franklin, Grafton, Holliston, Hopkinton, Hopedale, Medway, Mendon, Milford, Millbury, Millville, Northborough, Northbridge, Shrewsbury, Southborough, Sutton, Wayland, Westborough, Whitinsville, Worcester, Upton and Uxbridge MA.