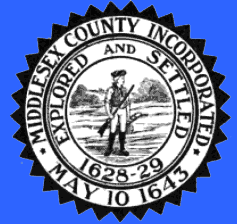 Middlesex County, located in Massachusetts, is the twenty-third most populous county in the nation and the most populous county in New England.
According to the 2000 census, Middlesex County has a total area of 847.54 square miles, of which 823.46 square miles is land and 24.08 square miles is water.
As of 2011, Middlesex County's population is 1,487,768 people. Since 2000, the county has experienced a population growth of 1.50%. The unemployment rate in Middlesex County is 6.20% compared to the U.S. average of 9.10%.
Adjacent counties to Middlesex County include: Hillsborough County, New Hampshire (north), Essex County (northeast), Suffolk County (southeast), Norfolk County (south) and Worcester County (west).
Cities/towns within Middlesex County include: Ashland, Framingham, Holliston and Hopkinton.
The median home value in Middlesex County is $373,900 with home appreciation at -0.02% over the last year. The median age of Middlesex County real estate is 54 years. Renters make up 33.60% of the County's population and 3.77% of houses and apartments are unoccupied.
For New England, Middlesex County occupies a special place both historically and in present day. While the county may not be a top contender for population on a national scale, it is the most densely populated area in New England and therefore holds significant sway both in regional politics and as a cultural mainstay. The county has a storied history – dating all the way from its inception in 1643 – and remains important to its residents and to the state as a whole.
Facts About Middlesex County Massachusetts
Historically significant – The history of Middlesex County goes far back. Originally a plantation, it was decided that the area covered by this plantation should be turned into an official county by the Massachusetts General Court on the 10th of May, 1643. The county encompassed a number of towns including Medford, Reading, Charlestown, Watertown, Sudbury, Woburn, Cambridge and Concord.
Middlesex would wind up losing some of these towns eventually as Boston exercised its significant power and annexed multiple cities and towns towards the end of the 19th century and the beginning of the 20th century – including Brighton and Charlestown. Even with this reduction, though, Middlesex would still wind up as the largest county in the surrounding area.
Changing with the times – In spite of its large size and long history, Middlesex County has not stood still as the years have advanced. The population has grown by leaps and bounds, and the way the state has chosen to govern that population has changed as well. In 1997 Middlesex County was dissolved as a government entity by the Massachusetts State Legislature. It was decided that the county would be better served through the absorption of many of the local government entities by the state, resulting in a substantial change in the overall government structure. This decision appears to be working out for the best, though, as the county continues to grow and thrive. The state is still ranks in the top ten for most millionaires in a county as of 2006 – a sure sign that Middlesex county is doing something right.
Metrowest – As Boston and Worcester have continued to grow, those working in the cities have found themselves looking for better options when it comes to lifestyle and home purchases. While there are those that prefer big city living, many others want a place to put down roots and start a family that is safer, smaller and more affordable. The Metrowest offers all of these things to those willing to take the plunge and purchase a home outside the city.
Middlesex County occupies a substantial portion of the Metrowest area, giving many people the kind of opportunities that they would not otherwise have for suburban living. This helps explain how Middlesex has grown to be the most populous county in New England. People choose to live here for many reasons, and will likely continue to do so as long as it offers so much that cannot be found in the major cities.
Real estate – There are some incredible values to be found in Middlesex County. From affordable condominiums priced around $100,000 to luxurious estate homes and executive-style properties, the towns inside the Middlesex boundary lines contain practically any type of home you want, no matter your budget. With the help of a realtor familiar with the area, it is possible to find exactly what you are looking for at a price you can afford.
Because Middlesex County is so substantial, the only effective way to find the ideal property is with the help of an experienced realtor – one that knows the county and the options it presents. The home you want is out there, you just need to know about it in time to seize the opportunity before all the other buyers out there try to do the same.
Middlesex County Massachusetts Towns

All towns, cities and villages in Middlesex County Massachusetts include:
Acton
Arlington
Ashby
Ashland
Ayer
Devens
Bedford
Belmont
Billerica
North Billerica
Pinehurst
Boxborough
Burlington
Cambridge
Carlisle
Chelmsford
North Chelmsford
Concord
West Concord
Dracut
Dunstable
Everett
Nobscot
Saxonville
South Framingham
Groton
Hudson
Lexington
East Lexington
Lincoln
Littleton
Littleton Common
Lowell
Malden
Marlborough
Maynard
Medford
Melrose
Melrose Highlands
Natick
Newton
Auburndale
Chestnut Hill
Newton Centre
Newton Highlands
Newton Lower Falls
Newton Upper Falls
Newtonville
Nonantum
Thompsonville
Waban
North Reading
Pepperell
East Pepperell
Reading
Sherborn
Shirley
Somerville, a city
Stoneham
Stow
Sudbury
Tewksbury
Townsend
Tyngsborough
Wakefield
Waltham
Watertown
Wayland
Cochituate
Westford
Forge Village
Graniteville
Nabnasset
Weston
Wilmington
Winchester
Woburn
Middlesex Massachusetts Real Estate Expert
If you're thinking aboutselling your Middlesex County MA home, investment property or other real estate, allow me to help make the transaction a smooth and pleasant experience. If you're in the market to buy real estate in Middlesex County MA, you'll find a variety of residential options to choose from to fit your lifestyle budget and needs.
Whether you're looking to buy or sell real estate in Middlesex County MA, my goal is to provide expert advice and exceptional customer service utilizing the latest, cutting-edge Internet marketing technology available.
A few of my accomplishments that I am proud of include:
Graduated with B.S. in Marketing and Management Northeastern University Boston, MA. Active participant in the Cooperative Education Program.
Full time Realtor for past 26 years servicing Metrowest MA, based in Hopkinton, MA.
Member of National Association of Realtors & Greater Boston Real Estate Board.
Prior to joining RE/MAX in 1996 was one of the top agents in MA for the Prudential Real Estate.
Have been ranked one of the top 5 RE/MAX agents in Massachusetts each year, for thirteen out of the past fourteen years.
#1 agent at RE/MAX Executive Realty – a five office company with over 120 agents. RE/MAX Executive Realty is one of the largest RE/MAX company's in Massachusetts with offices in Hopkinton, Holliston, Grafton, Medield and Franklin,.
Elected to RE/MAX Hall of Fame.
RE/MAX Lifetime Achievement award.
Have been ranked as high as #26 RE/MAX agent in the United States.
Featured in Who's Who In Real Estate.
The #1 RE/MAX agent in Massachusetts for 2013.
I have been listing and selling homes in and around Metrowest Massachusetts for the last 27+ years. Call or send me an email so we can discuss how I can best serve your Middlesex County needs.
Bill Gassett
RE/MAX Executive Realty
22 South Street #203, Hopkinton MA 01748
Phone: 508.625.0191
Fax: 508.435.5550
Email: [email protected]
Connect with Bill's Middlesex County Real Estate profile on Google+
Middlesex County, Massachusetts Map