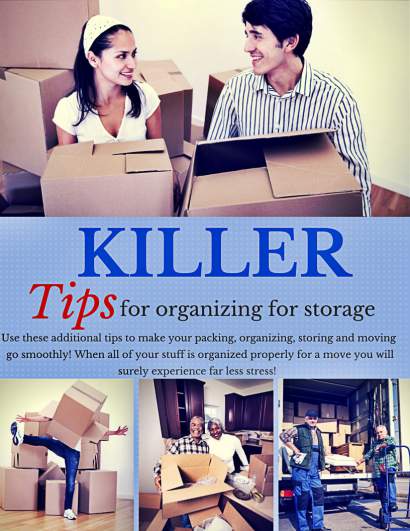 What are the best ways to organize your stuff for storage?
There may come a time in your life when you have found yourself in the position of selling one house and moving to another. Timing in life is everything, and sometimes it doesn't work out the way you planned.
This can happen quite a bit in real estate sales. Ask any Realtor and they will tell you that transitioning from one home to the next is not so easy sometimes.
The ideal situation, of course, is to sell your home and move immediately right into your next place you purchased. Some folks are not always lucky enough to have this happen.
Circumstances may dictate that you need to accommodate the buyer for your home who wants a quick close date. You might not be able just to pack up and move to your next place. This is when it becomes essential to have a fallback plan.
You may find yourself in the unenviable position of needing temporary storage. When this becomes your painful reality, having the best tips for packing your home for a storage facility could become necessary.
If you are like most people, the thought of living in your new place is pretty exciting but planning to put most of your stuff into storage can temper that jubilation.
Unfortunately, making your way from one house to another requires moving all of your stuff and quite a bit of work. Depending on how many things you have, you may need to store quite a few items to make the move successful.
Organizing stuff is a labor in itself – one that can take a good deal of planning to do correctly. Below you will see some of the best tips on how to prepare your stuff for storage.
How to Organize Your Stuff for Storage
Decide on your storage space – The first thing you need to do is take a decision on the kind of storage space you want. You have several options when it comes to storage areas, including standard self-storage, pods, and storage offered by moving companies.
Which you choose will depend on your needs and your budget. You should start the planning process sooner rather than later if you want to get the best space for your stuff.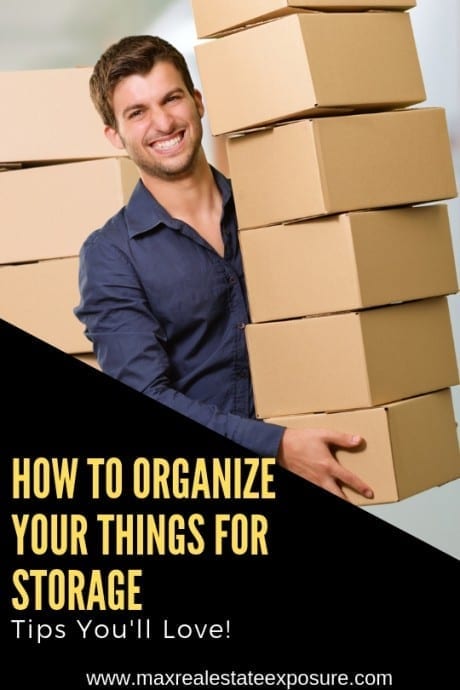 If you choose to go with self-storage, you will want to do some calculating to determine the amount of space you need. Naturally, the bigger the space you need, the more money you can expect to spend – especially if you need climate control and tight security.
Most self-storage resembles small garages, or even full-size garages depending on the space you go for. Take a look at some great tips on how to choose a storage company. These tips cover everything you need to know about picking the right storage container that will meet your needs and budget.
If you want to do less work – and avoid the moving in and out of a storage space – you can opt for moving pods. PODS is a great company that some my clients have used over the years and have been very happy with.
The pods are dropped off at your home where you fill them up with all of your things. Once you have filled them up the company that provides them will move them from your home to a storage area or your new home – depending on your needs.
There is also storage provided by moving companies. You may have to pack up your things – or have the moving company do it – into specialized containers to qualify for this option. Once you have your stuff packed, then the moving company will transfer them to a temporary storage area and eventually to your new home.
De-clutter – Storage costs money – something you are probably interested in saving as much of as you can. This means you will need to minimize the amount of things that need to be stored. Most people choose to De-clutter before they pack, both for their sense of order and to lessen their storage load. Learning how to de-clutter a home can save you a lot of time and energy. Go room-by-room in your home and go through all of your stuff. Separate out the items into relevant piles or boxes – categories like throwaway, storage, donation and move. Once you have everything divided up you can dispose of it appropriately and minimize the number of things you store. When you are donating items, a good place to start is Goodwill. This is a great company dedicated to helping people who are less fortunate. Not only will you be helping yourself but others as well.
Decide on your grouping strategy – There are two main ways to group your items – by room and by need. It can be easy enough to go through each room and box up what needs to be stored and label the boxes appropriately. However, there are things you will more quickly than others. Not knowing where they are can get pretty frustrating, so consider creating at least a few boxes based on need. Things like toilet paper and soap come in handy pretty quickly in a new home – make sure you can get to them promptly.
Get good boxes – When you only have a small amount of stuff, and you are hauling it all over to your new place in a pickup truck, the type of boxes you use may not matter too much. But when you are going to store your valuables in a place other than your home – possibly for a while – it is worthwhile to get some new boxes that are uniform and will stack well. It makes them easy to get to and reliable to move repeatedly.
Box things up early – Packing takes more time than you think, especially once you go beyond the small stuff. Many of your stuff will fit nicely into boxes, but many of them will not. This is when you have to get more creative in your packing and work harder to create uniformity. This is yet another one of those top moving tips that we mention all the time. The more oddly shaped and unboxed items you have to store the more space you will need to pay for. You want things to fit like Tetris – hard to do if you have not packed as much into boxes as possible. Start early so you can do all of this before you ever begin the moving and storage of your things.
Organize your closets first – organizing your clothes takes a lot of work. You don't want just to throw it all together. You probably have clothing that you wear quite frequently, and other things that are for special occasions or you don't wear much at all. Organizing these things ahead of time can save you a lot of last minute work. Apartment Therapy has some excellent tips for organizing your closets. By following their advice, you will save yourself a lot of stress when it comes time to move it all.
Keep your clothes dry – If you have clothing and fabrics to store, make sure they are clean and dry before you put them away. You can use the little packets of moisture absorbing material if you like to provide moisture control but you still need to start with clean and dry clothes if you want good results. Some people choose to pack their clothing to save space, which can work well, but again you need to have thoroughly dry clothes to do this without causing mold.
Be careful with frames and mirrors – Taking the extra time required to protect your frames and mirrors is important if you want to get them from your old house to the storage space and onward to your new home in one piece. Use some protective wrappings like bubble wrap or blankets to minimize breakage and invest in some cardboard corners for the edges of the frames and the mirrors. Label these as fragile so no one mistakes them for something durable.
Prioritize access – When you are placing your boxes in storage, keep the things you may need closer to the front. This may seem like an obvious thing to do, but on a long moving day, it can be tempting just to throw everything into the unit as it comes off of the truck. Failing to take the time to prioritize the way you store things will come back to bite you in the end if you are not careful.
Make a map – This is another step that takes time and effort but can save headaches when you are trying to go figure out where you put different things. Your stuff may stay in storage longer than you think and you may find you need something badly – something you have no idea where it is. Without a map, you may be unloading the entire unit to find what you are looking for. Whether you use a simple piece of paper or something more complicated, map out your space as you go along.
Additional Helpful Articles on Organize, Storage & Moving
Use these additional tips to do your packing, organizing, storing and moving to go smoothly! When all of your stuff is organized properly for a move, you will undoubtedly experience far less stress.
---
About the Author: The above Real Estate information on tips for organizing your stuff for storage was provided by Bill Gassett, a Nationally recognized leader in his field. Bill can be reached via email at [email protected] or by phone at 508-625-0191. Bill has helped people move in and out of many Metrowest towns for the last 32+ Years.
Are you thinking of selling your home? I have a passion for Real Estate and love to share my marketing expertise!
I service Real Estate sales in the following Metrowest MA towns: Ashland, Bellingham, Douglas, Framingham, Franklin, Grafton, Holliston, Hopkinton, Hopedale, Medway, Mendon, Milford, Millbury, Millville, Natick, Northborough, Northbridge, Shrewsbury, Southborough, Sutton, Wayland, Westborough, Whitinsville, Worcester, Upton and Uxbridge MA.