Realtors Guide to Franklin MA Real Estate

Do you want to learn all there is to know about the Real Estate market by top Franklin MA Realtor, Bill Gassett of RE/MAX Executive Realty? If you have any questions regarding anything to do with Franklin Mass and specifically Franklin Real Estate, please get in touch as I have been servicing real estate needs in town for the last thirty years! There are very few Realtors in Franklin that have the track record of being a top producer year after year. As a Realtor working in and around the area for nearly three decades, I know what makes Franklin desirable!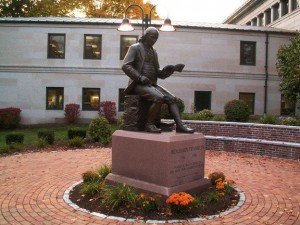 The Town of Franklin is located in Norfolk County, Southern Massachusetts, 35 miles southwest of Boston and 20 miles north of Providence Rhode Island.
Franklin is bordered by Norfolk (East), Medway (North), Wrentham (South), and Bellingham (West) and is a part of the Boston MSA (Metropolitan Statistical Area).  According to the United States Census Bureau, Franklin has a total area of 27 square miles.
The town was first settled by Europeans in 1660 and was officially incorporated during the American Revolution. The town chose to be called Franklin in honor of Benjamin Franklin.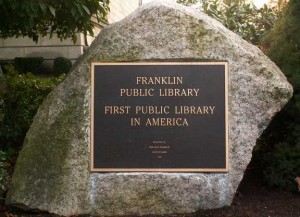 The Franklin Public Library is the first public library in America with original books donated by Benjamin Franklin.
At one end of Franklin's Historic District is the little Red Brick School, and is believed to be one of the oldest still functioning public schools in the US.
The town still contains vestiges of its Industrial Revolution background.  One old mill building was turned into residential condos and a nearby building consist of a variety of commercial businesses, including the Franklin Mill Store.
The Feast of Saint Rocco is an Italian festival offering visitors delicious regional food, live entertainment, carnival rides, and games.  Held in honor of the Catholic patron saint of the poor and infirm, the festival is very popular and draws thousands of people during the four-day event.
Overall, Franklin is a charming, historical Massachusetts town and a great place to live and raise a family. Frankin real estate agents understand there are a ton of benefits living in this terrific community. Come and take a look you won't be disappointed!
A Great Town For Families
As a leading real estate agent in Franklin, Massachusetts, I am regularly asked about which Massachusetts towns are best for raising a family. Franklin ranks at the top of that list, and I am not the only one that feels this way. Family Circle actually named Franklin as one of the "Ten Best Towns For Families" in 2007. According to Family Circle, Franklin ranked among the top towns "that offer what parents and children want most – affordable homes, good jobs, top-rated schools, open spaces and a lot less stress."
Part of what makes Franklin such an excellent place for families is the numerous organizations and activities it offers to residents and families, including things like the Franklin Performing Arts Company, Live ARTS, Hockomock Area YMCA, Franklin Garden Club and a number of youth-specific groups.
The fact that Franklin has also recently renovated its schools and built a new high school that offers a range of new technologies also helps. The education of the children in the community is of great importance, as evidenced by the work and effort put into the school system. With a new historic museum as well, and numerous playgrounds and recreational areas, the town allows young people to grow to their fullest potential, both mentally and physically.
The test scores of Franklin students are a testament to the effectiveness of the town's efforts. Franklin achieved a ranking of "high performance" after its 2008 test scores, where the students in the town scored "high" or "very high" across the board, beating out state averages.
Beyond the schools at home, Franklin's location also allows parents to support their children even as they move into higher education. Franklin is close to at least a 100 different vocational training and higher education options, including ivy league schools and leading research universities. Real Estate Agents covering Franklin understand these strengths when selling a home!
Finding The Right Home For Your Family
Families have special requirements when it comes to buying or selling a home, requirements that I am very familiar with as a leading Franklin Massachusetts Real Estate Agent. If you are seeking to move to Franklin to either start a family or take care of your existing family, I can help you locate properties that work for your specific needs and the needs of your loved ones. I have helped many different families to find exactly the right home for both their lifestyles and their budgets, and I can do the same for you. If you are looking to sell a home in Franklin my marketing techniques go over and above what most Franklin Realtors are doing for their clients.
Population Statistics
As of 2011, Franklin's population is 33,272 people.  Since 2000, it has had a population growth of 12.47 percent.  There are 1,190 people per square mile (population density).  The median age is 36.4.  62.10% of people are married and 6.49% are divorced.  The average household size is 2.88 people.  58.47% of people are married with children and 55.77% have children and are single.
The Weather/Climate
The climate is typical of Eastern Massachusetts and experiences a wide range of temperatures from winter to summer. The town gets 48 inches of rain per year and 46 inches of snowfall. The number of days with any measurable precipitation is 112.
On average, there are 203 sunny days per year in Franklin with July highs are around 84 degrees and January lows are around 14 degrees.
The Economy
Businesses looking to relocate to Franklin can take advantage of some of Massachusetts' business incentives. Predominately a manufacturing town, a single tax rate for businesses and residents has helped draw local and nationally known firms to the area, such as Putnam Investments and New England dairy Garelick Farms.
Forge Park, a 360-acre development, houses such major companies as Cisco and New England Power, and it contributes more than a million dollars a year to the city's tax base.
Franklin's unemployment rate is 7.10%, with job growth of 0.11%. Future job growth over the next ten years is predicted to be 33.12%. Franklin sales tax rate is 5.00% and income tax is 5.30%.  Income per capita is $39,469, which includes all adults and children. The median household income is $95,752.
Population by Occupation in Franklin, MA
Management, Business, and Financial Operations 23.89%
Professional and Related Occupations 25.88%
Service 9.77%
Sales and Office 25.39%
Farming, Fishing, and Forestry 0.21%
Construction, Extraction, and Maintenance 7.62%
Production, Transportation, and Material Moving 9.52%
Franklin MA Real Estate Agent



If you're in the market to buy Real Estate in Franklin MA or thinking about relocating, you'll find many residential options to choose from. Whether you're looking for luxury and estate homes,  single-family homes, townhomes or possibly short sales, I am a Franklin MA Realtor that can help you find exactly what you're looking for! Franklin Real Estate is quite diverse with condominiums under 100k to homes approaching a million dollars. Franklin's bread and butter price point, however, is in the 300-500k range.
One of the things you will quickly find out about the Franklin real estate market is how many exceptional subdivisions there are. Franklin went through a tremendous growth phase over the last fifteen years. There is a number of very well know neighborhoods scattered throughout the town. Numerous quality builders set up shop here from those that were local to the area to national builders such as Toll Brothers. Builders recognized what a quality place Franklin is to live. Selling here became easy because of the tremendous popularity of the town. Any Franklin MA real estate agent will tell you what a quality housing stock exists here.
The real estate market went through boom times from the mid-1990's all the way to 2005 when the market collapsed. Values of Franklin real estate soared through one of the greatest periods of real estate appreciation in our history. Just as quickly as housing values rose they came to a crashing halt in the Spring of 2005. The downturn lasted for seven years when the market bottomed in 2012. The Franklin real estate market was in full rebound mode in 2013. Inventory dropped to the lowest levels we have seen in decades. Homes were selling as quickly as they were being listed for sale. As we have moved into 2015 the real estate market has remained vibrant. There has certainly been a shift from a buyer's market to one that favors sellers.
The median home value is $375,600. Home appreciation is 0.19% over the last year. The median age of Franklin real estate is 29 years. Renters make up 17.16% of the population and 2.42% of houses and apartments are unoccupied (vacancy rate).
Franklin Public Schools
The schools spend $7,782 per student.  There are 13 pupils per teacher, 1,230 students per librarian and 892 children per counselor. The Public Schools include:
Helen Keller Elementary School
Horace Mann School
JF Kennedy Memorial School
Jefferson Elementary School
Oak Street  Elementary School
Annie Sullivan Middle School
Remington Middle School
Parmenter School
Benjamin Franklin Classical Charter School
Davis Thayer School
Tri County Reg Voc Tech School
Colleges/Universities with over 2000 Students nearest to Franklin
Dean College
Bryant University
Framingham State College
Wellesley College
Stonehill College
Babson College
Providence College
Massachusetts Bay Community College
Educational Statistics
2 yr College Grad. 9.02%
4 yr College Grad. 31.49%
Graduate Degrees 17.02%
High School Grads. 94.90%
Hospitals/Medical Centers nearest to Franklin
Milford Regional Medical Center
Metrowest Medical Center
Landmark Medical Center
Sturdy Memorial Hospital
Norwood Hospital
Newton-Wellesley Hospital
Miriam Hospital
Butler Hospital
Transportation and Commute
There are good transportation networks with Route 140 with convenient access to highway I-495 and major routes such as the Massachusetts Turnpike (I-90), Route 1 and I-95. Commuter rail service from Boston's South Station is provided by the MBTA with the Forge Park/495 and Franklin stops on its Franklin Line.
Amtrak stations near Franklin include: Framingham Station – 13 Miles; Route 128 Station – 16 miles; and Providence Station -19 miles
The average one-way commute takes 36 minutes. 81% of commuters drive their own car alone. 5% carpool with others. 7% take mass transit and 5% work from home. With good schools,a terrific commuting location and the convenience of major shopping and restaurants it is no wonder this is a popular town for those who are moving into the area as well as those who have already been established locally.
Franklin Massachusetts Realtor – Bill Gassett



If you're thinking about selling your home, investment property, condominium or other Franklin MA Real Estate, allow me to provide assistance that will make for a smooth and pleasant experience.
When you set out to interview Franklin MA Realtors there should be a number of important things you should expect to see in the agent's presentation including the past track record of success, statistical data such as list price to sale price ratios and average days on market, along with the agent's communication and marketing skills.
While putting a SOLD rider on your lawn is my #1 goal, I also expect to make you feel like selling your home was not a stressful experience!
I would welcome the opportunity to discuss why I am a well respected Franklin MA Real Estate agent that homeowners can trust with their largest asset. My specialty is putting my client's homes in the limelight online.
There are no other Realtors in Franklin MA who are providing the level of online exposure by using social media channels, as well as search engine optimized results! If you are planning on selling your home, internet marketing is something I take very seriously. There are not many Real Estate agent in Franklin Mass who will do what it takes to make your home seem like it is "featured" everywhere.
Your property will be found in all the top places that most buyers would be searching for Franklin homes for sale, including this website which is highly indexed by Google and other search engines. The idea of great real estate marketing does not stop at putting a for sale sign in your yard and listing on the Multiple Listing Service (MLS).
We leave no stone untouched when it comes to marketing our client's homes and condominiums. As far as Real Estate advertising goes, you will find that I do things that other Realtors do not, including spending time on social media and search engine optimization. Seeing your home featured on Facebook, Pinterest, Google Plus, Linkedin, and Twitter to name a few, are the norm, not the exception.
Additional things that help us stand out include exceptional photography from a high-end camera, vivid descriptions describing all the best features of your home, along with a video tour that will be found on Youtube, Realtor.com, Zillow, Trulia, and the multiple listing service.
If you are in the market to buy,you will find a variety of residential options to choose from to fit your lifestyle budget and needs. Whether you are looking to purchase an affordable in town village colonial, an executive home, or a small maintenance free condominium let me be your guide to the market as a top Franklin MA real estate agent.
A few of my accomplishments that I am proud of include:
Graduated with B.S. in Marketing and Management Northeastern University  Boston, MA. An active participant in the Cooperative Education Program.
Full-time Realtor for past 30 years servicing Metrowest MA including Franklin MA.
Member of National Association of Realtors & Greater Boston Real Estate Board.
Prior to joining RE/MAX in 1996 was one of the top agents in MA for the Prudential Real Estate.
Have been ranked one of the top 5 RE/MAX agents in Massachusetts each year, for thirteen out of the past fourteen years.
 #1 agent at RE/MAX Executive Realty – a six office company with over 135 agents. RE/MAX Executive Realty is one of the largest RE/MAX company's in Massachusetts with offices in Hopkinton, Holliston, Medfield,  Grafton, Marlborough and Franklin.
Elected to RE/MAX Hall of Fame.
RE/MAX Lifetime Achievement award.
Have been ranked as high as #26 RE/MAX agent in the United States.
Featured in Who's Who In Real Estate.

In 2012 was the #1 RE/MAX Realtor in all of New England.

In 2013 was the #1 RE/MAX Real Estate agent in Massachusetts.
In 2015 was the #5 RE/MAX Real Estate agent in New England.
In 2016 was the #3 RE/MAX Real Estate agent in New England.
I have been listing and selling homes in and around Metrowest Massachusetts for the last 30+ years.   Call or send me an email so we can discuss how I can best serve you as a Real Estate agent for Franklin MA!
Bill Gassett ~ Realtor Franklin MA
RE/MAX Executive Realty
308 West Central Street, Suite E
Franklin, MA 02038
Phone: 508.625.0191
Fax: 508.435.5550
Email: billgassett@remaxexec.com
Connect with Bill's Franklin Real Estate agent profile on Google+
Do you have Franklin Real Estate you are thinking of selling and want an exceptional Realtor to work with? Find out why RE/MAX Executive Realty has the #1 market share in Franklin Massachusetts at the video below.
To see all Franklin MA homes for sale click the link provided below.
Map of Franklin, Massachusetts
See all Real estate in the city of Franklin.
(all data current as of 2/22/2018)
Listing information deemed reliable but not guaranteed. Read full disclaimer.
If you need a Realtor in Franklin Massachusetts, I would love the opportunity to provide assistance.