Who Are The Best Companies For Moving Trucks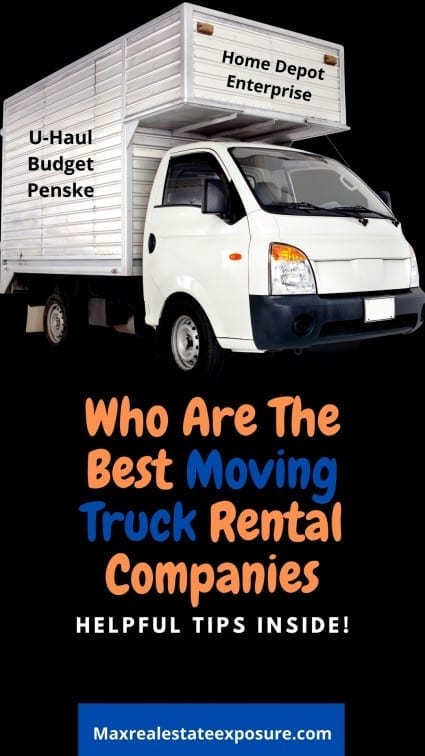 Are you considering renting a truck to move? You are not alone, as many folks decide to move by themselves rather than hire a moving company. Moving truck rentals have become a booming business.
If you are the kind of person who tends to go the cheapest DIY route, rental trucks are often your best bet because you do most of the work independently. The person looking back at you in the mirror will most likely be the one who is doing the packing, loading, and driving. That's what you give up when you forgo using a professional mover.
It might be easy to assume that all the companies offer basically the same service when you rent a moving truck. However, the choice you make for moving truck rentals can make a huge difference to your costs, among other things.
Rental trucks come in many shapes, sizes, and prices. You'll have plenty of choices when you rent a moving truck.
Let's take a look at the best rental truck companies to make it easier for you to work out which one is right for your move.
How to Find a Moving Truck Rental?
There are a few ways you can go about finding truck rentals. The first would be speaking to friends, family, and your real estate agent to get recommendations. First-hand experiences are a great place to start when looking for rental trucks.
The other that works well is going a Google search. An excellent search term would be something like truck rentals near me or moving truck rentals near me. You're more than likely to see many of the best moving truck companies that will be discussed.
U-Haul Truck Rentals

When you are looking at renting a truck to move, U-Haul might be the first name that springs to mind. This shouldn't be a surprise as they are the most popular moving truck rental business and operate from over 21,000 locations.
It is doubtful you won't be able to find a U-Haul truck rental somewhere nearby your location.
U-Haul rentals have become the gold standard as they are the most recognizable truck rental companies in the united states.
The Benefits of Using U-Haul Moving Trucks

Since U-Haul operates from so many locations, most people will have easy access to their service. They operate in every state, and if you live in a large urban area, you may be able to choose from more than one U-Haul location. This means that if you can't find the size of the truck you want at a particular location, you could try somewhere else.
U-Haul's Moving Truck Fleet
U-Haul offers 7 different rental truck types to meet your requirements. These are divided between pickup trucks, cargo vans, and box trucks.
Their smallest vehicle, the pickup truck, gives you just under 8 feet of space and is only an option for a single room move. Their cargo van offers up to 9 and a half feet for slightly larger requirements. They offer 5 sizes of box trucks, including; 10 ft, 15 ft, 17 ft, 20 ft, and 26 ft.
Besides these truck rental options, they also offered trailer rental. This gives you even more room if you need it, or you could have a trailer for your car.
U-Haul has tons of options whether you are renting a truck or some of their many moving accessories!
Click To Tweet
Reasons Why U-Haul Truck Rentals Might Not Be for You
Just because U-Haul is the big name doesn't mean it's necessarily right for everyone.
They don't offer unlimited mileage with their truck rentals. If you are moving locally, you will pay for each mile you drive their truck. And for long-distance moves, where you will return the truck to a different location, they charge by the day and estimated mileage. The milage fee you will pay is 40 cents per mile.
If you go over the estimated mileage, you will have to pay a greater per-mile rate for the excess. U-Haul's pricing is a bit misleading, as well. You more than likely have seen the $19.95 pricing plastered all over their moving trucks.
Unfortunately, that is rarely the price you will pay for a truck rental. Take a look at the comprehensive guide on U-Haul prices to see what you will really end up paying for a truck rental.
U-Haul is known for having the lowest insurance costs for its rental trucks. Many people ask if U-Haul provides a senior discount, and the answer is no, they do not. U-Haul does offer discount codes and coupons, however.
Video: U-Haul Truck Rentals
You can rent a truck to move via your cell phone to bypass the lines you may find at one of their locations. See what you need to know in this helpful U-Haul video.
Budget Truck Rental
Another good option when renting a truck to move is Budget truck rental. They are outstanding when it comes to local moves. When you rent a truck from them, they offer low upfront costs and discounts to reduce your overall rental expenses. When it comes to rental trucks, they are one of the cheapest.
The Low Priced Rental Truck Option?
If you are only moving across town, Budget will probably be the best option. Their costs are, on average less than their competition for local moves. They are, in fact, the cheapest truck rental for moving short distances.
You won't notice such a saving if you're moving long-distance, however. There could still be a more modest saving to be had over their main rivals in moving truck rentals.
With a name like Budget, you would expect their prices to be low, and part of the way they do this is through discounts. If you are a member of the military, police, fire department, or a student, among other groups, you will qualify for a truck rental discount.
There may also be select discounts available if you are moving to a certain location. Budget operates from many locations, and sometimes a one-way move could qualify for an additional reduction in truck rental prices.
To find a Budget nearby, Google Budget truck rentals near me.
Penske Truck Rentals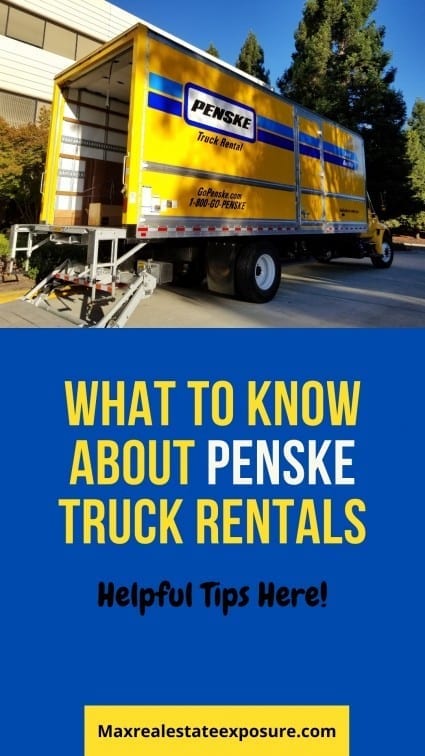 Though not operating from as many locations as either U-Haul or Budget, Penske could offer you something extra if you are near one of their depots.
When it comes to a moving truck to rent, Penske is a quality company to explore.
Penske offers Rental Truck Guarantees.
To be as profitable as possible for a truck rental company, they try to avoid their fleet sitting around unused. Though as a customer, this can cause you problems when renting a truck to move.
It is all too common a problem for the truck size you have reserved not to be available when you want it. This could be because the previous rental hasn't returned the vehicle at the expected time, but whatever the cause, this won't be very pleasant. Penske is different by guaranteeing that this won't happen.
Penske Rental Truck Sizes

Penske offers four types of rental trucks; 12 ft, 16 ft, 22 ft, and 26 ft. Whichever option you choose, you can be confident that Penske will have it waiting for you when you rent a moving truck.
Discount Offers With Their Rental Trucks

Penske could be your best choice for a one-way move. They give customers unlimited mileage anywhere in the US for a one-way journey, and they offer other discounts too.
If you are a student, in the military, a member of AAA, or simply a new customer, you could be eligible for a discount on your rental. So if you are making a one-way move, Penske will be your best choice.
Home Depot – Load-n-Go Truck Rentals

As well as all the other things you can buy from Home Depot, you can rent trucks too. Though the service is designed primarily to help customers get their purchases home, you can use their trucks for moving as well.
You can access their website to rent a truck from Home Depot. Renting a truck to move works well with Home Depot, especially when you make significant purchases from the store for your new place. Home Depot is definitely a company to have on your short list for moving truck rentals.
The Benefits of Home Depot Truck Rentals
Going with Home Depot could be ideal if you only need to move a short distance and your nearest Home Depot is close by. They offer unlimited mileage for their local rentals with an hourly rate charged. This allows you to make as many journeys as you like in the time you have.
Though Home Depot only offers trucks for local moves, they have partnered with Penske if you need the truck for a long journey. Home Depot has a reputation for being the best for hourly moves.
They operate from more than 2,000 locations, and you don't need to reserve a truck beforehand. They have a good variety of trucks available and no hidden fees, but there are some downsides to this truck rental option.
Why Home Depot Might Not Be a Good Choice
While the lack of needing to reserve a truck is a benefit, it is also a negative. You could find that there aren't suitable trucks available when you need to move. This could leave you in a stressful situation without the vehicle you need.
You could arrive early in the morning to make sure you get the truck you want. However, if you are more flexible on the time you need to move, this won't matter.
While they charge by the hour without any hidden fees, if you have the truck for longer than you should, there will be expensive fees to pay. It would be best if you also filled up the fuel tank before returning the truck, which could delay your return.
Enterprise Truck Rental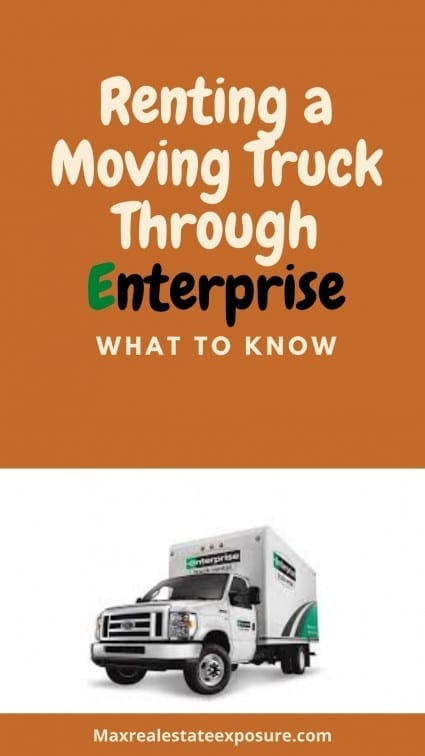 The fifth on the list of moving truck rental companies is Enterprise. They are another excellent choice when renting a truck to move. If you would like to choose from a large range of vehicles, Enterprise could be the best option.
With 14 different types and sizes of trucks, you should find exactly what you're looking for. Enterprise is well-known for an excellent rental truck selection.
You can choose from pickup trucks, cargo vans, parcel vans, box trucks, cabover trucks, and even stake bed trucks. These vary in size from half-ton pickup trucks to 26 ft box trucks.
A commonly asked question about moving trucks for rent at Enterprise is whether they have vans to rent. The answer is yes.
Mileage Costs With Enterprise Rentals

Enterprise's mileage expenses are fairly low, and you may not even get charged extra miles. This is because they include 300 miles in your rental.
While some companies will include free miles for long-distance moves, Enterprise includes it for local moves as well. If your move's total distance is under 300 miles, you might find that Enterprise is a great choice.
When looking for a moving truck for rent to make a local move, Enterprise is an outstanding choice.
The Problems with Choosing Enterprise
While hiring a truck from Enterprise is available across the United States and Canada, they don't have as many locations as other truck rental companies on this list. This will mean that most of the time, you will have to return your truck to the place you rented it from.
A long-distance move isn't really going to be an option with this company,as they don't do out of state moving truck rentals.
Searching for Enterprise truck rentals near me should help you find a nearby company.
The Cheapest Rental Truck Companies
When truck rental costs are your top priority, these are the best companies.
Budget Truck Rental— Budget has the best prices for local moves.
Penske Truck Rental— Penske has the best prices for one-way moves.
U-Haul Truck Rentals— U-Haul has the cheapest insurance of all the truck rental companies.
Keep in mind these are general rules, but factors such as location, specials, and demand can a role in what moving truck company will be the cheapest.
How to Save When you Rent a Truck
Choosing the right truck rental company is one way to save. Some companies like Penske and Budget offer discounts to certain groups, but you might be able to find a coupon even if this doesn't apply to you. A quick check online should help you find any available coupons for rental companies.
The time of year you choose to rent also affects your costs. Most people want to move home in the summer months, so your rental truck will be cheaper if you can avoid that.
It would be best if you also remembered that the larger the size truck you rent, the more it will cost you in fuel. Larger trucks get less gas mileage, adding to your costs on a long move.
If you can reduce the number of possessions you have before the move, you might be able to rent a smaller truck, saving on the rental and the fuel.
Lots of folks who are moving like to donate to charity. Doing so kills two birds with one stone. You get rid of things that you no longer need or want and, in the process, help someone out who is in need. When it comes to moving truck rentals, having fewer things will keep your time and bill down.
What Factors Make For a Best Moving Truck Rental Company?
Accurate truck rental pricing – nobody likes bait and switch. When you are renting a truck, nobody likes pricing surprises. Moving is expensive enough as it is, so surprises can be upsetting.
Outstanding customer service – like any other industry, customers want to feel like they are appreciated when renting a truck. People can tell when you are going the extra mile.
Availability of truck rentals – whether you are renting a car or a truck, it can be unpleasant when a rental company does not have their advertised vehicles available.
Having truck size options – whether you are moving from a small apartment or a large home, having truck rental choices is an expectation, not a luxury.
Unlimited mileage – if you are making a long-distance move, the cost can add up quickly when unlimited mileage is not an option.
Common Questions About Moving Truck Rentals
1. Who is the cheapest truck rental company when moving?
If you are making a one-way move, Penske has the lowest pricing schedule. It is always best to get quotes, though, because pricing can vary from location to location. The time of year and specials companies run will also play a factor.
2. Is it cheaper to get a moving truck to rent for a one-way or round trip?
Generally, one-way trips are less expensive than going round trip.
3. What is the cheapest way to move across the country?
The cheapest way to move across the US is to get a moving truck to rent and do it yourself. By making a DIY move, you will save thousands of dollars compared to professional moving companies.
4. What months are the cheapest to move?
Usually, a moving truck for rent is cheapest from Mid September until April. Demand for moving trucks slows at this time and for moving in general.
5. What companies do moving truck rentals cheap?
As explained here, it really depends on what kind of move you are doing for the best price. Check with multiple moving companies to get the best deal possible.
Other Moving Resources Worth a Look
Take a look at these additional moving articles to help you make the best decisions possible with your next move.
Final Thoughts on Moving Truck Rentals
Going for the cheapest choice might not always be the best moving truck option for you. Clear pricing might be more valuable to you. No one likes being surprised by an unexpected bill, so a company that gives you a price that doesn't hide any additional costs might be preferable. Penske has unlimited mileage for one-way journeys, and this should prevent unexpected costs when you return the vehicle.
Some companies operate a mileage cap on long-distance moves. If you go further than your allowance, you can expect to pay an increased fee per mile for each one above your cap. If you don't mind the lack of flexibility a mileage cap brings with it, unlimited deals won't be much of a draw to you. It would help if you worked out your priorities before choosing which company is right for your move.
Which moving truck company will be best depends on many factors. Hopefully, you have found this truck rental guide helpful in making a sound decision.
---
About the author: The above Real Estate information about the best moving truck rental companies was provided by Bill Gassett, a Nationally recognized leader in his field. Bill can be reached via email at [email protected] or by phone at 508-625-0191. Bill has helped people move in and out of many Metrowest towns for the last 34+ years.
Are you thinking of selling your home? I have a passion for Real Estate and love to share my marketing expertise!
I service Real Estate Sales in the following Metrowest MA towns: Ashland, Bellingham, Douglas, Framingham, Franklin, Grafton, Holliston, Hopkinton, Hopedale, Medway, Mendon, Milford, Millbury, Millville, Natick, Northborough, Northbridge, Shrewsbury, Southborough, Sutton, Wayland, Westborough, Whitinsville, Worcester, Upton, and Uxbridge MA.
Summary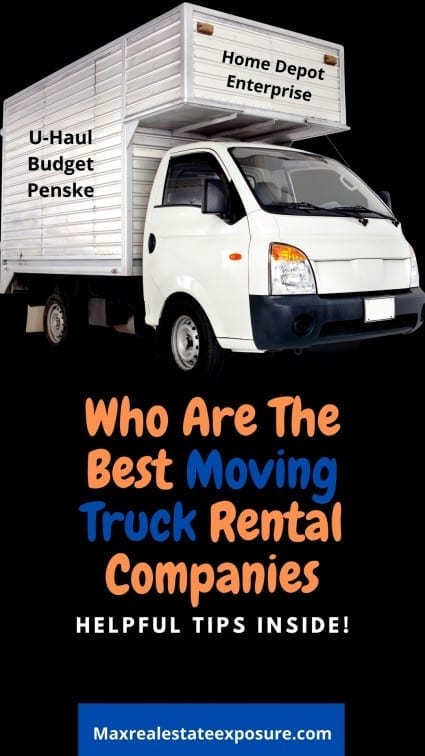 Article Name
Best Moving Truck Rental Companies: Truck Rentals Reviewed
Description
Who are the best moving truck rental companies? See the industry leaders when it comes to renting a truck to move.
Author
Publisher Name
Maximum Real Estate Exposure
Publisher Logo