Realtors Guide to Mendon, MA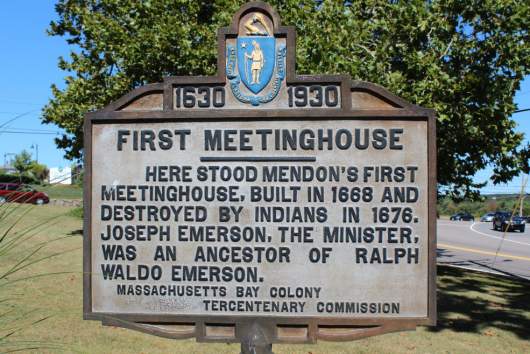 Do you want to learn all there is to know about the Mendon Massachusetts Real Estate market, as well as the community itself? I have been a top Mendon MA Real Estate Agent, presently working at RE/MAX Executive Realty for thirty years. If you are thinking of selling or buying a home in Mendon, please get in touch as I would love to share my real estate expertise.
There are very few Realtors in Mendon that have the track record of being a top producer year after year. As a Mendon MA Real Estate agent with nearly three decades of experience, selling here comes easy to me. Sit back and enjoy some of what makes the town great!
Part of the oldest industrialized regions in the United States, the small town of Mendon enjoys some major advantages over its more populous neighbors. Located in a prime area of the state of Massachusetts, this little town is considered an excellent bedroom community that draws home buyers from across the country. For those that enjoy small-town life with access to everything the suburbs offers, Mendon is an ideal choice for purchasing real estate.
Mendon has retained much of the charm it has had for centuries, something that residents of the town appreciate. With a population of 5,839 as of the 2010 census, no one can call Mendon a large place. However, its small size combined with the easy commute between Mendon and both Worcester and Providence make it a perfect place to raise a family while still working in the various industries found in these two cities. Commuting to Boston is also possible, but at almost an hour drive, the distance is far enough that the commute time may be prohibitive to some.
Occupying 18.3 square miles, according to the United States Census Bureau, the town has a low population density compared to some towns in Massachusetts that occupy similar areas. It is composed of 18.1 square miles of land and 0.2 square miles of water. The zip code for Mendon is 01756.
History – Mendon is proud of its history. So is the U.S. government, as evidenced by Mendon's inclusion in the Blackstone River Valley National Heritage Corridor. This Corridor is dedicated to the first part of the Industrial Revolution that occurred in the United States and is considered a National Heritage Corridor. It is special enough that Rhode Island's U.S. Senator has requested that the Blackstone Valley be recognized as a National Historic Park – and gain all the protections such a designation affords.
Before even these events, though, the town goes back almost to the beginnings of European settlement of the U.S. All of this makes Mendon a point of interest to history buffs and citizens alike.
One sign of Mendon's earliest settlers is Nipmuc Pond, named after the Nipmuc people that once inhabited the area. The town also has a school named after this pond, Nipmuc Regional High School. The name refers to "people of the fresh waters" or "small pond place". Interestingly, the name Nipmuc does not actually refer to a specific tribe, but rather a group of natives that occupied a wide area of Massachusetts. There are still Nipmuc people living in the state, at both the Webster and Grafton reservations.
Around 1675 there were also Praying Indians in the area, which were settled into villages – two of which were located in Mendon.
The first European settlers came to the area around the 1640s, coming from Roxbury and looking to create a new life. The settlement occupied 8 square miles of land and was purchased from the Nipmuc Indians. Considered part of the Massachusetts Bay Colony, the settlement saw official incorporation in 1667.
The actual area originally considered "Mendon" occupied 64 square miles, an area that would eventually give rise to the towns of Hopedale, Upton, Milford, Bellingham, Northbridge, Uxbridge, Millville and Blackstone. This is why the town is sometimes called "Mother Mendon" by historians of the area.
Location – adjacent towns include: Upton on the North; Milford on the East; Uxbridge on the West; and Bellingham on the South. Upton in fact shares many similarities to Mendon including the fact they share a regional school system know as Nipmuc Regional High School.
Mendon, MA Real Estate
Mendon has no plans to become a large town in the near future – perfect news for those looking for a good real estate deal in this area of Massachusetts. While the average home prices in Mendon are not what some would consider inexpensive, they do offer a great value for those who desire to live in a small town close to Providence or Worcester.
You can find all types of homes in Mendon, in town colonials to split levels to large estate houses. One interesting housing statistic is the lack of condo's available in town. There were very few built other than a duplex here or there.
For single family homes, the median price right now is about $363,600. However, it is important to remember that this figure represents the middle price of all homes listed. This means that half of the homes in Mendon cost less than this and half of them cost more. This is good news for those who want a value, because it is certainly possible to find it with the right help.
The best way to locate the house you want for the price you can afford is through an experienced Realtor covering Mendon real estate. While it is possible to find a home you want on your own, there is a considerable amount of work involved in this process. It is not something that you can spend a few hours doing and hope for success. It takes time and networking to discover the best deals as they arrive on the market, and not after a ton of other offers have crossed the seller's table.
An agent experienced in Mendon real estate will know the right channels to explore – channels that the average person typically does not have access to. Your real estate agent will have an established network of information to track down the perfect house for you and your family and will have the necessary expertise to negotiate the best price for your new home.
For a town of its size, Mendon is a surprisingly competitive market. The average home prices here are a bit higher than a town like Bellingham, for instance. But while you do get what you pay for – Mendon is an incredible small town with all the historical touches you want in a New England bedroom community – you do not need to pay more than you should. Mendon on the other hand will save you a few bucks from some of the more expensive towns further East like Hopkinton and Holliston.
There is new construction available if you are seeking to build from scratch. The typical price point for new homes in town range from a low of around $400,000 to a high around $700,000. New homes are generally hard to find around the $400,000 mark in towns further East so Mendon often becomes a destination town for those who want a new build.
Mendon, MA Housing and Population Statistics
Mendon population as of the 2000 census – 5,286
Mendon population as of the 2010 census – 5,839
According to City Data, the median resident age is 42.1
There are 2,924 males living in Mendon
There are 2,915 females living in Mendon
Median house value in 2012 – $363,600
Home values have gone up 4% over the past year
The current median rental rate in Mendon is $1,100
The population has grown by about 10% over the period from 2000 to 2010
Climate in Town
Mendon gets an average of 46 inches of rain per year, although this can vary from year to year. The average snowfall in Mendon hits about 48 inches per year, with a total of 121 days of measurable precipitation per year. The average high in the month of July in Mendon is 84 degrees while the average low in January is 13.7 degrees.
Economy and Household Income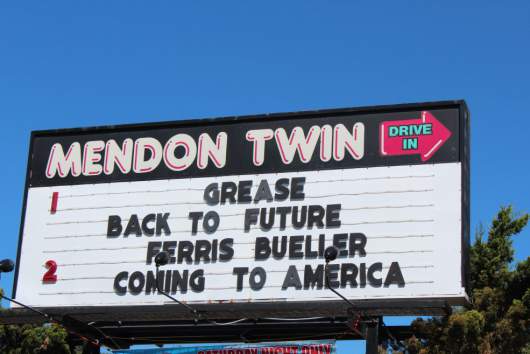 The estimated median income for a family in Mendon in 2012 was $92,913, compared to $71,164 in 2000. This is quite a bit higher than the state average for Massachusetts, at $65,339. The estimated per capita income for residents (divided among all residents of the town, including children), was $36,870 in 2012.
Mendon is not a commercial hub by any means, although there has been some recent development around the area occupied by Route 16. Even with this, it remains a bedroom community for the most part.
The small town does have two other claims to fame in modern times. These include Southwick's Zoo, which is currently the biggest zoo in the state, as well as the Twin Drive-In. The Twin Drive-In is only one of three drive-in theaters in the entire state. During the warmer months of the year the drive in becomes a hot spot for not only those who live in town but the surrounding area as well. A big of nostalgia can be found right here in the sleepy town of Mendon!
Mendon, MA Schools
Because of its small size, Mendon only has a few schools within the town. These include:
Restaurants in Town
Alicante – Mediterranean Grill of fine cuisine. Features an excellent selection of food overlooking the beautiful Lake Nipmuc. Located at 84 Uxbridge Road.
New England Steak & Seafood –  As the name suggests steak and seafood are the specialties here. Located on Rte 16.
Transportation and Commuting Options
One thing that makes Mendon so appealing to home buyers is its close proximity to Worcester and Providence. Within about a half hour drive of each city, Mendon is situated perfectly for commuting. It gives residents a number of options for both work and entertainment. It is also possible to drive to Boston in a little less than an hour, depending on traffic. For some residents this is a worthwhile trip to work and play in the state's largest city. Others prefer to work closer to home in Providence or Worcester.
Realtors Mendon Massachusetts – Hire a Top Agent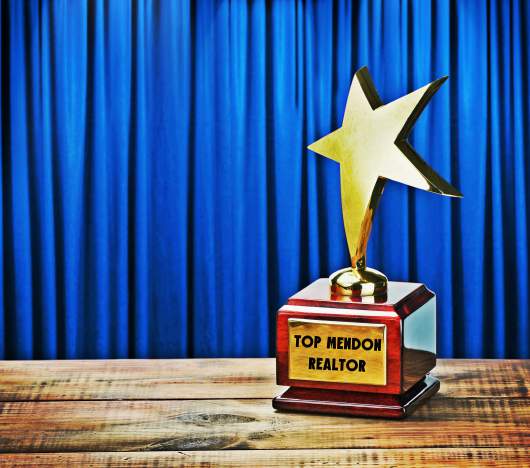 If you're thinking about selling your home, condo or other Mendon Real Estate, choosing the right agent can make all the difference in the world to having an enjoyable transaction. My nearly thirty years selling Real Estate in Mendon give me a complete understanding of the market.
Hiring one of the top real estate agents in Mendon MA should be of the utmost importance yet so many do not take the time to properly do their research. A great real estate agent that produces in good or bad markets would be good start.
There are so many Mendon real estate agents out there, it is easy to pick the wrong one! In fact most people do not realize that in real estate the 80/20 rule that applies to most businesses does not exist. The numbers are staggeringly high with 94% of the business being done by 6% of the real estate agents. In other words picking the wrong Realtor is very easy to do.
When selecting a Realtor to hire there should be a number of important considerations, including their past track record of success, statistical data such as list price to sale price ratios/average days on market, along with their communication and marketing skills. The goal of  course while working with any client is to get their home sold, I also want the experience to be a pleasant one.
I would welcome the opportunity to discuss why I am a well respected Realtor servicing the Mendon area and how I put my clients homes in the spot light online.
There are no other Realtors in Mendon MA who provide the level of online exposure found through social media integration and online searches. As our website tagline says your home will be found everywhere. Our online real estate marketing is second to none.
Your property will be found in all the top places that most buyer's would be searching for Mendon Mass homes for sale, including this website which is highly indexed by Google and other search engines. Lots of Mendon real estate agents think marketing is putting a for sale sign in your yard and listing on the Multiple Listing Service (MLS). This is what post and pray real estate agents do! Put a sign in the yard, put it in MLS and pray – NOT what you want!
When it comes to Real Estate marketing, you will find that I do things that other Mendon Realtors do not, including spending time on search engine optimization and social media marketing. Seeing your home featured in Facebook, Pinterest, Google Plus, Linkedin and Twitter to name a few are the norm not the exception.
Additional things that help your home stand out include exceptional photography from a high end camera, vivid descriptions describing all the best features of your home, along with a video tour that will be found in Youtube, Realtor.com, Zillow, Trulia, and MLS.
A few business accomplishments I am proud of:
Graduated with B.S. in Marketing and Management Northeastern University  Boston, MA. Active participant in the Cooperative Education Program.
Full time Realtor for past 30 years servicing all of Metrowest MA and beyond.
Member of National Association of Realtors & Greater Boston Real Estate Board.
Prior to joining RE/MAX in 1996 was one of the top agents in MA for the Prudential Real Estate.
Have been ranked one of the top 5 RE/MAX agents in Massachusetts each year, for thirteen out of the past fifteen years.
 Have been the #1 agent at RE/MAX Executive Realty on numerous occasions. RE/MAX Executive Realty is a six office company with over 130 agents. The firm is one of the largest RE/MAX company's in Massachusetts with offices in Hopkinton, Holliston, Medfield, Grafton MA, Franklin MA and Marlborough.
Elected to RE/MAX Hall of Fame.
RE/MAX Lifetime Achievement award.
Have been ranked as high as #19 RE/MAX agent in the United States.
Featured in Who's Who In Real Estate.
Top Mendon MA Realtor.
in 2012 was  the #1 RE/MAX Realtor in all of New England.
In 2013 was the #3 RE/MAX Realtor in all of New England.
In 2015 was the #5 RE/MAX Real Estate agent in New England.
In 2016 was the #3 RE/MAX Real Estate agent in New England.
I have been listing and selling homes throughout the Metrowest Massachusetts for the last 30+ years.   Call or send me an email so we can discuss how I can best serve your Mendon MA Real Estate needs!
Bill Gassett ~ Realtor Mendon MA
RE/MAX Executive Realty
22 South St #203
Hopkinton, MA
01748
Phone: 508.435.5356
Fax: 508.435.5550
Email: [email protected]
Connect with Bill's Mendon real estate agent profile on Google+
Mendon, MA – A Great Place To Buy A Home
There is a reason why Mendon, MA has become a more popular place to live. This small historical community has a lot to offer the family that wants easy access to Providence or Worcester while enjoying the small-town life only a place like Mendon can offer. House hunting in a place like this can be hard, but fortunately you do not have to go it alone. With a real estate agent on your side that is familiar with the area and understands buying and selling in town, you can find the home you are looking for.
If you are in the market to buy, you will find a variety of residential options to choose from to fit your lifestyle and budget needs. Whether you are looking to purchase an affordable in town village colonial or an executive home, I can be your guide to the Real Estate market as an educated buyer's agent. There are not many Mendon Realtors who can say they have been selling homes for nearly three decades.
Slideshow Video of Mendon Massachusetts
Take a look at this nostalgic look at Mendon Massachusetts in this fantastic slideshow of historic locations around town. There is even a picture of Babe Ruth with the baseball team. This is an awesome look back in time!
Other Mendon Realtor and Real Estate Resources
Map of Mendon Mass
Sample Real Estate For Sale Around Mendon
See all Real estate in the city of Mendon.
(all data current as of 10/22/2018)
Listing information deemed reliable but not guaranteed. Read full disclaimer.
If you are looking for a top Mendon Mass real estate agent to either buy or sell a home, I would love the opportunity to interview with you!