Who Are The Best Pods Storage Companies?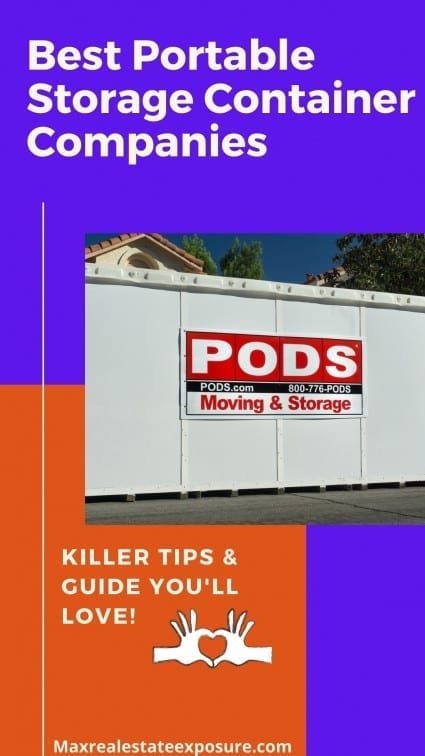 Are you looking to find out who are the best moving storage container companies? When you are moving and have storage needs, there are many options and companies to choose from. Moving Pods are big business now.
For those that don't know, PODS stands for portable on-demand storage.
Getting a storage container or two is increasingly becoming a popular choice, allowing you to pack up your possessions almost at your leisure. Then the company will collect the containers and transport them to your new home or put them in self-storage.
In fact, quite often there will be a choice between choosing a Pod or renting from a self-storage facility. There are certainly pros and cons of both storage options.
Let's take a deep dive into some of the most popular PODS moving companies so that you can narrow down your search to find which is right for you.
How to Find a Pods Storage Unit
Before reviewing who are the best Pods companies, let's take a look at how to find one nearby your home. Of course, one of the better ways to find a pod storage unit is to ask friends and family who may have used one. A real estate agent is also a great source of information when it comes to storage Pods.
Real Estate agents after all are directly involved with the moving industry. Another excellent way to find a Pods storage company is to do an online search. Using search terms like storage containers near me, Pods storage companies near me, or Pods storage companies nearby should do the trick. Using Google is a great way to see Pods storage companies in close proximity.
PODS Storage
POD moving was popularized by the PODS company. The Portable On Demand Storage company has been around since 1998 and is one of the best-known names in storage containers. Most people in fact think of the PODS company when considering onsite storage.
You shouldn't choose a company just because it's well-known, however, and there are some other reasons to choose PODS moving containers. Moving with Pods has become extremely popular over the last decade due to their convenience.
Moving Pods allow customers to be able to access all their things right from their own yard. They create an extremely efficient and convenient way of moving.
PODS Moving Costs
One of the most asked questions is how much do PODS cost? For shorter distance moves, PODS storage offers great value. They are competitive on costs for moves below 500 miles and offer some of the best deals if you were moving less than 150 miles.
Here is a rough summary of what you can expect to pay when moving with PODS:
A move that is less than 150 miles is around $1150. The industry average for other pods companies is $1720.
Moving under 500 miles averages around $2050. Averaging the other pods' companies for under 500 miles comes it at approximately $2000.
When compared to other storage companies, PODS has one of the lowest prices for short-distance moves.
What Are PODS Container Sizes
A lot of storage container companies only offer one size, but PODS has three to choose from. They have 7, 12, and 16 ft containers available, and this could mean that you fit all of your possessions in a single unit. If you're moving from a larger property, you can, of course, reserve multiple storage PODS.
Included in the price of your container is up to 30 days to load it. This means you don't need to worry or rush when your container arrives. For this reason, choosing POD moving containers could save you from a lot of stress. You simply contact them when the container is full for them to collect.
PODS operates from locations in most of the states of the U.S. and some international locations as well. So if you need a storage container for a fairly local move, PODS could be your best choice. Having multiple choices in pod sizes is one of the reasons PODS is such a popular storage option.
Pro tip: to find a PODS close to your home, Google PODS near me or PODS nearby.
Video: What to Expect When Moving With PODS
See what you need to know about renting a storage container with PODS in video format.
U-Haul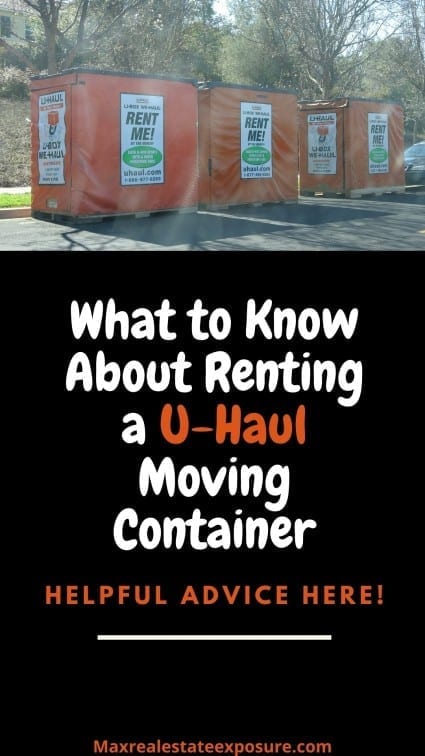 When most people think about renting a moving truck, U-Haul comes to mind. With good reason, U-Haul has been around for quite a while and has thousands of locations around the country.
Perhaps the biggest name in moving, U-Haul also offers a container service called U-Box.
They have the advantage of operating from a massive network of storage facilities, with over 21,000 locations. U-Haul has locations in every state including some in Canada and Mexico as well.
When you need boxes for moving, U-Haul will provide them through their U-Haul box exchange service.
Let's look at their other benefits U-Haul offers with their storage containers.
U-Haul Offers Easy Reservations
U-Haul's online reservation system guides you through the process without the need to phone the company. Having a conversation with a sales representative is something most other companies will need you to do during the process.
Instead, U-Haul gives you all the pricing information to let you pick the services that best fit your moving needs. When it comes to Pod storage, U-Haul is an excellent company to consider.
U-Haul Has Many Insurance Choices
U-Haul gives customers more insurance options than most. They have plans to match the level of coverage you need for your possessions. Whether your valuables are worth $20,000 or just $1,000, they have insurance policies to suit.
Here is a break down of the insurance costs for U-Box:
$1000 of insurance coverage costs $48 per month.
$5000 of insurance coverage costs $72 per month
$10,000 of insurance coverage costs $100 per month.
$15,000 of insurance coverage costs $128 per month.
$20,000 of insurance coverage costs $166 per month.
The Downsides of Using U-Haul
While they offer lots of locations that should mean there is a storage facility near you, there some negatives. Their storage containers aren't the sturdiest, only constructed from wood, there is a greater risk of damage to your possessions.
They also need you to pay upfront for your storage pod. And overall, their costs aren't as competitive as some other choices.
Pro Tip: to find a U-Haul close to your home, Google U-Haul near me or U-Haul nearby.
Click To Tweet
U-Pack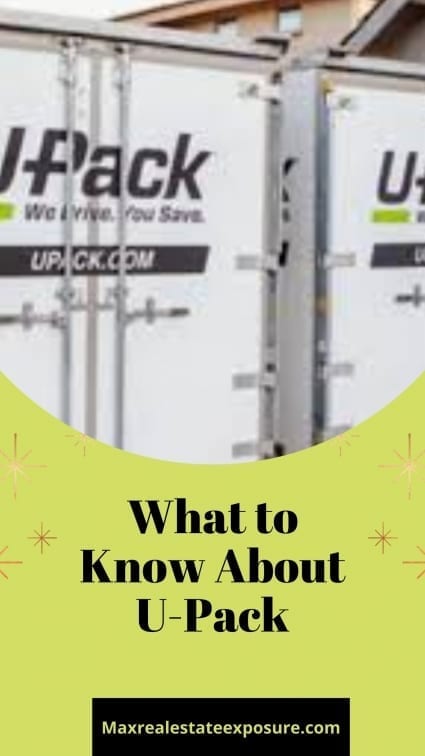 U-Pack is another Pods storage container company worth checking out. U-Pack operates a storage container service called ReloCube. They are also nationwide and a great choice for long-distance moves, but that isn't the only reason you should choose them for your storage pod needs.
U-Pack Has Low Prices
When compared to other options, U-Pack frequently offers better prices. This is particularly noticeable when you are moving over a distance of more than 1,000 miles.
If you only need the moving container to get your possessions from A to B, U-Pack doesn't charge you for storage that you don't need. Most container companies will include some storage time in your basic quote, but with U-Pack, you only add it if you need it.
You will already have three days to pack your container, but if you need more time than that, you can add it to your quote. You may need storage if you are going through a particularly difficult move, or your new home isn't ready when you need to move in.
U-Pack's ReloCube's overall pricing is really tough to beat—and its long-distance moving rates are exceptional.
There No Upfront Costs With U-Pack

They don't require you to pay a deposit for the containers you reserve. They will ask for your credit card details but aren't going to charge your card when you place your reservation. When they collect the containers from your home, that is when they will bill you.
Not having to pay out money upfront can be a blessing when you are financially stretched during a home move. This also means that you can reserve the containers you think you are going to need, without worrying that you have too many.
If you don't actually use that many PODS, you aren't going to be charged for the ones you don't need.
The Disadvantages of Using U-Pack
If your move is only local, U-Pack won't be able to help you. They only offer long-distance moves and have facilities in all 50 states, as well as Puerto Rico and Canada.
You will be charged by the day for the containers you use. Though since they only count business days, you can get a few extra days to pack if you select collection at the beginning of the week.
When it comes to moving pods, U-Pack is definitely worth your consideration.
1-800-PACK-RAT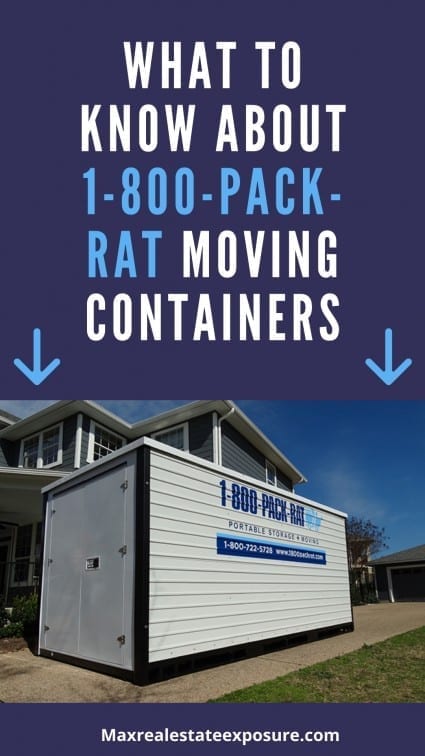 Though they don't operate from quite as many locations as either PODS or U-Pack, 1-800-PACK-RAT could be another storage container option that is worth your consideration.
Let's have a look at what sets them apart from the competition.
Check Out The Discount Offers
Pack Rat might not offer the best standard prices, but they do offer a lot of discounts. They even have a page on their website just for the current special offers. You may find a deal that works out better for you than their competitors, thanks to an offer when you reserve a container.
1-800-Pack-Rat Containers
Like PODS, 1-800-Pack-Rat gives you 30 days of storage when you order your containers. This allows you more time to pack your possessions into their secure steel boxes. Their containers are steel framed with barn doors to make sure your stuff doesn't get damaged during the move.
The barn doors on the container are different from those offered by PODS with their roll-up doors. This can be better with less chance of the doors getting jammed, and they also take up less room when opened, giving you a little bit more space for your stuff.
Like PODS, 1-800-Pack-Rat has multiple container sizes to choose from. They offer storage containers that are 8 feet, 12 feet, and 16 feet.
1-800-Pack-Rat is well-known for having the most sturdy moving pod containers in the industry.
The Storage Facilities Are Outstanding

If you need to have your container stored, 1-800-Pack-Rat has secure facilities that include climate control. This should make sure that your possessions are kept safe and protected from both thieves and mold. In fact, they have some of the highest-rated storage facilities in the industry.
Their storage facilities come with 24-hour surveillance, climate controls, and car-accessible warehouses. There is no doubt that 1-800-Pack-Rat is worthy of your consideration for a portable moving and storage company.
To find the closest company near your home, Google 1-800-Pack-Rat near me.
SmartBox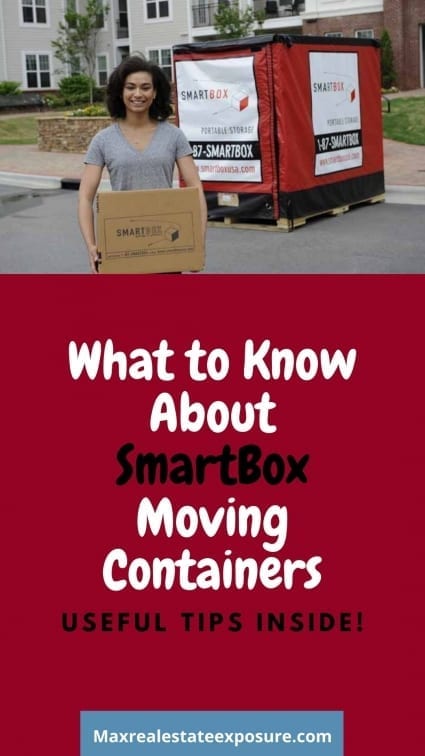 One of the smaller companies on our list, SmartBox could be the right storage container company for you if you are in an area served by the business. They are in 23 states offering their service to 60 million people. SMARTBOX is also considered one of the top Pod moving companies.
SmartBox Has Transparent Pricing
The company tries to make sure their customers understand what their costs are going to be, without being surprised by extra fees. For example, they don't charge extra fees for the fuel used by the truck. They will also give you an estimate that includes tax, so you know exactly how much you'll have to pay.
They also operate a price match guarantee so that you can focus on comparing the service provided rather than just the price.
Also, like U-Pack, you will only pay for the containers you use. So if you aren't entirely sure how many storage units you need, you could order up to a maximum of 8. Then when your containers are collected, you will only pay for the ones that contain your possessions.
You can expect to pay on average around $3000 for a SMARTBOX moving container. Costs range from $1500 for a move from a small apartment locally to $5000 plus for a move from a three to four-bedroom home across the country.
SmartBox Provides Insurance Coverage
If you need containers for a long-distance move, $10,000 worth of insurance cover is provided. This will protect you against damage to your stuff while in transit. They also offer coverage up to $70,000 for an additional fee. If your move is local, however, you won't benefit from this free cover.
The Negatives of Using SmartBox
Besides the limited location availability, there are a few other issues. Their containers are wooden crates that won't be as sturdy as the steel alternatives, though they are wrapped in a waterproof cover to give them some protection from the weather.
Despite their price match guarantee, they do seem to be a little more expensive than the competition. There can also be a wide variation in pricing between locations. This is due to franchise owners that set their own prices.
Frequently Asked Portable Storage Container Questions
Here are some of the most essential questions to ask portable moving and storage container companies.
1. Where will the storage container be located?
Most portable storage container companies will let you choose the location in your yard will the storage unit will be placed. The majority of moving pods will be placed in the front of a home for easy access.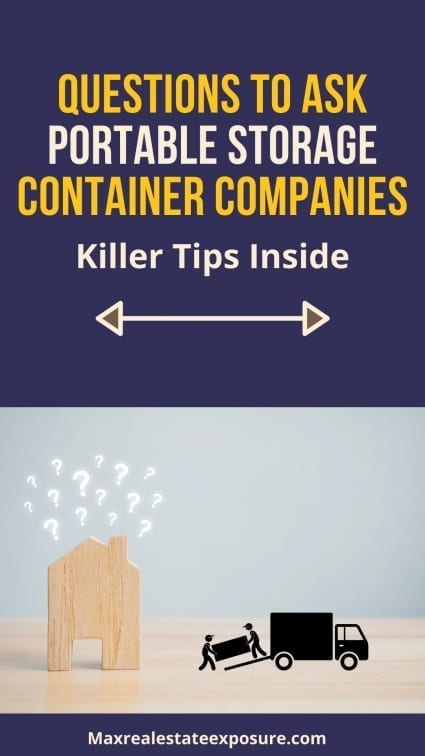 Some people like putting them in the driveway while others like placement in the yard so they can continue to use their garage if they have one.
2. What are portable moving containers made of?
What a moving container consists of really depends on the storage company you work with. You can expect anything from steel to aluminum to heavy-duty plastic to construction-grade wood. It is advisable to check with the company upfront for their storage options if this is important to you.
3. Can the storage container be moved after it is put in place?
No, the storage pod cannot be moved. Even though the moving containers have wheels they will be locked in place when it's delivered and placed on your lot. It becomes essential to plan ahead of time and tell the driver exactly where you want the moving container to be placed.
4. Can moving containers be locked?
Yes, and you will probably want to make sure yours is secured. You will either be provided with a key for the container or be able to use your own lock to secure the container depending on the company you choose.
5. Are my things in the moving container insured?
Probably. The majority of homeowner's insurance policies cover items stored on your premises whether they are located in a moving container or not. It is advisable to make certain with your insurance carrier to make sure your policy covers your possessions.
6. Is there anything I can't put in the storage container?
Yes. Usually, you will not be able to put anything into the moving container that is considered flammable, hazardous, or corrosive. It is also likely the storage company will not allow any animals and any food. Every storage container company has its own set of rules on what can be stored and what can't so it is worth checking with them upfront.
7. How long can I keep my moving container?
You will be able to keep your moving pod for as long as you like unless of course, you stop paying for it. Every portable storage company has different policies so it is advisable to let them know how long you plan to keep it. Doing so should help prevent them from charging you with unforeseen fees.
8. How much do storage container companies charge for long-distance moves?
Renting a portable storage container for moving out of state is very expensive. You will typically be spending anywhere from $3000-$4000 dollars.
Other Moving Resources Worth a Look
Use these moving guides to make the best decisions when it comes to your move.
Final Thoughts on The Best Pods Moving Companies
So, there you have it. You now know a lot more about the top moving and storage pod container companies. The POD moving container companies we've looked at should provide a good service and have a reliable track record of helping customers move. The services they provide vary, and the way they price them can make it difficult to draw direct comparisons.
You should try to focus on what options will be most useful to you, to narrow down your selection, and get then quotes to compare prices.
For example, if you expect to have the container outside your home for weeks, perhaps an all-metal POD will be better. If you don't know exactly how much space you need, a company that allows you to order more containers, only charging for those you use, will be a smarter choice.
Hopefully, you have found this guide to portable moving and storage containers to be useful.
---
About the author: The above Real Estate information about the best pods moving and storage container companies was provided by Bill Gassett, a Nationally recognized leader in his field. Bill can be reached via email at [email protected] or by phone at 508-625-0191. Bill has helped people move in and out of many Metrowest towns for the last 34+ years.
Are you thinking of selling your home? I have a passion for Real Estate and love to share my marketing expertise!
I service Real Estate Sales in the following Metrowest MA towns: Ashland, Bellingham, Douglas, Framingham, Franklin, Grafton, Holliston, Hopkinton, Hopedale, Medway, Mendon, Milford, Millbury, Millville, Natick, Northborough, Northbridge, Shrewsbury, Southborough, Sutton, Wayland, Westborough, Whitinsville, Worcester, Upton, and Uxbridge MA.
Summary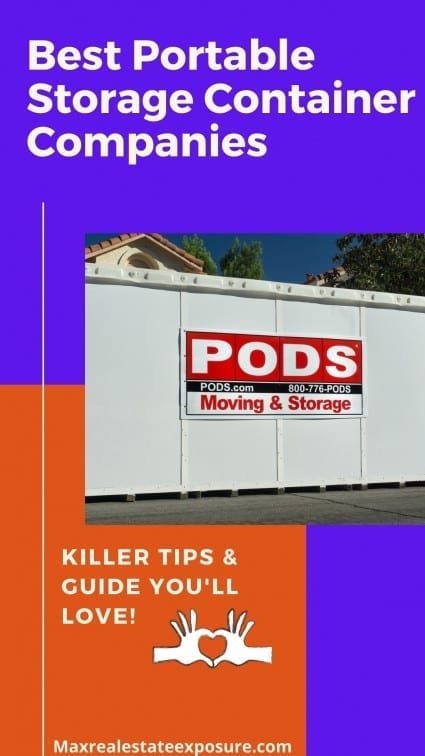 Article Name
Best Pods Moving Storage Container Companies
Description
See the best portable moving storage container companies as well as a ton of using tips for renting a portable storage unit.
Author
Publisher Name
Maximum Real Estate Exposure
Publisher Logo