How to Compare Local Self-Storage Facilities and Pricing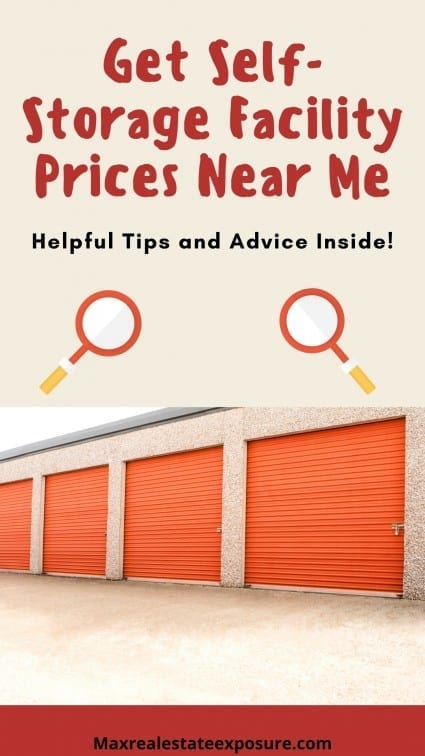 Are you looking to find self-storage nearby? Maybe you are planning for an imminent move? Storage units near me is a heavily searched term and with good reason.
When you are prepping to move to a new home, it can be helpful to know where you can find self-storage near your location and the cost of that storage. The thing with self-storage prices is that they are changing all the time, and they can vary significantly by location.
Here are some helpful pointers for your storage search so you can get the lay of the land – including the basics of self-storage and what the general price points tend to hover around.
You can use this excellent tool from Sparefoot to give you the pricing of local self-storage facilities near you. If you are in the market for self-storage at the moment, use this to compare the prices of multiple facilities nearby. You will be able to find a storage unit and save money easily!
Convenience, of course, is a significant factor in picking a storage unit. Lots of folks want something close by to where they are living.
Finding Storage Units Near Me
One of the better ways to find a storage unit nearby is to do a Google search. I would suggest something along the lines of "storage unit near me" or "storage units near me."
By doing this kind of search, you should find companies in close proximity to your location. Let's take a look at what you need to know about storage facilities.
Self-Storage Prices and More – What You Need to Know
How does self-storage work?
Some people have spent their lives going in and out of storage units. But others have never actually used such services. If you are not familiar with them, here are the basics.
With self-storage, you choose the size of self-storage you want – with bigger spaces being more expensive. You can find self-storage for pretty much everything, from climate-controlled rooms for wine and art to large areas for automobiles and boats.
Once you have picked a storage size and a location, you sign a contract with the storage company and set up a payment plan. Then, you get access to your storage unit. Don't forget to purchase a lock! Most storage companies don't provide them.
Once you have access to your storage space, you will usually be responsible for moving your stuff into the area. You can always hire movers to do it for you, but if you are trying to save money or don't have much stuff, you can take the things from your vehicle into the storage space on your own.
Here are some excellent tips for picking a storage unit. The questions I've provided will also give you some sense of choosing the right storage unit for your needs and budget.
How is self-storage priced?
Self-storage businesses want to attract customers, so they tend to keep their prices reasonable in all but the most pricey neighborhoods. They usually price their units based on monthly or weekly use. Most of the time, the larger the unit you want, the more you can expect to pay for it.
Also, much like renting an apartment or a home, if you are renting for a shorter period, you will probably pay more monthly or weekly than you would if you were to rent for a more extended period of time.
The more desirable the area, the more the storage will cost. So if you are storing stuff in a big city in a popular area, expect to pay more. You may be able to find better deals outside of the city or if a company is offering a promotion, like the first month free.
Many customers search "prices for storage units near me" to get a handle on what they can expect to pay. Keep reading, and you'll see some guidance on self-storage pricing. Prices for storage units can vary quite a bit, so it will be worthwhile to make some comparisons.
Where do you find self-storage facilities?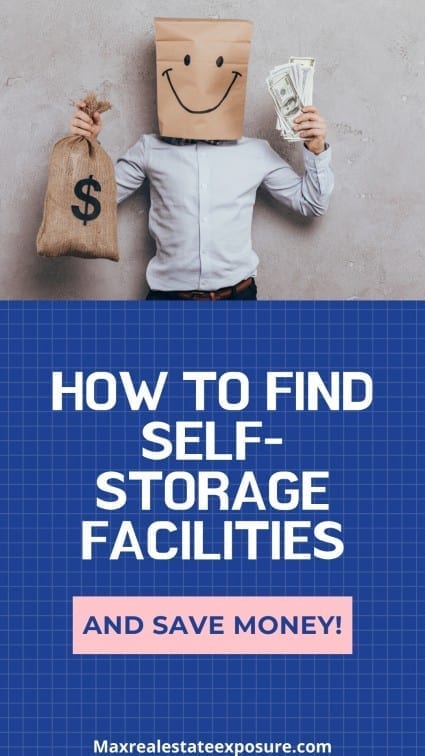 You may be surprised how easy it is to find storage near your location. Most areas have at least a few options. Do a quick search online, and you will likely find some options that are not too far from where you are or where you plan ongoing.
Self-storage has become a booming business. If there isn't a self-storage facility nearby, it would not be out of the realm of possibility to see one in close proximity in the not too distant future.
They are springing up all over the place due to the high demand for storage. Some of the most well-known franchises for self-storage are the following:
Here is a handy list of the ten largest self-storage facility companies in the United States. Use this to check out others on the list that may be nearby. Each of these companies has a search feature on their site that helps you locate a storage company nearby.
Is there anything you can't store in a self-storage unit?
Yes. You cannot store dangerous or flammable objects such as explosives, fertilizers, gasoline, narcotics, propane tanks, chemicals, or explosives. Otherwise, you are probably good to go with whatever you are planning to store.
However, it never hurts to look over the contract you have with your storage unit company. You could also ask the management if there is anything that you cannot store on the premises.
How do you compare one storage facility with another?
Most people just use the pricing to compare which storage facility they want to use more. However, other considerations, such as the size of the units offered, whether you can get climate-controlled units and whether the facility can store special items like cars or boats.
Obviously, all other things being equal, a storage facility nearby is an attractive feature.
Do you need to do anything to prepare your things for storage?
You can throw your stuff in however you like once you get your storage unit, but it is not recommended. Although storage units are protected from the elements and may even be climate-controlled, there is still a better way to fill them than just tossing things in randomly.
Try to make sure all your things are packed away in labeled boxes or containers. Ensure that everything is clean and dry before you put it in storage so you don't attract pests or encourage mildew and mold.
Consider making an inventory list so that you know what you have in storage and where. You can also disassemble furniture so that you can fit more in the storage space and save money in the process.
It would be wise to take photos of any model numbers or serial numbers. Having a description of the item is also helpful. Your inventory list might also include where you packed the item (like a crate, storage bin, in a box, or something else.
You can use these tips to pack your storage unit. There is some outstanding advice on how to pack furniture, appliances, electronics, and clothing. Another excellent piece of advice is to leave space in front of your storage unit for things you will need to access regularly.
Frequently Asked Questions About Self-Storage
1. Do I need to rent a storage unit?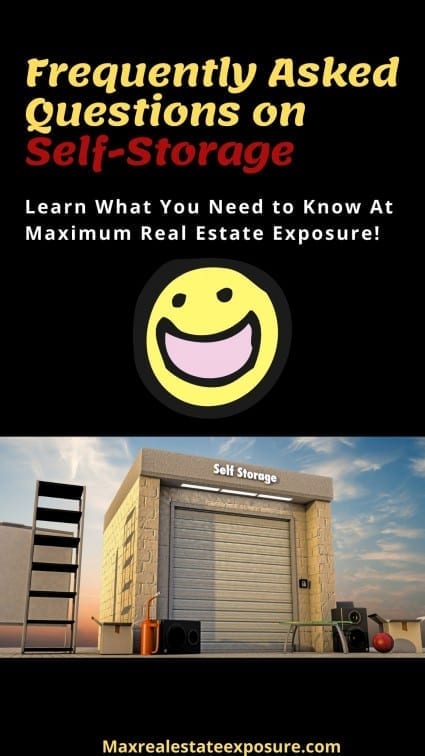 No one wants to spend more money than they have to, so you may be questioning whether renting a storage unit is necessary. The answer is, "It depends." Your circumstances are unique to you. If any of the following apply to you, it may be a good idea to rent some storage:
You are moving and need to store your belongings temporarily. Organizing your things for storage is smart to do.
You are showing your home for sale and need a place to put your things to stage the house better.
You are downsizing your home and need a place to put your prized belongings, automobiles, or boats.
You are a collector, such as a wine collector, and need a climate-controlled space for your collection.
You want a place to put your seasonal belongings, such as holiday decorations, winter clothing, or sporting equipment.
2. Do I need a climate-controlled storage unit?
Climate-controlled storage is relatively affordable today, so you might as well get it if you have any belongings that would benefit from it. With climate control, your belongings are less likely to be damaged by things like mold, mildew, heat, and cold.
Clothing, upholstery, and other goods are prone to mildew and do well in climate-controlled storage. Art and wine are prone to damage from extreme heat and cold, so climate-controlled storage is a good idea for these items as well.
Here are some items you may not have thought about that should have a climate-controlled environment:
Essential documents and paperwork
Photographs and pictures
Musical instruments
A stamp collection or other collectibles like comic books
Make-up and toiletries
Media such as videos or vinyl records
Sports equipment
If you need climate-controlled storage, I would suggest an online search for climate-controlled storage units near me. You should see at least a few choices.
3. What features are offered with storage units?
Certain storage options in rural areas are very bare-bones – sometimes just a metal room with a latch that you can lock with a padlock. But most modern self-storage offers a variety of features for extra security and comfort.
You can usually find climate-controlled self-storage has 24-hour access, video monitoring, lighting inside the facility, and additional security measures.
4. What are the exact prices of storage units?
One of the more frequently asked questions is how much are storage units to rent. It really does depend significantly on where you are renting your storage. Some locations offer self-storage for as little as $12 a month, while others will charge a minimum of $100 per month.
Most smaller storage units are available for around $50 a month, with larger units costing more. You can expect to pay 25-50 percent more for a storage unit that is climate controlled.
The average cost of a standard unit is $60-$180 per month. The average cost of a climate-controlled storage unit is $75-$225 per month.
As you can see, the cost to rent storage units per month can vary quite a bit, so it makes sense to do some price shopping in your location.
5. What size storage unit should I rent?
The bigger the storage unit, the more you are likely to pay. So you naturally only want to get the size you need and what you will use. The most common sizes for storage units are:
5'x5'
5'x10'
10'x10'
10'x15'
10'x20'
Most of the businesses you talk to about purchasing self-storage will give you an estimate of what size you will need based on the number of boxes you think you will have and other furniture.
Remember, you can stack your things vertically as well, so you will get more room than you think with a storage unit in most cases.
6. Do I need insurance for the items I put in storage?
You don't have to take out insurance for your stored belongings, but you probably should. You never know what might happen, and insurance for your things will likely be affordable.
You may get free insurance depending on the storage facility, so be sure to ask. Even if the coverage isn't free, you can probably get cheap insurance through the storage facility or through your personal insurer.
Use this helpful insurance guide for a storage unit to get questions you may have answered.
7. Does the storage unit need to be close to my house?
A lot of people want to find the right balance between affordability and convenience with self-storage. If you live in an expensive area, you might look at storage units further from where you live. But how far is too far?
You may not need to access your things until you are ready to move them out again. If this is the case, then it won't be a big deal to use storage further away. But if you need to get to your things regularly, consider a closer option. You will be glad you did.
8. Should I go with the cheapest storage near me?
There are storage facilities that offer specials based on demand all the time. As long as the storage company is a reputable one, there is nothing wrong with picking the cheapest storage nearby. Renting cheap storage if you can find it is a smart move to save on moving expenses.
Another popular search to find low-cost self-storage options would be cheap storage units near me.
9. Who are the best self-storage companies?
Some top-rated storage facilities are probably near your location. Not all of these highly-rated storage companies will be near you. You'll need to do an online search for storage near me. These storage companies are the best of the best:
Life Storage
Storage Mart
Public Storage
Extras Space Storage
U-Haul
Cubesmart
Simply Self Storage
It is worth the extra time needed to find one of the best self-storage facilities in your area!
Click To Tweet
10. What storage facilities are open 24-hours?
The most well-known storage facilities open 24 hours are U-Haul, Life Storage, Storage Mart, and iStorage. There may be other smaller local storage companies as well that offer 24-hour service.
You can search for 24-hour storage units near me to get a list of them nearby.
11. Are there storage companies near me that offer deals?
More than likely, yes. The storage industry often has monthly specials. You could do an online search for storage units near me with the first month free. Another way to search for a special would be deals on storage units near me.
Video: What to Know About Packing a Storage Unit
See some great tips on how to pack your storage unit properly in this helpful video.
Other Storage Options Besides a Facility
Are there other options besides a storage facility nearby? YES! Working as a real estate agent for the past thirty-four years, I can tell you with certainty another popular choice is to rent from PODS. One of the most significant attractions of having a POD is that everything can remain in your yard. You won't have to worry about traveling to a storage facility to get any of your belongings.
A POD is a self-contained storage unit that can remain right at your house or business. PODS come in seven-foot, twelve-foot, and sixteen-foot containers. Whether you are moving from a large home or a studio apartment, you can choose the appropriate size POD for your needs.
You'll find some beneficial information on renting a moving container from PODS, including pricing, in this resource. Renting a POD is certainly an option worth exploring.
In the end, lots of folks may decide to just go with a traditional moving company vs. using a moving container. Take a look at the comparison between a storage container and a moving company. Deciding between all of the various moving options is time-consuming but usually worth it.
Other Moving Resources Worth a Look
Who to let you about an address change – see a list of people and businesses that should be notified about your move. It is vital that you receive all your important documents when they are mailed. Not changing your address properly could be a significant mistake.
Tips for saving money when moving – get a ton of advice on how you can lower your moving costs. Put some money back in your pocket with these tips to save money with your move.
How to move with pets – get some helpful guidance on how to make your move much smoother with a dog or a cat.
Final Thoughts on Self-Storage Nearby

Making a comparison of local storage companies nearby and their pricing is a worthwhile exercise when moving. The cost of self-storage isn't cheap, so it makes sense to perform some due diligence. Ask friends and family for references on any storage facilities they have used in the past.
A local real estate agent might also be an excellent resource to speak with for suggestions as well. Hopefully, you have gotten a lot out of this guide to storage units and facilities.
---
About the author: The above Real Estate information on storage units near me, including pricing, was provided by Bill Gassett, a Nationally recognized leader in his field. Bill can be reached via email at [email protected] or by phone at 508-625-0191. Bill has helped people move in and out of many Metrowest towns for the last 34+ years.
Are you thinking of selling your home? I have a passion for Real Estate and love to share my marketing expertise!
I service Real Estate Sales in the following Metrowest MA towns: Ashland, Bellingham, Douglas, Framingham, Franklin, Grafton, Holliston, Hopkinton, Hopedale, Medway, Mendon, Milford, Millbury, Millville, Natick, Northborough, Northbridge, Shrewsbury, Southborough, Sutton, Wayland, Westborough, Whitinsville, Worcester, Upton, and Uxbridge MA.