What to Know About 1-800-Got-Junk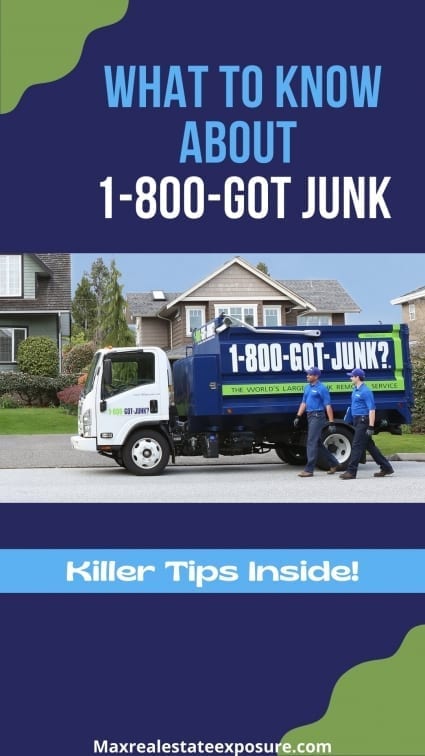 Do you require junk removal services? Are you wondering if you should hire 1-800-GOT-JUNK to remove unwanted items in your house?
Do you need information on how much 1-800-GOT-JUNK charges for junk removal?
Are you wondering how 1-800-GOT-JUNK pricing compares to the completion?
You've got questions, and we have the answers.
The longer you live in a home, the more junk you are likely to accumulate.
While you fill your closets and spare space in your home, this isn't a problem. But when it's time to move to another house, suddenly you have another problem to deal with. Junk removal!
When you prepare to move from one house to another, getting rid of your unwanted items is an essential extra thing to take care of.
It is an essential part of staging a home.
When selling your home, getting it to look its best is as important as hiring an excellent moving company and changing your address promptly.
1-800-GOT-JUNK could be the ideal solution to decluttering your home before a move. They offer a junk removal service to make things easier during a busy and chaotic time.
If you have unwanted stuff in your home, GOT JUNK is certainly worth considering.
Whether you want to do a complete spring cleaning or have a pile of household junk to get rid of, they could be your answer.
When you want to ensure your unwanted items are recycled where possible or given to organizations that will benefit, 1800 GOT JUNK could be the easiest option.
How to Contact 1-800-Got Junk
If you want to reach them by phone, you might imagine their phone number is 1-800-468-5865 or got junk as their name indicates.
Let's look at what you need to know about their junk removal service and the costs involved. You'll know exactly how 1800 Got Junk works when you're done reading.
A simple search for 1 800 Got Junk near me should give you their closest locations when looking for a Got Junk company nearby.
What Junk Removal Services 1-800-GOT-JUNK Provides
The company has been doing junk pick-up since 1989, serving customers in the USA, Canada, and Australia. With more than 200 franchises, they have become the largest professional junk removal business in North America.
Many people wonder how 1800 Got Junk got started.
College student Brian Scudamore experienced a tight job market in the summer of 89 in Vancouver, Canada. After watching an old junk-hauling truck rumble through a Mcdonald's parking lot, he was inspired to start his own junk removal business. He is now known as CEO Brian Scudamore! Not bad right?
The parent company of GOT-JUNK is O2E Brands. Some people call the company 1 800 junk, but that is not the correct usage of their name.
They provide the following help when you need a junk hauler:
Pre and post-moving junk removal
Household cleanouts
Renovations
Disasters
Estate sales
Storage units
Basements
Crawl spaces
Attics
Garages
Sheds
The Process of Hiring 1-800-Got-Junk
If you collect a pile of junk in your home, perhaps when decluttering in preparation for selling, you can go to their website, enter your ZIP code and check for availability.
Provide information about the items you need to eliminate and choose a collection time. They will then give you a 2-hour window for when they will arrive and pick up your junk.
The junk removal team that will pick up your junk will give you some advance notice before they arrive. Though you have a two-hour window, you can expect a call from them 15 to 30 minutes before their arrival.
When the Got Junk team is at your property, they will assess the junk you have, giving you an estimate of the cost. If you are happy for them to continue, they will move your debris into their truck, ready to haul away. After they have removed your junk, they will even clean the area before they leave.
They market themselves as a full-service junk removal company, offering 24/7 customer support and a same-day collection for residential and business customers. They will also pick up charitable donations and recycle scrap metal.
If you need to clear out your attic, basement, crawl space, or yard, they can help. They offer an in-home estimate for your junk pick-up requirements and an after-hours service if needed.
They are certainly one of the best junk removal companies.
No Contact Junk Removal Service
One of the beautiful things about 1-800-GOT-JUNK is their no-contact junk removal service, especially during Covid-19. Direct contact is not necessary.
If you provide instructions on what needs to be taken, their junk removal service will take your things away. Doing so ensures your safety as well as theirs. You can avoid the heavy lifting and hard work associated with moving bulky items.
Same-Day Junk Removal Pick Ups
If you need your junk collected in a hurry, you may be able to get it the same day you request a pick-up. If you contact them early in the day, you might get lucky and get an appointment later.
Though, with this, you have to remember that same-day appointments aren't guaranteed, and it works on a first-come-first-served basis. Same-day service, however, is commonplace.
Generally, you can pick a time slot within a two-hour window by contacting their call center. The company will try to reach you by giving a half hours notice before arrival.
Their arrival time, of course, is dependent on the junk removal jobs they have in front of you. Their customer service is friendly and easy to deal with.
What Does 1 800 GOT JUNK Do With The Items They Pick Up?
Where your junk will end up will depend on the items they take. They try to minimize the number of things in landfills, sorting through items and sending suitable stuff to local charities.
This means that some of your possessions could end up with the Salvation Army, Habitat for Humanity, or Goodwill. These charitable organizations will then distribute your items to those in need.
If the things you are getting rid of are not junk, you would be much better off having a donation pick-up. Many charities will come to your home and take things you no longer want.
Instead of just disposing of your junk, you'll be helping those in need—a real win-win.
1 800 GOT JUNK Prices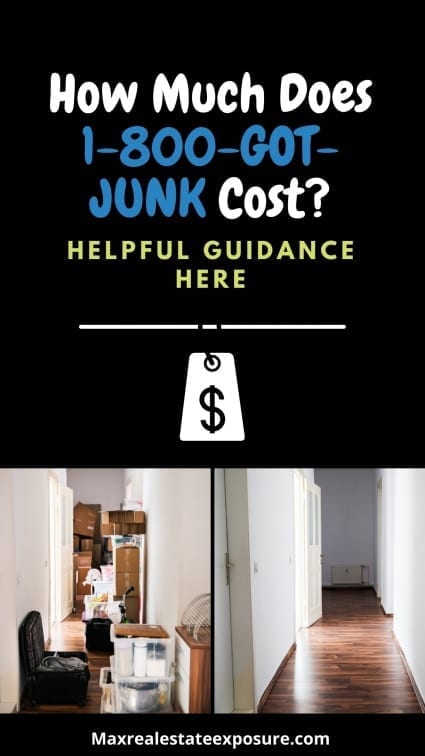 You are probably wondering about the 1800 Got Junk cost. The 1 800 GOT JUNK pricing model means they will only give you an estimate when you contact them.
Their price quote will not be an exact amount.
Since assessing the amount of room your junk will need on their truck is difficult, they will only give you the final price on the day your things are removed.
An exact price over the phone or online would not be realistic.
You can expect 1800 GOT JUNK prices to range between $129 and $1,000. This depends on where you live and how much stuff you must dispose of.
The price you will end up paying is based on how much room your stuff will take up in their truck, though once you have been given a price on the day, this won't change.
You don't have to worry about your bill increasing if it takes them longer to load their truck than anticipated.
Charges will increase based on whether your stuff fills a quarter, half, three-quarters, or full truck. They will also give you prices for single items if you only need to get rid of one thing.
Got Junk prices will certainly not be the lowest, but remember, you get what you pay for.
Typical 1-800-GOT-JUNK Costs
The minimum charge you can expect to pay to collect just one item is $129. This is referred to as single-item pricing. If you fill a truck, you will likely see a bill of around $600.
Filling an eighth of a truck will cost you around $239. Using a quarter of the space in their vehicle will cost $369. If your stuff requires half a truck, you can expect to pay in the region of $469. These are just average prices, however.
1800 Got Junk pricing can vary based on your location. Part of this is that you'll pay the recycling fees and disposal costs for your area.
The size of the trucks they operate measures 10 ft by 8 ft by 5 ft. A moving truck this size would be enough for a studio or 1-bedroom apartment move.
While this might indicate how much space your stuff will take on the truck, you need to remember that your final got junk price will not be decided until the day of collection.
There are no fuel costs that you might pay if you were renting a moving truck and hauling things away yourself. Don't expect to pay hidden fees either, as GOT JUNK is very transparent with its pricing.
You can pay 1-800-GOT-JUNK with any of the major credit cards. They will also accept cash payments too.
What Items Will 1800 GOT JUNK Pick Up?
It is easier to list what Got Junk won't collect than what they will put in the back of their trucks. The two main categories of items they cannot collect are hazardous materials and junk that two people cannot lift.
By hazardous materials, they mean things like chemicals, oil drums, paints, as well as asbestos, and anything else that could be dangerous. They have a strong sense of environmental responsibility and will not dispose of anything illegal to dump.
They also can't take items that are too big or heavy to carry by two people. This will mean that they can't take things like cars, though if you do have a vehicle you need to get rid of, they do have a partner service called Junk My Car.
Sorry, you won't be able to get rid of your old car with them. They will probably be unable to take broken hot tubs if it's too heavy to lift.
You can expect them to take old mattresses, household items, furniture, exercise equipment, electronics, televisions, appliances, etc.
The Advantages of Using 1 800 GOT JUNK
There are plenty of benefits to choosing to use this business.
If you need a full-service junk removal provider, they could fit the bill, and other benefits include:
They can step in if you don't have the time to clear out your home before a move.
They will send items suitable to charities so that some good can come from your junk.
They try to offer a competitively priced service to declutter your home, and all labor costs are included, even if it takes longer than expected.
You can be sure the company is fully licensed and insured to protect you should something go wrong.
The movers are trained and experienced in dealing with heavy or awkward junk.
You can use their contactless service if you can't be home for the appointment.
The Possible Downsides of Got-Junk

While most things are good, there are a few things you need to consider before you make an appointment:
If you need a lot of junk moved, they might not be the best option since they charge by how much room your stuff takes up in their truck.
The got junk pricing estimate you are given over the phone might not be close to what you pay. They offer an in-person appraisal that should give you a much closer estimate of the costs.
1 800 GOT JUNK Customer Reviews
When you check the customer feedback, you must remember that different franchises operate in other locations. If you see some negative reviews, and if it isn't your location, it isn't necessarily going to represent the experience you will get when you make an appointment with the company.
Customer feedback on Facebook gives the business 4 out of 5, and while that is great, it is far from perfect. This rating shows that most of their customers are very happy with the service provided by the company.
The customers that are pleased with the service provided comment about the professionalism, the speed of service, and how easy clearing the junk was. The customer experiences of my clients have been excellent.
While using 1 800 GOT JUNK isn't cheap, it should be a better value than moving the junk yourself or hiring a dumpster.
When considering using this type of service, you need to carefully consider your options to see if a more cost-effective choice is available to you before you make an appointment.
1-800-Got-Junk pricing is higher, but many feel it's worth the extra cost.
Researching Your Junk Removal Options
While this service offers many benefits to customers, you should always check out the other options in your area. You could find cheaper local options, but do they provide the same environmental benefits that 1-800-GOT-JUNK does?
If this concerns you, make sure you are fairly comparing your options when looking at the services provided by other junk haul companies.
Before you make your final choice, get estimates. You can ask for a representative from 1 800 GOT JUNK to come out to give you a better estimate of costs before your junk removal appointment.
Make sure to get at least three estimates before you make your decision. This way, you will better understand what is available and the average costs involved.
Though if you only have one or a few items to get rid of, you don't need to be so thorough with your research.
1800 GOT JUNK Availability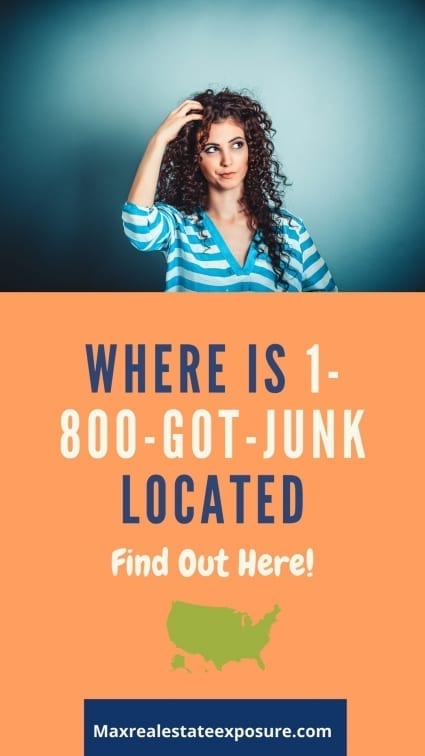 This service isn't available everywhere. They operate franchises in 43 states, Washington DC, and some areas of Canada and Australia.
Currently, they don't offer a service in the following states:
North and South Dakota
West Virginia
Wyoming
Mississippi
Montana
New Mexico
But if you don't live in one of these states, you should have a franchise ready to help clear your junk.
Will 1800 GOT JUNK Help With Moving?
They don't offer your typical moving truck service but can be helpful in some situations. If you have a lot of junk left over when approaching moving day, making an appointment could be a great idea.
They might be able to assist you at the last moment and take away the items you don't want to move to your new home.
Should You Tip Got Junk?
Since you rarely use services like this, it can be difficult to know if you should tip. Generally, they won't expect a tip, but they will undoubtedly appreciate the extra money for the work they have put in.
If you feel your junk movers have gone above and beyond to make things easier for you, why not show appreciation?
Some people don't realize you're supposed to tip movers if they do a great job. The same holds for junk removal professionals. Most people recommend tipping a junk removal company 10-20 percent of the bill.
Is 1800 Got Junk Licensed and Insured?
Even though a different franchisee operates each location, their rules require them to be licensed and insured as required in the state they are working.
What If You Can't be at Home on the Day 1-800-Got Junk Arrives?
A contactless service is offered so that your items will be collected without needing to be home. You don't need to be there as long as they can easily access your items.
You must still be contactable by phone to agree to the 1-800-Got-Junk price and pay by card on the day.
Junk Removal Near Me
You might be wondering if there are other options besides 1 800 Got Junk, and the answer is YES. If you want to find other junk removal companies nearby, you could ask your friends or relatives for advice.
When you're selling your home, your real estate agent is also bound to have some suggestions on some of the best junk removal companies.
If not, you can do an online search. I suggest using junk removal near me, the best junk removal near me, or junk removal companies near me. You should see at least a few options when doing this Internet search.
Some folks also like to use cheap junk removal near me. Be careful with the most inexpensive junk removal service; you might not get the expected quality experience.
You can also see some of the other junk removal companies that might be options as well. The companies below are also respected in the junk removal industry.
Other Top Junk Removal Companies
Let's review some of the other junk haulers. These would be considered the best junk removal companies. You may find some of these companies beat the 1-800-Got-Junk prices.
College Hunks Hauling Junk & Moving
College Hunks Hauling Junk & Moving does not have fewer locations but is considered one of the best junk removal companies. They have excellent junk pick-up services and other services such as moving and storage.
Unlike Got Junk, College Hauling Junk is more diversified.
They will provide services other junk haulers do not, such as packing for a move, home staging, seasonal pick up of leaves/branches, and light home renovation projects.
The company will also provide labor for work around the house, such as placing your moving boxes where you need them or rearranging furniture. All in all, they are much more than a junk removal service.
LoadUp
If you're the type of person who will hit up Google with a search for the cheapest junk removal company, then you will probably like LoadUp. They are well-known for having very competitive junk removal pricing.
LoadUp allows you to get a junk removal price from its website. They only need your zip code and what kind of junk you need to remove. As you add items, their website will calculate the junk hauling costs.
LoadUp bolding claims that their junk hauling costs are cheaper than their competition.
You will save the most money with them when you have more junk to haul away.
There are certainly worthy of being on the list of the best junk removal companies. The company is located in 49 states, giving them great coverage nationwide.
The JunkLuggers
JunkLuggers is another excellent junk pick-up company. One of Junklugger's core missions is to reduce waste. Their goal is to be landfill-free by 2025 – a lofty goal.
To increase their odds of reaching their goals, Junkluggers recycles and donates as much as possible instead of depositing all the junk in a landfill.
The company offers full-service junk removal, including yard debris. They will also haul away junk you have at your business as well. One of the downsides to Junkluggers is that they are only located in 19 states at the moment, which is a far cry from 1800 Got Junk.
Junk King
Junk King is yet another top junk removal service company. They are a full-service junk hauling company dedicated to removing as much of your stuff as possible.
Junk King will dispose of most things, including yard waste and furniture. They can also do larger jobs like bank foreclosure cleanouts and removal of construction debris.
From their website, they boast of having the ability to lug away hot tubs, fridges, and other significant, cumbersome articles.
Like some other junk removal companies mentioned, Junk King tries to recycle, reuse, and donate as much as possible. They are headquartered in San Fransisco, California.
They have numerous locations on the East and West coasts and some in between. You can reach them at 1-888-888-Junk.
Frequently Asked Junk Removal Questions
Most of the common questions center around 1-800-Got-Junk pricing. Let's have a look.
1. How Much Does Junk Removal Typically Cost?
Junk removal prices can vary based on location. The average price for junk removal ranges around $300 for a small load in the neighborhood. A full-size truckload averages between $400-$800.
2. How Much Does GOT JUNK Charge For Removing a Couch?
The average 1800 Got Junk pricing is around $600 for an entire truck and $400 for a half-filled truck. If you are getting rid of a single item, the price will depend on how heavy and bulky the thing is.
On average, a couch is between $175-2oo to get removed.
3. What Will 1800 GOT Junk Not Pick Up?
1800 Got Junk will not take anything that is considered hazardous waste. You can expect they will not take asbestos, chemicals, oil drums, and paint. Got Junk will also not take anything too heavy for two people to lift into a truck.
4. Can You Take a Couch to The Dump?
No. You can only take items like a couch to an approved recycling or disposal location. Most landfills do not qualify.
5. Can You buy a 1-800 Got Junk Business?
Yes, you can. 1800 Got Junk businesses are for sale. You can purchase into Got Junk as a franchise owner. Here is how to contact 1-800-Got-Junk to become a business owner. Junk franchises are available in numerous areas.
Who knows, the next new location could be right down the street.
If you are interested in junk services, the company is worth exploring. They have the most recognizable full-service junk removal service.
Other Helpful Moving Related Articles
Use the moving resources below to make the best decisions for your next move.
Final Thoughts on Why You Should Choose GOT JUNK?
If you want help quickly clearing out your junk, you should get a quote from them for a price that isn't too expensive. If you need junk removal quickly, same-day options are available if it isn't at a busy time for them.
They will deal with your unwanted junk so that it goes to charitable organizations, if suitable, with good customer service and less fuss overall. They can collect your items even when you aren't home, and they will also tidy up.
Hopefully, you have enjoyed this guide on using 1800 Got Junk and can put it to good use.
---
About the author: Bill Gassett, a nationally recognized leader in his field, provided the above Real Estate information about 1-800-Got-Junk removal and pricing reviewed. Bill can be reached via email at billgassett@remaxexec.com or by phone at 508-625-0191. Bill has helped people move in and out of Metrowest towns for 37+ years.
Are you thinking of selling your home? I am passionate about Real Estate and love sharing my marketing expertise!
I service Real Estate Sales in the following Metrowest MA towns: Ashland, Bellingham, Douglas, Framingham, Franklin, Grafton, Holliston, Hopkinton, Hopedale, Medway, Mendon, Milford, Millbury, Millville, Natick, Northborough, Northbridge, Shrewsbury, Southborough, Sutton, Wayland, Westborough, Whitinsville, Worcester, Upton, and Uxbridge MA.
Summary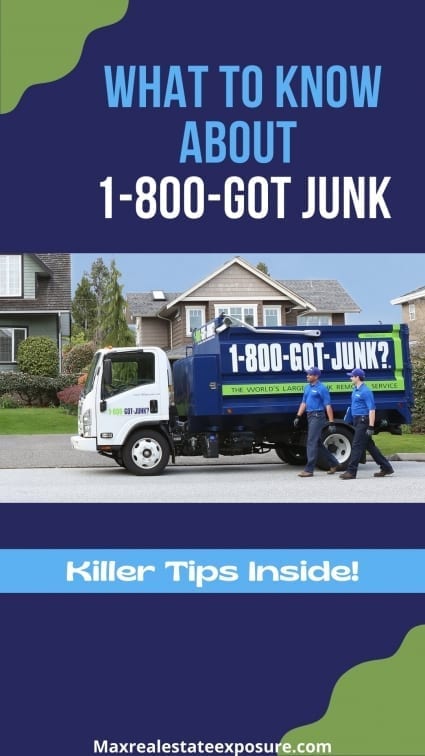 Article Name
1-800-Got-Junk: Pricing, Costs, and Reviews For 2023
Description
See what to know about 1-800-GOT-JUNK, including pricing, costs, and junk removal reviews. Learn essential aspects of junk hauling.
Author
Publisher Name
Maximum Real Estate Exposure
Publisher Logo