What You Need to Know About Donating Furniture and Clothes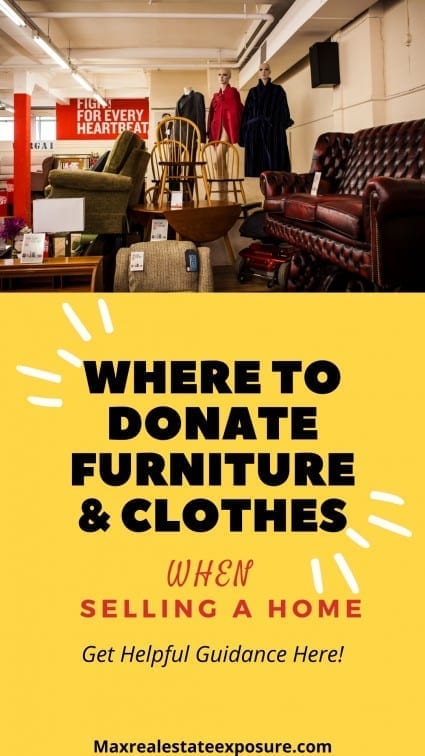 Are you looking to find where to donate furniture or clothing? Your move is going to be a significant change – one that brings new challenges and new rewards. One of the nice things about moving is that it allows you to make a fresh start.
Donating the things that you no longer want or need is an excellent way to clear out some space in your closet, your storage unit, and your life. But how do you begin? And how do you find companies to take your donations? The answer to those questions and others will be covered here.
In the past, I've covered organizations that do donation pickup for most things in your home for free. It's a wonderful way to get your home decluttered before putting it on the market for sale.
Ask any real estate agent, and they will surely tell you homes that are spacious and bright sell for more money. Getting rid of unnecessary furniture and other household goods is an excellent home selling strategy.
Some of these same charities will specifically pick up furniture and clothing. Let's take a look at what you need to know about these specific kinds of donations.
Once you are done reading you'll be able to choose which donation furniture pick up company is right for you.
Getting rid of what you don't need is good for you.
Depending on your personality, the thought of clearing out your old things could fill you with hope, dread, or something in between.
If you feel hesitant, keep in mind that clearing out the clutter in your life is often a good thing. You are moving to a new home, and there are multiple benefits to be had if you make the process of clearing out what you don't need seriously, including:
You have to move less. Moving is not an easy task. Depending on your circumstances, you could be looking at days or weeks of work and high financial costs. Every item you get rid of before you move is an item you don't have to pack, load onto a moving truck, and unpack. The gains in efficiency and lowering of moving costs can stack up quickly.
You make room in your new home. Space is beautiful to have. It can be restful to live in a home free of clutter. It can be calming to limit the number of items you have to sort through and consider every day before getting ready for work or coming home from a long day. Space is also something you can fill with things that make sense for you now – not things you've been carrying around for years or decades.
You help others. Just because you don't like your old sweaters or the couch you inherited from your mom doesn't mean others won't love these things. When you donate your gently used items to charities, they can turn around and use those things to better others' lives – either by giving them the items that they need or selling the items to fund support projects.
Choosing items to donate is easier than you think.
You can find all sorts of advice for the process of clearing out your clutter through a simple internet search. While there are different approaches to the problem, most of what you find will be useful and helpful if you apply it. The key is to actually take action, whatever steps you happen to find that appeal to you. Some common advice that can get you started includes:
Create categories and spaces to put things in those categories. For example, you could grab boxes and label them, "Donate," "Gift," "Trash," "Sell." As you go through each piece of clothing in your closet or consider the furniture you don't use, you can put it into one of these categories. (If you are in a hurry sticking to "Donate" and "Trash" would be simplest.)
Set a timer and focus exclusively on the sorting process. You could start as small as 5 minutes if you are feeling overwhelmed. A 30-minute timer would help you make significant progress but still be short enough not to be intimidating.
Take the final steps to complete each goal you set. Once everything is sorted, don't waste time and let it sit around, still taking up space. Pack up the donations, donate them, and get the trash to the garbage can or dump if necessary. If you have a significant amount of junk and don't have the time to move it yourself, you might want to consider a company like 1-800-got-junk that will come to your home and take what you don't want away. 1-800-got-junk is the leader in junk removal and a very well known company. You might, however, find a better deal from a local company. If you decide to go that route, make sure you check their references.
Help Someone in Need By Donating Furniture, Clothes, Video
Watch this quick video on why donating can be so beneficial and rewarding!
There are some things you can't donate.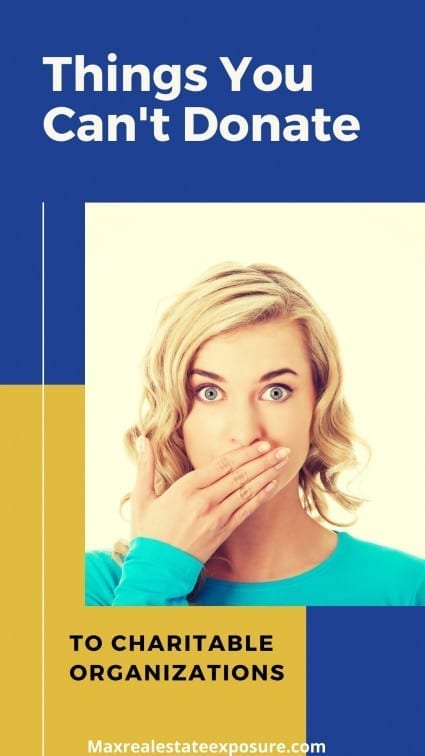 There are some rules about what you can and cannot donate when it comes to clothing and furniture. Rules can vary by donation center, but some general guidelines you should keep in mind include:
Donations should be gently used. They don't expect your donations to be brand new, but they also need them to be in good enough condition to give to those in need or to sell in their retail stores. If your furniture is shredded or your clothing is missing sleeves or has giant holes in it, they will just have to throw the donations away – a waste of their time and yours. When donating clothes, make sure you look them over carefully for obvious blemishes.
Donations should be clean. Most charities are quite limited in their funds and resources, so they would prefer it if you would deliver your gifts in decent condition. Severely stained or soiled furniture and clothing may be too difficult for them to clean and have to be tossed. You should wipe off the furniture at home and run the clothing through the wash if needed before taking it over. When donating furniture, it is essential to look it over for any obvious repairs you could help the charity repair before delivery.
They may not accept certain types of items. The best example of such prohibitions is mattresses and box springs. Most charities will not accept used mattresses or box springs. If you show up with such items, they will turn you away, and if you leave them at the donation center, they will have to pay to have them disposed of.
Where Can You Donate Used Furniture?
Here are the charities where you can donate your furniture. These companies will do furniture donation pick ups as well.

The Salvation Army
The Salvation Army operates numerous Adult Rehabilitation Centers throughout the country to help those struggling with substance use disorders, as well as other services that help those in need. When you donate your furniture to the Salvation Army, they will sell it in their stores. They use the profits from your donations' sale to fund their rehab centers and other charity services supported by the organization.
You can either drop off your furniture at one of their locations or schedule a pickup for the furniture online. The Salvation Army is one of the most well-known charities in the country who picks up clothes and furniture. When it comes to furniture donation pick up, they will be an excellent choice.
Goodwill
Goodwill focuses its efforts on providing employment opportunities and job training for those in need. When you donate to Goodwill, they sell it in one of their numerous stores and use those profits to fund their programs. It also applies the money to job placement services for those in need.
Some Goodwill locations take furniture donations, and some don't. You may be able to get them to schedule a pickup for your furniture, depending on the location you contact. Just give them a call and see what they can do to help. Goodwill is located in many states and is an excellent company to work with if they take your furniture.
When it comes to furniture donation pick up, Goodwill is one of the most recognizable charities in the industry.
Habitat For Humanity
The furniture pickup is done by an entity known as Habitat Restore, which offers pickup of furniture donations and other large items, including appliances, building materials, and more.
Donating furniture helps Habitat for Humanity by bringing it back to the Habitat Restore, where it can be sold to someone in the area who can use it. The sale proceeds will help The Habitat ensure a good place for people to live in the area and around the world.
Most Habitat For Humanity locations will accept the following furniture. Double-check locally to be sure.
Sofas
Dining room tables
Chairs
Bedframes
Dressers
End tables
Coffee tables
Entertainment centers
Filing cabinets
Bookshelves
The Habitat For Humanity is one of a handful of excellent charitable organizations that will gladly accept your furniture donations!
Click To Tweet
The National Furniture Bank Association of North America
FBANA offers you a way to connect with smaller organizations in your area that may need a furniture donation. They provide a database of all the places in your area that accept donations and help you decide which you want to choose.
You can find stats on each of the charities on the FBANA website and contact information to finalize your donation. Use the website link provided to find companies in your area that will pick up furniture donations for you.
Where Can You Donate Used Clothes?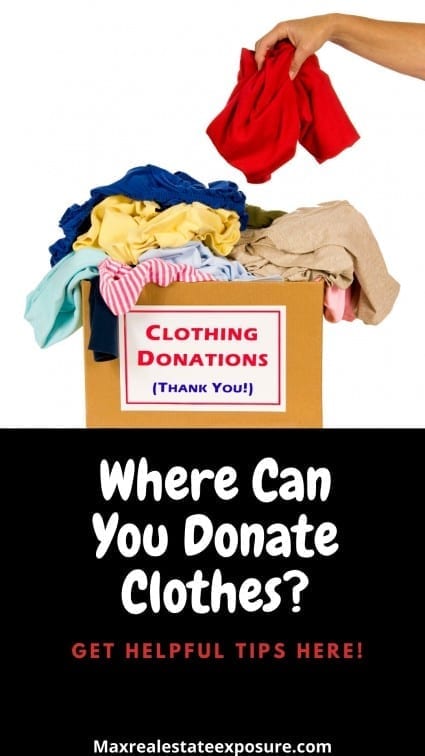 Below are the charities where you can donate clothes.
Goodwill
Clothing is one of the biggest categories of donations for the Goodwill organization. Everyone knows you can go to Goodwill to find some inexpensive used clothing and support a good cause in the process.
Your donations will be sorted and displayed in one of their stores for sale. All of the profits from your donations' sales go towards their organization, including helping provide job training and job placement services. Use this excellent resource that has donation guidelines for Goodwill.
The Salvation Army
Clothing donations are another major type of donation for the Salvation Army as well. They will take your clothes and sell them in their stores to fund their various charity operations, including drug rehabilitation, domestic abuse, and disaster relief.
Here is a handy tool you can use to find The Salvation Army donation locations nearest you. Just plug in your zip code and go.
Vietnam Veterans of America
The Vietnam Veterans of America organization works to support the veterans of every U.S. war and their families. They make it very easy to donate because they will actually come and pick up your donations at your home as long as you put them in boxes labeled for donation. See information on how to donate clothes to the VVA.
Project G.L.A.M.
This organization has a more focused goal than some of the larger charities out there. They accept donations of formal dresses for girls in need. They take any formal dresses you may no longer want or need and provide them to girls in disadvantaged communities so they can enjoy special events in style.
Unfortunately, Project G.L.A.M has been canceled for 2020 due to the Corona Virus outbreak. Regular clothing donations will resume for the 2021 calendar year.
Busy? Consider Scheduling a Pickup
If you are moving, you probably have a lot on your plate right now. It might be all you can do to sort through your things to decide what to keep and what to give away. Making a trip or multiple trips to the donation center might be more than you can handle.
Fortunately, many of these organizations will help you out when you need a pickup. You can go on their websites or give them a call to determine if they offer pickup services and schedule one for your donations.
Just remember that not every organization is equipped to do a pickup, and even if they are equipped to pick up your donations, they may need to do it sometime in the future. So, try to be patient with them as you manage the logistics of donation pickup.
Other Moving Resources to Help With Your Relocation
Have a look at a few additional moving resources that are full of great advice.
Final Thoughts on Where You Can Donate Furniture and Clothes
Donating furniture, clothes and other things around your home can kill two birds with one stone. Not only will you be making your home feel far more spacious and uncluttered before selling, but you'll also be helping others in need. Hopefully, you have found this guide on donating furniture and clothes to be helpful.
---
About the author: The above Real Estate information on where to donate furniture and clothes was provided by Bill Gassett, a Nationally recognized leader in his field. Bill can be reached via email at [email protected] or by phone at 508-625-0191. Bill has helped people move in and out of many Metrowest towns for the last 34+ years.
Are you thinking of selling your home? I have a passion for Real Estate and love to share my marketing expertise!
I service Real Estate Sales in the following Metrowest MA towns: Ashland, Bellingham, Douglas, Framingham, Franklin, Grafton, Holliston, Hopkinton, Hopedale, Medway, Mendon, Milford, Millbury, Millville, Natick, Northborough, Northbridge, Shrewsbury, Southborough, Sutton, Wayland, Westborough, Whitinsville, Worcester, Upton, and Uxbridge MA.
Summary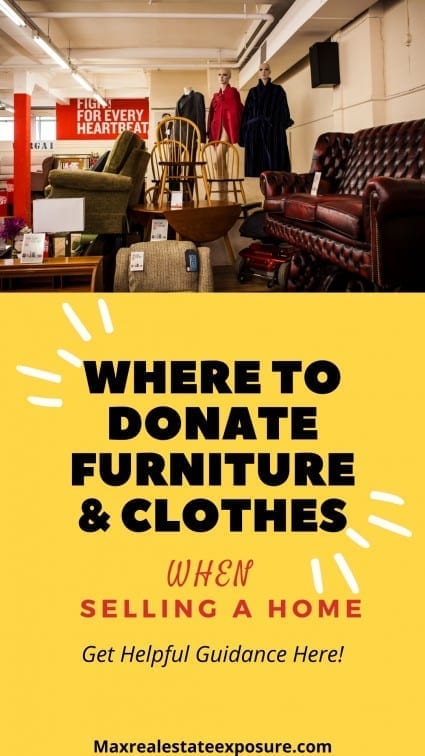 Article Name
Where to Donate Furniture and Clothes When Moving
Description
See where to donate furniture and clothes when you will be moving. Get tips and advice on what you need to know about donations.
Author
Publisher Name
Maximum Real Estate Exposure
Publisher Logo