The Guide to Finding Moving Boxes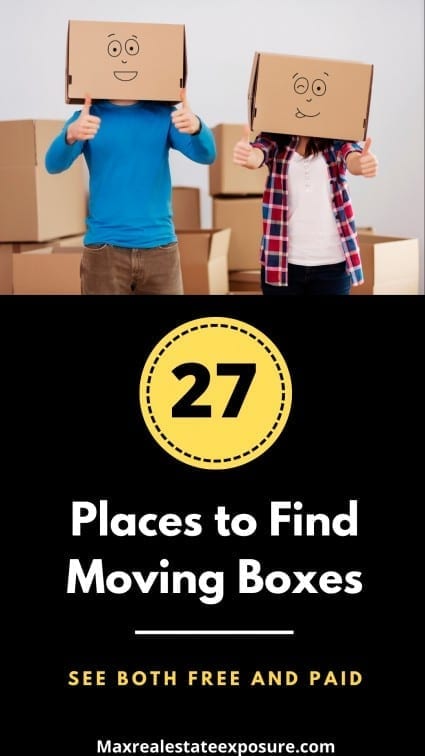 Moving from one home to another brings with it many important but monotonous tasks that you need to think about. One such task is finding moving boxes. Whether you are moving across town or relocating out of state, you're probably going to have a need for boxes. You may find a few around your home, but more than likely, you'll be hunting for more.
Whether you are moving directly into your new place or need to find a local storage unit, the whole experience can be a significant aggravation to get through, especially with your sanity in check.
Acquiring moving boxes will be one of those jobs that need to be considered as part of your planning process. You may be able to get your hands on free boxes, but you could find that buying boxes might be a more viable option if you're in a hurry.
Let's take a look at both options so you can determine where you will start the process.
Where to Get Free Moving Boxes
To save you some money on moving supplies, there are some places where you can get free moving boxes. Here are some of the most popular places to acquire them.
You might also try a Google search with "where to get moving boxes near me" as the search term. Finding cardboard boxes might work well, too, or even "get free moving boxes."
1. U-Haul Box Exchange
If you are looking at where to get boxes for moving, U-Haul is an excellent place to start. U-Haul operates a box exchange to help people who are moving. It enables you to find people who have likely recently moved home and don't need their boxes anymore.
The program has the advantage of letting you have boxes that will be suitable for a move, and you may be able to pick up some other moving supplies at the same time.
You simply enter your location on their Customer Connect site, U-Haul Box Exchange, and search for free boxes. Using the search bar on their site, all you need to do is type in your location or a search phrase such as "free boxes" to find those in your area who are giving away moving boxes. Pretty cool, right?
If you can't find any in your local area, you can make a post asking people to contact you if they have some to give away.
2. Craigslist
Checking the local pages for people giving away boxes is an excellent place to look online. The free section could be a source of boxes that others have used in their move. Craigslist is used to find just about everything, and boxes are no exception. Since you are moving, you might also want to consider the site for selling things you no longer want, unless of course, you will be donating to charity.
Lots of people will sell furniture and other household goods they no longer want. Using the free section is an excellent place to look for boxes. It is also possible to create your own advertisement expressing the need for free boxes and other moving supplies.
3. Freecycle
Another useful online option for free boxes is Freecycle. You can post on the site to ask for boxes in your local area if you can't find any offered already. The site is similar to Craiglist in the fact you can find some great free stuff in your local area. Just go to Freecyle Network to sign up for free. You are then able to create an ad that you are looking for moving boxes.
4. Various Local Stores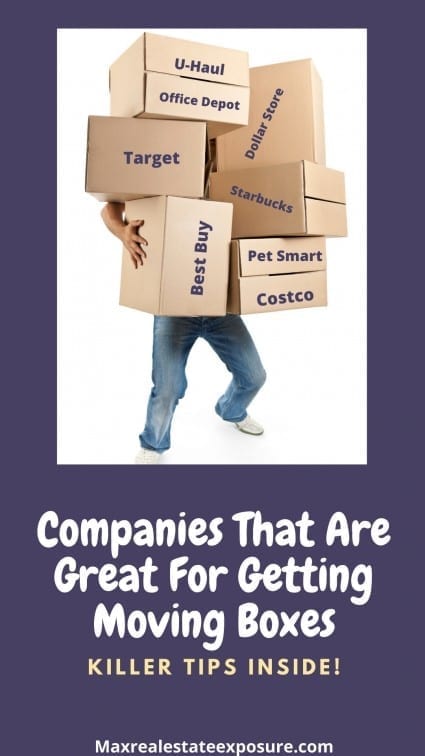 Local stores are some of the best potential options for finding moving boxes for free. Grocery, book, and liquor stores could be an excellent place to locate boxes.
They receive regular deliveries to replenish their shelves and are likely to have more boxes than they know what to do with. Whether it is a local independent store or part of a larger brand, check with the manager if they will let you have some boxes.
Here are some of the more popular places you can try that might be able to help with your move:
Office Depot
Walgreens
Petsmart
Costco
Target
Starbucks
Dollar Store
Right-Aid
Sam's Club
Best Buy
BJ's
CVS
Staples
Some boxes will be more useful to you than others, with bookstores, in particular, likely to have some extra durable boxes available. You can check out the local Barnes & Noble or other large chain book stores.
Asking at a local college bookstore could provide excellent results as well.
5. Grocery Stores
When considering where to get moving boxes, grocery stores are an excellent option. Grocery stores, both large and small, are continually getting shipments at a minimum on a weekly basis, with busy stores almost daily. Grocery stores commonly recycle a ton of excellent boxes that would be perfect for moving.
The next time you are in the store, ask to speak to the manager. Let them know you will be moving and would love to take some of their excess boxes off their hands. More than likely, they will be glad to help out.
5. Schools
Schools are another terrific option for finding free moving boxes. Though perhaps not as good as a college bookstore, other education campuses could have boxes available. Phone the office of your local high, middle, and elementary schools to see if they have boxes they want to get rid of. The beginning of the school year could be an ideal time to contact them, with new books and supplies having been delivered.
6. Recycling Points
Recycling locations can be a good source of cardboard boxes. Check your local drop-off location, and you should have a good chance of getting your hands on multiple boxes for the move. Many larger cities have numerous recycling drop-off locations that accept cardboard in great shape. You could potentially hit a gold mine for boxes.
7. Friends, Neighbors, and Local Groups
When you tell friends and neighbors that you are moving, it could be an excellent time to ask if they have any boxes available. Even if they don't have any at present, they can be on the lookout for supplies to help you. Making a post on social media could alert people to your need for packing items. Facebook is an excellent place to spread the word you need boxes.
Local online groups are another place that could provide you with free cardboard boxes. Local communities like Nextdoor could be a very good source of supplies if you're lucky. Nextdoor is a place that many real estate agents and other local businesses use to find things in your city or town. The site has a classifieds section you can use to search for free items, including moving boxes. If the timing is right, you could find a few folks who are in need of disposing of their boxes.
8. Your Grandmother
This one may sound like I am trying to sound funny (maybe I am), but don't most grandmothers save everything? The odds are pretty good that your grandmother has a few boxes hanging around that you can use. When you need a moving box in a pinch, check with Nana. Never discount an older person when thinking about where to get boxes for moving.
Types of Moving Boxes Video
See an excellent guide to the size and type of moving boxes you need for your move from Home Depot. You can also buy moving boxes at Home Depot, as you will learn below.
Where to Buy Moving Boxes
If you can't find moving boxes for free, the next best option is to pay for them. Purchasing boxes for your move is an easier way to make sure you get the packaging items you need in time for moving day. It can also ensure you get boxes that are best suited to packing your possessions.
Buying better boxes could mean that your fragile things are less likely to be broken or damaged during the move. Buying moving boxes will be a breeze when you visit one of these resources.
1. Amazon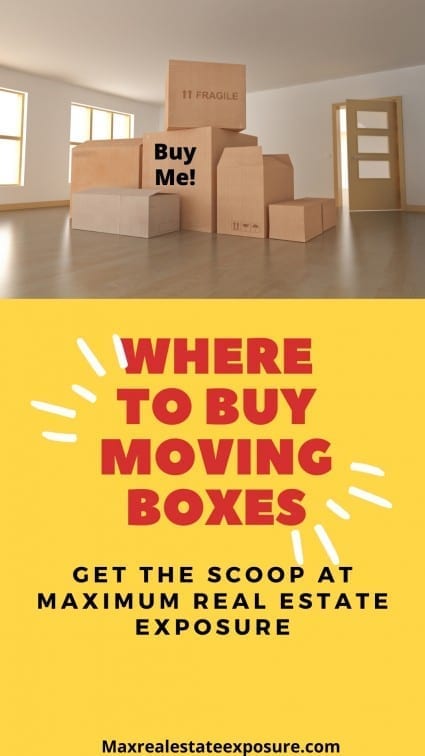 Perhaps the most obvious place to look online is Amazon. You can purchase just about anything on Amazon. They have a wide variation of boxes to meet your requirements and make sure your possessions are kept as secure as possible.
Whether you need a box of a certain size, or boxes designed to securely pack large TVs, there are likely to be many to choose from. Checking the customer feedback on the site will help you make the right choice for your needs.
You will have the boxes delivered to your door and for free if you are a Prime member. The only downside with purchasing boxes through Amazon is that you can't just buy a couple of boxes.
2. LetGo
An excellent place you can do where people sell everything under the sun is a site called LetGo. As the name suggests, it is an online store where you can get rid of things you no longer want by selling them. If you do a quick search within the site, you will be directed to members locally who are want to sell their boxes.
3. U-Haul
Along with their box exchange program, U-Haul Boxes will sell you new ones as well. They offer a good range of box types to suit your items, and you can purchase them on their website or U-Haul locations where pick up is free.
U-Haul is one of the best places if you are also in need of a local moving truck. Do a search for moving truck rentals nearby, and if U-Haul is on the list, you may want to consider killing two birds with one stone.
They provide a range of moving kits as well as individual boxes to meet your needs. Other packing materials are also available, and they will rent plastic boxes to you as well.
4. Home Depot
The Home Depot website clearly displays the dimensions of available boxes and gives you information about the numbers stocked in your local store. If they don't have what you need in their nearest location, you can order it in for collection. They also offer a moving and packing guide to help.
Another excellent feature is they will tell you how many boxes are available for purchase in the store nearest your location. They also provide a project guide filled with general packing and moving tips. Home Depot is one of the best places to get cheap moving boxes.
5. Lowe's
Lowe's Home Improvement stores provide a good range of boxes. They are available for purchase in-store or for ordering online for collection. Like Home Depot, you can pick up other DIY items you might need to help with the move at the same time.
6. Walmart
Unsurprisingly, Walmart sells boxes in its stores, along with its almost exhaustive range of products. They provide access to a large selection of sizes, and there is free shipping on most boxes. You can also choose to collect from one of the nearly 5,000 stores across the country that are often open around the clock. They also offer other supplies to help pack your things securely for the move.
These are all great companies where you can buy moving boxes.
Click To Tweet
Frequently Asked Questions About Moving Boxes
1. How Many Moving Boxes Will I Need?
Figuring out how many moving boxes you will need is obviously a smart moving task. There is no sense being underprepared, as that will just add unneeded stress to your life.
Moving from a small apartment is going to be much different from a large home. Home Depot has a moving calculator you can use to estimate the number and type of boxes you'll need.
2. How Do You Choose The Type of Boxes?
What type of boxes you should get will depend on how much you want to spend along with what you're moving. Standard moving boxes are great for clothing, nick-knacks, decore, books, etc.
For fragile items, you'll want specialty boxes that are specifically durable enough, so you minimize the chances of things getting damaged.
There are also picture moving boxes that are made for moving artwork and mirrors. They offer superior protection for these easily breakable items.
3. What Supplies Do I Need With The Boxes?
To ensure your boxes are packed well, you'll need some moving supplies to help out. It's often recommended to have packing peanuts, bubble wrap, and packing paper, along with towels or blankets to protect your fragile items. Packing correctly is a significant part of moving.
If you have hired a moving professional to help you pack and move your boxes, don't forget to provide them with an acceptable moving tip.
More Valuable Moving Resources
How to change your address with the post office – when you're moving, it is vital to make sure you fill out an address change form with the USPS as soon as you know where you'll be moving to. The resource at Maximum Real Estate Exposure offers easy instructions on how to get your mail forwarded.
Who you should let know your address changed – one of the more crucial tasks when moving is to let everyone know it is happening. There are quite a few companies and organizations you should let know immediately.
Final Thoughts on Locating Moving Boxes
Whichever route you take to get the moving boxes you need, make sure you give yourself enough time to pack, so you don't add to the stress of the move.
Also, don't forget the bubble wrap, styrofoam, and packing paper to help prevent your items from moving around in the boxes. You can also use towels, sheets, and old clothes to prevent damage to your breakables. Packing tape and a tape gun or dispenser will be needed to make up the boxes as well.
Hopefully, you have found this guide to finding free and paid moving boxes helpful!
---
About the author: The above Real Estate information on where to find moving boxes was provided by Bill Gassett, a Nationally recognized leader in his field. Bill can be reached via email at [email protected] or by phone at 508-625-0191. Bill has helped people move in and out of many Metrowest towns for the last 34+ years.
Are you thinking of selling your home? I have a passion for Real Estate and love to share my marketing expertise!
I service Real Estate Sales in the following Metrowest MA towns: Ashland, Bellingham, Douglas, Framingham, Franklin, Grafton, Holliston, Hopkinton, Hopedale, Medway, Mendon, Milford, Millbury, Millville, Natick, Northborough, Northbridge, Shrewsbury, Southborough, Sutton, Wayland, Westborough, Whitinsville, Worcester, Upton, and Uxbridge MA.
Summary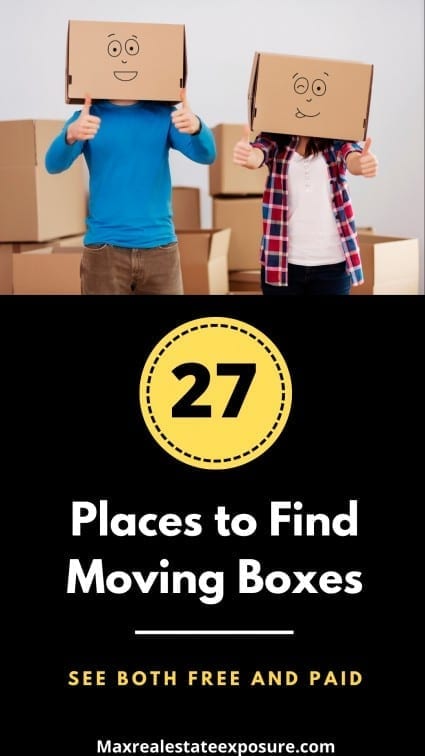 Article Name
Where to Get Moving Boxes: Free and Paid
Description
Would you like to know where to find moving boxes? See all of the best places to find boxes for your move, both free and paid.
Author
Publisher Name
Maximum Real Estate Exposure
Publisher Logo