Where to Get Moving Boxes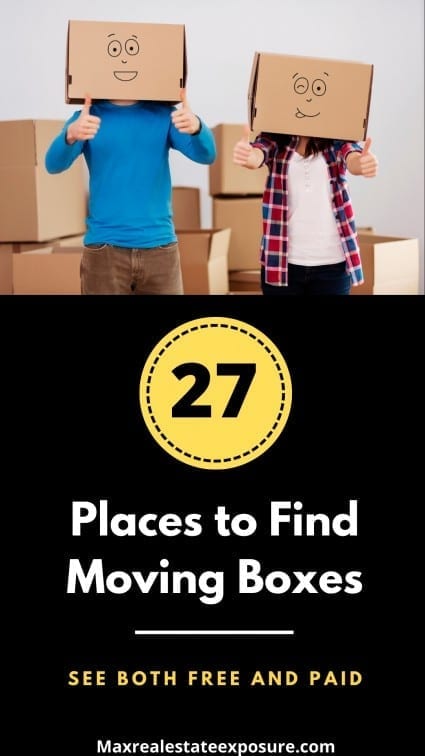 When you decide to move, it is not uncommon for people to ask where you can find boxes for moving near me.
Understanding where to get moving boxes from can be challenging when you've never relocated.
We will go over the best places to buy boxes to move and where you can get them cheap or even for free.
Moving from one home to another brings many essential but monotonous tasks you need to consider.
One such task is where to get moving boxes. Whether moving across town or relocating out of state, you'll probably need cheap boxes.
You may find a few around your home, but more than likely; you'll be hunting for more.
Whether you are moving directly into your new place or need to find a local storage unit, the whole experience can be a significant aggravation to get through, especially with your sanity in check.
Acquiring boxes for moving will be one of those jobs that need to be considered part of your planning process.
You may be able to get your hands on free boxes, but you could find that buying them might be a more viable option if you're in a hurry.
When you move to a new home, you may not have the time to scramble to find what you need.
However, getting moving boxes for free is one of the better ways to save money moving.
Let's take a look at both options so you can determine where you will start the process of finding your moving boxes.
Places to Find Free Moving Boxes Near You

There are some places where you can get free boxes to save money on moving supplies. Here are some of the most popular sites to acquire them.
You might also try a Google search using the terms where to get moving boxes near me or boxes for moving near me.
Finding cardboard boxes cheap might work well, too, or even "get free moving boxes."
1. U-Haul Box Exchange
If you are looking at where to get boxes for moving, U-Haul is an excellent place to start. Using U-Haul will be a terrific choice if renting a storage container or a moving truck.
It makes sense to lump all your shopping for the move into one place. U-Haul provides this one-stop shopping opportunity.
U-Haul operates a box exchange to help people who are moving. It enables you to find people who have likely recently moved home and don't need their boxes anymore.
The program has the advantage of letting you have boxes suitable for a move, and you may be able to pick up some other supplies simultaneously.
You enter your location on their Customer Connect site, U-Haul Box Exchange, and search for free boxes. Using the search bar on their site, you must type in your location or a search phrase such as "free boxes" to find those in your area who are giving away their boxes.
Pretty cool, right?
If you can't find any in your local area, you can post asking people to contact you if they have some to give away.
So, to be clear, U-Haul does not provide free moving boxes, but its customers do through their program.
2. Craigslist
Checking the local pages for people giving away boxes is an excellent place to look online. The free section could be a source of boxes others have used in their move.
Craigslist is used to find almost everything, and boxes are no exception.
Since you are moving, you might also want to consider the site for selling things you no longer want unless you will be donating to charity.
Many people will sell furniture and other household goods they no longer want. The free section is an excellent place to look for extra boxes and packing supplies.
It is also possible to create your advertisement expressing the need for free boxes and other supplies.
3. Use Freecycle to Get Boxes For Moving

Another helpful online option for moving supplies is Freecycle. They are an excellent resource for many things connected to your move, including stretch wraps and box cutters.
You can post on the site to ask for boxes in your local area if you can't find any offered. The site is similar to Craiglist because you can find some great free stuff in your local area.
Just go to Freecycle Network to sign up for free. You can then create an ad that you are looking for sturdy boxes. If you have heavy items to move, you can look for specific kinds of containers to accommodate what you're looking for.
4. Various Local Stores Will Work Well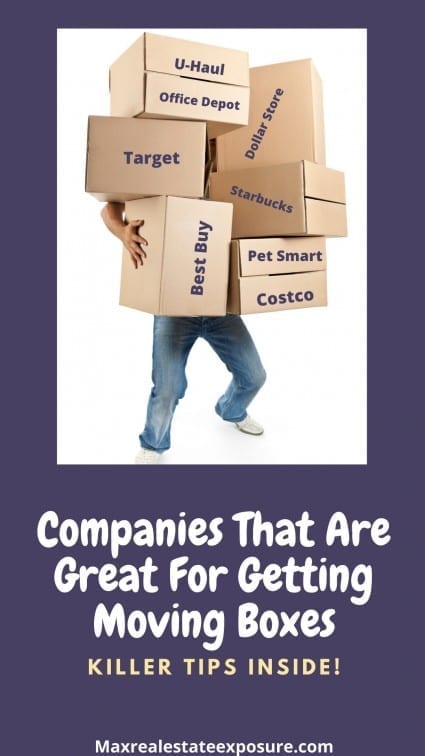 Local stores are some of the best potential options for finding moving boxes for free.
Grocery, book, and liquor stores could be excellent places to locate boxes. Local hardware stores are also fantastic for a wide variety of containers.
They receive regular deliveries to replenish their shelves and are likely to have more boxes than they know what to do with.
Whether it is a local independent store or part of a more prominent brand, check with the office manager if they will let you have some boxes.
Here are some of the more popular places you can try that might be able to help with your move:
Office Depot
Walgreens
Petsmart
Petco
Costco
Dollar Tree
Target
Starbucks
Dollar Store
Right-Aid
Sam's Club
Best Buy
BJ's
CVS
Staples
OfficeMax
Some boxes will be more beneficial to you than others, with bookstores, in particular. They are likely to have some extra durable ones available.
You can check out the local Barnes & Noble or large chain bookstores.
Asking at a local college bookstore could provide excellent results as well.
5. Grocery Stores Are Excellent For Getting Moving Boxes For Free

Like a local liquor store, grocery stores are an excellent option. Grocery stores, both large and small, are continually getting shipments at a minimum every week, with busy stores almost daily.
Grocery stores commonly recycle many excellent boxes, which makes them a great place to find them.
The next time you are in the store, ask to speak to the manager. Let them know you will be relocating and love to take some of their empty boxes off their hands.
More than likely, they will be glad to help out.
6. Schools Are Great Choices For Where to Get Free Boxes For Moving

Schools are another terrific option for finding free boxes. Though perhaps not as good as a college bookstore, other education campuses could have them available.
Phone the office of your local high, middle, and elementary schools to see if they have boxes they want to get rid of.
The beginning of the school year could be an ideal time to contact them, with new books and supplies having been delivered.
7. Recycling Points
A local Recycling Center is worth trying. Recycling locations can be a good source of cardboard boxes. Check your local drop-off location, and you should have a good chance of getting your hands on multiple items for the move.
Many larger cities have numerous recycling drop-off locations that accept cardboard in great shape. You could potentially hit a gold mine for cheap boxes.
8. Facebook Marketplace
Facebook Marketplace is another terrific place to find old and unused boxes. You will often be able to find a variety of sizes.
If you are making a local or big move out of the area, it's a good idea to give Facebook Marketplace a shot.
When looking where to find boxes for moving most people don't think about Facebook Marketplace but it's an excellent avenue to try!
Click To Tweet
9. The Local Coffee Shop
Do you have a favorite local coffee shop? Local coffee shops are another excellent choice of where to find sturdy cardboard boxes.
If there is a local Starbucks nearby, they are also worth speaking with for boxes of various sizes.
You will usually be able to find the box sizes you want in good shape.
10. Bars and Liquor Stores For Free Moving Boxes
They can be excellent options for getting free boxes if you live near a liquor store or bar. Liquor stores and bars receive numerous shipments each week.
They can be excellent options for transporting your glasses and other similar fragile items.
Many liquor stores have an abundance of boxes they will have no use for. Bars are the same way. The key is finding out from a manager when they will get their shipments.
Both bars and liquor stores will be looking to unload their excess boxes. They can be some of the best sources for free moving boxes when moving around during the holidays.
Christmas, Thanksgiving, The Fourth of July, and Saint Patrick's day are all holidays with significant alcohol consumption. The same can be said about the Superbowl.
These businesses will have additional boxes at these times.
11. Friends, Neighbors, and Local Groups
When you tell friends and neighbors that you are moving, it could be an excellent time to ask if they have any boxes available. Even if they don't have any on hand, they can be on the lookout for supplies to help you.
Making a post on social media could alert people to your need for packing items. Facebook is an excellent place to spread the word you need boxes.
12. NextDoor.com
Local online groups are another place that could help with getting cardboard boxes. Local communities like Nextdoor could be a fantastic source of supplies if you're lucky.
Online community groups are an excellent source of finding boxes for moving near you.
If you are not already a member of Nextdoor.com, you should join them. They are an excellent source of community information. Additionally, members often seek to eliminate items in their homes for free.
Sometimes members will be looking to offload their moving boxes for free. There is a classified section where you can find free stuff. It is like having an online yard sale.
If the timing is right, you could find a few folks who require disposing of their boxes.
Nextdoor.com is a place many real estate agents and local businesses use to find things in your city or town.
Community groups like Nextdoor are excellent resources for getting the word out.
13. Your Grandmother
This one may sound like I am trying to sound funny (maybe I am), but don't most grandmothers save everything? The odds are that your grandmother has a few boxes hanging around that you can use.
When you need a moving box in a pinch, check with Nana.
Never discount an older person when thinking about where to get some accessories for your move. If anyone has empty boxes in good condition, it is probably your Nana.
Types of Moving Boxes Video
See an excellent guide to the size and type of moving boxes you need for your move from Home Depot. You can also buy boxes at Home Depot, as you will learn below.
Moving Boxes: Types of Boxes for Your Move | The Home Depot
Where to Buy Moving Boxes Near You

One of the questions real estate agents often ask their clients is where I can buy boxes. They will often ask where to get cheap boxes for moving.
If you can't find moving boxes for free near you, the next best option is to pay for them.
Finding moving boxes for sale will be easier than finding free ones. Purchasing them for your move is an easier way to make sure you get the packaging items you need in time for moving day.
It can also ensure you get boxes best suited to packing your possessions.
Buying the best moving boxes will increase your chances that your fragile things are less likely to be broken or damaged during the move.
Purchasing boxes will be a breeze when you visit one of these resources.
The cheapest places to buy boxes will be where you can bundle other services. For example, buying at Lowe's or Home Depot would be an excellent choice if you remodel your home.
1. Purchase Moving Boxes at Amazon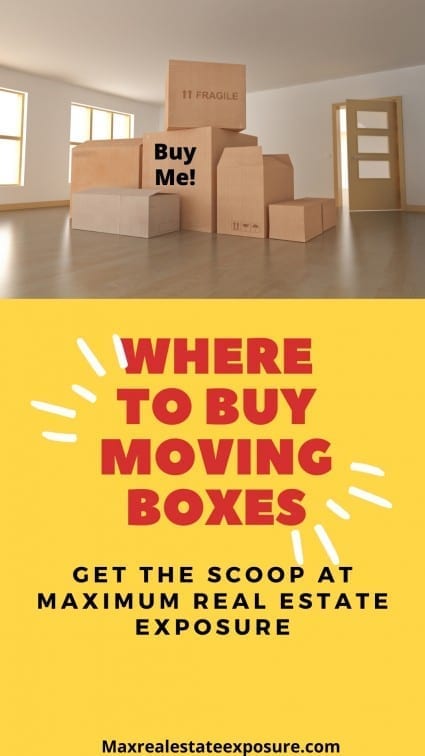 Perhaps the most obvious place to look online is Amazon. You can purchase just about anything on their site.
Amazon should be at the top of your list when finding moving boxes.
They are considered one of the best places to buy moving boxes because of the ease with which you can get them.
They have various boxes to meet your requirements and ensure your possessions are kept as secure as possible.
Whether you need a box of a specific size, or boxes designed to pack large TVs securely, there are likely to be many to choose from.
Checking customer feedback on the site will help you make the right choice for your needs. Of course, they have great prices.
The boxes will be delivered to your door for free if you are a Prime member.
The only downside of purchasing boxes through Amazon is that you can't buy only a couple of boxes.
If you are an online shopper, Amazon is one of the best places to get your boxes at an affordable price.
2. Offerup For Finding Boxes

An excellent place you can do where people sell everything under the sun is a site called Offerup. As the name suggests, it is an online store where you can get rid of things you no longer want by selling them.
If you do a quick search on the website, you will be directed to local members who want to sell their boxes.
You will probably be able to find the type of packing box you're looking for at Offerup.
3. You Can Purchase Them at U-Haul
Along with their box exchange program, U-Haul Boxes will also sell you new ones. They offer a good range of box types to suit your items, and you can purchase them on their website or at U-Haul locations where pick-up is free.
U-Haul is one of the best places if you also need a local moving truck. Search for moving truck rentals nearby, and if U-Haul is on the list, you may consider killing two birds with one stone.
They provide a range of moving kits and individual boxes to meet your needs. Other packing materials are also available, and they will rent plastic boxes to you.
4. Home Depot is a Popular Option

Home Depot will be an excellent choice for buying boxes if you need to see all the details before purchasing them in the store.
The Home Depot website displays the dimensions of available boxes and gives you information about the numbers stocked in your local store.
If they don't have what you need in their nearest location, you can order it for collection. They also offer a moving and packing guide to help.
Another excellent feature is they will tell you how many boxes are available in the nearest store. They also provide a project guide filled with general packing and moving tips.
Home Depot is one of the best places to get cheap moving boxes.
5. You'll Find Them at Lowe's
Lowe's will be an excellent choice for getting your packing boxes if you are doing home improvement projects at the house you're buying. Lowe's Home Improvement stores provide a good range of choices.
They are available for purchase in-store or for ordering online for collection. Like Hlowepot, you can pick up other DIY items you might need to help with the move simultaneously.
Lowe's will have a section where you will find their moving supplies.
6. Walmart is a Cheap Option

The cheapest place to buy moving boxes is probably going to be Walmart.
Unsurprisingly, Walmart sells boxes and its almost exhaustive range of products in its stores. If you need to buy other things in the store, like trash bags, Walmart will be an excellent choice.
They provide access to a large selection of sizes and free shipping on most boxes. You can also choose to collect from one of the nearly 5,000 stores across the country that are often open around the clock.
They also offer other supplies to help pack your things securely for the move.
Walmart is an excellent choice when finding boxes quickly and cheaply. Take a look at Walmart's website for help searching for cheap boxes.
7. Get Them Online From Uboxes
If you are wondering if there is anywhere you can purchase boxes online besides Amazon, the answer is yes. Uboxes specializes in selling moving boxes online. You can order from them very easily through their website.
Getting complete moving kits is easy with Uboxes. They are one of the leading suppliers of boxes factory direct for both consumers and businesses.
These are all great companies where you can buy moving boxes.
Click To Tweet
Frequently Asked Questions About Moving Boxes
See eleven commonly asked questions about boxes along with their answers.
1. Where Can I Get Big Boxes For Free?
Some better places for getting larger boxes are liquor stores, hardware stores, grocery stores, and large retail stores.
2. Does USPS Provide Free Boxes?
The post office gives its customers free shipping supplies to send packages through the mail. The post office will provide free boxes, forms, and stickers.
When you make an address change, it would be a great time to pick up some free boxes.
3. Does FedEx give Free Boxes?
Yes. If you use their services, FedEx will supply you with boxes for moving. UPS and DHL also provide free shipping supplies when using their services.
4. Does Target Sell Boxes?
Yes. You can purchase boxes at Target. They have heavy-duty boxes as well.
5. How Many Boxes Will I Need?
Figuring out how many boxes you will need is an intelligent task. Being underprepared makes no sense, as that will add unneeded stress to your life.
Moving from a small apartment will be much different from living in a large home.
6. How Do You Choose The Type of Boxes?
What type of boxes you should get depends on how much you want to spend and what you're moving.
Standard boxes are great for clothing, nick-knacks, decor, books, etc.
For fragile items, you'll want specialty boxes that are specifically durable enough, so you minimize the chances of things getting damaged.
There are also picture-moving boxes that are made for transporting artwork and mirrors.
They offer superior protection for these easily breakable items.
7. What Size Boxes Do I Need?
Lots of folks wonder what size boxes they need for their move.
Here is some helpful sizing information to guide you:
Small boxes are 6" x 10" x 10."
Medium boxes are 18" x 14" x 12."
Large boxes are 20" x 20" x 15."
Extra-large boxes are 23" x 23" x 16
Use these measurements are a guideline for what works best you are packing.
8. How Many Boxes Do I Need?
There will be a few factors that will determine how many boxes your move will require. Here are some guidelines that will influence the answer:
What size boxes do you have?
What is the square footage of your home?
How many people live in your house?
What is the number of bedrooms in your home?
How long have you lived in your home?
Are you a packrat or a minimalist?
Updater has a fantastic resource to help you determine the number of boxes you'll need.
9. What Supplies Do I Need With The Boxes?
To ensure your boxes are packed well, you'll need some supplies to help out. Packaging peanuts, bubble wrap, and packing paper are often recommended, along with towels or blankets, to protect your fragile items.
Packing correctly is a significant part of moving.
Protecting your boxes will also be essential. It will be necessary to tape all the seams of your box, especially the bottom, which will be the weakest point. Clear packing tape is the best.
The most thoughtful way to protect your cheap free-moving boxes is to put the heaviest ones on the bottom. Stacking your smaller and medium-sized boxes on top makes the most sense.
If you have hired a moving professional to help pack and move your boxes, don't forget to provide them with a moving tip. Moving companies will expect a gratuity for their hard work.
10. Are There Specialty Boxes For Moving?
Yes. There are quite a few different types, including kitchen, wardrobe, picture, lamp, TV, and filing boxes.
Many folks even like crates or plastic boxes because they're far more sturdy than their cardboard counterparts.
11. What Do Moving Boxes Cost?
If you are in a hurry to find boxes, the quickest way to get them is to buy them. Here is how much you can expect to pay. Keep in mind these are estimates and can vary by location.
Small boxes: $1 to $2.00 each
Medium boxes: $2.50 to $3.00 each
Large boxes: $3 to $3.25 each
Extra-large boxes: $3.75 to $4.00 each
Picture boxes: $10 to $11 each
Wardrobe boxes: $8 to $12 each
If you have a small apartment, you can expect to spend around $100-$150 for them. You will pay at least double that for a larger home and probably more.
As previously mentioned, Walmart, Amazon, and Home Depot will be the cheapest place to get moving boxes.
Where to Get Rid of Moving Boxes Near Me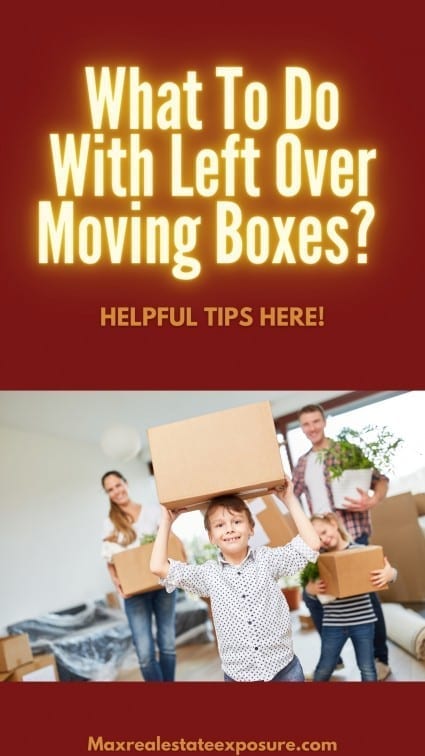 Once the move is completed, a common question is how to eliminate all the moving boxes.
Once you have collected all your boxes for moving and gone through with your move, you will wonder what to do with them all.
The natural inclination will be to throw them away.
What you should do instead is recycle them or reuse them for other projects.
So if you're wondering if cardboard boxes can be recycled, the answer is YES!
Recycling cardboard boxes is not that challenging. Recycling old cardboard can be turned into new boxes, lessening environmental damage.
Cardboard box recycling uses less energy than creating new boxes, produces less sulfur dioxide, and reduces the use of raw materials.
One of the first places to try recycling will be your local board of health or waste department.
No doubt others have asked before, so they should have a firm answer for you.
If the local waste management company doesn't do box collections, you should be able to locate a drop-off center nearby for your recycling material.
Other Ways to Use Your Leftover Boxes
Give them to friends and family. They're always going to be folks that will need them.
If you are a gardener, use them as compost.
Use them for flooring protection. Boxes work well to keep your floors in top shape, whether painting a room, moving furniture, or making other home improvements.
Create a playhouse or "fort" for the kids. Remember growing up how cool it was to make a fort or playhouse? Larger boxes are great for keeping kids entertained on a rainy afternoon.
Use them to ship gifts and other packages. Another excellent use for your boxes is to send items by mail.
Donate them to charity. A local charity or church might have use for them. It is always worth asking to help others in need.
More Valuable Moving Resources
How to change your address with the post office – when you're moving, it is vital to make sure you fill out an address change form with the USPS as soon as you know where you'll be moving to. The Maximum Real Estate Exposure resource offers easy instructions on getting your mail forwarded.
Who you should let know your address changed – one of the more crucial tasks when moving is to let everyone know it is happening. There are quite a few companies and organizations you should let know immediately.
Moving with PODS – renting a pod would be worth investigating if you need the convenience of storing boxes and other items you own onsite. Pods make moving and storage far easier. See what you need to know about the PODS company.
Final Thoughts on Where to Get Boxes For Moving Nearby

Whichever route you take to get the boxes you need, ensure you give yourself enough time to pack so you don't add to the stress.
Don't forget the bubble wrap, styrofoam, and packing paper to help prevent your items from moving around in the boxes. You can also use towels, sheets, and old clothes to avoid damage to your breakables.
Packing tape and a tape gun or dispenser will also be needed to make up the boxes. Understanding where to get moving boxes from will allow you to start packing quickly.
Hopefully, this guide on getting free and paid moving boxes is helpful! Best of luck with your move.
---
About the author: The above Real Estate information on where to get boxes for moving near me was provided by Bill Gassett, a Nationally recognized leader in his field. Bill can be reached via email at billgassett@remaxexec.com or by phone at 508-625-0191. Bill has helped people move in and out of many Metrowest towns for the last 37+ years.
Are you thinking of selling your home? I am passionate about real estate and love sharing my marketing expertise!
I service Real Estate Sales in the following Metrowest MA towns: Ashland, Bellingham, Douglas, Framingham, Franklin, Grafton, Holliston, Hopkinton, Hopedale, Medway, Mendon, Milford, Millbury, Millville, Natick, Northborough, Northbridge, Shrewsbury, Southborough, Sutton, Wayland, Westborough, Whitinsville, Worcester, Upton, and Uxbridge MA.
Summary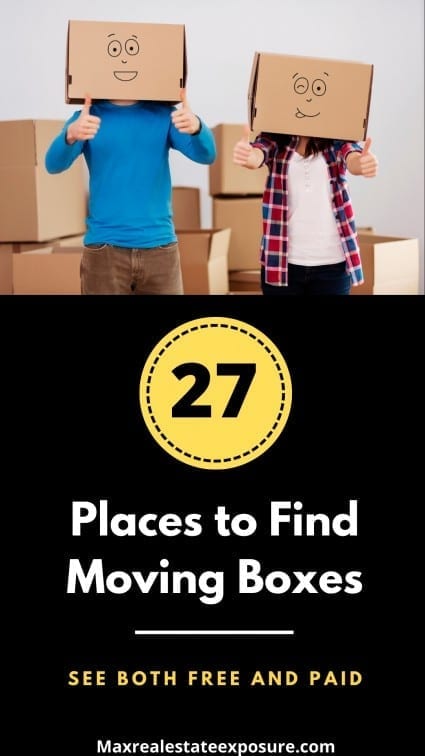 Article Name
Where to Get Boxes For Moving Near Me
Description
Would you like to know where to find moving boxes nearby? See all of the best places to find boxes for your move, both free and paid.
Author
Publisher Name
Maximum Real Estate Exposure
Publisher Logo