Should You Tip Your Movers?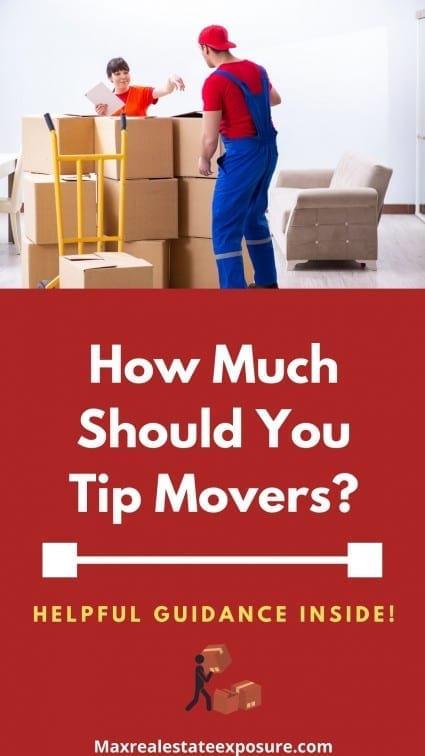 Is your home under contract? Are you preparing for your move? Moving is hard work. That's probably the biggest reason you hired movers in the first place – you want someone else to do all the heavy lifting.
But what about tipping your movers? Are you supposed to tip a moving company? If so, how much should you tip them?
There is no hard and fast rule about tipping movers, but there are guidelines you can consider when going through your move.
Unlike getting service from a server or bartender, there are fewer expectations about tipping movers. You don't need to think that you are obligated to give movers a tip if you don't want to. They do not necessarily expect a gratuity from the client.
Everyone is getting a standard hourly rate, and you may pay a significant sum to hire movers – particularly if you are moving a long distance. But you should know that movers – like most other service workers – love being tipped.
Nothing makes a hard day of physical labor more rewarding than a nice gratuity at the end.
If you think about it, your average server or bartender doesn't work as hard as your mover does. Granted, the server or bartender may make a lot less an hour depending on the situation, but it is still worth contemplating.
As you watch your movers, you are going to notice that they are doing a lot of serious work on your behalf. A tip might make a lot of sense considering the situation.
Another thing to consider – your movers are handling one of the most significant situations in your life. They are helping you move your valuable possessions from one home to another. If they do a good job, the help they give you may be hard even to measure.
While your ultimate desire may be to save money moving, giving a tip should be something that is considered when the service is outstanding.
Let's take a deeper dive into some of the considerations to think about when tipping a mover.
How Much Should You Tip a Moving Company?
There are some differing opinions on how much to tip a moving company. Tipping movers is a little different than the way you provide gratuities to other service people. Instead of going with a percentage of the cost of the move, it is usually better to use a more defined set of rules.
If you go with a percentage, you could wind up paying way too much in your tip because the total cost of a move – especially a long-distance move – can be really high. Using a percentage would likely force you to pay way more in the tip than you should or would want to.
Currently, the common rate for tipping movers is:
A half-day move of four hours or less – $20-25 per mover
Full-move of 8 hours – $40-50 per mover
12-hour moving or more – $60 per mover
Hourly tip rate – Approximately $5 an hour per mover
Now, just because you don't use a percentage system to calculate how much to tip your movers does not mean you have to use the above figures exactly. There can be a lot of variation in the quality of service movers deliver, and it's ok for your tip to reflect that.
You may be delighted with the service they provide, or you may be less than pleased. You also have to consider the type of work they are doing. There is a big difference in the effort involved in hauling a sofa bed up four flights of stairs and unloading a bedroom's worth of boxes into a ranch-style home. If they are doing extra difficult work, it will make sense to tip them more.
Watch The Video on Dividing Moving Gratuities
The video provides some excellent tips on how much to tip a mover, as well as how to divide the tips among the crew. Lots of folks recommend giving the tip directly to each worker and not the foreman. If you see someone working extra hard, you may also want to give them a little something extra as a token of appreciation.
Generally, the three factors you want to consider when calculating the tip are:
Time. Some moves take more time than others. If your relocation is a short one and the movers do not have to focus on your needs for an extended period, it makes sense to pay them a smaller tip. If they have to devote a full workday or even longer to your move, it would be a good idea to tip them more.
Difficulty. Some moving tasks are much more demanding than others. It is more difficult and riskier to perform certain moving tasks, like taking heavy objects upstairs, than it is to perform other tasks. If it seems like they are working harder on more difficult tasks, it is advisable to tip them more than if they are not doing difficult tasks.
Assemble or disassemble furniture. A mover going out of their way to help assemble or dismantle furniture or some other item is fantastic. You may not have even asked, and they just volunteered. Going above and beyond is always worth providing a tip to show your gratification.
People also often wonder if they should tip on both ends of a move. The answer is yes, but again, it is at your discretion on how much.
When Should You Tip Your Movers?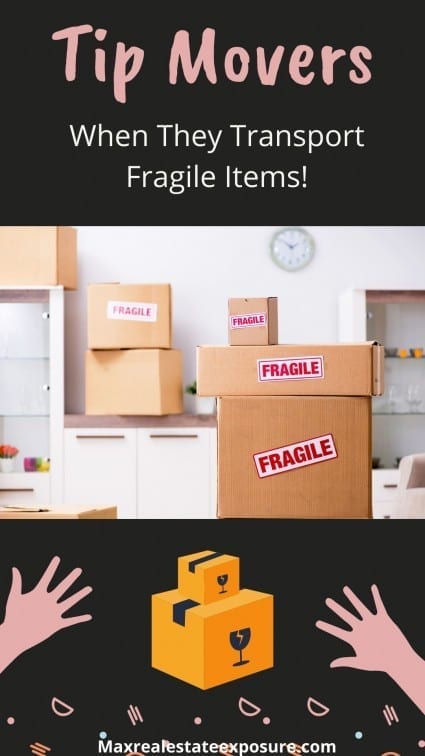 Tipping in the service industry is ideally supposed to be used to thank your service provider for a job well done. Most movers want to do a good job and ensure that their customers have the best possible experience. When they succeed at these goals, it makes sense to reward them with a tip.
There are multiple reasons why you might want to tip your movers, including:
Carefully handling your fragile items. Some items are obviously delicate, and some need to be pointed out as vulnerable. Movers are supposed to take note of all fragile items and be extra careful with them. If your movers noticeably handle your fragile items with the care, they are doing their job right.
They are keeping a steady pace. If the move goes long enough, they will need a break from time to time, but hopefully, they will maintain a strong, steady pace and get your move done promptly. If they seem to be trying to get the job done with sustained effort, a tip makes sense.
They are helping with the little things. Some tasks are definitely part of the moving agreement and must be done by the movers, but others may not be. Little things like helping you take the legs off of your couch or assembling a piece of furniture that's going in your new home or local storage unit make your life a lot easier. If they help with the little things and seem to be doing more than the norm, a tip would show your gratitude.
They're are moving heavy items. The heavier the items, the harder they generally are to move. Heavier items are also more dangerous to move. If something goes wrong, the movers could get hurt. If they are putting themselves in extra danger for your move, you should probably tip them for the added risk.
Moving in compromising positions. The best example of this is probably moving large, heavy objects like sofas up multiple flights of stairs. If there is not a better way to get the couch up and it requires twisting, turning, lifting, holding, and climbing stairs, those who are doing the moving are putting themselves in risky situations. The sofa could fall, they could slip, and so on. A tip would make sense when they are putting their safety on the line.
They deliver outstanding customer service. When movers are courteous, friendly, hard-working, and eager to help with whatever you need, they are providing the best kind of customer service. They should be rewarded for it.
When Should You Not Tip Movers?
Are there times when you should not tip a mover? YES, there are a few instances where tipping a mover might not be justified, including:
Showing up late to your home. Your schedule is important, and your time is valuable.
They are being disrespectful to your property. Have you ever been involved in a move where one of the movers could care less they just put a ding in your wall with the couch they were moving? Everyone makes mistakes, but did they give you a sincere apology? If not, it is an excellent reason not to tip them.
Misplaces something important. If the mover loses a box that says "don't pack," I am sure you won't be happy about it.
Being rude and unfriendly. You are paying them to do a job for you. The least they could do is be polite.
They are doing the bare minimum. If you see them standing around more than moving, they are wasting your time and your money.
Taking extended breaks. Watching the moving crew standing around in your backyard, chatting and smoking a cigarette is probably not what you had in mind.
One of the most stressful parts of selling a home is the actual move. Avoiding moving problems is something you'll want to strive for.
Moving companies like this one do not deserve a tip.
Other Things You Can Do For Your Movers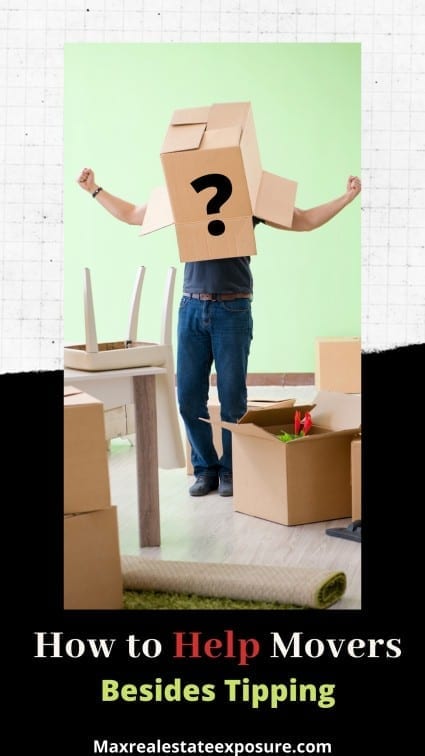 Are you in the position that money is tight, and you would love to tip the movers, but it's financially difficult for doing so? If so, you might want to consider some other things, including:
Buying the movers lunch or dinner. Do you think the movers would appreciate a pizza or sandwiches? I bet they would.
Providing beverages such as ice water, lemonade, or even coffee.
Any kind of snack.
Chipping in and giving some help, even if it is holding a door open.
Leave them an excellent review. By leaving a helpful online review, you'll be increasing the odds that someone else will use their services.
All of these things will make your mover feel more appreciated. Let's face it moving is hard work.
What Are Other Alternatives For Moving Things?
If you are moving because you just sold your home, there is the distinct possibility you're bringing stuff with you that isn't necessary. Some of us have that pack-rat mentality and just can't let go. Othertimes the move wasn't thought through well enough and you are forced to bring stuff along you don't really need or want.
One excellent alternative is to hire a company to take the stuff from your home you don't want. Many people do not realize that there are charities that will pick up your things for FREE! I've written about this in the past, as donating is an excellent way to declutter your home before putting it on the market. You get to help a family in need while also improving the appearance of your home – A real win-win!
What you can do in this instance is have the company pick up your donations at your new residence.
Final Thoughts on Tipping Movers
Hopefully, at this point, you have a much better understanding of how much to tip a mover. The bottom line is you should do what makes you feel most comfortable. While these are some general tipping guidelines, in the end, you should do what feels right.
Other Valuable Moving Advice
More helpful advice to get you through your next move without a hitch.
Who to let know when you move – when you are moving, one of the most vital tasks is to notify everyone that should know. There are a whole host of people and organizations that should be told. See who they are in this helpful checklist. Knowing who should be notified of an address change is one of the most vital things to know when moving.
Comparing storage containers to moving trucks – see a detailed comparison between hiring a moving company vs. going with a storage container. There are pros and cons to both. The trick will be understanding which option better suits your moving needs.
How to choose a storage unit – learn valuable advice on how to go about picking a storage unit. You will love the tips on comparing storage facilities.
Use these additional helpful resources to make excellent decisions when you will be moving.
---
About the author: The above Real Estate information on how much I should tip movers was provided by Bill Gassett, a Nationally recognized leader in his field. Bill can be reached via email at [email protected] or by phone at 508-625-0191. Bill has helped people move in and out of many Metrowest towns for the last 33+ years.
Are you thinking of selling your home? I have a passion for Real Estate and love to share my marketing expertise!
I service Real Estate Sales in the following Metrowest MA towns: Ashland, Bellingham, Douglas, Framingham, Franklin, Grafton, Holliston, Hopkinton, Hopedale, Medway, Mendon, Milford, Millbury, Millville, Natick, Northborough, Northbridge, Shrewsbury, Southborough, Sutton, Wayland, Westborough, Whitinsville, Worcester, Upton, and Uxbridge MA.
Summary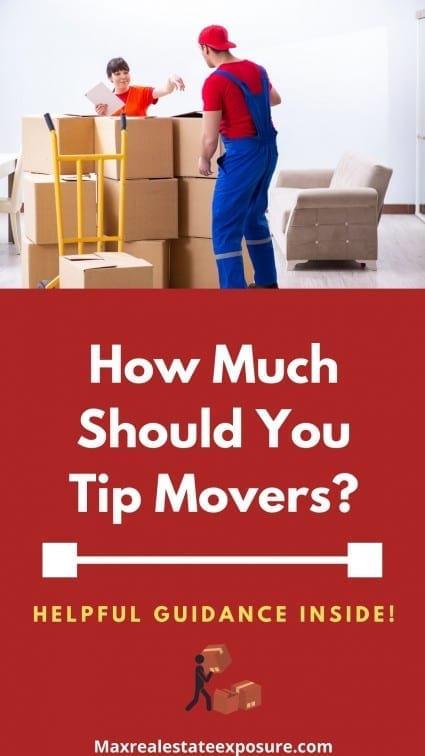 Article Name
How Much Should I Tip Movers
Description
Do you know how much you should tip movers? See what you need to know about tipping a moving company including when it is appropriate to do so.
Author
Publisher Name
Maximum Real Estate Exposure
Publisher Logo