How to Save on Homeowners Insurance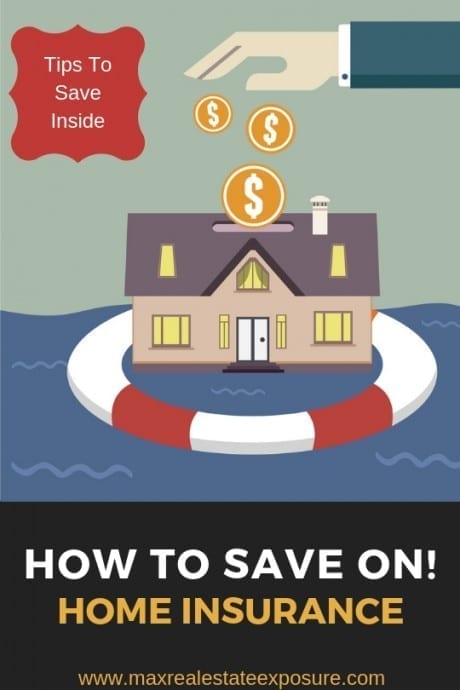 How do I save on home insurance?
Working as a Realtor for the last three decades, one of the questions home buyers will often ask me is if I know ways to save a home insurance policy. Questions like these are relatively common. Everyone likes to save a few bucks whenever they can.
Below you are going to see some of the best home insurance savings tips that will help bring down the costs of your insurance policy.
There are a couple of things you should be aware of when it comes to home insurance. When purchasing a home in Massachusetts and procuring a loan through any mortgage lender, one of the requirements will be to get homeowners insurance.
There are no mortgage companies or banks that I know of who will give someone a loan unless their home is insured. Not granting a mortgage without insurances makes perfect sense, as the lender is the owner of the property until the mortgage is paid off and discharged.
When you sign all the loan documents at the closing, you will also come to find out that the lender will have the option of taking legal action against you if you do not keep your home insured.
The bank is allowed to require you to protect the property for the replacement cost of the dwelling but no more than that.
If you are fortunate enough that you are not getting a mortgage for your home purchase, there is no law requiring you to have insurance coverage although it would be downright foolish not too.
Considering a home is usually one of the most significant assets you have it makes perfect sense to have homeowners insurance.
Like Real Estate Title insurance, the moment you don't have it is when it comes back to bite you!
Massachusetts Homeowners Insurance Savings Tips
More than likely anyone who owns a Massachusetts home wants to make sure that they are well protected in the event they need to call on their home insurance policy to bail them out of a precarious situation.
On the other hand, most people don't want to overspend on insurance when they don't have to. Let these home insurance savings tips help keep more of your hard earned money in your pocket without making any sacrifices in the coverage you should have! The following tips will allow you to save money on your home insurance.
Bundle Your Insurance Protection With The Same Company
One of the smartest avenues to save on your homeowner's insurance premium is to bundle your coverage with other property you may have insured such as a car or boat. Nearly every insurance company is going to give you a discount for insuring both your home and car with them.
If they don't, you should be finding a different insurance company! Without a doubt, this is one of the most often used home insurance saving tips that can save you a bundle of money over time.
Since most people have owned a car before a home, you should think about trying where you currently get your car insurance protection for a rate quote. Of course, there is no guarantee that using your current firm would give you the best price but it is an excellent place to start.
You should always get multiple quotes so checking with a few insurance companies is a prudent move. You may find that moving your car insurance to be bundled at another insurance company makes more financial sense. While bundling insurance is one method of bringing down your bill, other home insurance savings tips can save you money as well.
Do Not Over Insure The Home
Another incredibly easy home insurance savings tip is to make sure you don't purchase too much insurance! Over-insuring a home is one of the more common mistakes I see committed by homeowners. There are instances when the insurance agent will ask how much insurance coverage is needed to ensure the value of the property.
Often people don't understand that you don't need to protect the value of the land. There are times people forget this and include it in the insurance amount they request. A knowledgeable Realtor should be able to provide you with a pretty accurate figure to deduct from the insurance equation. Always keep in mind, you only want insurance for the replacement cost of the dwelling!
On the flip side if you are a first time home buyer, you should be aware that flood insurance is separate from a homeowners insurance policy. So if you purchase a home that happens to fall into a flood zone, you will be paying an additional form of protection.
It is critical to find out if you belong to a floodplain up front as this type of insurance is very costly.
Increase The Home Insurance Deductible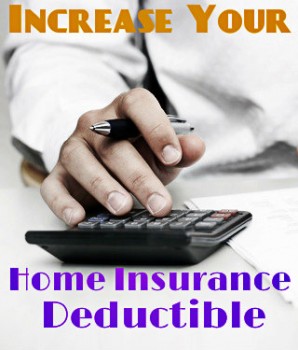 Another way to save some money on your home insurance policy is to increase the amount of the deductible. Raising your deductible amount can often translate into a pretty substantial cost savings.
A reduction in the insurance premium of 10-20% would certainly not be unheard of.
What you should be looking at is the probability that you will need to make some insurance claim. There are certain areas of the country where home insurance claims are far more prevalent.
For example, Florida is known to have more hurricanes than Massachusetts.
Get A Protective Device Credit
In additions, many insurance companies will provide you discounts for specific features in the home such as a security system, fire alarms, carbon monoxide detectors, individual security locks or some other type of "disaster-proofing" like storm shutters.
Some of these items may be things you want to specifically ask the insurance carrier about when shopping for a rate quote.
Miscellaneous Home Insurance Credits
Some insurance companies will give you additional credits that could save you money on the cost of your policy including if you are a non-smoker, if the home is newer, if you are a long-standing client of the insurance firm, or if you and your spouse are retired. All of these items could potentially allow you to receive additional cost savings and are indeed worth asking about.
Saving money on your insurance policy is terrific but keeping your home well maintained is even more critical for numerous financial reasons. In fact, when you are closing on a property in Massachusetts, the closing attorney will almost always include a lecture about what you need to do as a homeowner.
One of the things an attorney is required to mention is to keep the property insured and not to do anything that would decrease the value. The last thing you want is to have your insurance policy canceled!
In Massachusetts an insurance company is permitted by law to terminate an insurance policy at any time up until the plan has been in effect for 60 days. Once a policy has been in place for 60 days, under Massachusetts law (M.G.L. c. 175, §99), it can only be canceled during the term of the contract  for the following reasons: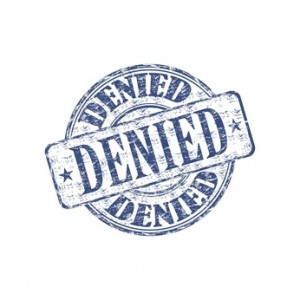 Lack of payment of the insurance premium.
A conviction of a crime which increases hazard under the policy.
Committing fraud or misrepresentations by the insured in getting the insurance policy
Willful or reckless acts or omissions by the insured increasing the hazard of damage
Creating physical changes in the property making the property uninsured.
A determination by the commissioner that continuing the policy would violate or place the insurer in violation of the law.
Before an insurance company can terminate your plan, they are required to provide you with sufficient written notice of cancellation, except in the case of nonpayment of a premium when the insurer is to provide at least ten days written notice.
Once an insurance policy is put in place, under Massachusetts law (M.G.L. c. 175, §193P), a home insurance company can decide not to renew coverage at the end of the term of the contract which is typically for a year, provided that at least forty-five days prior to policy expiration, it gives the insured written notice of non-renewal with a list of the reasons why the policy will not be continued.
Insurance companies are not going to cancel a policy unless you do something stupid! Follow the law, pay your bills and keep your home in good standing and you will be perfectly fine.
Another form of insurance that I always recommend to every home buyer is Massachusetts Homestead Protection. Homestead protection is one of the cheapest types of insurance you will ever find, so it is well worth getting.
What a homestead declaration does is protect your home from most creditors.
The Massachusetts declaration of homestead protects the equity in your property for up to $500,000 in the event a lawsuit is brought against you. So if you are sued, $500,000 of your equity could not be touched by an attachment and subsequent levy on the execution of sale. See the full article by clicking the link above!
Additional Home Insurance Savings Tips References:
Use these home insurance savings tips to make sure you do not overpay for a vital part of home ownership!
---
About the author: The above Real Estate information on home insurance savings tips was provided by Bill Gassett, a Nationally recognized leader in his field. Bill can be reached via email at [email protected] or by phone at 508-625-0191. Bill has helped people move in and out of many Metrowest towns for the last 31+ Years.
Are you thinking of selling your home? I have a passion for Real Estate and love to share my marketing expertise!
I service Real Estate sales in the following Metrowest MA towns: Ashland, Bellingham, Douglas, Framingham, Franklin, Grafton, Holliston, Hopkinton, Hopedale, Medway, Mendon, Milford, Millbury, Millville, Northborough, Northbridge, Shrewsbury, Southboro, Sutton, Wayland, Westborough, Whitinsville, Worcester, Upton and Uxbridge MA.