Ways to Make Your Home Stand Out in the Fall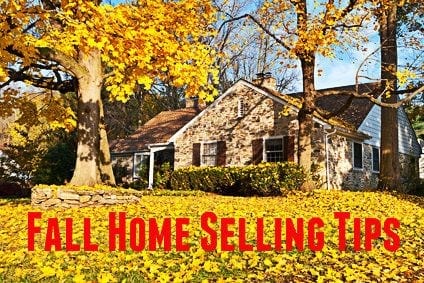 How to sell a home in the fall is often one of the questions I get as a real estate agent usually toward the end of the summer. Most of the time sellers want to know what to expect. What will the real estate market be like? What is the likelihood my home will sell in the fall?
Fall is a great time of year to sell your home. While springtime may be the most popular season to put a house up on the market, there is no reason to wait if you want to sell when autumn rolls around. People are ready to buy homes any time of year – especially if you know how to prepare the property to sell.
There will likely be fewer homes on the market during this time of year, meaning a well-positioned home can sell fast if you draw in the right buyer. Most people have an aversion to moving when the weather is stormy and cold, so the fall is your last chance to accommodate customers before the winter season rolls in.
For many people, the fall season is one of their favorite times of the year due to the crisp air and the colorful changes of the leaves on the trees. For these reasons, Autumn is a time of year not to disregard when deciding whether to sell. Keep reading to see how you can sell your home in the fall with these great tips!
Keep The Exterior Clean
One of the best tips for the sale of a home in the fall is keeping the yard looking awesome! When selling a home a common buzz word you will hear is "curb appeal." No matter what season you are selling a home in curb appeal is imperative. One of the challenges you will face during the fall is the die-off of various plants you have around your house. Some will be going into hibernation, and some will fully expire. Either way, this will leave a bit of a mess on your property that needs to be cleaned up if you want to attract buyers.The exterior is the first thing people see when coming to look at a property.
Depending on what time you are selling, your landscape may be producing a noticeable amount of dead and decaying plant matter. These dead items include leaves that fall from the trees, flowers that die in the first cold snap and any other plants to noticeably wither as the year advances. You need to clean all of this up and discard it before you show the house. Keeping up with your yard is an ongoing process in the fall, so stay on top of it to keep your house looking good and avoid having it associated with decay. Buyers still want to be able to see your lawn, and if it is completely covered with leaves, this will not be possible. Use some of these excellent home staging tips that will prepare both your interior and exterior for the market.
Make sure any mold and mildew are kept to a minimum on your deck and siding. Buyers will still be looking over these areas with a keen eye. The fall is the perfect time of year to pick up plants and shrubs at a local nursery. There are often some excellent deals as the nurseries get ready to shut down for the winter. You can use this opportunity to pick up some nice seasonal plant to highlight your entry way.
Without a doubt paying attention to your yard is one of the most important fall home selling tips!
Embrace The Fall Selling Season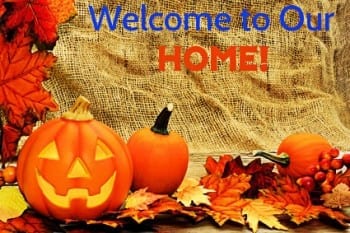 There are certain advantages to selling during the fall. People have quite a few holidays to look forward to, including Halloween, Thanksgiving and Christmas come wintertime. Depending on the exact time you are showing your house, you can take advantage of the association's buyers have with these select dates.
Keep your decorations and the general feel of your house in tune with the holiday that is coming up. Just like businesses and retail stores do, you can invoke the feel of the holiday for your potential buyers. They can then see themselves and their families enjoying the same holidays in your home.
Of course, it is possible to overdo this. You don't want to seem ridiculous. However, everyone can appreciate silly monsters for Halloween and the smell of fresh-baked pies on Thanksgiving. If you hit the right note, you may achieve a sale without even trying.
Last year I worked with a client who was selling a home in Franklin Massachusetts. She did an impeccable job of adding decor to her home that complemented the fall season. So many buyers commented on how well the home was staged. Some people just have a knack for this. For some customers, the little touches like this go a long way.
Priced Accordingly
One of the most important tips to sell your home in the fall is to price it correctly! Work with your real estate agent to set the right price for your home – one that takes into account the season you are selling in. Some people claim that a house must be priced lower in off-seasons like fall and winter actually to sell, but this is not necessarily true. A home needs to be priced to compete in the current market, whatever that happens to be at the time.
Your Realtor will be able to pull comparable prices to your property and advise you on the right price for your home. Just do your best to listen to his or her advice, because the last thing you want to do is price your home too high. If you are in an area where homes sell for a bargain during the fall, putting your home up at a noticeably higher price than similar homes is a sure way to push away buyers.
The longer it sits on the market, the more of a stigma it will get, making it even harder to sell. It is far better to price it right the first time and get the best offer you can. Days on the market can accumulate fast in slower times of the year. When you are not in the top selling season and will be heading into an even slower time (winter), it makes sense to be smart about the right asking price for your home.
Get Serious About Selling in The Fall
Autumn and winter are not times to mess around when you are selling. The temperatures are dropping, the holidays are coming, and buyers are motivated to close now. Getting your home under contract now can work to your advantage as long as you are intent on selling. Yes, you might get a slightly higher price if you listed right as spring rolled into summer – when temperatures are perfect, and everyone is feeling great. But there is a reason you are selling in the fall. You have a house to sell, and it is time to get to it.
Pick a real estate agent you like working with, one that has a solid record of selling houses year-round at prices that are near what he or she lists them for the first time. Pick a Realtor that has a good reputation by talking to references that have worked with him or her recently.
Ask hard real estate interview questions about real numbers. One of the biggest mistakes homeowners make is not taking the interview process seriously. While working with someone you like is important, personality does not sell homes! Once you have the facts, choose someone you feel you can work with and follow his or her advice carefully.
Make Sure The House is Ready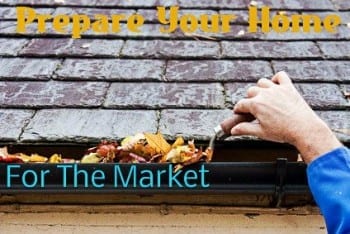 Your Realtor will look over the house and give you a list of options for repairs or improvements you can make. Work with your agent to decide which ones are most important and get them done. Buyers will appreciate things like energy efficiency, sound insulation, and new flooring, especially when the weather is cooler. Consumers want a great house to move into – something you can create with a few repairs and renovations. It is also worth considering that fixer-uppers are less appealing when the weather is cold. Offer a complete package from the outset and you may have better luck pulling in buyers. One of the best tips for selling a home in the fall is showing the buyer how well you have maintained the home
One of the best tips for selling a home in the fall is showing the buyer how well you have maintained the home.
Keep in mind that in the fall selling season, the days get shorter as far as natural light goes. There will be plenty of buyers who will want to look at homes when they get out of work. Often when customers want to take a look, it will have already have become dark outside.
A smart fall home selling tip to follow will be leaving adequate lighting on in your home. The presentation is everything when selling real estate, so you don't want a buyer walking into an unlit dark home. Turn on an abundance of lights both inside and out. Make sure your walkways and any exterior entertainment areas are well lit.
Be Prepared For Moving
When you have followed some of the best advice for selling a home your property will probably go under contract relatively quickly. At this point, it is very easy for the stress to build if you start worrying about your impending move. There is no question that one of the worst parts of selling a home is the actual move. For this reason, I have put some of the best moving advice together that will help ease the burden of your move. One the worst parts of moving are the preparation for the big day. When you are well prepared, beforehand at least a small part of the stress will be relieved.
In many instances, there will be the need to have a temporary storage facility for your possessions if you will not be heading straight to your final destination after selling. Use these compilations of tips for choosing the right storage facility for your needs.
These are all smart tips to sell a home in the fall. Follow these suggestions and you will be primed to get your property under contract before the winter selling season arrives!
Additional Resources on How to Sell Your Home In The Fall
Use these additional resources to find even more tips that will help to sell your home in the fall.
---
About the author: The above Real Estate information on tips to sell a home in the fall was provided by Bill Gassett, a Nationally recognized leader in his field. Bill can be reached via email at billgassett@remaxexec.com or by phone at 508-625-0191. Bill has helped people move in and out of many Metrowest towns for the last 29+ Years.
Thinking of selling your home? I have a passion for Real Estate and love to share my marketing expertise!
I service Real Estate sales in the following Metrowest MA towns: Ashland, Bellingham, Douglas, Framingham, Franklin, Grafton, Holliston, Hopkinton, Hopedale, Medway, Mendon, Milford, Millbury, Millville, Northborough, Northbridge, Shrewsbury, Southborough, Sutton, Wayland, Westborough, Whitinsville, Worcester, Upton and Uxbridge MA.