How to Sell a House Quickly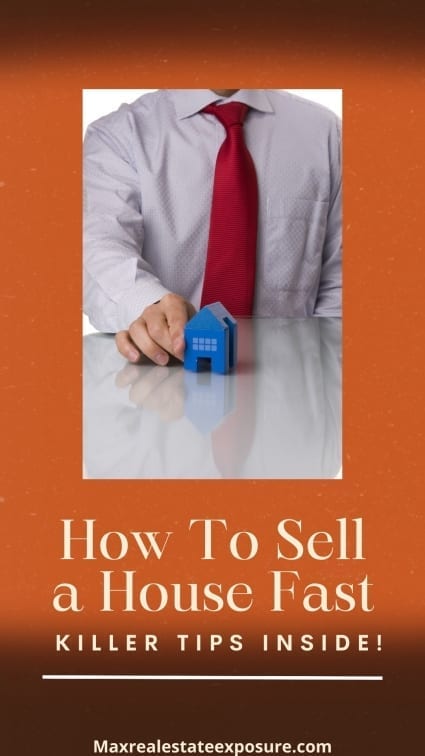 Do you need to sell a house fast? It's a question many folks turn to Google for a solid answer. Maybe you are here because of that?
One of the most stressful things you can do in life is to go through the process of selling your home. This will undoubtedly be heightened if you need a quick house sale.
Many consumers will ask how to sell their house fast. There is a lot to consider to ensure things go as you expect.
Typically, when a homeowner does an online search for "selling my house fast," it's because there is some financial hardship that has created this situation.
We will answer your questions when looking at liquidating your house as quickly as possible.
By following the best home selling tips along with following the advice below, you'll put yourself in a prime position.
Tips For Selling Houses Fast
Here are some of the most vital things you can do to sell any property quickly.
All of these things are tried methods for selling a house swiftly in a slow buyer's market or one that favors sellers.
How Fast Can You Sell a House?
It is possible to sell a home to a cash buyer in as little as a week. You can also sell a home in 30 days or less with a buyer getting a mortgage.
Steps For Selling a House Fast
Let's go over all the necessary steps to sell a home expeditiously.
Contact Experienced Top Producing Real Estate Agents
As the saying goes, there is no better recommendation than a track record of success. Most homeowners use real estate agents to sell their property. While this house-selling process involves a lot of paperwork and communication between buyer and seller, it is the most popular option for good reasons.
However, the key is not just picking any real estate agent but seeking out one of the best. You'll want one of the top local agents to sell your house fast.
Doing a bit of research and conducting thorough interviews will be essential.
You'll want to be armed with the best interview questions for Realtors. Getting the correct answers will weed out the winners from the losers.
One of the things you will want to pay particularly close attention to is the agent's list price-to-sell price ratio and average days on the market.
These two statistics will tell quite a bit about a real estate agent's ability to sell a home fast. Are they pricing homes correctly from day one? Do their listings need price reductions?
The worst feeling of a homeowner is hearing from an agent that you need a price reduction when they told you your home would sell much higher three weeks earlier.
Real Estate Agents Sell Homes Faster and For More Money Than FSBOS!
Many people ask how to sell a house fast without a Realtor. Doing so could be a significant mistake.
If you use a real estate agent to sell your home, you're likely to put more money in your pocket. Data shows that homes sold with the help of a real estate agent sell for more money. Homes with real estate agents involved sell for 40% more on average than homes sold through the for-sale-by-owner process.
The difference between using a real estate agent and selling a home by owner could be tens of thousands of dollars. Home sales by owner average $200,000, while help from a real estate agent averages $280,000, based on data from 2019.
Use a Full-Service Real Estate Company, NOT a Flat Fee Firm
Some sellers mistakenly believe they can hire a flat fee MLS agency, and this will be the same thing as going with a full-service top producing agent. WRONG! There are many downsides to just having your home listed in MLS with no other service. Make sure you read why.
When you need to sell houses fast, it can be a concern that your real estate agent won't give the correct priority to your sale. For this reason, you must choose an experienced real estate agent. They should have a good track record and a lot of experience.
If you are working with the right real estate agent, you should find fewer problems, and your home sells quicker. They have the experience to know how to sell your home and should be able to deal with your need to sell swiftly.
How Do Real Estate Agents Help to Sell Houses Fast?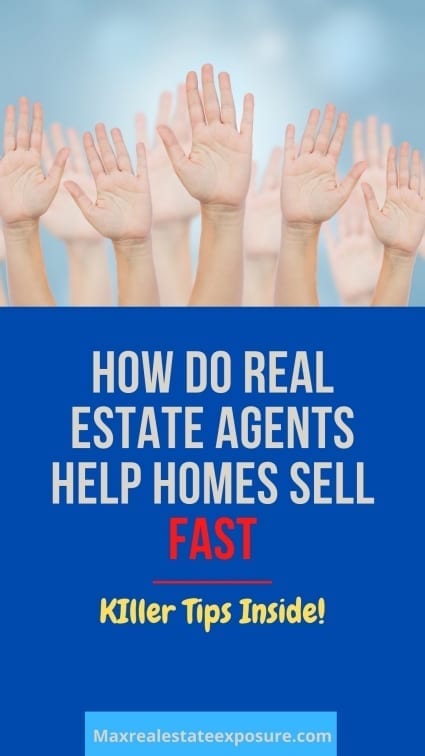 How quickly your home sells will depend on many different factors. A lot will depend on local market conditions that include how many homes are for sale locally, how the economy is doing, and how the interest rates affect a buyer's purchasing power.
Selling your home through a real estate agent can actually be really fast. Recent data suggests that homes sold on average in as little as 22 days.
With the right real estate marketing plan, you can put your home in a position to be involved with a bidding war.
Despite this, local conditions and your own situation can vary greatly. If you choose to use a real estate agent, they can tailor their service to meet your requirements.
Doing so will ensure that they change their approach to marketing, set the price of your home correctly, and give you the information to help you stage your property.
Given your desire to sell swiftly, it will make sense to ask your agent precisely how to price your home to sell fast.
They should help make sure that negotiation with potential buyers and the closing paperwork is pushed through faster. Typically, it makes sense to price just under what other similar homes have been selling for.
Things That Agents Must do to Sell a House Fast
Here are some other things a real estate agent will do to ensure your home sells fast:
All of this should ensure that you get close to the fair market value of your home. The best real estate agents will follow through all the steps to ensure your home gets to the closing table quickly.
How Can a Homeowner Help Sell a Home Rapidly?
There are certain things a seller can do that will increase the odds of having a fast sale. Some of the best are as follows:
Doing all of these things will make your real estate agent's job much more manageable. Most buyers highly prefer turnkey homes. You will want your home to appeal to the masses.
Sell a House Fast For Cash
There are other options to sell your house fast besides using a real estate agent.
When you want to sell quickly, a few non-traditional selling methods are available. You can sell a house fast for cash by contacting real estate investors.
It could be surprising which is the best choice for you, let's review some less traditional selling methods.
Do Cash Offers Help to Sell My Home Quick?
The answer is yes. Selling houses as-is fast is undoubtedly possible when an investor will buy your home. Investors are available to purchase your home for cash, but is this the best option?
It can seem like a great choice if you need to sell your home quickly, avoiding the problems of making repairs, staging your home, and dealing with showings, but there are downsides to finding a cash buyer.
While avoiding the conventional selling route can seem appealing, you can expect to take a significant cut in the amount of money you will receive for your home.
Many consumers will wonder how to sell their homes as-is fast. It can be done, but it won't be the best offer available.
You'll Sell Fast, But The Offer Will Be Lower Than Fair Market Value
Typically, you can expect cash offers to be a lot lower than if you used a real estate agent. Companies like We Buy Ugly Houses have made significant profits over the years from folks who are desperate for a fast home sale.
It shouldn't really be a surprise to learn that you can expect better offers if you wait longer. If you allow yourself a little more time, buyers that require a mortgage will be more likely to be interested.
While you could have cash buyers interested in buying your home, they might be investors that are looking to flip your house. They could also be investors looking for rental properties, but either way, they will be looking at their profits and are less likely to give you the fair market value of your home.
Most investors will be looking at paying up to fifty percent less than your home is worth on the open market.
A cash offer from an investor will get your home sold fast but almost always for less than fair market value!
Click To Tweet
Is Selling My House Fast to an iBuyer a Good Idea?
Some investors looking to purchase homes quickly might call themselves iBuyers or instant buyers. These are investors backed by venture capitalists and aren't likely to give you the fair market value.
Usually, iBuyers will only be interested in your home if it is in good condition and they know it will sell quickly. Others may have a stringent price range that they will want to pay for your property type.
While you can shop around between instant buyers, the best you find might still offer a far lower price than a traditional sale.
Any cash offers you get should be carefully compared to what is likely through a traditional sale option. If you end up selling to a cash buyer for less than the fair market value, how much regret will you end up feeling?
A decision like that could certainly harm your long-term financial health, and it is one that you could regret for a long time. But if you feel like you don't have better options, you will be exchanging quite a lot of money for the convenience and speed an investor offers.
The iBuyer process can be quick, though, and you will get a fast online quote of what they will pay you.
Is For Sale by Owner a Good Idea to Sell a House Rapidly?
Lots of folks want to know how to sell a house fast by owner. Choosing the for sale by owner route can look attractive, with real estate commissions of 5 to 6% to pay.
If you are selling in a hot market, it should be easier to find a buyer. However, selling as a FSBO is usually not the best way to sell a home rapidly.
You will not have access to the same tools a Realtor has in finding a buyer quickly. Even though you are selling your home without a real estate agent, you might end up having to pay a buyer's agent anyway.
The reality of selling your home and putting the transaction in the hands of the buyer's agent might not give you the results you want. In this situation, the real estate agent will be working for their client's best interests (the buyer).
You Should Have Your Own Real Estate Agent
If you want to get to closing as quickly as possible, you need to have your own agent working on your behalf.
Your agent will be aware of your need to move things along and should have the experience to get the transaction to closing faster. They will act as your fiduciary, ensuring your interests are best served while ensuring the sale progresses quickly.
FSBO sales are relatively rare, making up around 10% of all homes sold. Many of these sales are to people the seller already knows. If you don't have a buyer ready, this selling option could be more complicated than you imagine.
FSBO means that you will have to understand the closing paperwork required to ensure the sale transaction completes as expected.
A real estate attorney and a title company must be employed to ensure the transaction completes all the necessary legal hurdles. If you don't fully appreciate what has to happen and when, things could go wrong, delaying the sale.
Can I Sell My House Fast As Is?
If your home needs some repairs, but you don't have the time or money to fix up the property before a sale, the "as is" option can seem like a good idea. This will mean that buyers accept that you aren't going to make any repairs, and they will get the home as it currently is.
Selling a home like this isn't likely to speed up the sale. An as-is sale won't attract as many buyers, as people will naturally assume that there will be many problems with the home. This will be a significant cause for delay in your sale, and you will be likely to get less for the home as well.
One of the problems with this type of sale is that buyers will low-ball you, hoping to get a bargain on your house. Regardless of the repair work required, you will get offers below the home's market value.
You also can't hide information about the home through an as-is sale. Even though you might want to hide the problems with your property, you may not be allowed to, depending on the disclosure rules in your state.
Your real estate agent, however, will have to disclose defects to potential buyers.
Selling an as-is house fast is possible but is usually not the way you'll want to market your property.
Can You Sell Houses Fast by Auction?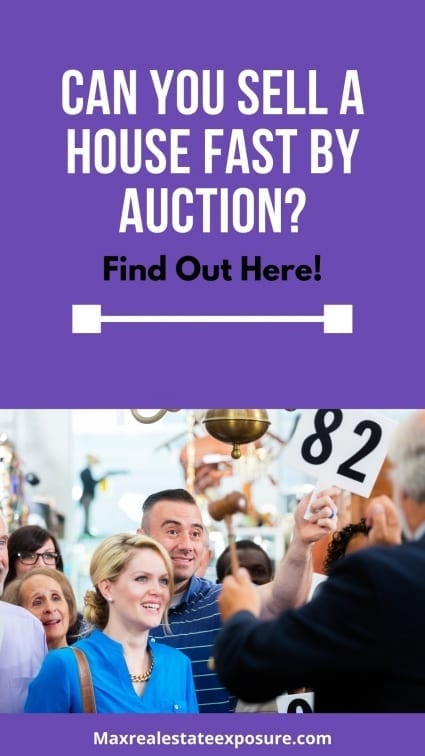 Auctions aren't only for homes that have gone through foreclosure; any home can be sold that way. It can be a great option if you want to sell fast, but it might not be as quick as you imagine.
While auctions mean you don't need to worry about negotiations, receive the total value, and the home will be put in front of targeted buyers, there are downsides.
Even though you will know the date your home should sell, you can typically expect to wait 45 to 60 days for closing. While you might expect to get a swift house sale through an auction, it might end up being slower than a traditional sale could have been.
No Control Over The Sale Price
You also won't have much control over the final price your home sells for.
While a minimum acceptable bid amount needs to be set, you will be advised to set this low. This could be 10 to 15% below the market value to attract bidders' interest, as you are still competing against other properties.
Since it is an auction, you may be lucky to get a few bidders competing to buy your home. This can drive up the price so that you have a final bid above the market value.
When you decide to accept the final bid, you are more likely to find it is nearer the minimum amount than you would like.
Lots of people think buying homes at auctions translates into "getting a deal." This is what you are up against.
There is also the risk that there won't be any interest in your home, and not all homes are ideally suited for selling at auction. There are a few things that should apply to your situation to make an auction a good idea.
The market conditions are a big consideration; a changing or emerging market, high demand, a lack of your type of property in the market, and even more homes than buyers, can make auctions an excellent option.
You should also have a good amount of equity in the home, 25% or more. This will make sure you actually get some money from the auction after the mortgage is accounted for.
For most folks, auctions are a last resort and not a traditional method of selling your house for the most money.
Selling Your Home Short
A short sale might suggest a quicker transaction, but this isn't the case. If anything, a short sale can take longer to close than a regular home transaction.
Short sales don't shorten the time it takes to sell, only reduce the amount you will receive for the home. These happen when the lender agrees to let you sell the home for less than remains on the mortgage.
Most homeowners won't find themselves eligible for a short sale anyway. A lender will only agree to this type of sale if you are months behind on mortgage payments and are staring down the barrel of foreclosure. If you are in such a situation, your lender still might not agree to sell your home for less.
Avoid "Sell Houses Fast" Gimmicks
There are some things when trying to sell your home fast that you'll want to avoid. For every exceptional real estate agent, others won't bat an eye at trying to get clients by doing cheesy marketing gimmicks or other shady things that are not in their best interests.
Here are a few of them worth avoiding:
Guaranteed Home Sales
Guaranteed home sale – when thinking about selling a home, you're bound to come across one of the more prominent selling gimmicks. The guaranteed home sale is when a real estate agent promises to sell your home in "X" amount of days, or they will buy it.
The problem with this is that a real estate agent will not pay you the home's market value. This tactic is used to get people to sign a listing contract. Don't fall for such foolishness. Pick the best real estate agent to sell your home for top dollar.
Pocket Listings
Pocket listings – a pocket listing is another sales tactic you want to avoid. With a pocket listing, a real estate agent does not put your home in MLS or let any other real estate agent know your home will be sold.
Instead, they keep your home under wraps in hopes they will sell it themselves. You'll want maximum exposure to sell your home fast and get the most money. A pocket listing does not accomplish that goal.
Coming Soon Listings
Coming Soon listings – a coming soon listing is similar to a pocket listing if the agent does not let the entire real estate market see your home. Unethical agents could instead try to procure their own buyers without letting the pool of other local real estate agents participate.
Open Houses
Conclusion on How to Sell a Home Fast
If you need a fast house sale, it is certainly possible, and if you choose the right option, you can avoid reducing the price too much. You need to make sure you carefully consider your options and get help from the right professionals to avoid selling your house for less in exchange for speed.
Hopefully, you have enjoyed my guide to selling your home fast and can put it to good use. Now you know the options and what it will take to get the job done.
---
About the author: Bill Gassett, a nationally recognized leader in his field, provided the above Real Estate information about how to sell a house fast. Bill can be reached via email at billgassett@remaxexec.com or by phone at 508-625-0191. Bill has helped people move in and out of many Metrowest towns for the last 37+ years.
Are you thinking of selling your home? I am passionate about real estate and love sharing my marketing expertise!
I service Real Estate Sales in the following Metrowest MA towns: Ashland, Bellingham, Douglas, Framingham, Franklin, Grafton, Holliston, Hopkinton, Hopedale, Medway, Mendon, Milford, Millbury, Millville, Natick, Northborough, Northbridge, Shrewsbury, Southborough, Sutton, Wayland, Westborough, Whitinsville, Worcester, Upton, and Uxbridge MA.
Summary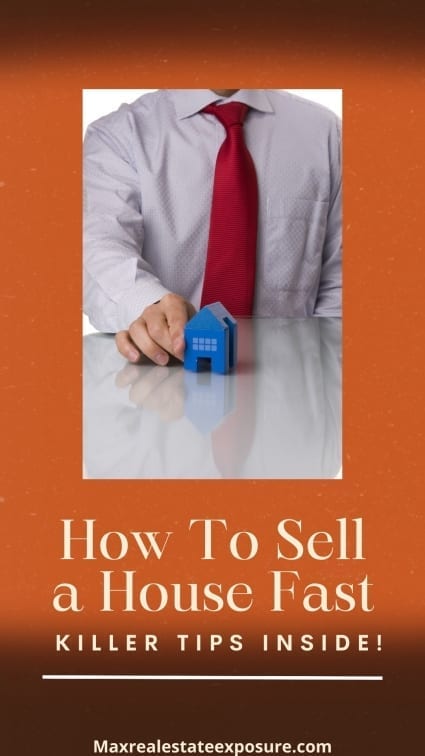 Article Name
Description
See how you can sell your home fast. There are strategies, options, and tactics you can use for selling a house as fast as possible.
Author
Publisher Name
Maximum Real Estate Exposure
Publisher Logo