Utilizing a St. Joseph Statue For Selling a House
Are you considering buying a St. Joseph statue to sell a house?
Buying a St. Joseph statue to help sell your house has become a popular tradition among many Catholics and others in the U.S. Though not officially endorsed by the Catholic Church, believers believe in its effectiveness.
This practice involves burying the statue near a 'For Sale' sign or in a chosen location, following varying instructions. Praying regularly to St. Joseph is advised for increased chances of a quick home sale. While the practice offers comfort and hope, it's essential to remember to take practical steps in selling our home. Those who trust God's providence swear by burying a St. Joseph's statue throughout the sale.
In my experience as a Massachusetts Realtor, a few of my clients have buried a St. Joseph statue in their yard. On each occasion, it was during a buyer's market when getting a fast home sale was challenging. Did it work? Well, each time, the house sold. However, does that mean it worked?
Frankly, I am a skeptic. While I was raised as a Catholic, I have not been religious for most of my life. I would rather believe my skills as a Realtor resulted in the sale. Whatever you choose to think, we will take a comprehensive look at this practice.
What is a St. Joseph Statue?
A St. Joseph statue is a religious artifact used by many Catholics in the context of selling their houses. While not officially endorsed by the Catholic Church, this tradition has a long history and is believed to be effective by many believers.
History and Origins of the Tradition
The practice of burying St. Joseph statues in connection with selling houses dates back several centuries. It started from A.D. 1515 to 1582. Originating in Europe, nuns at a Closter wished to expand their land and turned to St. Joseph for help. They buried his medals of him in the ground after a prayer.
In a brief period, their prayers were answered, and they were granted additional land. This ancient tale has persevered, albeit with a modified tradition of burying statues instead of medals.
It has become common practice to bury these statues near 'For Sale' signs, often upside down. The tradition has evolved and spread throughout the years, with variations in how the statues are buried.
Here are some tips on how to bury a St. Joseph statue. Use this advice for the proper positioning and burial of St. Joseph. The widespread belief is that burying the statue facing the road signifies you're ready to leave the house.
Beliefs and Effectiveness
The effectiveness of burying a St. Joseph statue is a matter of faith and belief for many Catholics. While some consider it superstitious, believers see it as a way to seek mediation from St. Joseph, who is regarded as the patron saint of home and family.
The act of burying the statue is accompanied by a regular prayer to enhance the chances of a successful house sale.
Cultural Significance
Beyond its religious significance, the St. Joseph statue tradition holds cultural value for many Catholics. It represents a tangible symbol of hope and a connection to their faith during the anxiety-inducing house-selling process. This practice has gained popularity in the United States, where Catholic communities have embraced it as a part of their unique cultural heritage.
Where To Buy the Saint Joseph Statue to Sell a House
Several options are available when purchasing a Saint Joseph statue for your house-selling endeavor. Here are some key sources to consider:
Physical stores that offer St. Joseph statues
If you prefer a more traditional shopping experience, visit local religious stores, Catholic gift shops, or even some specialized home décor stores. These establishments often carry a variety of Saint Joseph statues to choose from, allowing you to find one that resonates with you.
Online platforms and retailers
For those who prefer the convenience of online shopping, numerous platforms and retailers offer Saint Joseph statues—E-commerce websites, such as Amazon and eBay. Religious-focused online stores also provide a wide selection of statues that can be delivered to your doorstep.
Ensure to read reviews and check the seller's reputation before purchasing.
Factors to consider when purchasing
Before finalizing your purchase, it's essential to consider a few factors. First, determine the size and material of the statue that best suits your preferences. Look for high-quality craftsmanship to ensure a lasting symbol of devotion.
Additionally, consider the price range that fits your budget and compare prices across different platforms to find the best deal.
Remember, the Saint Joseph statue represents your faith and intentions, so choose one that resonates with you and evokes a spiritual connection.
Utilizing The St. Joseph Prayer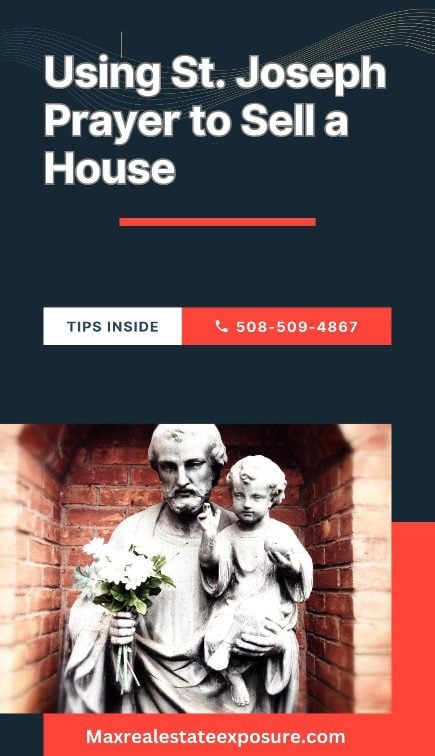 The St. Joseph Prayer plays a significant role in selling a house. It serves as a means to seek guidance and assistance from St. Joseph, the home and family patron saint. By incorporating prayer into the selling journey, believers express their trust in divine intervention and seek blessings for a successful sale.
Different prayers associated with St. Joseph
Various prayers are associated explicitly with St. Joseph that can be recited during the selling process. One well-known prayer is the Prayer to St. Joseph, which asks for his intercession and guidance in finding a buyer for the house.
Another powerful prayer is the Novena to St. Joseph, a nine-day prayer offering devotion and seeking his assistance in selling the property.
Incorporating prayer into the statue burial ritual
When burying the St. Joseph statue, it is common for believers to recite prayers to accompany the act. This moment of reverence allows individuals to express their intentions and hopes while entrusting the selling process to St. Joseph's intercession.
It is essential to maintain a heartfelt connection during the burial and pray sincerely for a successful sale.
Maximizing House Sale Success with a St. Joseph Statue
When using a St. Joseph statue to help sell your house, several steps and considerations can contribute to maximizing your chances of success in the selling process.
Steps to take before burying the statue
Prepare the property: Before burying the statue, ensure your house is in good condition, addressing any necessary repairs or improvements. Correcting home-selling mistakes is vital. When a buyer is touring a home, it should be inviting.
Clean and declutter: Create an inviting atmosphere by thoroughly cleaning and decluttering your home, allowing potential buyers to envision themselves living there.
Price the house appropriately: Conduct thorough market research and consult a real estate agent to establish a competitive and realistic selling price. Lack of proper house pricing is why homes don't sell most of the time.
Tips for proper statue placement
Find an appropriate spot: Choose a location on your property that holds personal meaning or is significant to you, such as near the entrance or in a garden area.
Consider visibility: Place the statue where potential buyers can quickly notice it, whether near the for sale sign or in a prominent area of your yard.
Bury it properly: Follow the instructions, burying the statue approximately 30 centimeters deep and considering its orientation, such as facing the house or the road.
Maintaining faith and trust throughout the selling journey
Regular prayer:

Continuously pray to St. Joseph, expressing your intentions and seeking his guidance throughout the selling process.

Stay positive and patient:

Selling a house can be time-consuming, so it's important to remain optimistic and trust that the right buyer will come.

Focus on other marketing strategies:

While the St. Joseph statue tradition can provide comfort and hope, it's crucial to complement it with practical selling techniques, such as enhancing curb appeal and actively promoting your property.
By following these steps and maintaining faith in the power of the St. Joseph statue tradition, you can successfully enhance your chances of selling your house.
Click To Tweet
Remember to balance spiritual belief and practical action, allowing both aspects to work together towards your goal.
Do Realtors Ever Bury a St. Joseph Statue on Behalf of The Seller?
Yes. Many real estate agents will bury a statue for their clients. Speaking to the seller before putting a statue in the owner's yard is recommended.
When Do I Dig Up My St. Joseph Statue?
You may wonder if you're supposed to dig up a St. Joseph statue. The answer is yes.
When you know the home sale is nearly guaranteed to be completed, you can remove the statue from the ground. In most circumstances, it makes sense to wait until the week of the closing before removal. Many people will take their statue to their new residence.
Alternatives To Burying A St. Joseph Statue
While burying a St. Joseph statue is a popular tradition, there are alternative practices that can also be effective in selling a house. Before putting a St. Joseph statue in the ground, you should ensure your agent does everything necessary to sell your home.
The best Realtors do many things for their clients. Others don't. If you get the wrong listing agent, it is easy to fail at selling a home.
Here are some other options to consider:
Other popular practices for selling a house
Aside from the St. Joseph statue tradition, there are several practices that homeowners commonly use to increase their chances of selling their house:
Showcasing the property through professional photography and virtual tours
Utilizing the best online listing platforms and social media for maximum exposure
Offering incentives to potential buyers, such as seller concessions or home warranties
Home staging and improvements
Home staging and improving the property's overall appeal can significantly impact the selling process.
Consider the following steps:
Decluttering and depersonalizing the space to create a neutral and welcoming atmosphere.
Repainting walls and refreshing the interior with new accessories.
Maximizing curb appeal by maintaining the landscape, cleaning the exterior, and adding inviting touches.
Highlighting key features of the house through strategic furniture arrangement and lighting.
Working with a real estate agent
Collaborating with a professional real estate agent can significantly streamline the selling process. They have the knowledge and expertise to market the property and negotiate effectively with potential buyers.
You may need to fire your current Realtor if they are not doing an excellent job.
Some benefits of working with a reliable agent include:
Gaining access to a vast network of potential buyers through their established connections
Receiving expert guidance on pricing the house competitively
Having an experienced negotiator to represent your interests during offers and counteroffers
Benefiting from their market insight and understanding of current real estate trends
Remember, while the St. Joseph statue tradition holds significance for many, it's essential to explore these practical alternatives and determine the best approach that aligns with your preferences and goals for selling your house.
Additional Practical Strategies for Selling Your House
Enhancing curb appeal and staging the home
First impressions matter when selling a house. Enhancing the curb appeal can attract potential buyers as they drive by.
Consider these strategies:
Ensure the front yard is well-maintained, with trimmed lawns, manicured plants, and fresh flowers.
Repaint the front door, fix any visible damages, and ensure the house looks inviting.
Declutter and depersonalize the interior to allow buyers to envision themselves living in the space.
Arrange furniture in a way that highlights the home's best features and creates a sense of flow.
Marketing the property effectively
Effective marketing is crucial to reach a broad audience of potential buyers. Having an effective real estate marketing plan is crucial to home selling success.
Do these things to enhance your selling chances:
Hire a professional photographer to capture high-quality images of the property to use in online listings and advertisements.
Write a captivating property description highlighting the unique features and benefits of the house.
Consider hosting open houses or virtual tours to allow interested buyers to explore the property firsthand.
Navigating negotiations and closing the sale
Once potential buyers show interest, negotiations and closing the sale become essential. Keep these strategies in mind:
Set a competitive yet realistic asking price for the house based on market trends and real estate comps.
Respond promptly to offers and counteroffers while maintaining open communication with potential buyers.
Consider working with a skilled Realtor who can guide you through the negotiation process.
Review all legal documents carefully and seek professional advice to ensure a smooth closing process.
When considering buying a St. Joseph statue to help sell your house, reflecting on your personal beliefs and intentions is essential. Ask yourself why you are turning to this tradition and what it means spiritually.
Understanding your motivations can bring clarity and a sense of purpose.
Considering the role of faith in real estate transactions
Using a St. Joseph statue in the home-selling process highlights the role of religion in real estate transactions. It symbolizes putting trust in a higher power and seeking divine intervention. The belief is that by incorporating spirituality, one can find solace and support during the often stressful task of selling a house.
Believing in the power of prayer and divine guidance
An essential aspect of faith in real estate transactions is the power of prayer and seeking divine guidance. Through prayer, individuals can find comfort, seek clarity, and have faith that their efforts will be rewarded.
The St. Joseph statue serves as a physical representation of this spiritual connection.
Acknowledging additional factors beyond the St. Joseph tradition
While the St. Joseph statue tradition holds significance for many, it is crucial to recognize that selling a house involves various factors beyond this practice alone. Proper marketing, home improvements, and working with real estate professionals are practical strategies that can complement the spiritual aspect of the process.
Trusting in the journey and embracing the process
Regardless of the practices employed, it is crucial to trust in the journey and embrace the process of selling a house. This involves remaining patient, staying positive, and adapting as necessary. Keeping realistic expectations while maintaining faith can help navigate any challenges.
Acknowledging the broader aspects of selling a house
While the tradition of burying a St. Joseph statue is born out of faith and spirituality, it is essential to recognize that selling a home involves many practical and financial aspects. As mentioned, understanding the current real estate market, pricing the property appropriately, and being proactive in promotion can maximize the chances of a successful sale.
Researching the real estate market
Before selling a house, it is crucial to research the real estate market in your area. Understanding current trends, prices, and competition can help determine a realistic asking price and allow for effective negotiation strategies. Ensure the comparative market analysis was well prepared and accurate. The most common home-selling mistake is the wrong asking price.
Review what you were initially given for accuracy.
Final Thoughts on Selling a Property by Burying a St. Joseph Statue
Combining faith-based practices and practical strategies can provide a holistic house-selling approach. By acknowledging personal beliefs, considering the role of faith, and embracing practical aspects, individuals can navigate the selling process with confidence and hope.
However, follow sound home sales guidance before relying on St. Joseph to sell your house.
---
About the Author: The above Real Estate information on using a St. Joseph statue for selling a house was provided by Bill Gassett, a Nationally recognized leader in his field. Bill has expertise in mortgages, financing, moving, home improvement, and general real estate. Learn more about Bill Gassett and the publications he has been featured in. Bill can be reached via email at billgassett@remaxexec.com or by phone at 508-625-0191. Bill has helped people move in and out of Metrowest towns for the last 37+ years.
Are you thinking of selling your home? I am passionate about real estate and love sharing my marketing expertise!
I service Real Estate Sales in the following Metrowest MA towns: Ashland, Bellingham, Douglas, Framingham, Franklin, Grafton, Holliston, Hopkinton, Hopedale, Medway, Mendon, Milford, Millbury, Millville, Natick, Northborough, Northbridge, Shrewsbury, Southborough, Sutton, Wayland, Westborough, Whitinsville, Worcester, Upton, and Uxbridge MA.
Summary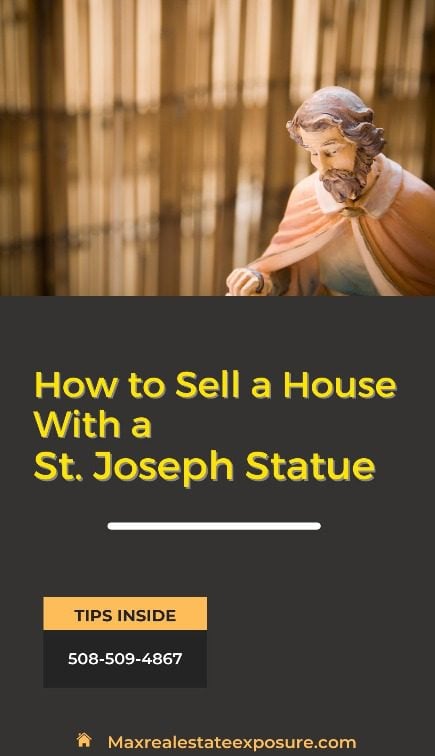 Article Name
St. Joseph Statue For Selling a House: How to Do It
Description
Does burying a St. Josephs statue help you sell your house? Will it work? See everything you should know about St. Joseph statues.
Author
Publisher Name
Maximum Real Estate Exposure
Publisher Logo