Selling Your Home to a Real Estate Investor
You only have to drive around your town for a little while to come upon "We Buy Houses" or "We Buy Ugly Houses" type signs plastered all around on telephone poles or street signs. The signs let you know that there is a company out there that will buy your home, no matter what state it's in. These are investors who are looking to flip your house for a profit. Housing flipping has become a lucrative business model for a number of real estate investors.
Unfortunately, while these companies do fill a need for certain sellers, they are not always the best solution for homeowners who want to sell. If you are considering using such a company, it is worth your time to learn a little more about your options. You may find that you can get a better price by working with a local real estate agent.
Keep in mind that we buy houses flipping companies are after one thing – buying your home for dirt cheap! They will often offer you anywhere from 50-70 percent of the actual value depending on how desperate you are to sell. By definition, house flipping is where a real estate investor purchases a property for less than its value, makes any necessary repairs and updates, and then sells the home for a profit typically within a short period of time.
Keep reading and you will see all of the pros and cons to flipping companies such as we buy houses and others like them.
House Flipping Companies – Pros And Cons
Pros of selling to a house flipping company
1. It's easy.
Selling a home that needs work can be challenging if you want to get the best possible price. With a house flipping company, you avoid the difficulty of trying to sell for a good price. Instead, you sell to a company that will buy your house for the lowest price it can get away with. In exchange for taking a low price, you can quickly free yourself of the burden of owning the home. If you are in desperation mode this is often times your best bet. Selling to a real estate investor can get you out from under a problem very quickly.
2. You only have to make one decision.
Your only decision when selling to a house flipping company is to sell, or not to sell. You won't have to decide what repairs to make or who you want to sell to. You will get an offer and make a single decision. After that, you are free of the home. Most often a house flipping company will be paying cash and there can be a quick closing if this is what you are after.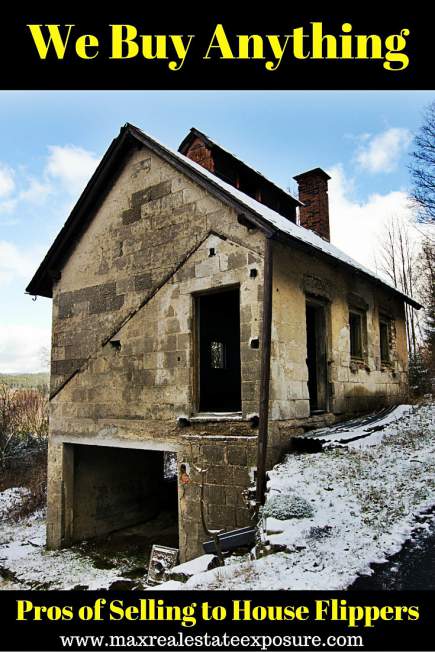 3. You don't have to find a real estate agent.
Finding a good real estate agent can take a little bit of effort. You may have to interview several to find someone you are really comfortable with. You also don't have to worry about disagreeing with your real estate agent once you hire one, which can happen. You are going solo.
4. You don't have to waste your time going for sale by owner.
Trying to sell your home as a for sale by owner can be extremely challenging, to say the least. While the goal for most owners is to save on paying a real estate commission, it is a lot of work to accomplish this. For sale by owners need to keep in mind the following:
You need to have some good marketing skills to make sure your home is found online. This is where the vast majority of buyers will be searching for a home.
The photography on your home needs to be excellent.
You must make yourself available for showings which may mean times of the day where it is not convenient for you.
The buyer needs to be qualified for a mortgage so it will be your job to make sure this is the case. Make sure you understand the difference between pre-qualified vs pre-approved.
There will be nobody there to represent you at vital stages of the home selling process such as the buyers home inspection.
When you sell to we buy houses company all of the headaches associated with selling as a for sale by owner are avoided.
5. You can probably sell no matter what shape your home is in.
A home can deteriorate considerably over a long time period, especially if regular maintenance is not conducted and repairs are not made as necessary to keep all components of the house in good working order. You may have a home that you want to sell that is virtually uninhabitable. But even in this state, there is probably a company that will still buy it. Not for very much money, but someone will still purchase it if just to obtain the lot that the house sits on.
Cons of selling to a house flipping company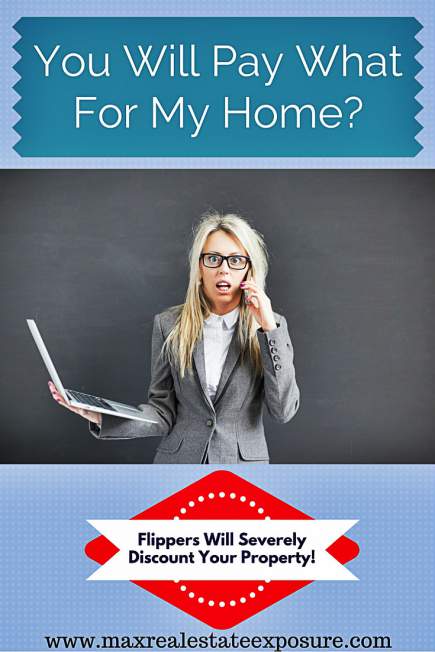 1. You will probably make less on the sale than you would working with a Realtor.
When you hire a real estate agent, he or she is working to make you as much money as possible from your sale. The Realtor takes a percentage of the sale price as financial compensation, so he or she is motivated to fetch the best price. If a real estate agent believes that he or she can sell your home, there is a good chance that you can make more than you would if you sell to a house flipping company. In fact, I will go out on a limb as say you are GUARANTEED to get far more money when you list your home with a real estate agent. Selling to a real estate investor will almost always end up netting you less money!
Again you need to keep in mind that house flipping companies are buying your home for one reason – TO MAKE MONEY! They are not going to pay you anywhere close to the actual fair market value of your home.
2. You don't have the option of improving the home to improve the selling price.
Even homes that are in relatively bad shape can often be improved to attract better quality buyers. In fact, that is probably what the house flipping company is planning on doing with your home. They will buy it, fix it up, sell it and make a nice profit. When you sell with a real estate agent, you get to make the improvements and reap the rewards. An outstanding real estate agent will be able to guide you on the best improvements for increasing home value. If you don't have the money yourself it could be wise to borrow the money from someone else so that you end up putting the additional profit in YOUR pocket! There are things you can do to a home that does not cost a lot of money that many owners don't realize. Here is a how to make your home more appealing when on a budget.
3. You give up control.
A house flipping company is focused on finding sellers who are desperate or just don't care anymore. If you do care and you are not desperate – you just want to sell the house – there is no reason to work with a company that will rob you of all opportunities to get more from your sale. Working with your Realtor, you can determine exactly what you need to do to get a good price for the home, and often make a lot more money at the end of the day.
4. You wind up working with a company that does not have your best interests in mind.
House flipping companies are not necessarily bad. They fill a niche and are capable of helping homeowners who have no other options. For those with no options, getting paid to get out from under the home is an opportunity worth taking. But if you think that maybe you could get more for the home, a house flipping company is not the partner you want.
A real estate agent is focused on your best interests. Your satisfaction is extremely important because reputation is everything for a Realtor. Your agent will give you insight into the different options available to you, and help you every step of the way as you go through the sales process.
As you can see there are many pros and cons of we buy houses flipping companies. What you really need to be concerned about are the scammers!
House Flipping Scammers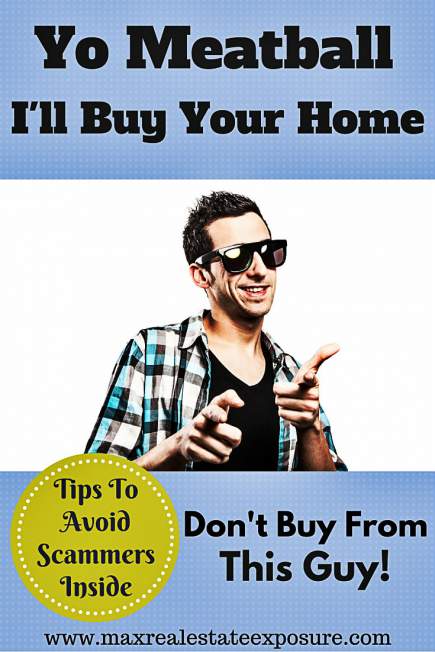 While many "We Buy Houses" flipping companies are completely legit, there are some that are not. Selling to a real estate investor is something that requires some due diligence on your part. It is imperative that you do careful research when dealing with a house flipping company. There are some common house flipping scams that all sellers should be aware of. The preceding link does an excellent job of summarizing many of the known scams out there. Just be careful and make sure none of these things mentioned are happening to you!
One thing you should know is that there is only one legit "We Buy Ugly Houses" company out there and that is Homevestors. There are many imposters using this slogan as part of their marketing. You should put extra scrutiny into any of these companies. Calling a house flipping company from a sign on a telephone pole and establishing a relationship with them without any research could end up being financial suicide.
In my local area from time to time, I have seen the "we will buy your house" signs in Framingham Massachusetts and Milford Massachusetts. These companies tend to focus on larger populated areas. There could be much better financial options that calling one of these entities. Think about this wisely before making a decision.
Speak To A Realtor Before Choosing A House Flipping Company
Selling to a real estate investor can be tricky business. Depending on your circumstances, a house flipping company may be the best option for you. However, it is worth speaking to a Realtor first. As long as you are talking to a reputable real estate agent, he or she can give you quality advice on your options for selling the home. The agent can come by and take a look, analyze your local market and give you a clear picture of what you can make off of your home – with or without repairs.
Talk to a trusted real estate agent, then decides how to move forward. Maybe a house flipping company will serve your needs. Or, you may discover that you can make a lot more money by hiring an agent and selling your home.
Buyers need to be Weary Too
There are some homes that are bought by housing flipping companies who do a very shoddy job of fixing the home up properly. Remember many of an investor's decisions are guided by finances and not what they would do if personally living in the home themselves. When corners are cut in construction bad things can happen. The bottom line is you need to be really cautious when buying a flipped home. This article illustrated the perfect example why buyers have to do their due diligence when purchasing flipped homes. Besides major issues described in the article the chances of there being no required building permits pulled increases exponentially. The odds are you could be taking on someone's problems, especially when no permits have been taken out.
When buying a flipped home you should make sure you and your real estate agent do some serious research into the credibility and reputation of the contractors who did the work. It is not uncommon to see shoddy workmanship in homes that are being turned for a quick profit. Like any other business, there are some true professionals and those who should be banned with anything to do with house flipping.
Additional Helpful Home Selling Advice
Use these home selling articles to further educate yourself on the process of selling a home. When armed with great information you are bound to make better financial decisions that in the long run will put more money in your pocket.
---
About the Author: The above Real Estate information on the pros and cons of we buy houses flipping companies was provided by Bill Gassett, a Nationally recognized leader in his field. Bill can be reached via email at billgassett@remaxexec.com or by phone at 508-625-0191. Bill has helped people move in and out of many Metrowest towns for the last 30+ Years.
Thinking of selling your home? I have a passion for Real Estate and love to share my marketing expertise!
I service Real Estate sales in the following Metrowest MA towns: Ashland, Bellingham, Douglas, Framingham, Franklin, Grafton, Holliston, Hopkinton, Hopedale, Medway, Mendon, Milford, Millbury, Millville, Northborough, Northbridge, Shrewsbury, Southborough, Sutton, Wayland, Westborough, Whitinsville, Worcester, Upton and Uxbridge MA.
Enjoy This Real Estate Article?
"Subscribe To My Blog - It's FREE and No Spam EVER!"
Get my blog articles in your inbox as soon as they are published!