Best Companies That Buy Houses For Cash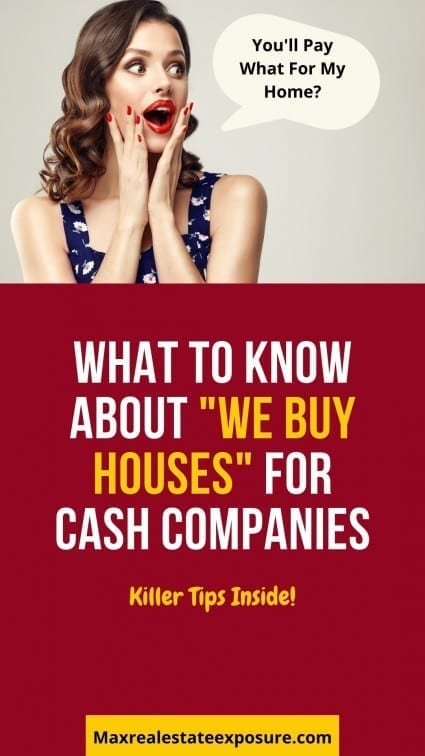 Are you wondering what the deal is with we buy houses for cash companies? Maybe you're looking for one of the best companies that buy houses for cash.
Cash buyers for homes are more prevalent today than they have ever been.
Seeing the flyers around town on telephone poles that offer to purchase your home for cash quickly can be intriguing.
Maybe you have gotten numerous mailings asking to buy your house for cash.
Many folks search online for "sell my house for cash," hoping to find a buyer to purchase their homes.
Finding a cash buyer for your home is not that difficult, but it has some downsides.
"We buy houses for cash" companies can seem like a great idea if you want to bypass the normal selling process.
Perhaps you are in a rush to sell your home fast, don't want to worry about paying commission, or deal with the uncertainty of selling your place.
These kinds of real estate investors offer a compromise for someone who wants to avoid selling for sale by owner.
To help you, we'll look at the companies that buy houses for cash and some of the issues you need to understand before you choose this option.
If you want to sell anywhere close to your home's market value, a we buy houses for cash outfit is not the way to go. If profit is the least of your concerns, it could be the perfect opportunity.
Keep in mind many real estate investors will pay cash for your home. It will be prudent, however, to work with a reputable company. There are tons of scammers in the house-flipping industry.
Are Companies That Buy Houses For Cash Legit?
Yes. The home cash buyers we will be reviewing have well-established businesses. These cash for houses companies make quick offers once viewing your property.
Sometimes you may feel like they are scamming you because of the lowball offers they provide, but that is how they make their money.
Who Are The Companies That Buy Houses For Cash
Home cash buyers are a more common part of the real estate landscape. We will review each of these cash-offer companies. They are some of the best home-buying companies.
We Buy Ugly Houses or HomeVestors of America
Webuyhouses.com
Fast Home Offer
Express Homebuyers
iBuyer Companies
Before selling your house for cash to a, "We Buy Houses For Cash" company, understand the pros and cons.
While the companies mentioned here are legit, many We Buy Houses ripoffs and scams exist. You'll need to avoid these scammers like the plague.
Typically, when you see we buy houses for cash on a handmade sign plastered on a telephone pole, it could be your first clue to keep your eyes peeled for a potential scam artist.
Let's examine the best we buy houses for cash companies.
We Buy Ugly Houses
One of the top companies that buy houses is We Buy Ugly Houses. Initially using the business name HomeVestors of America, We Buy Ugly Houses has been around since 1996.
They have franchises in most states and have purchased over 100,000 properties since they were established. The franchises are operated by local investors who use the brand for marketing their services.
Once you have contacted them through their online form or toll-free number, a franchisee will be scheduled to inspect your home. They are looking at the property's condition to help assess its value and make you an offer.
They claim that you don't have to worry about their offer changing through the process, and if you agree, the closing can be scheduled within 3 or 4 weeks.
Regarding the "we buy houses" companies, We Buy Ugly Houses is the most well-known.
Of all the house-buying companies, We Buy Ugly Houses should be on your shortlist to interview. The company is the number one cash for houses investor in The United States.
The Benefits of Using We Buy Ugly Houses
What are the advantages of We Buy Ugly Houses? You usually won't have to wait for your offer, getting the cash bid on the inspection day. The company will cover the closing costs of the sale. This could save you 1 to 3% of the sale price.
We Buy Ugly Houses doesn't care if your home isn't pretty or in bad condition; they will purchase any home. We Buy Ugly Houses will buy houses fast!
The Negatives of Using We Buy Ugly Houses
The biggest downside of We Buy Ugly Houses is what they will pay for your home. Don't expect them to give you the home's fair market value. They want to profit by offering you as little as half the market value.
Closing could take as long or maybe longer than if you'd sold your home through a traditional listing service. You might have to wait a month for the sale to be completed.
WeBuyHouses.com
WeBuyHouses.com
was founded in 1997 and is a national network of investors. They are yet another one of the companies buying houses.
Fill out a form on their website or call their local representative to visit your home. They will discover more about your house and create an offer you should receive when they visit.
You can accept the offer there and then, but you have up to 30 days to think about it. If you agree, and your situation allows it, the closing could be in as little as a week.
The Advantages of Choosing WeBuyHouses.com
So, what are the pros of We Buy Houses? Most of the company's purchases close within a few weeks after accepting the offer. So you can expect the same if you deal with them.
You get time to think about the offer they've made to you. With your offer being valid for 30 days, you can look around to find a better option.
The Disadvantages of Working With WeBuyHouses.com
Like others, the cons of We Buy Houses is what the company will offer to pay for your house. They say you can expect a competitive offer on your home, but this will still likely be well below fair market value.
You can typically only expect to get 70% of the home's value. Getting offers well below market value is what you can expect from all of these kinds of house-buying companies.
Remember, they aim to buy your home cheaply, fix it, and sell it for a significant profit.
Fast Home Offer
Fast Home Offer has home buyers across America as well as in Canada, Australia, and Mexico. They are a lesser-known company that buys houses. Nonetheless, you can fill out their online questionnaire to have one of their local representatives contact you.
They might even offer you a purchase figure over the phone, though this could be updated later. They will also make an appointment to view your home.
Once they give you their offer, you can take some time to decide if it is right for you. If you are happy with the amount they offer, they could close within 14 days.
The Benefits of Fast Home Offer
As their name suggests, closing is reasonably fast. They could set the closing day as between 7 and 14 days. This is a significant advantage for those looking at cash for houses quickly.
In some situations, you could get an offer over the phone. However, this will depend on your location and the condition of your property.
This company will buy homes that are in any condition. This business will purchase all types of homes, including commercial property and land.
The Downsides of Fast Home Offer
The "we buy houses for cash" business model means they will give you less money than if you sell the home through traditional options.
Like other companies that buy houses for cash, you can expect not to feel overwhelmed with what they offer you for your home.
Express Homebuyers
Operating in just over half of U.S. states, Express Homebuyers is a network of investors looking to buy homes like yours. They have been in business since 2003 and have purchased over 2,500 homes.
You can call them or fill out their online questionnaire, and they promise to give you a fair cash offer in just 7 minutes. This will likely be just a range of prices you can expect to receive, with one of their representatives needing to inspect your home before they give you their final figure.
If your sale is straightforward and you are happy with their final price, the deal could close in seven days. You only have to sign the paperwork, and they will schedule your settlement date.
Reasons to Choose Express Homebuyers
Express Home Buyers promises to give you an idea of the price you can expect from them within minutes of making contact. This can give you a quick understanding of whether this is the right company to use and if you'll get the amount of cash you expect.
Most of the time, their offer will stand for 30 days. This allows you to explore your options further before you commit to selling your home to Express Homebuyers.
You're closing date could be seven working days away. As long as there aren't any issues, you can get your money fast.
Negatives Against Express Homebuyers
Though they will give you an offer price quickly, it won't be an exact offer, and the bid could be significantly below the fair market value.
Express Homebuyers may not buy your property if it isn't in good condition. They are pickier than other house-buying companies on this list, and if your home isn't in shape, they may not be interested.
The most significant con with Express Homebuyers is they purchase far fewer homes than the other real estate investment companies reviewed.
Video: We Buy Houses For Cash Companies Explained
Real Estate Video Templates for Investors - "We Buy Houses"
See a quick explanation of what we buy houses for cash companies do in video format.
iBuyers Reviewed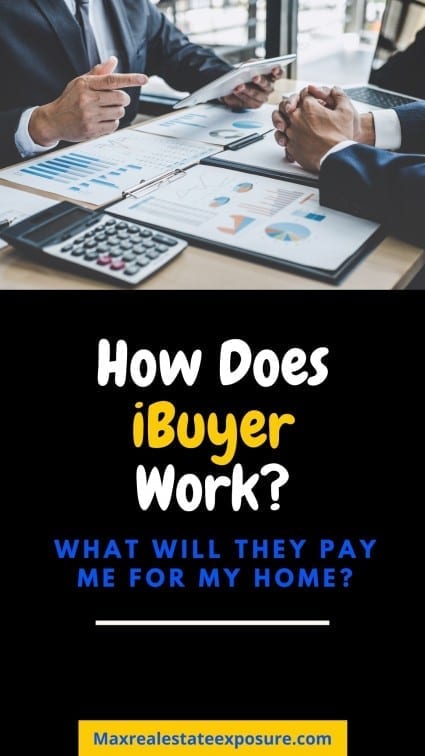 Another type of real estate investor that buyers homes are what's referred to as an iBuyer.
The term iBuyer means instant buyer. Like we buy houses for cash companies, an iBuyer will close on your home rapidly.
iBuyers, however, are different from we buy houses for cash companies.
An iBuyer is a real estate investment company that has deep pockets. They can purchase homes with minimal inconvenience for a seller.
To establish what they will pay for a home, they use a complex algorithm to arrive at what they feel is fair market value.
An iBuyer will decide whether your house is worth buying. They will try to determine how easy it will be to sell and make a cash offer based on their opinion.
An iBuyer will then sell the house, usually with minimal improvements, and attempt to make a profit.
Opendoor started in 2013 and was the first significant player in the iBuyer arena. Other companies have since followed suit.
iBuyers Purchase Homes in Good condition
iBuyers tend to stick to homes in excellent condition, which is different from house flippers like we buy houses.
Rather than fixing up low-priced fixer-uppers that need a lot of work and renovating them like we buy houses, iBuyers focus on properties with minimal work.
Their goal is to sell properties quickly without additional investment of capital. The iBuyer wants easy sales. Their model works on buying and selling in volume.
The advantage to a consumer is similar to other companies buying houses because you can get your home sold fast.
The process for selling with an iBuyer is simple. You go to their website, enter your address, fill out a questionnaire, and wait for them to reply, and shortly after, you will get an offer on your home, which will be a cash offer.
If you accept the offer, the closing can typically occur in a week.
Opendoor, formed in 2013, was the first major iBuyer company. Numerous other iBuyer companies have since followed suit. Right now iBuyers are all the rage regarding companies that buy houses for cash.
Who knows how long the trend will continue?
Other iBuyer Cash Companies
Some of the other cash buyers for homes in the iBuyer arena include the following:
Offerpad
Orchard
RedfinNow
Knock
Flyhomes
Is it a Good Idea to Sell Your Home to a Cash Buying Company?
It makes sense to choose to do business with companies that buy houses in many situations. Let's take a look:
If you have to quickly sell the property, dealing with a company that will buy houses for cash removes many of these problems.
It will eliminate the uncertainty and stress involved in the house sale process. You will know how much you will get for your house and when the closing will be.
This could be a better option if you have fallen behind on your mortgage payments and are in danger of foreclosure. It should make sure you avoid damaging your credit history and allows you to keep some of the equity.
If you need to sell your home and there are apparent repair issues, a cash buyer could help. When you can't afford to deal with the repairs, many buy houses for cash companies will still do a deal.
If you have inherited a home that is perhaps out-of-state, a cash buyer might be an easier option. It will give you a straightforward way to turn the inherited property into cash.
How Much Money Do We Buy Houses For Cash Companies Pay?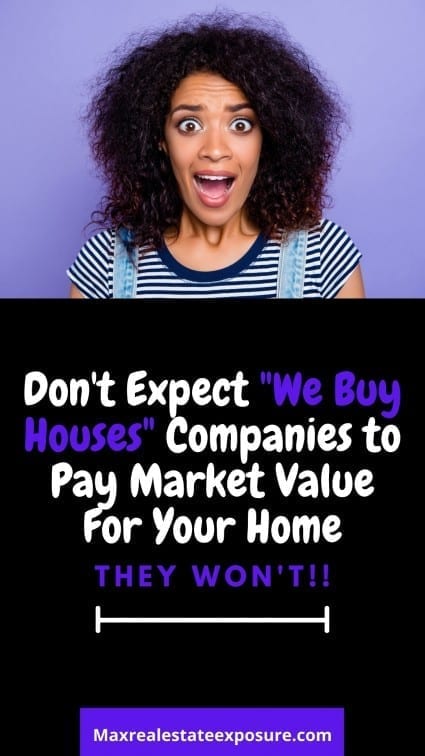 Choosing one of the cash for houses companies means you won't get the property's total value. They are investors looking to profit, so they will not pay you the market value.
You can expect only to be offered – at best – 70% of the market value. However, you have to remember that they will deduct the cost of repairs from this as well.
So, if your home's fair market value is $250,000, 70% would be $175,000. When the investor decides your home needs $30,000 spent on repairs, you could end up with just $145,000.
If you can cover the repairs' cost, you can expect an extra $75,000 for your home in this example. Not to mention that there is a good chance that they will overestimate the cost of repairs anyway.
Even though you won't be paying a real estate commission, you will leave a ton of money on the table by choosing a "we buy houses" investment company.
While the advantage of going this route is avoiding the hassles of a traditional sale, will it be worth it when you lose so much money?
Only you can determine the answer.
Pros and Cons of We Buy Houses For Cash Companies
The Pros of Cash Buyers For Homes:
You can sell your home very fast. Great for those in some financial distress, such as a job loss, death in the family, or a divorce.
There is no mortgage contingency or home inspection to worry about.
Home sales are less likely to fall through with companies who buy houses.
The condition of your home doesn't need to be fantastic with most companies that buy houses.
The home-buying companies will be buying your property as-is. They expect you're selling the house as-is.
There are no commissions involved other than with an iBuyer.
The Cons of Cash Buyers For Homes:
You will not sell your home anywhere near the market value with a company that buys houses.
You'll be leaving money on the table for sure.
There are scams and predatory tactics within the industry of house-buying companies.
Companies That Buy Houses For Cash Near Me

If you have decided that selling your home to an investor for cash is the right way to proceed, you must find a local company willing to purchase your home.
An online search is one of the better ways to find companies that will buy your home for cash.
I suggest you use We Buy Houses Near Me or We Buy Houses For Cash Near Me. If a larger, more well-known company is not near your location, you might opt for companies that buy houses near me.
These search terms should help you locate a cash real estate investor. Just be sure you do your homework before committing. Many companies could buy homes that don't look familiar at all.
Quite a few of these house-buying companies will not appear in our review.
Why Do I Keep Getting Offers to Buy My House?

You might be wondering why you continue receiving cash home buyers' offers. No, you're not special. Home cash buyers target those they feel would be an excellent match to turn a quick profit.
You do stand to lose a lot by choosing to use a home for cash company instead of the traditional way of selling a property. If you can spend the extra time, money, and possible inconvenience, you will be much better off financially.
Though you will have to spend more on closing costs and commission than you will typically with an investor, the traditional way of selling a home will work out better.
Final Thoughts on We Buy Houses For Cash Businesses
If you need to sell your home in a hurry, choosing an experienced local real estate agent and pricing your home competitively could find a buyer quickly.
While you can still get quotes from we buy houses for cash companies, you will likely find this is a better option.
In a strong seller's market we have been experiencing for many years, it is not uncommon to have a bidding war on your home. Don't think for a minute that bidding wars only happen with beautiful luxury homes – that is not the case.
When choosing a, We Buy Houses real estate investor, make sure you do plenty of due diligence. As mentioned, the industry is filled with scammers.
Hopefully, you now better understand how we buy houses for cash companies work. You should be in a much better place to make the best financial decision with these companies that buy houses reviews provided.
---
About the author: Bill Gassett, a nationally recognized leader in his field, provided the above Real Estate information about we buy houses for cash companies. Bill can be reached via email at billgassett@remaxexec.com or by phone at 508-625-0191. Bill has helped people move in and out of Metrowest towns for 37+ years.
Are you thinking of selling your home? I am passionate about Real Estate and love sharing my marketing expertise!
I service Real Estate Sales in the following Metrowest MA towns: Ashland, Bellingham, Douglas, Framingham, Franklin, Grafton, Holliston, Hopkinton, Hopedale, Medway, Mendon, Milford, Millbury, Millville, Natick, Northborough, Northbridge, Shrewsbury, Southborough, Sutton, Wayland, Westborough, Whitinsville, Worcester, Upton, and Uxbridge MA.
Summary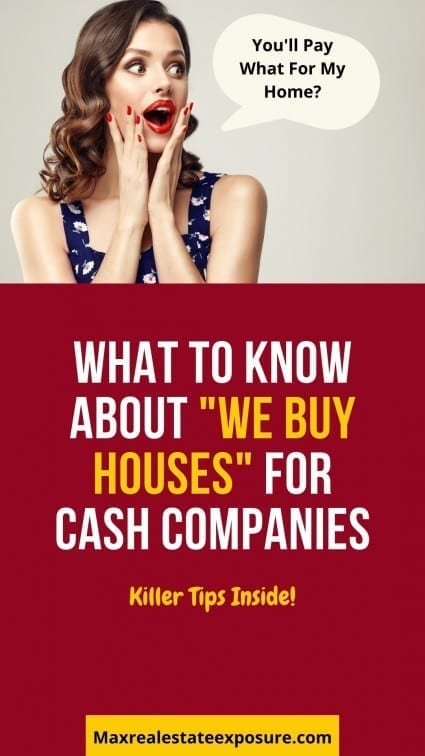 Article Name
We Buy Houses For Cash Companies Reviewed
Description
Are you considering selling your home to a cash real estate investor? Here you will see a review of we buy houses for cash companies.
Author
Publisher Name
Maximum Real Estate Exposure
Publisher Logo