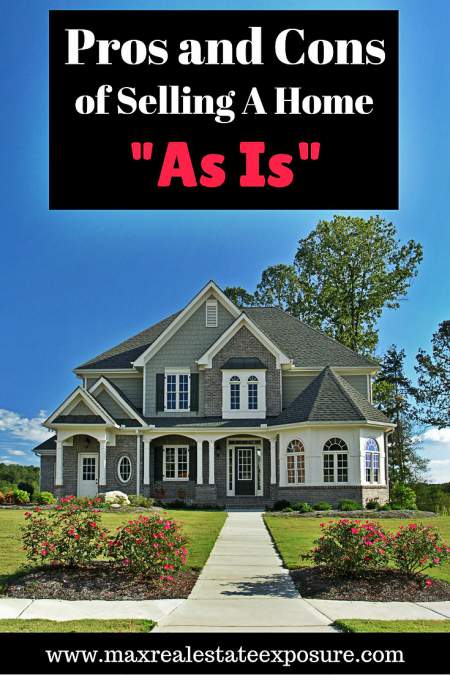 What are the pros and cons of selling a home as-is? This is a question you may have thought about if you're planning on selling a home. Sometimes when you are selling a house that has some issues, selling it "as is" may seem like the easiest course of action.
Most homeowners assume that selling a home as-is means they will not have to make any repairs to the property (which is true) and that selling as-is will be practical and involve the lease amount of stress (which may be far from true).
Before you make the decision to sell your home as-is, you should be aware of what selling as-is entails. There are some significant downsides to selling as-is. Once you understand your options, you may decide that there are better ways to sell your home that will lead to outcomes you can be truly satisfied with.
What Selling As-Is Means
To sell a home as-is means that you are selling the property in its current state, with an understanding that no repairs will be made and that the home will come with all its current faults and issues.
"As is" actually has a legal definition, and the buyer will probably have to sign paperwork indicating that he or she understands the exact terms of the transaction. When you are buying a home "as is" it's typically spelled out in the purchase and sale agreement.
What Selling As-Is Does Not Mean
Unfortunately, many homeowners are under the mistaken impression that selling as-is relieves them from all the general obligations that come with the sale of a home. They imagine that they can unload the property for whatever price they can get while avoiding the need to talk about or disclose any issues with the home.
Selling as is does not relieve you from your legal obligation to answer questions honestly concerning the existing problems with the home per the rules of your state.
In Massachusetts, sellers do not have to disclose defects, but they do have to answer any questions honestly about the condition of the home. Non-disclosure is what's known in real estate circles as "Caveat Emptor" or "let the buyer beware." The only disclosure a seller is required to make is their knowledge of the presence of lead paint.
Sellers in Massachusetts are also not allowed to hide defects intentionally. Even when you are selling as-is, you have to obey these rules. Sellers have a duty to avoid making misrepresentations of fact or failing to respond truthfully to a specific question from a buyer.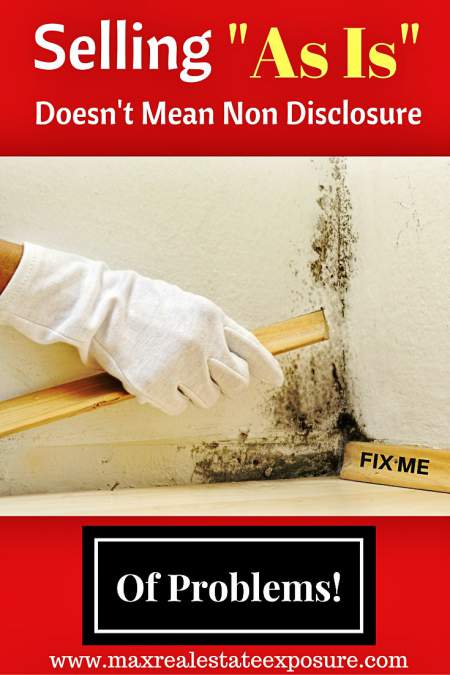 Home sellers should understand, however, that real estate agents are held to a higher standard when it comes to disclosing a home's defects. Realtors being held to higher standards is due to the Consumer Protection Act which is also known as Chapter 93A.
Realtors, therefore, have an obligation to disclose any fact that could influence the buyer not to enter into a real estate transaction.
For example, if a real estate agent knows that the seller's basement floods every spring this is something a Realtor has to disclose!
Here are some other examples of issues a real estate agent must disclose to a prospective home buyer:
Evidence of a structural defect like a major crack in the foundation.
The appearance of mold in the home.
Termite damage.
The roof has leaked, or there was a prior ice dam that caused damage.
The radon levels in the home are higher than the acceptable EPA limit.
A major known plumbing or electrical issue.
A significant external issue such as obnoxious noise levels.
A known legal issue such as a cloud on the title or the property is a short sale.
Obviously, not all problems with a home are clearly evident. Real Estate agents do, however, have a duty disclose if they discover some problem or the owner lets them know.
Over the years while selling property in Metrowest Massachusetts, there have been times where a seller has asked to sell as-is because they have never occupied the home and therefore have limited knowledge of its condition.
Real Estate agents should be particularly careful in this situation. Again, while a seller is not required to disclose potential problems, real estate agents must disclose.
Most sellers are honest and voluntarily provide real estate agents with any known issues they are aware of. In the case of never occupying a home, however, this is much harder to do.
Instances, where sellers have never occupied a home, could include an estate sale or a fix and flip. The latter of which the seller probably could know more than the former.
Most real estate companies ask sellers they are representing to fill out a document called a Sellers Statement of Property Condition. This report outlines what an owner knows and doesn't know about their home. It allows agents to represent a property more accurately. Filling out this form also lowers a real estate companies errors and omission insurance.
The Problems With Selling As-Is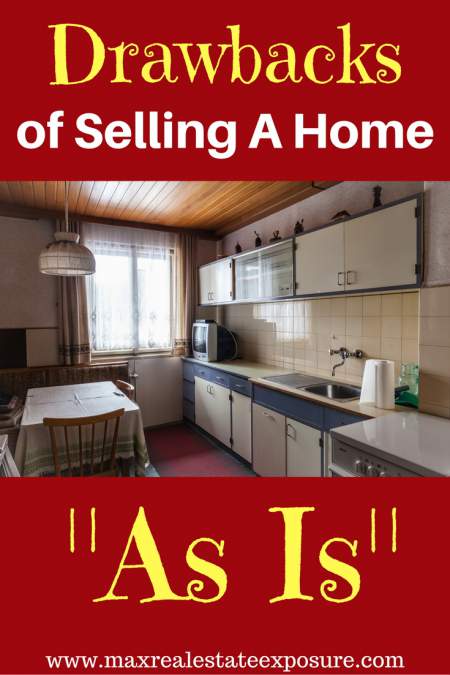 You might be thinking to yourself what on earth could be the issue from a buyers perspective on purchasing a home as-is. Well, unfortunately, there is a negative connotation with buying a home as-is.
These are the potential problems with selling a home as is. Below you will find the disadvantages of selling a home as is.

1. Buyers will perceive your home negatively.
If you are selling as-is, you can bet that most buyers will view your home negatively. They may still try to purchase it, but the moment they see the as-is they will assume that there is something seriously wrong with the property – something bad enough that you can't afford to fix it, or that it is not fixable.
2. Buyers will low-ball you.
Under the assumption that your home has serious defects, the buyer will bargain with you like you are desperate. You can expect offers that are probably less than what you want, or what your home is worth.
3. You will have to work harder to demonstrate why your home is worth paying for.
You or your Realtor will have an uphill battle to demonstrate to potential buyers that your home is worth a fair price. Because buyers will be coming into the transaction with so much negative baggage, it will be difficult to break through the assumptions to show that there are plenty of reasons why your home is desirable.
Keep in mind there may be a trust issue on the buyers part as to why you are selling your home "as is". Buyers may automatically assume you are trying to hide something.
4. You will attract fewer buyers.
Because your listing says as-is upfront, you are going to drive away a lot of potential buyers. Even if you are in a position where you want to put minimum effort or money into the home to make a sale, you could still benefit from avoiding the as-is designation in the listing. Let buyers come and make offers, see how you feel, and go ahead and turn down requests to make repairs if you feel it is the right choice.
Reasons To Sell As-Is
Most homeowners should avoid starting off a sale with as-is. However, there are certain situations where selling as-is really is desirable. In these cases you will need to know how to sell a home as is. These reasons include:
1. You really cannot afford to make any repairs.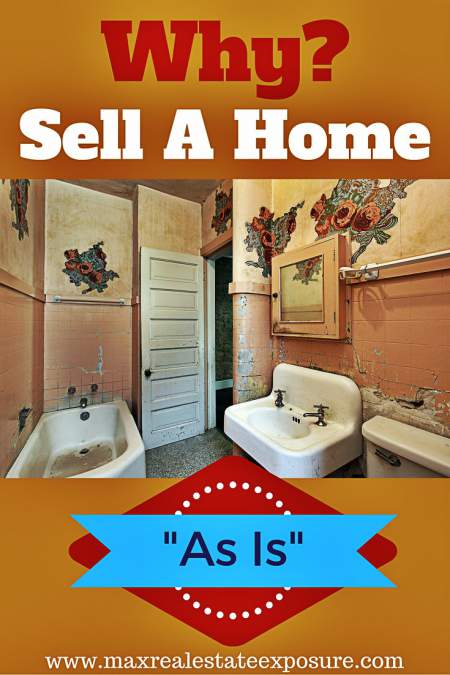 You may be in a financial situation where repairs – any repairs – are just not feasible. If the property has defects and you have no way to repair them, you may have no other choice but to sell as-is.
However, try to keep an open mind and talk to your Realtor before you make a hard decision on selling as-is. Your Realtor may be able to come up with some creative solutions that will allow you to avoid selling as-is, or at least avoid putting it in your listing right from the beginning.
2. You really cannot handle the stress of a home sale.
Sometimes homeowners find themselves in situations where they have to sell their home, but they are truly unable to deal with the stress that a drawn-out sales process entails. If you are seriously ill or otherwise incapacitated and do not believe you are capable of dealing with the selling process, you may decide that selling as-is makes the most sense.
Again, make sure to explore all your options before making a final decision on selling as-is. If you can get help from friends or family, or if your Realtor offers to take care of all the stressful aspects, you can probably get a better price for your home if you avoid selling as-is.
3. Financial distress.
Sometimes an owner will find themselves in serious financial distress and needs to sell their home immediately in as is condition. One viable option in this scenario is contacting an investment company like We Buy Ugly Houses or another one like them. These type of companies are perfect for those distressed sellers who need an immediate sale.
Investment companies like We Buy Ugly House usually pay cash and purchase in as-is, where-is condition. The downside, of course, is that these kind of home flipping companies are going to be looking to purchase your home for pennies on the dollar. Do not expect them to pay anywhere close to the market value.
Accepting an Offer and The Subsequent Home Inspection
There other time selling "as is" comes up is after an offer is received but before the buyers home inspection takes place.
Sometimes in a home sale, the negotiation between a buyer and seller can be arduous. From a sellers perspective, the thought process is "I just gave the buyer an incredible deal". Over the years, many sellers have said to me during the last round of negotiating an offer to tell the buyer's agent there will not be any further seller concessions after the home inspection.
In other words, let the buyer know they are buying the home "as is" and I am not coming down another dime on the price or making any repairs for any defects discovered. Many sellers having sold homes in the past understand that a home inspection can be a second round of negotiations. Sellers try to head off these unreasonable home inspection requests before they ever happen.
The Compromise
There are times when a seller has a little bit of money to invest into their property prior to listing it for sale. In this circumstance, it may make sense to do a few improvements prior to listing for sale.
For example, nothing goes further when selling a home than a fresh coat of paint. If you have rooms that need painting or wallpaper that should be removed, doing so can be one of the highest returning investments. Selling as is when you can afford to compromise a bit may make some sense. This is something you should discuss with your real estate agent. Your agent should also be able to point out other
Selling as is when you can afford to compromise a bit may make some sense. This is something you should discuss with your real estate agent. Your agent should also be able to point out other things that should be fixed before putting the home up for sale.
Pricing Properly
Pricing a home properly is a skill and an art. Unfortunately, some real estate agents do an absolutely horrible job of pricing a home correctly. Putting the right price tag on a home is even more difficult when selling a home as-is. Many Realtors are not skilled at estimating repairs and improvements that are necessary. Given this, lots of homes end up being overpriced when selling as-is.
Be sure to look at the agents list price to sale price ratio and average days on market statistics before hiring them. It would be a good idea to specifically ask for this information on any homes they have sold as-is!
Talk To Your Realtor
Every home sale is unique – involving a unique property, and a unique seller(s) that have specific needs, goals and limitations. You may really need to consider selling as-is. Or, you may just need a sales plan that caters to your specific situation. The best way to determine what your options are is to speak to your Realtor. He or she can look over your specific home and you can explain what you want/need. Then, your real estate can help to guide you through the steps of selling your home, on your terms.
Additional Helpful Home Selling Articles
Use these additional resources to make smart decisions whether you are selling as-is or on your own.
---
About the Author: The above Real Estate information on the pros and cons of selling a home as is was provided by Bill Gassett, a Nationally recognized leader in his field. Bill can be reached via email at billgassett@remaxexec.com or by phone at 508-625-0191. Bill has helped people move in and out of many Metrowest towns for the last 29+ Years.
Thinking of selling your home? I have a passion for Real Estate and love to share my marketing expertise!
I service Real Estate sales in the following Metrowest MA towns: Ashland, Bellingham, Douglas, Framingham, Franklin, Grafton, Holliston, Hopkinton, Hopedale, Medway, Mendon, Milford, Millbury, Millville, Northborough, Northbridge, Shrewsbury, Southborough, Sutton, Wayland, Westborough, Whitinsville, Worcester, Upton and Uxbridge MA.