How to Increase a Homes Value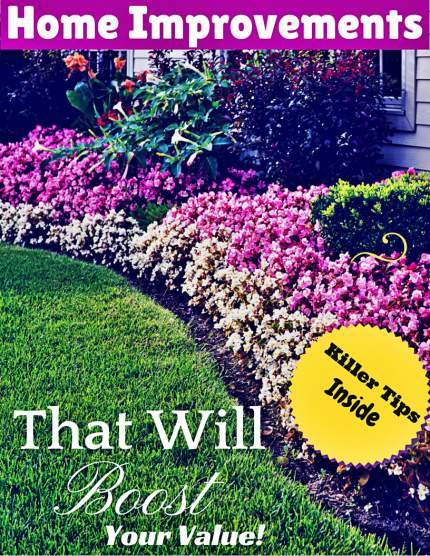 Whether you are looking to put your house on the market or you're simply investing in the future, it's never too late to start on projects that will increase the value of your home. However, no one likes to spend tens of thousands of dollars on renovations, especially ones that don't carry a return on investment. Luckily, there are a multitude of budget-friendly projects that the financially conscious can take on themselves without burning a serious hole in their wallets.
Since it can be difficult at times to decide which home improvements to make, we've compiled a list of the few ways you can make living in your place enjoyable in the short term while getting remarkable returns when it comes time to sell. People ask all the time what are the best low cost home improvements especially when they are considering selling their home. Getting the most bang for your buck is important especially when you don't have unlimited funds to work with! Sit back and soak in the improvements that will boost your home's value!
Structural and Mechanical Improvements

Before even focusing on cosmetic improvements, make sure you have taken care of all necessary repairs, upgrades or replacements for your house's interior systems. These systems include heating, plumbing and electrical. Buyers will expect the basic infrastructure to be well-functioning and will not want to pay for future repairs or replacements. A significant amount of buyers today prefer turn-key homes. With today's fast pace lifestyles buyers desire to spend their time focused elsewhere.
Outdoor Repairs and Replacements
Sometimes, repair and replacement projects can increase the value of the home much more than remodeling projects can. Fortunately, these kinds of projects are the least expensive and add to the house's curb appeal. Discussed here are some simple but effective things that you can do around your home that will not only spruce the place up but add some value as well. These are budget conscious improvements that won't break the bank. If you own an older home and your roof is getting up there in age make sure you budget for this expense. While a roof is a necessity and part of putting shelter over our heads it does not a have a large return on investment. If you are going to be selling your home and there are at least a couple of years life left in the shingles do not replace the roof!
Other things worth replacing or repairing include the front door, garage door, siding and windows. These projects could increase your home value drastically; the average return on investment for such projects is almost 72%. Not only are these improvement highly visible, they can help sell a home as well.
Landscaping
When it comes to landscaping your home does not need to have magnificent gardens like the one pictured above, however your yard should be neat and manicured. Sprucing up your landscaping is a low cost way to prepare your home for sale.  Take the time to add bark mulch to spruce up the appearance of your surroundings. Planting seasonal flowers goes a long way for not that much money.
If you have a little bit more in your budget consider replacing any older looking shrubbery with newer flowering varieties. If your home is going on the market make sure you keep your lawn cut and weeded for a better appearance. Remember first impressions are everything.
Bathroom Improvements

Bathrooms are one of the most important rooms in a home when it comes to selling. Improving the cosmetics of your bathroom will easily bolster your property value. You can start by redoing the bathroom floor. Invest in new, quality flooring; a neutral-toned tile has more potential of adding the most value. It would also be a good idea to replace any outdated fixtures. For example, adding stylish lights will give your bathroom a renewed sparkle that will appeal to buyers.
For as little as $40, you can replace an old-fashioned light with something elegant. You can also update your shower with a new spa-style chrome shower head for less than $100. For the simplest and cheapest improvement, considering replacing your towel bar with one that shines and glistens. A fresh coat of paint can also make a huge difference.
Flooring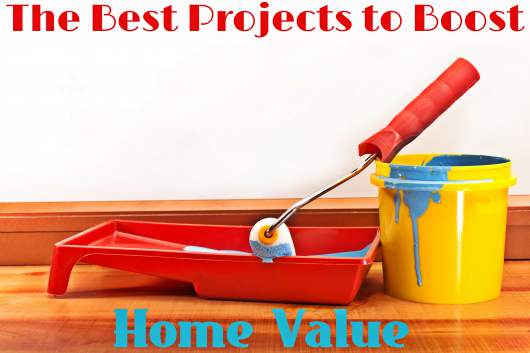 The flooring in a home is one of the most important for sure. It is one of the first things a buyer will notice. If your floors are tired, worn and beat up the first thing a buyer will do is mentally start subtracting what they will be willing to pay for the property. There are certain rooms in the home where floors are more important than others including the kitchen and baths. We spend a good deal of time in these areas so it only makes sense. If you have less desirable floors like vinyl or Pergo these could be worth replacing especially if the home you own is in a price point where more desirable selections are expected.
Kitchen Appeal

Kitchens are typically the core of a family home and the most important. It goes with saying that almost anything you do to improve this area of the house will undoubtedly improve the value. Whether you would like to remodel the kitchen or just make some minor adjustments, you should start by repainting the walls. Vinyl floors are considered out-of-date, so consider replacing them with hardwood or tile. Stay away from laminate, as mentioned above it does not have great appeal.
Other projects that will add value include updating the kitchen sink and light fixtures and installing new cabinetry. If you don't have it in your budget to replace the kitchen cabinetry look into just re-facing the doors which can be far less expensive but totally change the complexion.
Lastly, it is surprising how just updating drawer handles and cabinet knobs can give the kitchen the proper cosmetic face lift it needs to brighten the entire room. Another method you can try if you are really on a tight budget is sanding your cabinets, then staining or painting them. Just be aware that painting cabinets can be a lot of work and is often best left to a professional paining company. You can also purchase new, stainless-steel appliances or new counter tops. Adding granite counter tops to your kitchen when selling is in fact one of the highest returning investments you can make. Buyers love them and in some price points expect them!
Basement as Living Area
If your house has a basement, transforming it into a finished room adds practical square footage to the home. This type of project is arguably the best way to improve your home value, as it takes an unfinished basement and converts it into a physically appealing and functional room. What you will quickly find out is finishing a basement can add a significant amount of gross living area to your home at a fraction of the cost of adding the same square footage above grade.
A few ideas for what the basement could be turned into include:
A man-cave or sports den – this has become increasingly popular. You can go the inexpensive route all the way up to a luxury man cave.
An exercise area or home gym – why pay gym memberships when you can have a great space at home?
A home theater – this is another area where some people are spending some serious money. Make sure you do not over improve in this area.
In-law suite of guest bedroom – more and more parents are coming back to live with their children.
A children's play area – a great place to get all the toys out of the living area upstairs.
When you are going ahead to make your basement oasis make sure you get a building permit! Over the years I have seen many real estate clients who have not pulled permits and it has cost them a lot of time, aggravation and money later on when they need to sell. Lack of pulling permits is one of the home improvement mistakes that become commonplace with quite a few people.
Open Floor Plan
One of the most common features that home buyers are looking for these days is an open concept floor plan. Many older houses do not have this kind of design. In order to attract more buyers as well as increase the price of your home, you might want to consider knocking down one or more of your walls to create a floor plan that potential buyers will love.
Instead of having walls that separate all of your living spaces, an open concept floor plan will create an even flow throughout the house while also making your home feel bigger and improving your sight lines. Just make sure you don't remove any "load bearing walls." Consult a structural engineer or build contractor who is qualified in making these kind of modifications.
Curb Appeal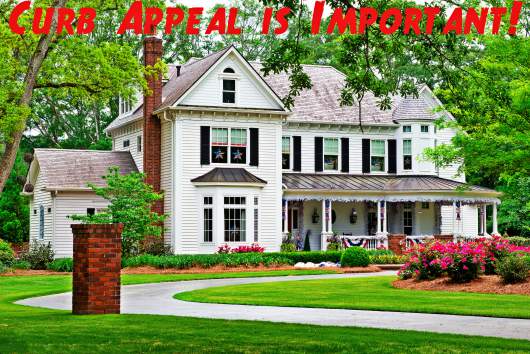 This last type of project is an important one. The first thing potential buyers will see is the front exterior of your house. Your curb appeal will be the deciding factor in whether or not they decide to check out the rest of your home. If you have enough in your budget and need some major landscaping work done, consider hiring professionals to take care of this project.
Landscape architects are usually more expensive than if you did the work yourself, but they will greatly improve your home value in the long run. It is important to remove outstanding debris, trim all of the foliage and eliminate weeds from the grass. Sprucing up your front yard can boost your property value by as much as 10%. Other projects that improve curb appeal include lining the walkway with solar-powered lights and adding some color by planting a wide assortment of flowers. Take a look at this great list of additional ways to add curb appeal to your home as well.
Making the above improvements to your home will not only make it more enticing for a buyer but will also put extra money in your pocket. You should now be well armed to go out and sell your home for the most money possible!
Don't Throw Your Money Away
Making the right home improvements that will boost your homes value is an important consideration especially when you will be selling in the near future. You might be wondering what are some of the worst home improvements that offer little to no return? Over the years I have observed that many homeowners who mistakenly believe that every so called improvement they make adds some kind of value. It is almost as if they do mental math in their head for all the improvements they have done over the years.
What comes as a surprise is there are home improvements that decrease a homes value! In the article you will see five potential additions to a home that could drop it's value including losing a bedroom, an above ground pool, painted trim colors, a themed children's bedroom and a hot tub. Take a look and see why each of these has the potential to make a buyer offer less for a home.
Marketing Your Home For Sale
When the time comes and you are ready to put your home on the market it will be important to show off all the hard time and labor you have invested into your home. Buyers who come to view your property should be made aware exactly what you have done to the place. One of the best ways to do this is to market your home improvements. The agent you hire to sell your home should provide marketing materials that show off exactly what you have done. Keep in mind the improvements you have made will ultimately influence what you sell the home for. Showcasing this to a buyer could influence what they decide to pay for your home!
Additional Helpful Home Improvement Articles
Use these additional references to make sound decisions on adding value to your home whether you have an unlimited budget or need to be more frugal in your decision making.
---
About the author: The above Real Estate information on improvements that will increase your home's value was provided by Bill Gassett, a Nationally recognized leader in his field. Bill can be reached via email at billgassett@remaxexec.com or by phone at 508-625-0191. Bill has helped people move in and out of many Metrowest towns for the last 28+ Years.
Thinking of selling your home? I have a passion for Real Estate and love to share my marketing expertise!
I service Real Estate sales in the following Metrowest MA towns: Ashland, Bellingham, Douglas, Framingham, Franklin, Grafton, Holliston, Hopkinton, Hopedale, Medway, Mendon, Milford, Millbury, Millville, Northborough, Northbridge, Shrewsbury, Southborough, Sutton, Wayland, Westborough, Whitinsville, Worcester, Upton and Uxbridge MA.