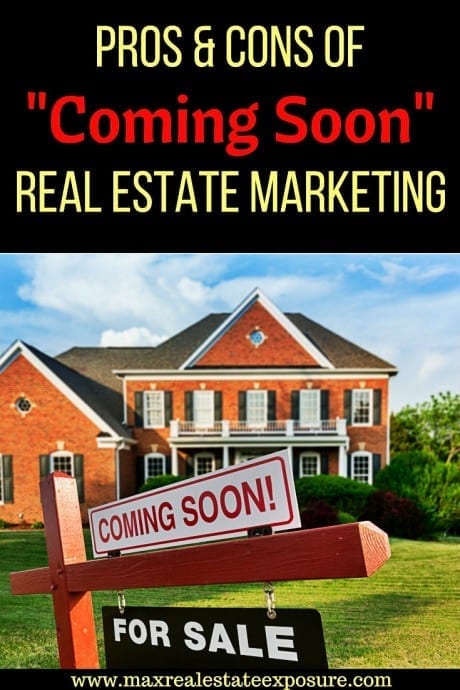 A few of my clients over the past year have asked me what is coming soon real estate marketing and how does it work. If you have paid much attention to the real estate market lately, you have probably noticed "Coming Soon" on the occasional yard sign or certain Zillow listings.
On the surface, the 'coming soon' can appear like any other similar message referring to products for sale or businesses about to open. But when it comes to real estate listings, the 'coming soon' means several things that the average buyer or seller may not be aware of.
The argument is still out on whether a 'coming soon' listing has a place in the market. Some argue it can be beneficial for specific clients.
Many other real estate professionals believe the negatives far outweigh the positives for the vast majority of clients.
Whatever the final word, as of now sellers need to be aware of how 'coming soon' may affect their sale so they can make an informed decision about how their home is marketed.
What is a "Coming Soon" Listing?
A 'coming soon' listing is a listing that is not added to the MLS, or Multiple Listing Service. The standard of professional Realtors is to list each home for sale on the MLS to encourage healthy competition and ensure market data is as accurate as possible.
Listing on the MLS also guarantees unparalleled exposure for each listing, because just about every buyer, seller, and Realtor are using the MLS. When you put your home on the MLS, the world now knows your property is available to purchase.
Other terms are that are used to describe a coming soon listing, include off-MLS listings, pocket listings, and office exclusives. The most common description, however, is pocket listings.
Coming Soon Marketing—Understanding the Pros and Cons
Cons of a "Coming Soon" Listing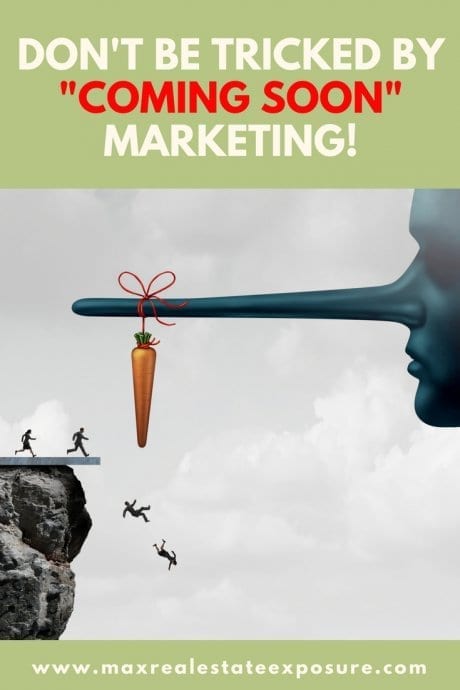 I am going to give you the cons of marketing your home as a coming soon listing first, as I genuinely believe it does a disservice to many sellers who have not thought through the ramifications of doing so.
Quite often consumers are convinced to try marketing gimmicks by fast-talking real estate agents that are looking out for their wallet and not what's best for their clients.
Coming soon real estate marketing can undoubtedly be one of them. It is just another way that some real estate agents will trick home sellers with things that don't benefit them.
1. Limited exposure.
If you had the choice between advertising your home for sale in a neighborhood periodical or national television, both for free, which would you choose?
The national television, hands down. You know that exposure is key to drumming up interest in your home. Letting a thousand people know about your sale vs. 1,000,000 people is obviously going to produce different results.
The MLS is the place to list a home, used by the vast majority of real estate agents and their clients. Even with the rise in popularity of internet real estate sites like Zillow, the MLS is still the gold standard for marketing a home.
It is difficult to understand why most sellers would choose to forgo the MLS. For most who do so, chances are they have no idea what is happening, or what they are missing out on.
They trust their agent, and their agent has steered them away from the standard real estate sales process out of self-interest.
2. Fewer offers.
While it can be fast and convenient to sell to the first person who inquires about a listing, most sellers are hoping for the best offer more than anything else. But when a listing does not go on the MLS, the number of people seeing it is significantly reduced.
Instead of encouraging multiple offers for various parties, a 'coming soon' listing ensures that only a limited number of potential buyers will even be aware of the listing.
This is in fact why so many for sale by owners fail – they have limited exposure instead of exceptional marketing.
Most sellers are hoping for a bidding war because a bidding war can drive the price up higher than it would be otherwise. While bidding wars are not always possible a 'coming soon' listing is sure to lessen the chances of a bidding war happening with your home.
Multiple offers mean more money in your pocket – something you'll probably give up if you choose to let your real estate agent market your home as a coming soon listing.
Would you rather have one offer or five offers when selling your house in a hot market? Obviously, the latter is how to get the best terms and conditions you want. By agreeing to market as a coming soon property, you will probably be leaving money on the table.
If you want to command the most money for your home 'coming soon' marketing is NOT the way to do it!
Click To Tweet
3. You risk dual agency.
It is unfortunate that so many real estate clients are unaware of the concept of dual agency, or how harmful it can be. Dual agency benefits your Realtor, plain and simple. Do not expect it to help you. The reasons are easy to understand. When you allow dual agency, your real estate no longer represents you exclusively anymore. They become a neutral party in the transaction. By law, because they are a neutral party, the agent is no longer allowed to give you any advice.
You have just lost your fiduciary in what is probably your most significant asset. Sounds great, doesn't it? You are paying your real estate agent quite a bit of money. The only person they should be representing is you!
If the agent finds a buyer for your home, one of two things should happen. The agent should either remain as a seller's agent, or they should refer the buyer to someone else.
Dual agency has been banned in some states as it is a conflict of interest. In most sales, the seller wants to sell their home for the most they can, while the buyer wants to pay as little as they can.
How can a real estate agent work with both parties and satisfy conflicting goals? In short, they can't! Don't accept dual agency.
You're also bound to hear from a less than ethical real estate agent that there is nothing wrong with dual agency. Unfortunately, the agents live by the mantra "if it's good for me then it's good for everyone else as well." Not the kind of agent you want!
Not all 'coming soon' listings are necessarily going to lead to dual agency. But they create the ideal circumstances for dual agency to occur.
4. They skew real estate appraisals.
One of the most insidious aspects of 'coming soon' listings is the way they can skew real estate appraisals. A real estate appraisal is based on the sales of similar properties in your area. It is a vital part of the whole real estate process, allowing everyone to be on the same page about the actual value of each home that goes up for sale.
But 'coming soon' listings are often not included in appraisals. Some banks won't accept 'coming soon' listings as comparable. The banks will not accept them because they did not receive the same exposure as other homes.
As the name "comparable" suggests, 'coming soon' listings are not comparable to other listings because of their minimal marketing. It is possible they might not be considered an "arm's length" sale if they were not available to the entire market.
Pros of a "Coming Soon" Listing
1. Increased privacy for the seller.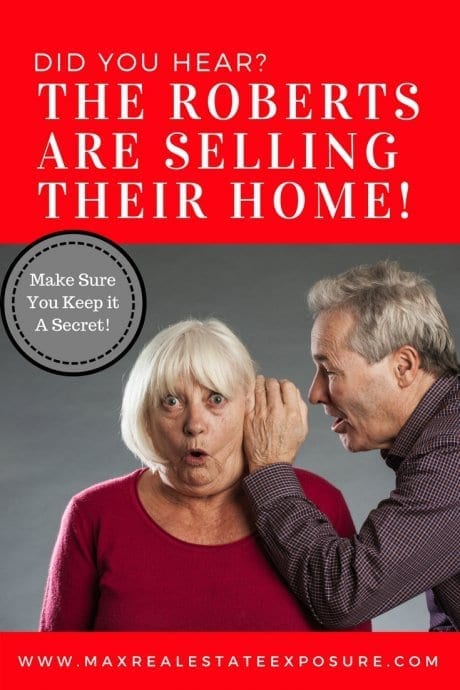 Not listing on the MLS does offer the advantage of increased privacy. The seller can have more control over who sees the listing because it is not going on the universally-accessed listing service.
The listing can only be shown to private groups that have been screened by the listing agent or Zillow users.
Sometimes a home may not be in excellent showing condition, and they only want a select few looking at it.
2. Limited foot traffic through the house.
Some clients prefer to have as little foot traffic going through their home as possible. By limiting the number of potential buyers who can see the property, you are pretty much guaranteeing that fewer buyers will walk through the door.
3. You may get a discount on the commission.
Some real estate agents will offer to discount their commission if the home sells before it officially goes on the market. Since the sale is happening immediately, the agent profits and may agree to pass that benefit on to the seller.
The agent would not have the same marketing expenses in this scenario. Just be careful that the agent is not attempting to represent a buyer as well creating dual agency. Your agent should remain a sellers agent!!
4. There might be a buyer who always wanted your house.
Some homes in a city or town just resonate with people. They will say to themselves "if that home ever comes on the market I want it!" It's possible that there could be a buyer searching for a home to purchase and you're coming soon sign stops them dead in their tracks.
Seeing the "coming soon sign" may stop them from buying another home and missing out on yours.
5. The listing agent is likely to be the one to sell the property (Pro for the REALTOR, not necessarily the SELLER)
The main benefit of a 'coming soon' listing is for the listing agent. By limiting the exposure of the listing, the agent almost guarantees he or she will be the one to sell the property. Few other agents will learn about the property, so it dramatically decreases the competition faced by the listing agent.
The potential for "dual agency" increases significantly, where the agent represents both the seller and the buyer of the property (if you allow it). A dual agent cannot serve the best interests of both buyer and seller—the seller wants the highest sales price, the buyer wants the lowest sales price—but is able to collect a double commission. The benefits in dual agency are all for the agent.
What About Zillow Coming Soon Listings?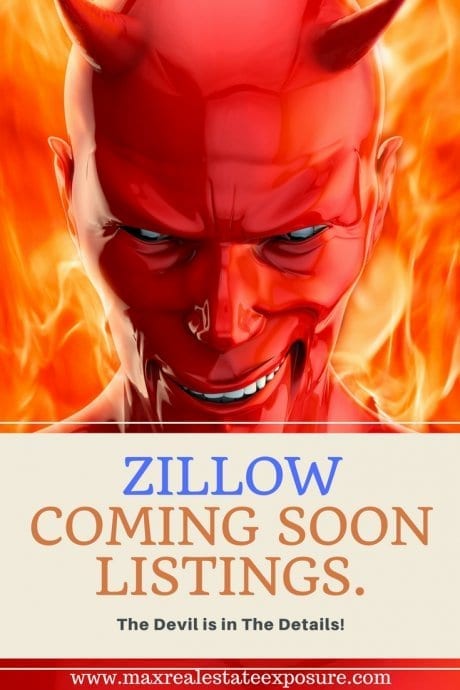 Zillow has also jumped on board with the "coming soon" real estate marketing. On their platform, agents who advertise with Zillow can use this feature. Essentially, Zillow is shining a bright light on those real estate agents who spend money advertising with them.
Zillow allows listings to be marketed as pocket listings for up to thirty days before they hit the market. All leads are funneled directly to the listing agent.
Again, for the unsuspecting homeowner who has placed trust with their real estate agent, this kind of marketing can put a seller at a disadvantage. You are not only NOT exposing the home to the masses, but you are dramatically increasing the odds of dual agency.
The goal of every real estate agent should be to get their seller client the absolute best terms and conditions. Coming soon, however, in most cases is going to circumvent that possibility. I would call it legal shenanigans!
An unexplained pocket listing hurts the clients best interests. It is a self-serving marketing activity that benefits the listing agent. The basis for the MLS has been to freely share information with as many people as possible.
Exposure on the MLS ultimately leads to more eyeballs on a property, increasing the odds the seller gets better terms for their home.
Of course, Zillow doesn't care. From their inaccurate online estimates to posting properties that are not for sale, Zillow does whatever benefits them.
A Better Marketing Strategy
Most homeowners who put their home on the market are looking to maximize what they net from the sale. One of the best ways of doing so in a seller's market is to defer the showings. By delaying the showings, you list your home for sale in the MLS but don't let buyers in the door for a certain amount of time, typically 4-7 days.
By doing so, you are getting the word out to all the buyers. What you avoid is the buyer who looks at the home immediately and makes an offer that first day. While the offer may be solid, the seller misses out on other buyers who may also have been interested.
By deferring showings, you dramatically increase the odds of having multiple offers and a bidding war on the property. You are giving all the buyers in the marketplace an opportunity to see the house.
By following the deferred showing strategy, you can also at the same time put your coming soon for sale sign up the day the home enters the MLS. You are getting the best of both worlds by doing so.
So to be clear – coming soon properties are NOT the same as deferred showings.
Laws are Trying to Catch Up
Many states and counties are trying to adapt to the arrival of 'coming soon' properties. Laws are being implemented that require Realtors to discuss the realities of the 'coming soon' listing and to verify that the seller is still interested in limiting the marketing of his or her home.
These laws are designed to force agents to act in the best interests of their client. The only reason they should choose a 'coming soon' listing is because it is going to accomplish the goals of their client—not because it works to their benefit.
The fact that laws are being implemented to force these agents to do their duty is a clear sign that the 'coming soon' listing is of questionable value. There may be situations where it fits, but in the majority of sales, it is not the way to go if the client wants to get the best price for his or her home.
There are in fact some MLS boards that have already made coming soon listings illegal. I would not be surprised if more follow suit.
Final Thoughts
Failing to act in the client's best interest and not discussing the pros and cons of a limited marketing plan such 'coming soon' advertising, can violate state real estate license laws and regulations, MLS policies, and the Realtor Code of Ethics. These are the kind of behaviors that give real estate agents a bad reputation and sullies the industry as a whole.
Every client deserves to see the whole picture when it comes to any marketing strategy. More often than not a pocket listing may not lead to optimal results.
One very important point – the term coming soon listing can have different meanings in some states. It is possible that a coming soon listing could be placed in the MLS but just not able to be shown for some period of time (described as deferred showings in many locations.)
The bottom line is real estate agents should always be looking out for what's best for their clients not themselves.
Additional Helpful Home Selling Resources
Use the above home selling resources to make the best decisions when selling your home. Each article comes from a top real estate expert in their respective market.
---
About the author: The above Real Estate information on pros and cons of coming soon real estate marketing was provided by Bill Gassett, a Nationally recognized leader in his field. Bill can be reached via email at [email protected] or by phone at 508-625-0191. Bill has helped people move in and out of many Metrowest towns for the last 31+ Years.
Are you thinking of selling your home? I have a passion for Real Estate and love to share my marketing expertise!
I service Real Estate sales in the following Metrowest MA towns: Ashland, Bellingham, Douglas, Framingham, Franklin, Grafton, Holliston, Hopkinton, Hopedale, Medway, Mendon, Milford, Millbury, Millville, Northborough, Northbridge, Shrewsbury, Southborough, Sutton, Wayland, Westborough, Whitinsville, Worcester, Upton and Uxbridge MA.