The Guide to iBuyers Explained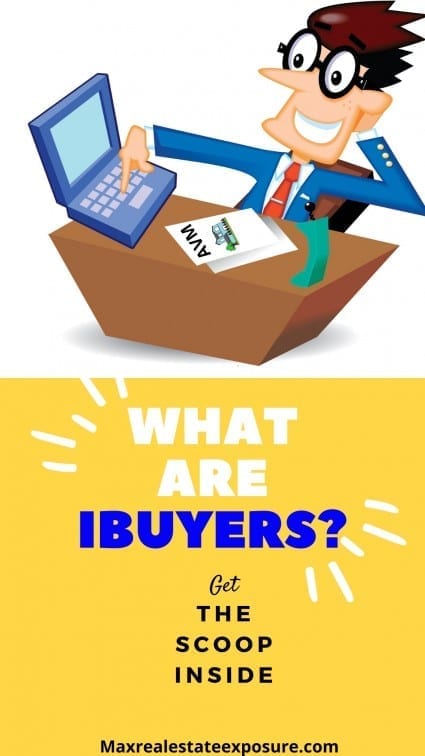 Technology changes the way we do business, and real estate is no exception. The internet has already caused significant changes in the real estate sales process. Communications, photos, virtual tours – the list goes on.
Doing a real estate deal today is a lot different than it was in years past. But the changes are far from over, as evidenced by the rise of the iBuyer.
That's right. There is a new way to sell homes, and it is growing in popularity among sellers and real estate agents. It's not necessarily going to take over all real estate transactions – there are still plenty of situations where the more traditional route is a better choice – but it is an option you should learn about if you are thinking of selling a home.
A couple of the consumers that might find the iBuyer model attractive are those who are thinking about selling without a Realtor or those who seek out real estate investors who purchase homes like We Buy Houses, or We Buy Ugly Houses. The iBuyer concept provides another alternative for consumers.
The more people hear about iBuyers, the more questions are asked. It is not uncommon at all for a real estate agent to be asked, "what is an iBuyer?" or "how does an iBuyer work?" Let's take a deep dive and explore the concept of Ibuyers.
What is an iBuyer?
An iBuyer is a company with considerable financial resources that uses an algorithm to price homes and make offers. The company will decide whether your home is worth purchasing and how easy it will be to sell, then make an offer and give you cash for your home. It will then sell the house and attempt to make a profit.
Opendoor, which started in 2013, was the first major player in the iBuyer arena. Other companies have since followed suit.
Unlike house flippers, iBuyers tend to stick to homes that are in excellent condition. Instead of buying really low, renovating, and selling high, iBuyers focus on homes that only need a little bit of work – if any – so they can sell them quickly and without a lot of additional investment. Since they have so much capital, they can focus on easy sales and volume to make money.
An iBuyer attempts to streamline the real estate process for sellers. If you want to sell your home, you just go to the website of an iBuyer and put in your address, fill out a questionnaire and wait. About a day later, you will get an offer on your home – a cash offer. The process is relatively instantaneous, hence the "i" in the name. If you decide to take the offer, you can be done with the sales process in just a few days.
The thought of selling your home for cash in a few days is undoubtedly appealing, especially compared to the average sales time of 60 days. But there is a catch, as always. You are probably not going to get the maximum offer for your home you might get if you sold by going the traditional route.
An iBuyer knows that they are giving you multiple benefits by expediting the process, and they know they don't have to offer big to win. They also buy numerous homes a day, so they have no interest in haggling.
An iBuyer might be perfect for you – or it might not be.
Who Are The Top iBuyers in The Real Estate Industry?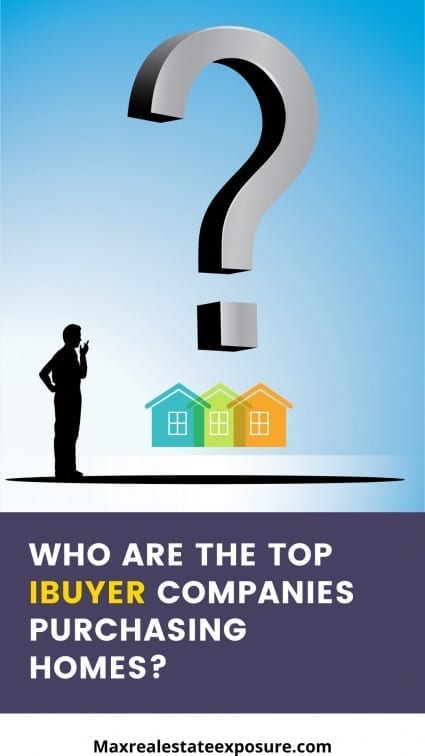 These companies are the industry leaders so far in the iBuyer arena.
Before signing a contract with an iBuyer they should be vetted carefully including studying any reviews.
iBuyers Will Use an AVM to Value Your Home
One of the major differences between an iBuyer and a traditional real estate investor is how they determine what to offer on your home. They use what is called an automated valuation model or AVM for short. The AVM is simply an algorithm used to determine a property's market value. In fact, an iBuyer may not even visit your home in person on occasion because they are relying on their AVM.
Some would say this is modern technology at its finest, while others would say it's a bunch of BS much Zillow and their unreliable house estimates. Frankly, I think it is next to impossible to arrive at a properties actual market value without stepping inside. There are far too many variables that can impact the value of a home. None the less, this is precisely how an iBuyer will figure out what to offer for your home.
How is an iBuyer Different From a House Flipper?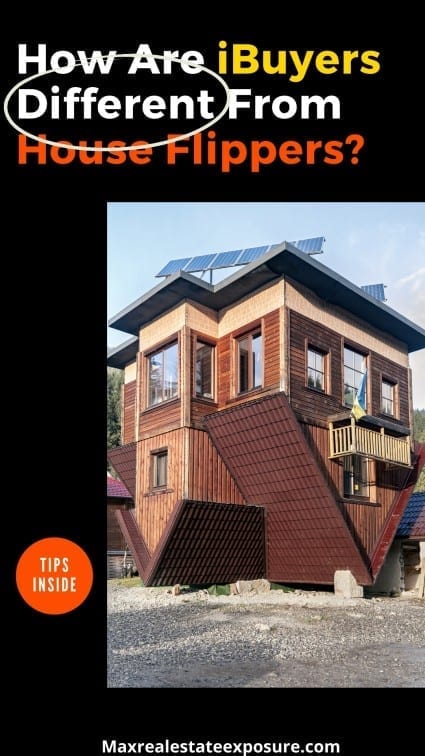 There is often confusion on how an iBuyer is different from a traditional house flipper. These are actually two different business models. With house flippers or traditional investors, they try to buy low and sell high.
In trying to execute this business strategy, a house flipper will target homes that need significant work like a fixer-upper or are distressed in some way. They often remodel these homes by making significant renovations and then put them back on the market to sell at a substantially higher price.
iBuyers work in just the opposite manner. They will seek out homes that are in excellent condition and make an offer within what many would assume to be "close" to the market value. In many instances, they will make minor repairs before putting the home back on the market to resell it.
The iBuyer model seems to be more favorable in a strong seller's market where homes do not tend to stay on the market long. They offer investors far less risk by avoiding mistakes such us underestimating the cost of renovations.
Using an iBuyer – What You Should Know
Here are some things to consider before you make your decision.
1. You can sell your home quickly.
A cash offer on your home in just a few days is pretty amazing. Before iBuyers like Opendoor opened up for business, such offers were pretty rare. But now, you can possibly get a swift offer on your home and close in a few days. That means you can sell quickly. If you need to move right away, for instance, you can unload your house with an iBuyer and get on the road.
2. You can buy a house and sell your home simultaneously.
Many home sellers want to sell their homes so they can buy another home – but that can be a hard thing to do depending on the timing. In a traditional home selling situation, you could try to buy with a home sale contingency – where your offer only goes through if your current home sells – but most sellers are not interested in working with such buyers, particularly if you are buying in a hot market.
You probably wouldn't be interested in selling to such a buyer either, not when you can get offers from buyers who are ready to close now. Buying a house before selling your current home is often a challenge many folks run into.
Certain iBuyers will allow you to use something similar to a trade-in. They will actually make a cash offer on a home that you want to buy on your behalf and then sell your home and keep the money from the sale. It works a lot like a trade-in on a car purchase. There are extra costs that may be incurred through the process which the iBuyer will charge you for, so be aware of those. As mentioned above, Knock offers this service.
3. You can use an iBuyer somewhat like a bridge loan to get the most out of your home sale.
Some iBuyers will help you buy the home you want and then lease it to you until you sell your old house using the traditional process. Selling to an iBuyer will often lead to a purchase price that is less than you could make if you work with a real estate agent and search for the best offer.
Using an iBuyer to purchase your next home and then leasing it from the iBuyer ensures you get the home you want and allows you to get more out of your home sale. If for some reason, your old home does not sell after six months or so – the time frame can vary by iBuyer – then the iBuyer will purchase it from you, and your lease with them will end.
4. You will probably make less profit from your sale.
The convenience and speed of an iBuyer do come at a cost – the final sale price of your home. iBuyers are not purchasing homes out of the goodness of their hearts. They are in business to make a profit. Every iBuyer is going to charge you a fee for taking the home off of your hands.
The fees they charge can vary but tend to average around 6 to 8 percent. There was one study conducted by MarketWatch that found that sellers make about 11% less from their home sales by using Ibuyers than those who use the traditional real estate agent sales route.
There are costs associated with using a real estate agent to sell your home, too. Usually, you will wind up paying around 5 to 6 percent commission to use an agent – split between buyer's agent and seller's agent.
Another study, though, found that iBuyers charge around 13 to 15 percent more in fees than an agent does, so the cost of using an iBuyer is just higher than a traditional agent.
When you want to maximize the profit on your home using an iBuyer is not the way to do it!
Click To Tweet
5. You may not be able to get an iBuyer to purchase your home.
iBuyers are certainly appealing, but they are also limited in the areas they serve. They only operate in specific markets right now. You may not be able to find an iBuyer that is making purchases in your city or town. They will eventually expand to more areas as their services become more popular, but if you need to sell right now and they are not in your area, you will have to go the traditional route.
iBuyers are also only buying a particular type of property right now – homes in relatively good condition and homes within a certain price range. Because they are trying to simplify the process through computer algorithms and minimize their overhead, they are sticking to the middle of the road right now.
If you have an unusual property or a property that needs some work, you are going to have trouble finding an iBuyer who will consider purchasing your home.
6. iBuyers may not recognize the unique qualities of your property – leading to a lower offer.
If your home has unique features that will attract buyers and higher offers, you may not want to go with an iBuyer. As stated before, they use algorithms – not human judgment – to price homes. They may not take certain features into account, such as the perfect hardwood floors in your historic Victorian home.
There is a strong chance that iBuyers will give you a lower offer than you could otherwise get from buyers – probably a lot lower – so you would be better off choosing the traditional agent route for selling your home.
7. iBuyers will work with real estate agents.
You may be working with a real estate agent that you like when you discover that iBuyers are out there. No worries. iBuyers are glad to work with real estate agents, and many will offer a commission to those agents on sales.
If you are thinking about using an iBuyer for any reason, you can always talk to your agent about it and see what they think. Your agent may agree with you that given your needs – such as the need to sell quickly for a move – that an iBuyer would be ideal for you. They can facilitate the process and ensure you use the right iBuyer for your particular situation.
And if you are thinking of going to an iBuyer first, you should at least talk to a few agents first to see what they think your home is worth. That way, you can get some perspective on the offer that any iBuyer gives you.
Pros and Cons of Using iBuyer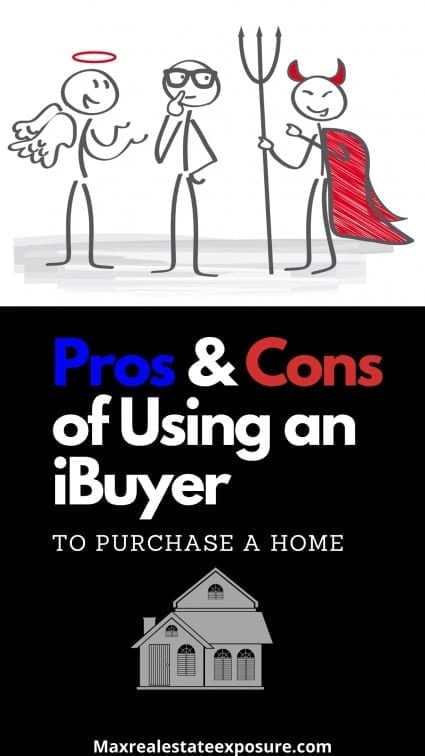 Let's take a moment and summarize the pros and cons of going with an iBuyer program.
Pros of Using an iBuyer
The seller does not have to spend endless amounts of time preparing their home for sale and or get involved with expensive professional staging.
You won't need to make any repairs to their property. They will be buying your home as-is.
It is quick and convenient – closings happen quickly, usually within a couple of weeks.
The owner won't have to go through numerous showings on their home.
The seller will not have to waste their time with open houses.
Going with an iBuyer removes going through an arduous negotiation process.
The seller won't have to endure a traditional home inspection process. Inspections are typically much less intrusive.
There will be no waiting for a buyer to procure a mortgage.
Sales won't fall apart because a buyer lost their job or other unforeseen event taking place.
Cons of Using an iBuyer
Higher real estate commissions – Ibuyer fees generally are 7-8% of the sales price and sometimes more. This is much higher than what traditional agents charge.
Automated valuations do not give an accurate market value for your property.
The offer you receive from an iBuyer will be below market value. Keep in mind the iBuyer needs to make a profit. The offer you will receive is often thousands less and sometimes ten's of thousands less than what you would get on the open market. Sellers will still have the same closing costs as in a traditional sale.
Real Estate agents can do the same thing. If you price your home aggressively from the start, there is a strong chance you could receive multiple offers being on the open market.
The iBuyer purchasing method is only available in limited markets at the time of this writing.
When deciding whether going with an iBuyer makes sense, you really have to determine what's more critical to you. Does making more money from your sale rank at the top of your list, or does a fast sale and convenience outweigh your profit? Only you can answer these questions.
Before moving forward with an iBuyer, make sure you read their reviews.
Final Thoughts on IBuyers
Without a doubt, there are upsides and downsides to the iBuyer concept. As a seller, you need to determine if going down this path will be right for you or your family. For some, it makes perfect sense, for others, not so much. Before you make any final decisions, it is vital to do proper due diligence. It would be highly recommended to have an attorney look over any documents before signing.
Hopefully, you now have a much better understanding of how iBuyers work.
---
About the author: The above Real Estate information on what is an iBuyer was provided by Bill Gassett, a Nationally recognized leader in his field. Bill can be reached via email at [email protected] or by phone at 508-625-0191. Bill has helped people move in and out of many Metrowest towns for the last 33+ years.
Are you thinking of selling your home? I have a passion for Real Estate and love to share my marketing expertise!
I service Real Estate Sales in the following Metrowest MA towns: Ashland, Bellingham, Douglas, Framingham, Franklin, Grafton, Holliston, Hopkinton, Hopedale, Medway, Mendon, Milford, Millbury, Millville, Natick, Northborough, Northbridge, Shrewsbury, Southborough, Sutton, Wayland, Westborough, Whitinsville, Worcester, Upton, and Uxbridge MA.
Summary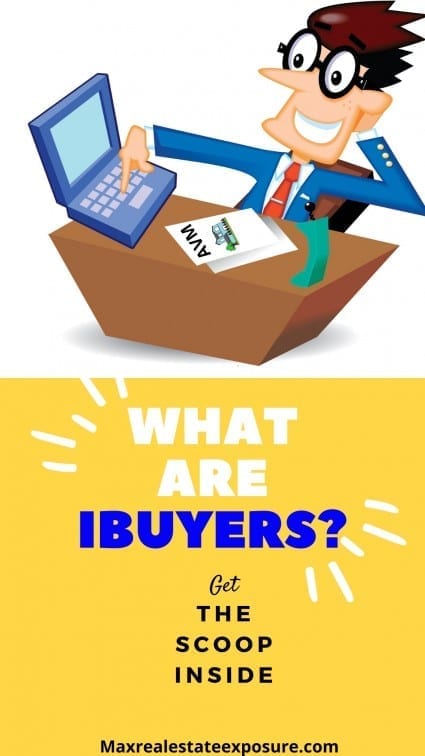 Article Name
What is an iBuyer and How Does it Work
Description
Many people wonder what is an iBuyer and how does it work. Get a comprehensive overview of what you need to know including the pros and cons of iBuyers.
Author
Publisher Name
Maximum Real Estate Exposure
Publisher Logo