Listing on MLS For Sale by Owner With Flat Fee MLS Service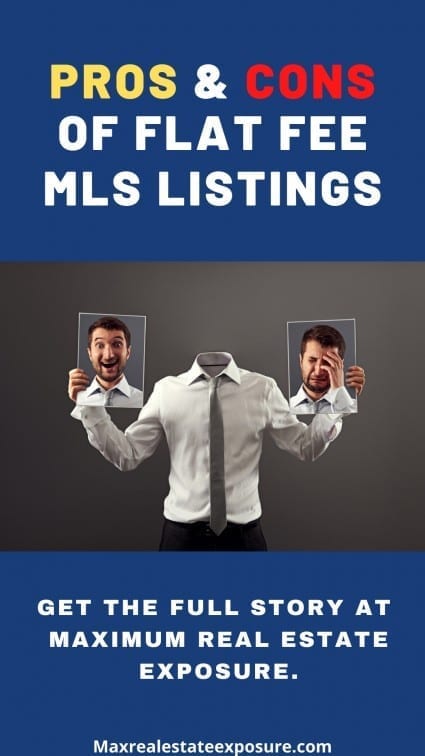 Do you want to get your home listed on MLS for sale by owner? To list in MLS is thought of as the "holy grail" of real estate marketing by many people.
One of the questions those thinking of selling for sale by owner will ask is whether they can get their home on the Multiple Listing Service (MLS). The answer is yes, you can with flat fee MLS.
There are flat fee real estate brokerages and flat fee Realtors who will list your home in MLS for you. It's what's known as a flat fee MLS listing service.
If you are successful, a flat rate home sale could save you some money.
It is not unusual for someone who wants to sell without a real estate agent to know how to list MLS for sale by owner. List MLS is a highly searched term with potential FSBO sellers and with good reason. To list in MLS means far more eyeballs seeing your property.
The MLS is the primary resource for home buyers and sellers looking to buy or sell – the vast majority of homes for sale are listed on the MLS, so it is the go-to place to find a home to buy or list your home for sale.
Through a feed, the MLS system sends all of the listings to the most popular real estate sites, where buyers spend hours a day looking at homes. Some of these popular channels include:
Realtor.com
Zillow
Trulia
REMAX
Redfin
Coldwell Banker
Keller Williams
Century 21
The local MLS transfers all the information to these popular real estate websites which dramatically increases home buyer viewings.
Only Real Estate Agents Can List in MLS
But not just anyone can list a home on the MLS. You have to be a real estate agent. The lack of access to the MLS database as a marketing channel for home sellers makes selling your own home without a real estate agent quite challenging.
That is why many sellers choosing the For Sale By Owner (FSBO) route seek out real estate agents for their help.
You can pay an agent to list your home, which is one of the best ways to get the word out about your listing and ensure you get potential buyers through the door.
These types of real estate agents are known as entry-only or flat fee MLS. Flat fee real estate brokers do not anywhere near the services of a traditional real estate agency.
An entry-only flat fee agent will not provide any service to the seller other than posting the listing within the area's Multiple Listing Service and giving the seller's contact information to cooperating agents.
It is essential to understand some excellent reasons to hire a real estate agent beyond listing your home on the MLS. While you can potentially keep more of the commission when you sell the home yourself, you are missing out on many services that could help you achieve a sale that would be more satisfactory for you and your goals, like helping you make more off of your home.
If you want top dollar for your home, thinking an entry-only listing is the way to go could be a significant mistake. As a consumer, you give up a lot with a flat fee MLS arrangement.
Let's look at some of the pros and cons of only using a flat fee real estate agent just to list your home on the MLS. That way, you can make an informed decision about how you want to move forward with your sale.
Understanding how flat fee MLS works will be crucial when giving this sales strategy any thought.
What is a Flat Fee Realtor?
A flat fee Realtor is an agent who will list your home in the MLS for a set fee. The flat fee is much less money than a traditional real estate agent will charge for selling a home. There are flat fee real estate brokerages specializing in charging you a listing fee to be found in the MLS.
As a home seller, you should understand that going with a flat fee Realtor has not caught on in most areas of the United States. There are some excellent reasons for this which will be covered extensively.
When you use a flat fee service vs. a full-service brokerage, you'll still be required to sign a listing agreement. If you're unsure about anything it will be wise to have a real estate attorney look it over for you.
It will be vital to pay careful attention to whether there are any hidden fees or an additional cost you're not expecting.
How to Find a Flat Fee Real Estate Brokerage
Many people read this article and call me. They start the conversation by asking me to list their home in MLS. The majority of the time, those who are asking me to do this are out of state. Even if they were located in Massachusetts, I could not help them as I do not practice flat fee real estate.
If you are interested in finding a flat fee MLS company, you should do a local online search. The search terms should be one of the following: flat fee real estate brokers near me or flat fee Realtors near me. By executing this search, you should get the flat fee real estate companies in your general area.
You could also try flat fee real estate or flat fee listing service with your city or town and state. When choosing a flat fee real estate agent, you will need them to be licensed in your state.
Now that you know what a flat fee real estate agent is, we'll take a look at why you may or may not want to go with flat fee real estate as part of your home sale plan.
Pros of Listing on MLS Without an Agent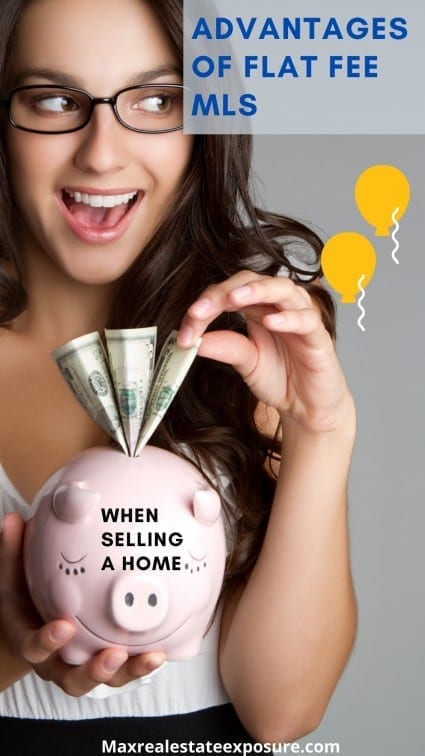 There are some benefits to going the FSBO route, especially if you take advantage of a real estate agent to get your home on the MLS. Here are some of them:
1. Potentially Save The Commission You Would Pay a Traditional Agent.
This is the #1 reason that homeowners choose FSBO – they want to avoid paying the cost of hiring an agent to represent them in the sale.
A real estate agent will get about 5-6% of the home's sales price as real estate commission. However, the real estate agent commissions can vary depending on the area you are selling, the type of property you are selling, and your personal arrangement with the agent you choose.
However, that does not mean you can totally avoid paying a commission. Putting your home on the MLS means you will encounter multiple buyer's agents representing buyers interested in your home.
If you sell to one of those buyers, you will need to pay the real estate commission that they are owed, which is usually half the total of 5-6%. This is known as a cooperation fee.
So, instead of paying a traditional real estate agency a full commission, you'll only pay half. However, many for sale by owners get shortsighted and look to save even more by shortchanging the buyer's agent side of the commission. Doing so is a SIGNIFICANT mistake!
You want the buyer's agent to feel great about selling your home – not the exact opposite. Lowering the commission increases the odds you will net less money, NOT more!
2. Get Complete Control Over The Sales Process.
One common worry among people selling homes is that hiring an agent means that they have to do what the agent says – like the agent may force them to do things that they don't want to do, such as setting a lower price than they would like for their home, making price reductions or having open houses every weekend.
Reputable agents will not force you to do anything that you don't want to do, but they will try to encourage you to make choices that will facilitate the sale of your home. However, if you don't have an agent, you don't have to deal with any situation where the agent advises you to do one thing while you prefer to do another.
You can decide on your price, write up all the marketing material, show the home, and negotiate the contract without worrying about discussing your decisions with the real estate agent.
3. Most Buyers See Your Listing Through The List in MLS Feature.
When you hire a real estate agent to list your home on the MLS, you gain access to the biggest possible audience for your listing. All of the listings on the MLS are seen on the foremost real estate sites mentioned above, like Zillow, Trulia, and Realtor.com.
They also go to all the real estate agent sites where agents look for homes to bring to their clients. Some sites do not accept listings from anywhere else but the MLS, so paying the $300 to $700 or so that it usually takes to get a flat fee real estate agent to put your listing on the MLS is generally worth the cost.
Cons of Listing on MLS Without an Agent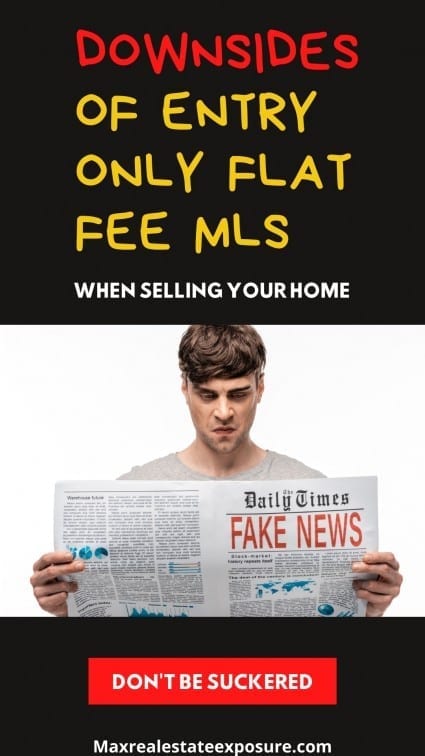 The home selling process is much more than listing your home in MLS.
There are several negative aspects to FSBO and listing on the MLS only eliminates one of them. Yes, list MLS gets you on the main real estate agent listing service by hiring an agent exclusively to list your home on the multiple listing service. However, you still have to deal with all the downsides of trying to sell a home on your own.
When you sell your property, there is still paperwork, marketing, showings, and negotiating. A top-producing Realtor will help you sell by providing all these services.
Negotiation becomes especially vital when homebuyers have their own buyer's agent in their corner doing the same.
For most sellers, these negatives are not worth the money they may save – and often, they don't save as much money as they thought in the long run.
Some of the negative aspects of selling without an agent – even if you list on the MLS – include:
1. The Home May Not Sell For as Much Money.
Saving the seller's agent commission fee is the biggest motivating factor to selling a home without an agent – but once the dust settles and all the numbers are added up, sellers often cannot sell the house for as much as they could have with an agent.
Many owners wind up selling for so much less than they would have made more even if they had paid the listing agent's commission. If you think about it, this fact is not really that surprising.
Real estate agents are trained to sell homes. Selling a home is part art and part science, and doing it well takes practice and experience.
You have gotten better at your job as you have gained experience – enough that you are probably better than the new hire that comes through the door fresh and wide-eyed.
The same realities apply to real estate sales. There are several things that a full-service real estate agent does for a seller.
It should be expressly understood that an entry-only or flat fee MLS agent does none of these things for a seller. In other words, you're giving up a ton.
An experienced real estate agent will know how to do everything possible to sell the home for as high a price as possible. That means setting the right home price at the beginning so that you attract the most buyers.
To just list in MLS and have a for-sale sign will not accomplish that.
2. You Will Not Have Any Marketing With Flat Fee Real Estate.
When you choose the flat fee MLS route, there will be no marketing. There will be no agent for creating the best marketing plan to sell a home. It cannot be emphasized enough that just throwing your house in MLS as an entry-only listing does none of the things it takes to get top dollar.
You want your home marketed across multiple channels using the best marketing materials available, including professional photographs, descriptive home listings, and an extensive network of personal connections.
Photography can, in fact, make or break a sale. First impressions are created on your home the moment it hits MLS. Many full-service real estate agents will provide a professional photographer as part of their fee. Most don't charge additional fees for something so vital to the home selling process.
When buyers like the photography and want to learn more, they will read what the Realtor said about the house. Creative home descriptions make a difference, as well. The description should entice a buyer to schedule a showing.
You will NOT get the best marketing when you list your home with a flat fee real estate agent. There is ZERO incentive for the agent to go above and beyond doing anything for you. They already made their money.
You are far less likely to have a bidding war without exceptional marketing – something every seller should strive for.
By far, the most significant drawback to just list in MLS is the odds stacked against you for fewer offers.
3. You Will Have No Representation to Just List in MLS.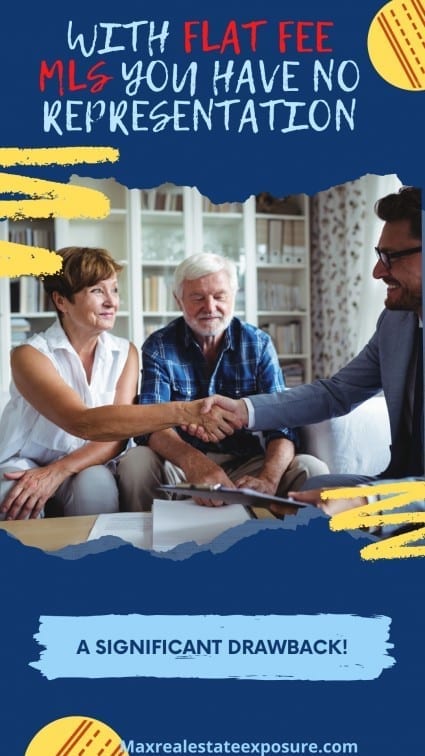 Another significant downside to just list in MLS as an entry-only property is a lack of representation.
Once buyers start to come through the door, the best real estate agents know how to answer the tough questions without driving people away and know how to negotiate for terms in your best interest.
All of these skills tend to yield better results – like a higher purchase price for your home. The entry-only agent will send you the offer, and that's it. If you agree, the second phase of the transaction will start, including the buyer having a home inspection.
With a flat fee MLS agent, nobody will attend the home inspection representing your best interests – a significant drawback.
There will be no agent to meet with the appraiser either – good luck with that. How about someone to help when a problem arises, like the fact you skipped out of getting proper building permits?
Did I mention doing a thorough check of the buyer's finances before the offer was even accepted? Getting a mortgage pre-approval and verifying the buyer doesn't have a property they need to sell. These are the kind of things when left unchecked, can totally screw up a transaction. I could go on and on.
So many things happen behind the scenes in a real estate transaction to keep it on track.
4. The Work You Have to do is Going to Take a Lot of Time and Energy.
You may be able to sell your home pretty easily if you take the first offer that comes through the door. But if you plan on pushing for the best offer, it means you will need to do all the things a professional real estate agent would do for you – while you still take care of all of your other responsibilities.
Selling a home requires multiple steps and ongoing engagement. You will need to hire a professional real estate photographer to take photos of your home – because bad pictures will drive buyers away.
You will need to write a compelling listing that tells the truth about your home while still making it seem as desirable as possible.
5. You Will Need to Price Your Home Accurately.
It is also necessary to choose a price for the home, one that is competitive for your local market – which requires comparing recent home sales prices and all the various ways your home is similar or dissimilar to others around you – but still ensures you will get the best price for your home you can.
A full-service Realtor will provide a comparative market analysis that details all of the local real estate comps. Doing so allows for the home to have the correct list price. Local Realtors who are full-time should have an excellent understanding of the real estate market.
A flat fee broker might not be in tune with proper pricing. Many sellers set the asking price themselves. Remember with flat-fee MLS service the agent gets paid upfront.
All of these things need to be done before you list the house. Not doing these things is why for sale by owners fail. The real estate broker that charges a flat fee doesn't care what you price your home at. The flat fee Realtor gets paid whether your home sells or not.
6. With Flat Fee Real Estate, You're in Charge of Showings.
Once the home is listed, you will need to make it available to buyers and their agents. You may need to show the house over and over to find someone that really wants to make an offer. Answering phone calls day and night is also part of the deal. And then, you need to negotiate on the terms of the sales agreement, including price, concessions, closing date, and other concerns.
You will need to handle all of the contractual work in a way that adheres to local laws concerning real estate sales to avoid potential liability. There will be no confidant in your corner advising you what you should and shouldn't do.
It should be clear by now that the work a real estate agent does is considerable. If you want to get similar results to a professional agent, you will need to act similarly.
7. You Will Likely Spend Months Second-Guessing Yourself With a Flat Fee Realtor.
One of the significant benefits of hiring a professional to do a job for you is relying on them to catch things you may miss. Sure, you can watch some YouTube videos and learn to do just about anything at a deficient skill level.
But if the stakes are high enough, like your car's seatbelt system or selling the most valuable asset you own, you may find it hard to feel comfortable navigating the process with only your knowledge. Some part of you will wonder if you are doing things right or if you missed something.
It can take months to sell a home. If it takes longer than a few months, you are probably doing something wrong – like setting the price too high. Without a professional real estate agent at your side, self-doubt is inevitable.
There are significant downsides to just putting your home in MLS with no real estate agent including No advice, no marketing, and no representation!
Click To Tweet
So, as you can see, flat fee MLS on the surface sounds wonderful, but there are a ton of drawbacks in reality. To just list in MLS often ends in getting less desirable results.
Final Thoughts on Flat Fee MLS Without an Agent.
There is a reason why most sellers choose to work with a full-time real estate professional. The results are head and shoulders better than when you don't. There are far more downsides to listing with an entry-only flat fee agent.
As discussed, there are numerous reasons why the real estate industry has not seen a dramatic increase in limited service.
Could you get lucky and sell your home quickly for top dollar as an entry-only listing? Sure, but the odds are stacked against you.
Every year I see countless homes that start as entry-only flat fee listings and end up with a full-time agent due to a lack of success. Are you a gambler or looking for a sure thing? If you have concluded that enlisting a pro is the best way to go, make sure you do your research.
It is nearly as harmful to pick a terrible full-service agent as going entry only. Real Estate agents, unfortunately, are a dime a dozen. The right agent, however, can make a world of difference. Go through a careful interview process with agents to increase the odds of making the right decision.
Look for real estate professionals with a track record of success. There is no better recommendation. In most circumstances, to just list in MLS with a flat fee Realtor is foolhardy. Your best option will usually be with a pro.
---
About the author: The above Real Estate information on listing a house on MLS without a Realtor with a flat fee MLS was provided by Bill Gassett, a Nationally recognized leader in his field. Bill can be reached via email at billgassett@remaxexec.com or by phone at 508-625-0191. Bill has helped people move in and out of many Metrowest towns for the last 34+ years.
Are you thinking of selling your home? I have a passion for Real Estate and love to share my marketing expertise!
I service Real Estate Sales in the following Metrowest MA towns: Ashland, Bellingham, Douglas, Framingham, Franklin, Grafton, Holliston, Hopkinton, Hopedale, Medway, Mendon, Milford, Millbury, Millville, Natick, Northborough, Northbridge, Shrewsbury, Southborough, Sutton, Wayland, Westborough, Whitinsville, Worcester, Upton, and Uxbridge MA.
Summary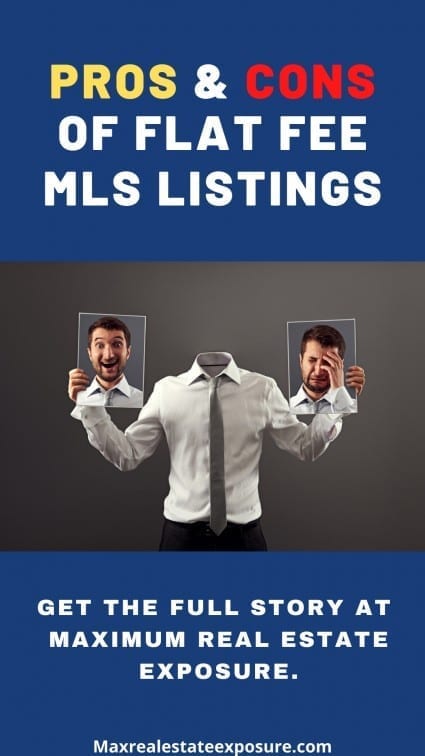 Article Name
Listing Your House on MLS Without a Real Estate Agent Via Flat Fee MLS
Description
Learn the pros and cons of listing a home on MLS without a real estate agent. See why flat fee MLS listings don't offer the best marketing.
Author
Publisher Name
Maximum Real Estate Exposure
Publisher Logo