The FHA 203K Loan Explained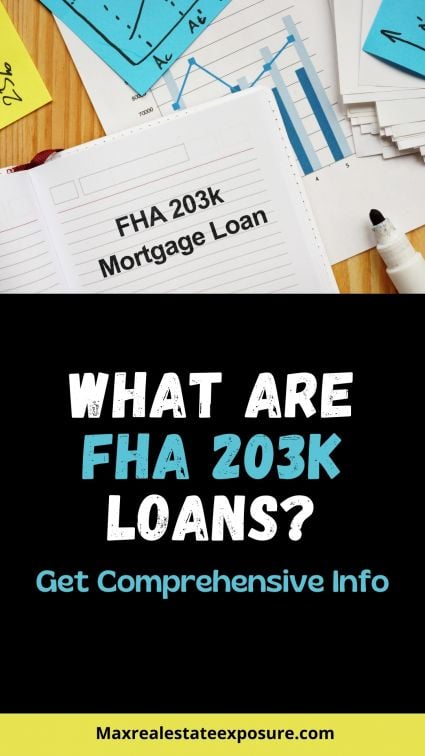 Over my years as a real estate agent, several home buyers have asked me about buying and fixing a house with one loan. The best method for doing so is an FHA 203k loan.
203k FHA loans are also referred to as FHA construction loans.
If you want to buy a home that you can fix up, a regular loan will not give you the funds to complete the work.
An FHA 203k loan, however, is designed to help you buy a home that needs some repairs and provide you with the money to fix it up.
It's a rehab loan that allows you to make home improvements without additional mortgage loans.
A rehabilitation loan could be the perfect solution when buying a home needing repair or being sold as-is.
There are many good reasons to choose a fixer-upper, including quickly increasing your equity and lacking competition from other buyers.
Let's examine what you need to understand about the FHA 203k loan program and how it can help you.
What Are FHA Loans?
A regular FHA loan is a mortgage that the Federal Housing Administration backs. The FHA is part of The U.S. Department of Housing and Urban Development.
An FHA-approved lender provides standard FHA loans. One of the significant benefits of FHA loans is their low down payment requirements.
You can have as little as 3.5% down with an FHA standard loan. The minimum credit score is also relaxed when compared to other mortgage loans.
FHA mortgages are excellent options for borrowers that have lower credit scores. They are often used as bad credit home loans.
Now that you know about the basics of standard FHA loans, let's dive into what to know about FHA 203k rehab loans.
What Are FHA 203k Loans?
Instead of a traditional home loan, where the money allows you only to finance the purchase of the property, a 203k mortgage also covers the repairs needed.
Sometimes referred to as rehab or construction loans, the 203k program can give you around $35,000 to spend on renovation work as well as helping you buy the home.
Ordinarily, it can be challenging to get a mortgage when the home needs a lot of repairs. With a 203k loan, the lender will check the progress of the repairs being made to the house. Despite this increased flexibility from the lender, you shouldn't assume they will approve any fixer-upper.
Specific minimum standards exist, including safety and habitability rules for traditional FHA loans. So if the property requires too much work, you may not get approved for an FHA loan.
When the minimum appraisal inspection standards cannot be met, an FHA 203k loan could be an option.
How Do 203k Loans Differ from Regular FHA Home Loans?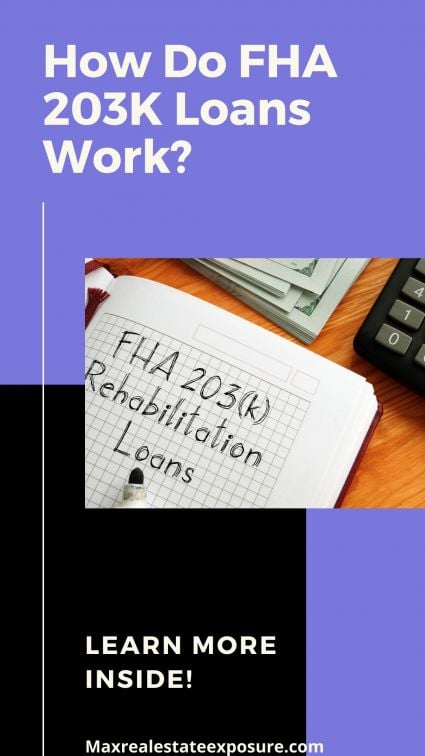 The primary application process of a 203k loan is similar to a standard FHA loan with some extra steps:
Find and apply to a lender that offers 203k loans
Have your loan approved
Find a good contractor
Get estimates for the renovation work or home repairs
Close on the loan
Complete the renovations
There are more things to do with this type of loan, like finding contractors and making sure their estimates are correct to approve your loan.
There is certainly potential for more stress when buying a fixer-upper, as home buying can already be stressful when things are straightforward.
What Renovations Are Needed With The Property?
One of the first things you need to do is decide what work needs to be completed on the home.
Your lender will want you to prioritize any potential hazards within the home, like broken windows, lead paint, or mold.
You can decide on the more exciting remodeling projects with those basic things taken care of.
Choose which rooms of the house need the most attention, perhaps replacing cabinets or appliances in the kitchen or remodeling the en suite bathroom.
Whatever you choose, you must check that it is allowed under the loan terms and stay within the budget.
Selecting Your Contractors is Key With a 203k Loan

Once you have chosen the jobs that must be completed in your renovation, you must find good contractors.
If you know a skilled friend in specific repair jobs, you can only hire them if that is their profession. Likewise, you can't do some work yourself unless you are a contractor.
If you can find some experienced contractors who have done 203k renovations previously, you should have an easier time with better results.
Problems can arise because your contractors must supply more paperwork than they typically provide. The additional paperwork can slow down the time to approve the loan, so adding this to your agreement with the contractor might be better.
Estimates Are Crucial With an FHA Construction Loan

If you believe you have a reliable contractor, you'll need accurate estimates of their repair costs. The appraiser will use these cost estimates to help find the finished value of the home.
Your lender will want to know that the cost of repairs and renovations will increase the home's value. These details will show them that loaning money to you isn't a risk for them.
The estimates should be final when they are sent to the lender. If a forecast changes, it could lead to additional charges for another appraisal, and the lender might need to process your application again.
Your general contractor should know how vital the estimate's accuracy is for the project, especially with significant renovations. The typical closing time frame could be delayed if this phase is not followed correctly.
When using a 203K mortgage, make sure you use a trustworthy contractor that understands the timeliness of getting their home improvement estimate.
Click To Tweet
Lender-Approval is Necessary With a 203k Loan

When you submit your estimates, the lender will use them and all the other information they have to approve your mortgage. They will have your credit report and income details to authorize your 203k home loan.
There Will Be a Closing Like Other Mortgages

As with a regular mortgage, you must check and sign the loan documents at closing. When this is complete, the home is yours.
Repairs and Renovations Will Begin

With everything signed, the work can begin on your home renovations. You might be able to move in when your contractor starts on the repairs and the remodeling.
Occupancy will depend on the level of work planned for your home. But if it isn't possible, you can add that expense to your 203k for up to 6 months.
When the work is complete, you will own a newly renovated home that should have created a lot of equity for you.
What an FHA 203k Loan Requires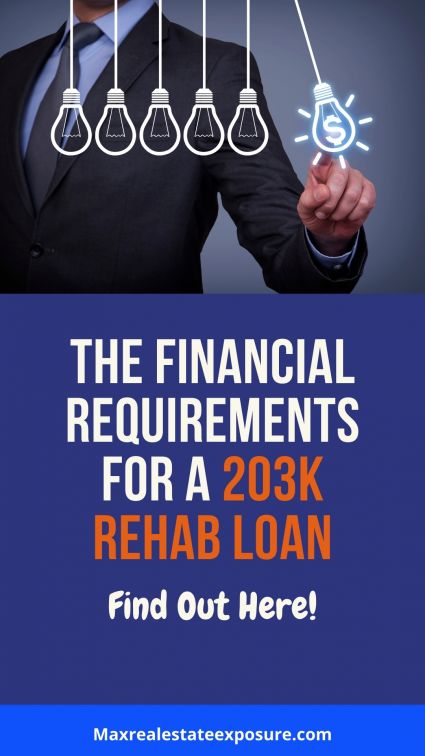 What requirements will you need to meet with a 203K loan? While this type of loan from the FHA is easier to qualify for than many other construction loans, there are still requirements.
Credit Score Requirements With 203k Loans

In theory, the FHA program allows borrowers to get a 203k loan with only a score of 580. However, in practice, most lenders will need a score of at least 620 and perhaps 640 before considering you.
Though that might seem pretty high, it is lower than required for a conventional construction loan.
The requirements are also lower than the minimum credit score for other loan programs.
Without the FHA loan program, you would probably need a good credit score of at least 720 to begin your project.
A solid credit history always helps to get the best mortgage terms. It is good to improve your financial standing when buying a house.
Debt-to-Income Ratio Requirments With 203k Loans

Lenders will consider your debt-to-income ratio. Your monthly debt payments are compared to your monthly income to assess your suitability for the loan.
Debt-to-income ratio requirements between lenders might vary, but you can expect to need your debt to be less than 43% of your income before tax.
For example, on a monthly income of $4,500, your debt payments must be less than $1,935 to stay within 43%.
Down Payment Requirements With 203k Loans

You must find 3.5% of the loan value as a down payment. If this will be difficult, you have a few options, like a gift from a family member or certain non-profits.
However, if you can pay more than the minimum, you might benefit from better interest rates and lower fees.
If the purchase price of your house is $300,000, with the cost of renovations being $30,000, this would mean a minimum down payment of $11,550.
Citizenship Requirements For a 203k Loan

To utilize a 203k FHA loan, you must be a United States citizen. The lender you choose to work with will verify your citizenship.
How Much Can You Borrow With an FHA 203K?
An FHA 203k loan will potentially let you borrow up to 110% of the home's future value or the cost of the home plus repairs. Whichever loan amounts are lower will be the amount you can borrow.
You are also restricted in the amount you can borrow by the FHA loan program limits. FHA loan limits can vary depending on your location.
Check with the lending institution you're considering using to get the local mortgage guidelines.
What Are The FHA Mortgage Limits For 2023?
The FHA lending limit is the highest amount they will insure. For 2023, the FHA floor is $472,030 for a single-family home. The FHA loan ceiling was set at $1,089,300. The ceiling is the maximum amount you can get with a 203k FHA loan.
The FHA mortgage limit differs for duplex, triplex, and four-plex properties.
These properties have a higher mortgage limit. They also vary depending on whether the location is considered a high-cost area. The total loan amount cannot exceed these limits.
Other Requirements With an FHA 203K Loan

The FHA 203k loan requirements allow only U.S. citizens or people who are lawful permanent residents to apply. The lender will check this during your application.
FHA 203k loans are only designed for people who intend to live in the home. The property needs to be your primary residence. You must remain in the house for 12 months before renting or selling it.
If you want to buy a property to flip, this loan isn't suitable.
FHA 203k Mortgage Rates and Loan Terms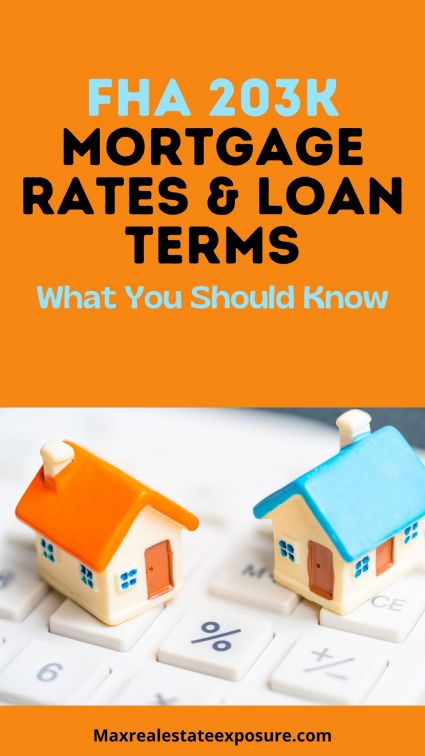 FHA loans come in both 15 and 30-year mortgage terms. These loans have either fixed-rate mortgages or adjustable-rate mortgages based on your needs.
Finding 203k Mortgage Lenders
Since this isn't a standard home loan, not every lender will offer it. Not every loan officer and mortgage broker you speak to knows how this home loan works.
You will want to work with an approved lender with experience with these FHA loans.
To reduce your chance of problems when getting a 203k loan, you can use HUD's search page to find companies that have done many of these loans before.
Doing so can narrow your search to only lenders who have done at least one 203k mortgage in the past year.
Some of the best FHA 203k loan lenders are Fairway Independent Mortgage, Flagstar Bank, Homebridge, Wintrust Mortgage, Loan Depot, and Caliber Home Loans.
Are FHA 203k Loans More Expensive?
You can generally expect the mortgage rates on a 203k to be slightly higher than a regular FHA mortgage.
Higher interest rates could mean you pay up to 1% more in interest payments. The average FHA 203k loan has an interest rate of .5% -1% higher than a traditional mortgage.
This still makes a 203k loan competitive since the FHA program's base rate is usually lower anyway.
You can choose an adjustable or fixed rate over a 15 or 30-year term.
The adjustable rate might save you some money in the short term if you expect to sell the home within a few years.
FHA 203K Loans Have Mortgage Insurance to Pay
You also need to pay mortgage insurance on the loan. While you can avoid paying private mortgage insurance with conventional loans if you pay a 20% down payment, this isn't the case with FHA loans.
With a 10% down payment, you might be able to cancel insurance premiums eventually, but it will often be better to refinance the loan.
FHA mortgage insurance will cost you 1.75% of the loan value. The premium must be paid upfront, though it can be added to the loan amount. FHA also requires yearly payments of 0.85%, divided into monthly payments.
There is also likely to be an extra origination fee that will cost another 1.5% of the loan value. As well as that, you'll get charged a HUD fee for a consultation. These fees can cost up to about $1,000 for larger projects.
With these improvement loans, you must also pay a supplemental origination fee. The mortgage lender will charge 1.5% of the rehab costs or $350, whichever is higher.
The cost is used to set up and handle the escrow account. These additional expenses can typically increase the closing costs between 3% and 6%.
Can You Use a 203k to Refinance?
While most people use their 203k to buy a home, it is possible to use it to refinance. Your renovations should cost at least $5,000, and you don't need an FHA loan.
The home will have to be appraised for the lender, with the current value and the value after improvements are assessed. The appraisal will show the lender how much the home can be refinanced.
FHA loan limits could restrict how much you can refinance, but otherwise, they look at three calculations to find your maximum.
Current value plus renovation costs
110% of the improved value
The debt before the renovation, along with improvement expenses and some of the closing costs
Whichever of these calculations is the lowest will decide the maximum 203k mortgage available.
What Types of Repairs are Eligible for an FHA 203k Loan?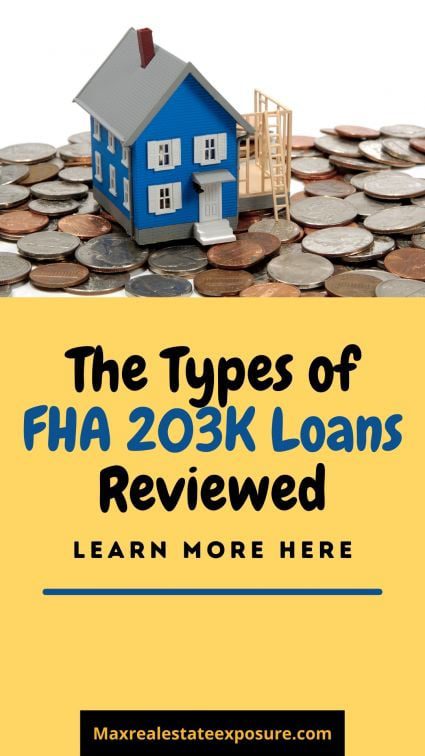 There are two types of 203k loans, and they allow you to do different renovations to the property. The kind of 203k you choose will depend on the work you must complete on the home.
Limited Work 203K Loan
If the property needs non-structural renovations, the Limited 203k program will probably be the best answer.
The limited work 203k will give you up to $35,000 to pay for repairs, though you won't be able to use all that money.
The FHA requires a 15% contingency fund for cost overruns. It's referred to as a contingency reserve. So, in reality, you have around $30,000 for contractor bids.
If this contingency fund isn't used, it will be credited back, and you won't have to pay interest on this unused money.
Pretty much anything that is considered non-structural repairs is allowed under this program. So if you don't need to move load-bearing walls or add on rooms to the property, you should be fine.
The Limited loan allows, among other alterations, the following:
Repair or replace roofs, HVAC, plumbing, electrical, flooring, decking, and more.
Repainting, inside and out.
Accessibility access for people with disabilities.
Basement remodeling and waterproofing.
Replacing or repairing windows and doors.
Replacing appliances.
Minor repairs
You can't use the loan to buy things like furniture, which will be considered non-permanent.
The Limited option is better for many homebuyers as the approval process is more straightforward, and more lenders offer it.
Standard 203k Loan
The other option is the standard 203k loan. This type of 203k allows you to do more of the remodeling jobs you could think of. However, the loan can't be used for non-permanent changes to the home or upgrade to luxury amenities. But it does cover the following:
Repairing structural damage and other extensive repairs.
Adding new construction such as an addition.
Repair work that will take longer than three months.
If you must live elsewhere for more than 30 days during renovations.
Repairs that need architectural drawings.
More extensive work could include moving load-bearing walls.
Limited requires less paperwork and is a more streamlined process that typically takes less time to close. But if you need more substantial repairs and alterations to the home, a standard 203k loan will be better.
Limited only allows for $35,000 of construction costs, but the standard FHA 203K is held to FHA lending limits in your area.
Things Not Covered by an FHA 203k Loan

Luxury items cannot be financed through FHA 203Ks.
If you would like to add something like a swimming pool, tennis court, or even a barbecue area, adding luxury facilities like this is not allowed under 203k. But also, some minor changes can't be funded through a 203k loan, for example, little landscaping jobs.
When the home renovation is expected to take longer than six months, a 203k isn't right for you. For projects 203k doesn't cover, it might be better to get a home equity loan later, but other options are available.
Other Renovation Loan Options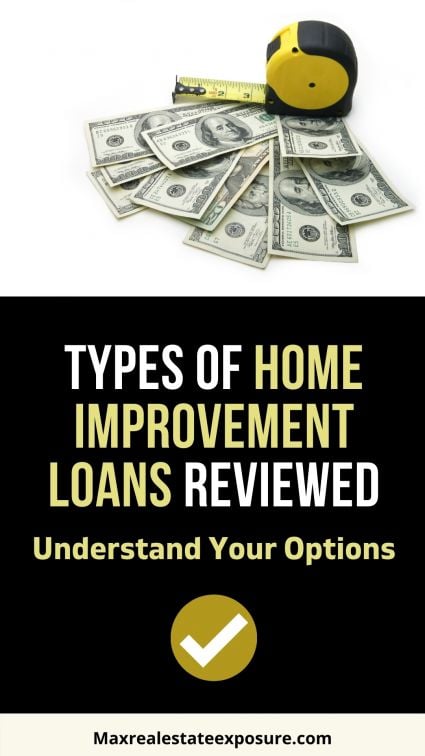 FHA 203k loans aren't suitable for every situation, but some alternatives might be more appropriate.
Perhaps you only need a small amount of cash to complete your remodeling project, or you'd like to do the work yourself, and you aren't a contractor.
Whatever your situation, other loan programs could offer advantages over getting a 203k. Have a look at some of the home improvement loans available.
Home Equity Loans
Often known as second mortgages, these loans usually have fixed rates though they have higher interest applied to them. Despite this, the loan can be cheaper in some ways. Home equity loans do not require origination fees or mortgage insurance.
However, you will need some equity in the home for this type of lending. Even if the house will be worth more after the remodeling, only the property's value is considered when you apply for the loan.
HomeStyle Mortgages
The HomeStyle mortgage program from Fannie Mae allows you to purchase and refurbish the home, though they have a higher minimum down payment requirement of 5%.
You can save money because you are not required to pay a hefty upfront mortgage insurance premium as you do with the 203k.
There is still mortgage insurance to pay monthly, but this could be cheaper than the FHA loan if you have a decent credit score.
Also, these monthly payments can be canceled once you have 22% equity in the home, saving you from having to refinance.
HELOC
HELOC stands for a home equity line of credit.
Choosing a home equity line of credit is a more flexible approach to renovating a property. While you will need some equity in the home to be approved by a lender, you will only pay interest on the money you need for your project.
The flexibility allows you to draw money from the line of credit to pay contractors when needed without paying interest on your credit limit.
This line of credit is ordinarily subject to variable interest rates, but set-up costs tend to be very low if there are any costs.
Cash-Out Refinancing
Another option that also requires you to have home equity is to refinance your mortgage. These refinancing options give you some cash to cover the costs of your renovations.
Since you are refinancing, you might be able to get better terms on your new mortgage. You could have lower interest rates or take the opportunity to reduce the loan term so that you are done with your mortgage sooner.
What Happens When You Buy a Home Using a 203k Loan?
There are more stages when you're buying a home with a 203k. You need to list the repair works that need to be carried out on the house, and not all the money will be available until the renovations have been completed.
Here are the steps for using a 203K FHA loan.
When you're using a 203k to buy a home, you'll need to go through the following steps before purchasing.
Click To Tweet
Finding a 203k Loan Lender

Not every lender offers 203k loans, so you'll need to find some that do. Getting quotes from different mortgage companies for a good deal would be best.
Contact some of the best 203k FHA loan lenders mentioned previously.
Use The FHA 203k Loan Calculator
To find the maximum mortgage amount you'll be able to get under the program, you can use the 203k loan calculator.
Applying to The Lender
Once you find the lender that you think will offer you the best terms for your mortgage, you need to apply to them for pre-approval. A mortgage pre-approval will give you a better idea of how large a mortgage can be.
The letter also shows sellers you are serious.
Finding a Home
Your real estate agent should be able to find a perfect home for you. When you make an offer to the seller, it needs to mention that you will be using a 203k mortgage to finance the purchase.
Using an FHA 203k Loan Consultant
A 203k loan consultant can help you arrange a proposal from a licensed contractor. It should set out the range of repair work that needs to be completed, with detailed costings.
Finding Contractors For Your Property

Since you aren't allowed to do the work yourself unless that's your full-time job already, you'll need to find licensed contractors. They'll need to provide an estimate and a breakdown of all the costs.
Get Final Mortgage Approval
The home will be appraised if the lender agrees with the cost estimate and required work. The property appraisal will assess the value before and after the proposed renovations.
If the lender still approves, you can move to the closing. Once the seller has been paid, the home is finally yours, and then your contractors can begin work.
The money from your lender for the remodeling goes into an escrow account. When the work is completed on your home, the lender or an agent working on their behalf will release funds to your contractor.
When all the work has been completed, and the contractor has gone, you will be left to enjoy your newly renovated home. Your new home will probably even be worth more than you paid now.
Not only will you have created a home renovated to your requirements, but you've also made an excellent investment.
The Pros and Cons of an FHA 203k Rehabilitation Mortgage
The advantages and disadvantages must be carefully weighed before deciding that a 203k home loan is right for you.
The Pros of a 203K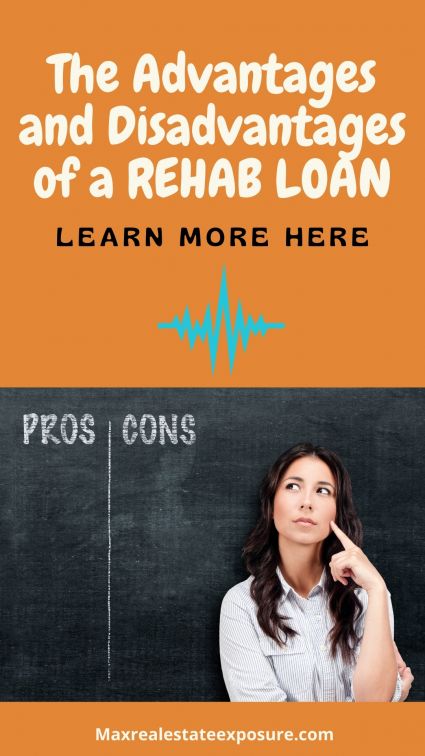 You can often get a great deal on homes that need repairs and updates, even when the necessary work isn't that costly. You could find a house for far less money than it is worth because of the state of repair.
Purchasing a fixer-upper property could result in a sizable increase in value when the repair work has been completed.
Distressed homes tend to get sold at a good discount because it is more difficult for buyers to obtain financing. As well as getting a better deal, you will have less competition from other buyers.
Lenders typically only want to approve mortgages on homes in almost perfect condition. But if you are willing to go through the stages required by a 203k, you can boost your home equity when the project is finished.
FHA 203Ks offer a lower interest rate than credit cards or personal loans. You'll have a single loan with one lender rather than having a second mortgage.
The Cons of a 203k

There is more work and responsibility for homebuyers that choose this option. It will also mean you have contractors in your home for the first few months of ownership.
You must work harder to find reputable contractors and ensure they complete the paperwork correctly. Don't be surprised if your lender takes issue with your contractor.
You might go back and forth between your lender and contractor to ensure no missing details.
This type of loan also doesn't allow you to do the work yourself, and there are some restrictions on the renovations you can undertake. You have to stick to a budget for your renovations, which can be difficult.
It could mean fast decisions are required so things don't slow down further.
This type of home loan is likely to take longer anyway, as more steps in the approval process are needed. Compared to a regular FHA mortgage, it can take 15 to 30 days longer to close a 203k loan.
If you are realistic about the extra work required and don't assume your home loan will close in record time, getting a 203k mortgage won't be as stressful as it could be.
You should make sure that the seller realizes that things might take longer. Using this type of loan won't be possible if you are a real estate investor.
But the benefits of FHA 203k loans should be well worth the extra hassle and delays if you want to increase your equity quickly.
Popular FHA 203K Loan Questions
Is a 203K Loan worth it?
Almost always, the answer is yes. You can take beat-up properties or older homes that need work and turn them into something special. You often create wealth by purchasing a home where sweat equity can be achieved.
A fixer-upper property is the perfect housing choice for a rehab loan.
Can I Do Home Repairs Myself With a 203K?
Usually, you cannot unless you hold a contractor's license. If there is some do-it-yourself work you would like to take care of, don't include it with the bids for the job.
Is it Difficult to Get a 203K Loan?
No. It's not more complex than other loans. There are minimum credit scores and down payment requirements, as previously mentioned.
Other FHA Articles Worth Reading
Use these additional FHA articles to make intelligent business decisions.
FHA-approved condos – having FHA approval in a condo community is worthwhile for buyers and sellers. Having FHA approval increases property values and allows more buyers to purchase.
Final Thoughts on 203k Loans

FHA 203k loans are an excellent mortgage product offered by the federal government. Buying an existing property needing significant repairs can be an ideal financing vehicle.
Hopefully, you have found this guide on rehab loans to be helpful. Best of luck with your project!
---
About the author: Bill Gassett, a nationally recognized leader in his field, provided the above Real Estate information on FHA 203K Loans. Bill can be reached via email at billgassett@remaxexec.com or by phone at 508-625-0191. Bill has helped people move in and out of Metrowest towns for 37+ years.
Are you thinking of selling your home? I am passionate about Real Estate and love sharing my marketing expertise!
I service Real Estate Sales in the following Metrowest MA towns: Ashland, Bellingham, Douglas, Framingham, Franklin, Grafton, Holliston, Hopkinton, Hopedale, Medway, Mendon, Milford, Millbury, Millville, Natick, Northborough, Northbridge, Shrewsbury, Southborough, Sutton, Wayland, Westborough, Whitinsville, Worcester, Upton, and Uxbridge MA.
Summary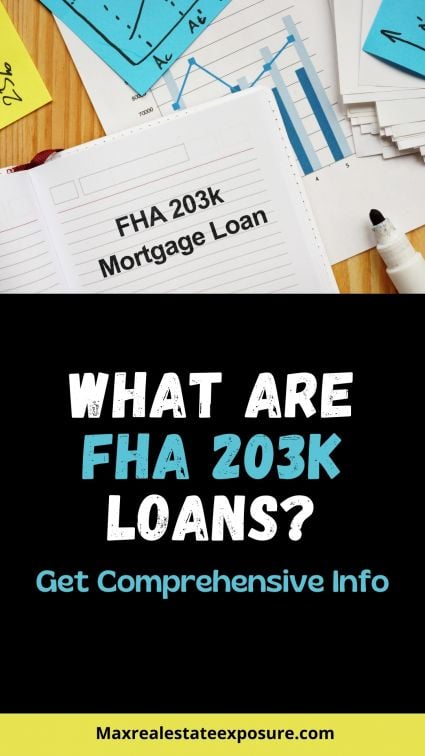 Article Name
FHA 203K Loan: Renovation Mortgage Loans Explained
Description
Learn everything you need to know about an FHA 203K loan. Get the pros and cons of using this rehab loan for a home purchase.
Author
Publisher Name
Maximum Real Estate Exposure
Publisher Logo