Why Should a Condo Get FHA Approved?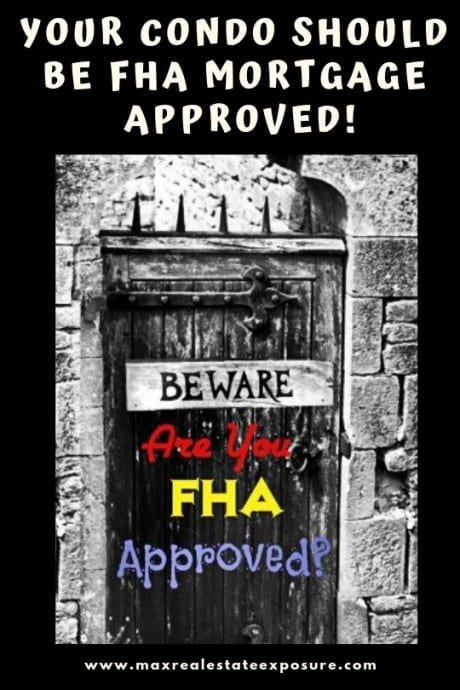 What should buyers and sellers know about FHA condo approval requirements? Plenty! First and foremost you should know that having FHA condo approval is super important.
If you can get one, an FHA loan is an excellent way to pick up a condo in today's real estate market. However, both buyer and sellers are often unaware of everything that goes into the FHA loan process, and just how difficult it can be to land an FHA loan on a condo.
The bar is set high, and both buyers and sellers should educate themselves on the FHA process – for sellers to be more marketable to prospective buyers, and for buyers to take advantage of these low down payment loans.
For those who are not familiar with the term FHA loan, it stands for the Federal Housing Administration. Essentially it is a government backed loan that allows those borrowers who have not saved a substantial amount of money but otherwise have good credit and stable employment to get financing.
Both sellers and buyers need to be aware of just how important having FHA approvals can be!
FHA Condo Approval For Sellers
As a seller, you may be wondering why a condo should get FHA approved? The answer is a simple one – you want to achieve the maximum return on your investment!
Having FHA mortgage approval increases the odds selling your condo will happen quickly and for a price at least around the average market value – and hopefully above that.
This is a challenging thing to do, though, as anyone who has sold condos can tell you. The condo market can be more fickle than most, and you can find yourself in a difficult situation if you do not remain aware of how the market works.
As a seller of a condominium, having your neighborhood approved for FHA financing is critical.
Without FHA approval on your condominium, you lose the potential of a substantial amount of buyers who otherwise would not have the down payment necessary to purchase.
I can remember not that long ago while doing my due diligence for a condo complex in Milford Massachusetts the owner of the condominium thought that they were FHA approved. While double checking on this, it was discovered that the association allowed the approval to lapse.
The owner, after hearing me explain what a detriment this was to not only her property value but everyone else who lived there decided it made perfect sense to get re-instated.
Of course, she had to convince those on the board that it was well worth the money to do so.
Luckily for her, she was able to persuade them. This was a case of a condo association putting their collective heads together and realizing that having an FHA approved complex was extremely important.
FHA Condo Approval Matters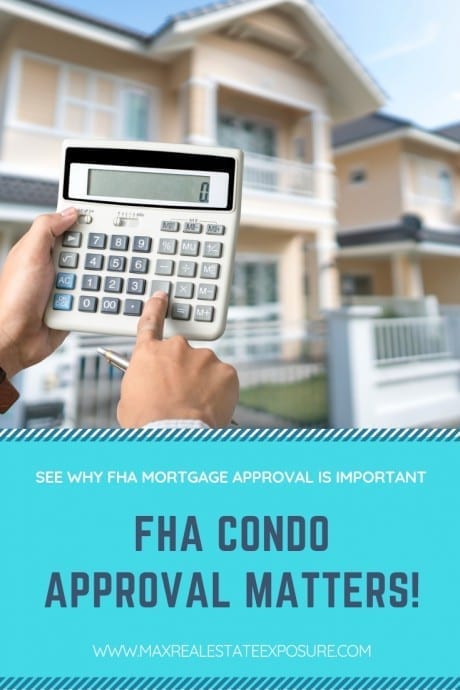 When your complex meets FHA requirements, it automatically opens up your sale to a significant number of buyers. People with lower down payments want to own a home, and they can do so with an FHA approved loan.
Having FHA approval matters to you, because without FHA approval, your condo remains unavailable to this vast number of buyers ready and willing to give you the money you want for your home.
With an FHA loan, a buyer can purchase a condo with only a 3.5% down payment. This is significant because there are plenty of customers who have great incomes but have not saved a substantial down payment. An FHA loan allows them to purchase with a lower down payment than conventional mortgage financing.
FHA approval matters for another reason as well. Even if your buyer has an infinite amount of income, if your condo complex does not meet FHA requirements, it will likely not fetch as high of value as those that do. The reasons for this are simple and straightforward.
FHA demands are for the most part reasonable requirements, things that any good investor would want from his or her property.
Demanding secure homeowners, decent cash reserves for the association and a sound legal situation are all reasonable things – especially when you are considering dropping large sums of money towards a particular purchase.
You want your condo and your complex to meet these requirements, especially if you want to get top value for your property. It may be a cumbersome process to go through, but it will be well worth it in the end if you plan on selling for top dollar.
Are you beginning to realize why you should get a condo FHA approved?
Difficult FHA Standards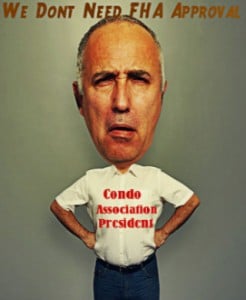 Keep in mind, that a decent percentage of condo complexes do not meet FHA requirements. Some have never applied for FHA approval and others have let the approval lapse.
From a homeowners perspective, this is not something you ever want to let lapse. Unfortunately, condos are not like single family homes where you rule the roost.
You are governed by a majority of people making decisions on your behalf. While you may have a voice, sometimes it is easy for things to fall through the cracks and you may be aware that your neighborhood is no longer FHA approved.
At times the folks in charge of running the show do not quite fully understand how much this approval can affect market values.
Then again you could be caught in a situation where there are a few thick headed people running the show that are clueless. You know the type – they sit around all day thinking up new rules regulations just to feel like they are self-important and make others miserable.
You can sell a condo that does not meet FHA requirements. However, like any other property that is not perfect, you must rein in your expectations on how much you can get and how quickly you can unload it. You will have to find a buyer that does not need an FHA loan, and you will need to find a buyer that is not as picky about the property he or she is purchasing.
Your condo may have a high number of renters – something the FHA does not like – or it may have a problem right now with homeowners who are late on their payments to the association. Or, you may be unlucky enough to be in a situation where there is ongoing litigation against your particular organization.
If your association falls into any of these problem areas, you may still be able to sell your home. However, it may not command top dollar, and you should be prepared for this. If you have the option to wait until the problem is resolved, such as with delinquent homeowner's association fees, it may be best to do so. If you want top dollar, you should seek FHA approval. Go ahead and explain to the board members why this is so important. In fact show them this article, so they understand how critical it is to their property value!
FHA Condo Approval For Buyers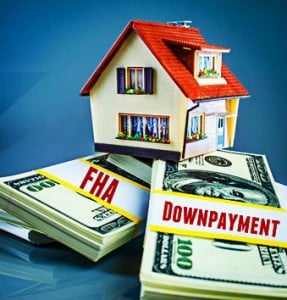 There are many reasons to choose an FHA approved condo, not the least of which is the possibility of a small down payment loan. FHA approval requires adherence to some quality control requirements that few associations can meet.
National Mortgage News claims that up approximately 60 percent of associations are denied approval from the FHA, a serious vetting process that cuts no corners in its demands on condo associations. The FHA only wants to loan money on properties that are considered a sound investment and these requirements are deemed necessary to guarantee such investments reasonably.
By purchasing a condo that is eligible for an FHA loan, you have allowed the government to do a lot of the work for you in guaranteeing your investment. Not only have you managed to get a good loan towards your purchase, but you have also ensured that the majority of the people living in your condo association will be owners and will be up on their association dues.
Perhaps even more important, you will guarantee that your condo association has reserves of cash that are at least equal to a year's worth of fees from the association. This means that when something goes wrong that affects the whole complex, such as roofing issues or flooding problems, your association will have the money to address those problems.
As a bonus, your association is guaranteed to be free of legal problems as of the time of your purchase. When you have invested with numerous other individuals in a property, this can make a big difference.
When any buyer is considering purchasing a condo, they should ask some important condo questions before purchasing. Finding out the answers to these issues can save a lot of heartburn somewhere down the road. While there is a natural progression from some, who have owned single family homes to want to opt for condominium living they often forget just how different it will be when they are no longer king of their castle.
Don't Discount The Importance of FHA Approval



The endorsement of the FHA for condo associations matters, both to buyers and to sellers. If you are selling, you want top dollar for your property. If you are a buyer, you want the best you can buy for the money. FHA certifications guarantee both of these, and should be a priority for both buyers and sellers. Hopefully you have come to the conclusion that FHA condo approvals matter to both buyers and sellers!
More FHA Condo Resources
Use the additional resources to learn more about why having an FHA approved condo is so important!
---
About the author: The above Real Estate information on why FHA condo approval is so important for buyers and sellers was provided by Bill Gassett, a Nationally recognized leader in his field. Bill can be reached via email at [email protected] or by phone at 508-625-0191. Bill has helped people move in and out of many Metrowest towns for the last 31+ Years.
Are you thinking of selling your home? I have a passion for Real Estate and love to share my marketing expertise!
I service Real Estate sales in the following Metrowest MA towns: Ashland, Bellingham, Douglas, Framingham, Franklin, Grafton, Holliston, Hopkinton, Hopedale, Medway, Mendon, Milford, Millbury, Millville, Natick, Northborough, Northbridge, Shrewsbury, Southborough, Sutton, Wayland, Westborough, Whitinsville, Worcester, Upton and Uxbridge MA.