Purchasing a Home Post Divorce
If you have recently gone through a divorce and are considering buying a home, there are some things that you need to consider before you start scanning real estate listings.
Divorce is challenging both emotionally and financially and can leave you in a position drastically different than the one you were in before or during your marriage.
Buying a home is a considerable investment, so it is important to cover all the bases before committing to anything.
The following tips can help you clarify your situation and your options, ensuring that you make a sound decision when you buy a home after a divorce.
Tips For Buying After A Divorce
1. Take some time after the divorce.
Divorce is considered one of the most stressful events a person can go through. While you may be feeling compelled to purchase a home and move on with your life, you should be aware that if you have recently gone through a divorce, you may not be thinking as clearly as you imagine. If you are like most people, buying a home will be one of (if not the) largest financial decisions you make.
Major financial decisions like this are best made with a cool head, something that may be impossible for you to manage for a while. Making sound decisions is something discussed extensively in selling a home while going through a divorce. Far too many people make hasty choices because they have not thought things through clearly enough. From the seller's perspective, one of the parties often wants to keep the marital home at all costs even though it does not make sense financially.
There is nothing wrong with renting for a six-month or year lease to let the dust settle after your divorce. After some months have passed, you will have a better idea of your financial situation and what you want your life to look like moving forward – both of which play a major part in the home buying process.
2. Get clear on your financial situation post-divorce.
One of the biggest considerations when buying a home is your financial circumstances – what income you are bringing in and your ongoing costs. These factors limit your ability to make a down payment and to pay a mortgage. But, while your finances may have been relatively consistent before the divorce, there is a good chance that the divorce will cause some disturbances.
Depending on where you're at, you may need to pay attorney fees, child support, spousal support, divide up savings and investments, etc. You may have considerably less money after the divorce than you did before or more financial obligations – like taking care of children on your own. See these tax tips for divorcing couples, which show some of the considerations post-divorce regarding finances, taxes, and living arrangements.
You want to look carefully at the divorce documents to verify what your obligations are following the divorce. Your lender will want to check that you can afford a mortgage, so you will need to have all your documentation in order.
3. Make sure to separate your finances.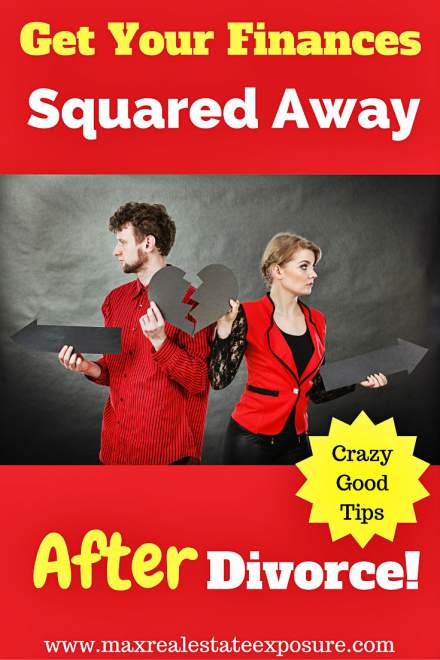 It's okay to share expenses in a marriage, so you probably have many mutual obligations with your ex. Separating your finances is part of the divorce process, but sometimes there can still be accounts and obligations that slip through the cracks. The easiest way to find problem areas is to order your credit report. You can get your report for free once a year, but even if you are not entitled to a free report, it is still worth paying the fee to get accurate information on your finances.
Separating your finances may be difficult – and may even require talking to an attorney – but it is worthwhile. You want your credit score to reflect your financial situation accurately and avoid having it negatively impacted by your ex's actions after your divorce. Getting a mortgage after divorce often is challenging.
One thing to make certain of before buying a home after a divorce is removing your name from the mortgage of the marital home. Sometimes divorcing couples hold off on getting one of the spouse's names removed from the mortgage and deed.
Not being removed from a mortgage could be any number of reasons, including the current housing market condition or your spouse's financial situation. However, getting your name off the mortgage is a critical step moving forward to the next chapter of your life.
Keep in mind that a divorced person's credit rating can be impacted by still being part owner of the marital home. Being on the marital mortgage can lead to not being qualified for a new mortgage loan due to the high level of overall debt load still showing up on your credit report.
4. Work on your credit score.
If you get your credit report and find that you have a great credit score, congratulations! Unfortunately, many people find that their score is worse than they expected after they have divorced. You may have been a non-wage earner in the marriage, taking care of the home and the kids. Or maybe you only needed to work a part-time job because your spouse was successful. Even if you were earning enough money, if your spouse was reckless with credit, you may still be stuck with a bad score. Post-divorce, it will be necessary to check your credit score to make sure you were not dragged into a rough spot due to your partner's bad financial habits.
Luckily, you can raise your score. The higher you can get your score, the better rates you can get on a mortgage, which can save you tens of thousands of dollars in the long run. If you have a low score, do some research and find out ways to boost it. It will take time, but it is usually worth it if you want to buy a home.
Take time to understand the different mortgage programs that will best serve your needs. If you can get to a twenty percent down payment will be critical to eliminate paying private mortgage insurance. A fee that is solely for the lender and does nothing for you as a homeowner.
5. Choose a location you will love.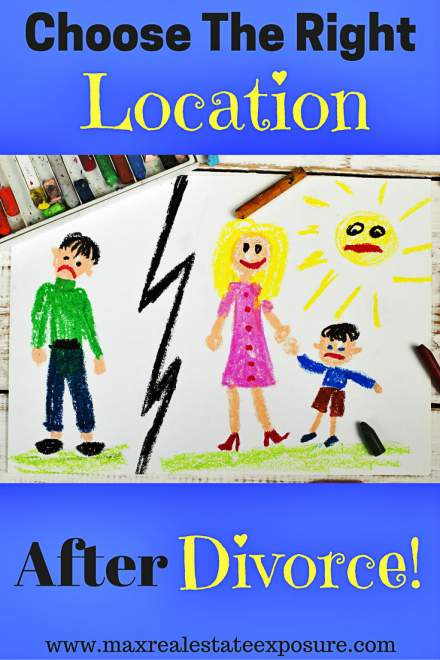 If you are in a position where you can buy a home after your divorce, choosing a location can be one of the harder decisions to make. This could be one of the most important considerations when buying a home after a divorce.
How close do you want to be to your ex? Do you have children that you want to be relatively close to their parents? The closer you are to your ex, the more likely you will wind up running into one another when you are out. You may be okay with such meetings, or you may want to avoid them at all costs. Talking to your Realtor about your concerns is a good idea before you start shopping. He or she can point you to areas that will fit your specific needs.
Was your former home in a more secluded area, and you think that a neighborhood may be better if you have kids? Make sure you reflect on how to pick a neighborhood that will be suitable for your new living style post-divorce. Do you need to be thinking about school districts? These are all crucial location decisions that should be given a serious thought.
6. Select a property that fits your lifestyle – condo vs. home.
If you just got divorced, you are well aware that your life is different now. Before you start house hunting, take some time to brainstorm about what kind of life you want to have moving forward and what kind of home will facilitate that life. Make a list of what you want your new home to be, and talk to your agent about your list to make sure he or she is directing you toward the right kind of options.
One of the first considerations should be whether you want a condo or a house. Have a look at the pros and cons of both housing choices to understand what may be best in your current situation. Is it better to have a home for the kids with a yard for them to play in? Do you travel a lot for your work or have long hours that make owning a home more challenging? Maybe a condo would be a better option, given that most of the exterior will be taken care of for you? These are the kind of questions you should be asking yourself.
Maybe buying a home or condo is not the right move at all. Could renting be a better option?
7. Work With a Realtor That Has Divorce Experience.
The real estate agent you choose to work with is important under any circumstances. When you buy a home and have just gone through a divorce, it can be even more important. Choosing a Realtor who understands divorce can be helpful from both emotional and financial circumstances. The real estate agent should, in fact, have gone over many of the items mentioned above if they an excellent agent.
8. Find a Great Mortgage Broker
Choosing a mortgage broker you are comfortable with is almost as important as selecting a real estate agent. You want someone who understands your financial situation well enough to place you in the best loan for your individual circumstances. Work with someone you trust who will work hard to get you the best terms and mortgage rate.
Before you go out looking for homes, make sure you have a pre-approved loan. Getting a pre-approval puts you in a position to buy a home, something a good listing agent will surely be looking for when considering any offers. Be sure you understand the difference between a pre-approval and a pre-qualification, which is significant!
Additional Helpful Home Buying Resources
Use these additional resources to make smart decisions when purchasing a home after a divorce.
---
About the Author: The above Real Estate information on buying a home after a divorce was provided by Bill Gassett, a Nationally recognized leader in his field. Bill can be reached via email at [email protected] or by phone at 508-625-0191. Bill has helped people move in and out of many Metrowest towns for the last 34+ Years.
Thinking of selling your home? I have a passion for Real Estate and love to share my marketing expertise!
I service Real Estate Sales in the following Metrowest MA towns: Ashland, Bellingham, Douglas, Framingham, Franklin, Grafton, Holliston, Hopkinton, Hopedale, Medway, Mendon, Milford, Millbury, Millville, Northborough, Northbridge, Shrewsbury, Southborough, Sutton, Wayland, Westborough, Whitinsville, Worcester, Upton, and Uxbridge MA.