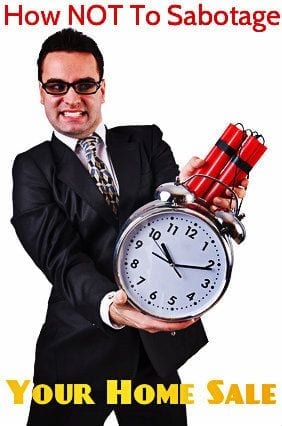 As the owner of your home you have a right to be involved in every aspect of its sale. At the same time, it is surprisingly easy to get in the way of your own sale. Often sellers will unintentionally repel buyers without even knowing why – especially if they have an agent who is afraid of upsetting them or are such strong personalities that they are immune to constructive criticism.
Take a long hard look at yourself and make sure that you are not doing any of the following – and sabotaging your own home sale.
Top Home Seller Mistakes
It is really easy for home sellers to make mistakes if they are not given proper guidance from a professional. After all it's not like most homeowners sell their home every year. These are some of the more common home seller mistakes that can be easily avoided when selling real estate. Take a look and make sure any one of these things does not hold up your sale.
Making showings difficult – Your Realtor is a professional that should know what he or she is doing. Selling is part of the business and showing a home is where Realtors should really shine – but only if you keep out of the way. While pride of ownership is important not when it comes to showing your home. Hovering over the agent and the buyer pointing out things you think are important are not what will sell your home. Let the real estate agent you hired do his or her job. They get paid for doing this so make it easy for them!
Avoid making it difficult to show by not allowing scheduled showings, limiting showing times, asking for accompanied showings from the listing agent. Keep in mind that your home will not sell unless people can see it. You want to make it as easy as possible. The more qualified foot traffic the better. Every missed showing is a missed opportunity! Don't assume that if you don't let a buyer in to see your home they will automatically agree to re-schedule. If fact often times they never do!
They see something else they like and put an offer in before ever returning to see your property. Recently while selling Milford Real Estate this exact scenario took place. The owner refused a showing from a relocation buyer who was only in town for a couple of days and needed to purchase a home. They ended up seeing something else they liked and put in an acceptable offer. This is the perfect example of a last opportunity. Who knows if this buyer would have liked me clients home better.
Keeping a mess – Cleanliness can mean different things to different people. This is why you want to ask your real estate agent what he or she needs for you to do to get the house ready for showing. This may mean hiring cleaners, cleaning yourself, renting a storage unit for your clutter and cleaning up yard debris. There is a good chance you don't even notice some of the problems. Take your Realtor's advice and make the home perfect for showing. It will pay off in the end. Cleaning is one of the lowest cost home improvements you can make. This is one of the top home seller mistakes that is so easy to fix!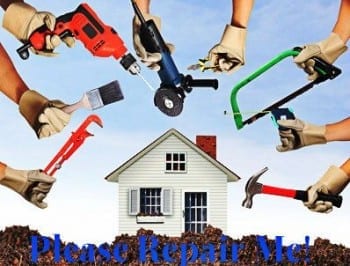 Failing to make repairs – If your agent tells you that certain repairs need to be made to sell your home, make those repairs. While it is understandable to want to spend as little as possible on a house that you will no longer be living in, you also have to make the home desirable to buyers. No one wants to buy a home with a blown out hot water heater or carpet that has been stained and soiled. Actually, there may be buyers for such a home. But they are looking for a fixer upper and paying accordingly.
Make the repairs that will make your home sell or it will cost you more with the lower offers you will receive. You should also have an understanding of what some of the most common home inspection problems are when selling a home. If at all possible you should take the time to investigate and remedy these issues before putting your home on the market. If not you could cost yourself a sale and also have to disclose these issues to future potential prospects if the sale falls through.
Using bad pictures on a listing – Selling a house today means putting it up online to be viewed by potential buyers. The first thing these buyers see are the pictures you take of the house. Poor quality pictures, unflattering pictures, pictures of a dirty and cluttered home – none of these are appealing to buyers. Bad pictures will make them move on to other listings with better visuals. Asking the Realtor you are considering hiring who will be taking the photography is vital. Will it be them or a professional?
There are some Real Estate agents who do an exceptional job with their photography and others that will make you want to vomit. Photography is one of the most critical elements to selling a home so don't take this home selling facet lightly. It would be highly recommended to check out the Realtors photography on other homes they are listing. As a Real Estate agent who is looking at photography daily, it absolutely astounds me how bad some of it is. Many home sellers clearly do not check up on what their agent is doing! Here are some excellent Real Estate photography tips that are worth considering.
Your job is to make sure to spiff up the place before you start taking photographs.
Overpricing a home – There are few possessions more personal than a home. You may have raised your children here, spent endless hours perfecting the landscaping, doing remodeling projects and generally enjoying yourself. This can make it difficult when it comes time to price your home accurately in relation to the current market.
It doesn't matter what you originally paid for the house or how much you love it. Your agent will tell you to price the home competitively so you can sell it. If you overprice it instead, it can sit on the market for months and even years, gain a reputation as unsellable or undesirable and eventually sell for far less than the Realtor's original recommendation. Overpricing a home is quite common and the #1 reason homes do not sell. How to price a home is something every seller should understand before they put their home on the market. The damaging effects of overpricing a home are real. They will cost you money that otherwise would have been in your pocket!
Taking negotiations personally – In the U.S. we are unaccustomed to negotiating. Most of the things we buy are priced and sold in environments where negotiation is not an option. You don't haggle with the grocery store checker on the price of your milk – you just pay it and move on. With homes though, there is an art to negotiation. Buyers will offer low prices to find out what you really want for the home. It is a back and forth process that takes practice to become familiar with.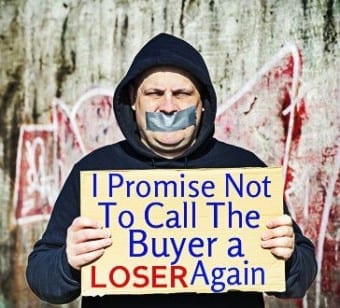 Do not take a low ball offer on your home personally and reject the buyer outright. Through negotiations you may get exactly what you want. There have been numerous times over my twenty seven year Real Estate career where the seller was convinced there wasn't a chance in the world that the sale would come together based on where the buyer started their negotiations. What some sellers fail to understand is that it's not important where a buyer starts but where they end up! Don't sabotage your home sale by getting too emotional.
Going FSBO – For sale by owner is usually not the most effective approach to selling your home. Yes, you can work your way through the selling process and save on commission, but there is a lot of work involved. Homes sold by owners are often sold for substantially less than those sold by Realtors. Home owners simply don't have the network, marketing ability and negotiation skills to get the highest price for their home. Hiring a Realtor gets better results and is much less work and stress than going it alone. If selling as a FSBO is something you must do based on the fact you can't afford to pay a commission make sure you read the tips on how to sell a home for sale by owner. This will give you some sound advice on how you can improve your chances when you need to sell without the assistance of a Real Estate agent.
Hiding issues from buyers – If your Realtor has not already told you, the last thing you ever want to do is hide problems with your house from buyers. This is the perfect way to find yourself in a lawsuit somewhere down the line. When selling a home there are some states that require you to fill out a disclosure statement about what you know about your home. If for example, you know that every Spring the basement floods and you live in a disclosure state letting the buyer know this would be important.
Even in non-disclosure states if a buyer asks you a direct question and you don't tell the truth you would open yourself up to a lawsuit. Here are some common examples of disclosures to make when selling a home. Honesty is always the best policy when you are selling a home!  The buyers will find out everything eventually so don't leave anything off of the disclosure statement if your Realtor asks you to fill one out. There is no point in selling your home dishonestly only to pay back all your earnings in legal fees.
Additional Helpful Home Selling Resources
Use these additional resources to make sound decisions when selling a home. Avoid some of the top home seller mistakes and you will be sitting at a closing table reading to enter the next stage of your life!
---
About the author: The above Real Estate information on ways sellers sabotage their home sale was provided by Bill Gassett, a Nationally recognized leader in his field. Bill can be reached via email at billgassett@remaxexec.com or by phone at 508-625-0191. Bill has helped people move in and out of many Metrowest towns for the last 27+ Years.
Thinking of selling your home? I have a passion for Real Estate and love to share my marketing expertise!
I service Real Estate sales in the following Metrowest MA towns: Ashland, Bellingham, Douglas, Framingham, Franklin, Grafton, Holliston, Hopkinton, Hopedale, Medway, Mendon, Milford, Millbury, Millville, Northborough, Northbridge, Shrewsbury, Southborough, Sutton, Wayland, Westborough, Whitinsville, Worcester, Upton and Uxbridge MA.
Enjoy This Real Estate Article?
"Subscribe To My Blog - It's FREE and No Spam EVER!"
Get my blog articles in your inbox as soon as they are published!