What To Do Before Selling a House
Over the years, many clients have asked me what to do before selling their home. Who wouldn't want to be prepared for their home sale? Right?
Now that you have decided to sell your house, the hard work begins. No matter how much deliberation went into the decision, the effort is nothing compared to prepping your home for the actual sale.
What you do before the for sale sign goes on your front lawn is as vital as when it finally arrives.
This is why it is so essential to make a list of things to do before selling a home and start as soon as possible.
It will take some time to get your home ready for the market and the buyers that will hopefully come pouring through your door. When you want to sell your home, it is what you do before the process starts that can have a significant impact on your success.
Fortunately, if you do everything right, you should have a leg up on the competition.
Over the years, the clients that have asked me what things to tackle before selling their house and then proceeded to do them are the most successful!
Here are my best tips for getting your home ready.
Ten Things to Do to Help Your Home Sell
Before putting your home up for sale, get yourself organized and pay attention to what is essential. Taking the time to prepare for a home sale is critical.
For most people selling a home is one of their most considerable assets. When you take the necessary time to get it spruced up, you will increase the odds to realize the maximum return possible.
1. Get your paperwork together
One of the most important things to do before selling a house is gathering necessary paperwork. This may seem like a tedious first step, but it is surprisingly relevant. Whoever buys your home is going to be coming into a complex system designed for comfortable living.
There is a lot that goes into a modern home, from HVAC systems, utility bills, plumbing systems, electrical systems, and numerous appliances.
Keeping it all up and running well is usually not too difficult if you know what has been done before and how it was done. If you don't, though, it can be a real headache.
Buyers want to know about maintenance schedules, what companies you used to do the maintenance, what your utility bills have been throughout the year, and anything else that pertains to the home. Not only does it show how the house functions, but it also makes it easier for the new owners to take over the reins.
One helpful thing either you or the Realtor you hire could do is put together a real estate marketing booklet that not only shows off how you have maintained your home but also provides the buyer will other helpful info both on your property and the community.
Your real estate agent will probably ask you for additional items as well, such as a plot plan of your lot, the deed, and any other information that could be helpful in selling the house.
2. Check on the little things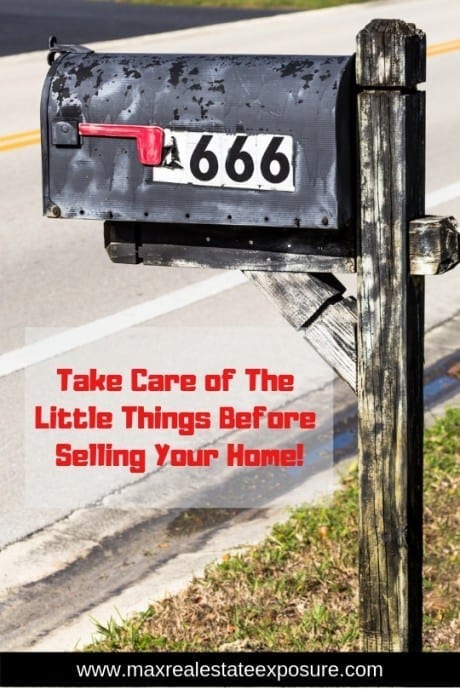 The longer you live in your home, the easier it is to get used to things as they are, even if the way they are is unappealing. Also, if you are on an extremely tight budget, you should take a day and look around your home for the little things that are out of whack and easily fixed.
Does your mailbox look beaten up and rusted out? Install a new one. Are your kitchen light fixtures from 1973? Consider changing them out for inexpensive modern versions.
Try to see things as a buyer would and fix the things you can adjust.
Even things like touch up paint can go a long way in making the buyer feel like they have less to do to get the property feeling like their home.
I have compiled a list of staging items to do before putting a home up for sale that should be quite helpful in making the process go smoothly. These are simple home staging and preparation tips that will go a long way in making your home look fresh. Take a look!
3. Erase evidence of pets
Most real estate agents will tell you how it's necessary to erase evidence of pets in the house. Preparation for selling a home with a pet is vital!
You need to make it look like you never had a pet if at all possible. As pet owners, we all become accustomed to the smell and mess that our dogs or cats create.
New buyers will not have this immunity, though. They will smell the smells and notice the fur, stains, and wreckage left behind by your animal.
Do whatever it takes to eliminate these signs, including shampooing or replacing the carpet, repairing sod and fences, and keeping the dog at a friend's house during showings.
4. Clean up the landscaping
You do not have to be a professional landscaper to clean up your yard. Trim out dead branches and plants, cut the grass and pull weeds from where they do not belong.
You can also plant some flowers and lay down some mulch if you want to go the extra mile. This is the first thing buyers see, so it's worth fixing up.
Another nice touch is to have some potted flowers at your front entry. If you have a sprinkler system and are out of the cold-weather season, get it up and operational.
Not only do you want your grass looking healthy and green, but it is a great feature to show off to a buyer seeking to purchase.
5. Make things less personal
It may seem weird at first to erase your personality from your home. Think about how customers will feel when looking at the property, though. Will they be able to see themselves living there, or is the "feel" of the place overwhelmed by your love of model cars, personal pictures, figurines, or whatever else you love?
Give them a clean slate to work with, and they will be more likely to buy.
If you are the type of person with a thousand family photos scattered throughout the house, you need to cut back and make the rooms slightly less personalized.
You need to go overboard, however, and remove all existence that you are part of a family like some home stagers will tell you to do. People don't expect sterile anymore than they want to look at a ton of photos of your kids. It is, after all, a home, not a house!
6. Gather estimates on repairs and replacements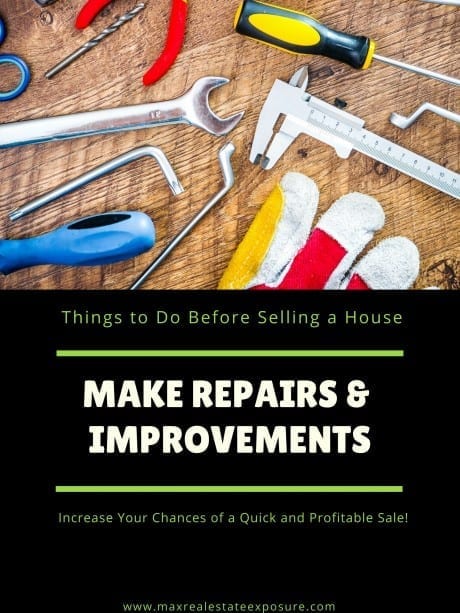 Unless everything in your house is brand new, you can expect a bit of bargaining from buyers and their agents over the replacement of necessary components of your home.
Anything that is aging or in need of repair will be on the table, including your HVAC system, appliances, and any rooms that need serious renovating – such as the bathroom or kitchen. Getting your estimates on these costs will allow you to bargain more efficiently.
One of the most common home inspection items that can become a bone of contention is your roof. The roof is an area you will want to pay closer attention to.
If your roof is getting up there in age, it may make sense to have your roof evaluated by a qualified roofer to see how much life you have left. If there is not much, getting an estimate will be necessary, so you know what you are dealing with financially.
7. Remove the clutter
For most people, space invites clutter. Your garage, basement, and perhaps even your bedrooms or living room all may be filled with junk.
One of the things almost any Realtor or home stager will tell you is to get rid of your clutter. Now is the time to go through it all and donate, sell, or throw away. Anything leftover should probably be taken to storage if possible.
Keeping the home filled only with the essentials will make it seem bigger and provide visual room for buyers to fill with their belongings.
There are a couple of ways you can approach getting rid of your clutter. Some people like to do it themselves and just rent a large dumpster that they can toss it all into, and others would rather pay someone else to do it.
If you don't mind spending the dough, a company like 1-800-got-junk will come over with one of their trucks and take it all away for you. A nationally recognized company like 1-800-got-junk is often more expensive than some of the lesser know local businesses. You might want to call around to shop the price a bit.
8. Clean
Of all the things to do before selling a house, cleaning should be the easiest and least expensive. There is no way around this one. No one intends to buy a dirty house.
Whether you do the cleaning yourself or hire someone to do it – it needs to be done. Before listing your home for sale is the time for deep cleaning.
The carpets, windows, floors, garage, basement, bathrooms, kitchen, yard, and any other space or surface in your home, it all needs to be cleaned as thoroughly as possible.
If cleaning a home is not your thing, then be sure to hire a professional. If you are looking for one of the more prominent brand name companies, Merry Maids is very well known. Again you might be able to save yourself a few bucks by hiring a local cleaner.
A local real estate agent is always an excellent resource for both people to recommend for cleaning and junk removal. These are everyday things that most people do before selling a home, so Realtors are asked for help in this regard all the time.
9. Hide the kids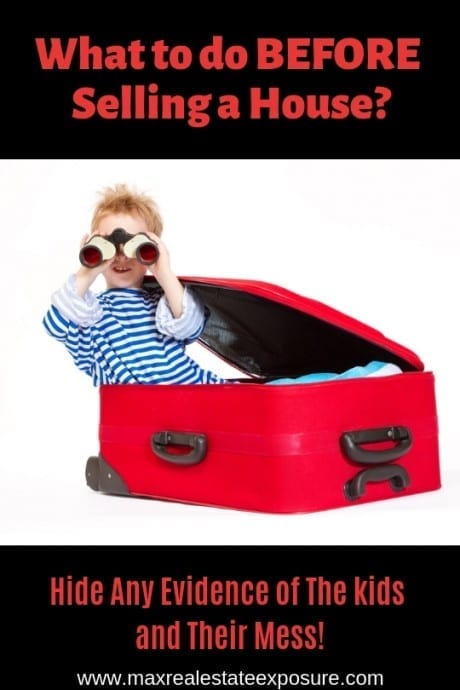 Children can do a substantial amount of damage to a home – something the buyer will probably be aware of. It is vital to repair all the kid damage just like you do the pet damage.
It is also a good idea to take the kids out of the house when you are showing it if you can. Even teenage children can be a distraction to a buyer if they are hanging around playing video games or even loud music.
It sounds like common sense to make sure they are not around but believe it or not, Realtors experience many sellers who do not think about these type of things.
While having kids around isn't as bad as a seller who feels the need to follow a buyer around their property, pointing out everything the customer could see with their own eyes, it is a close second.
10. Take pictures
When you have everything cleaned up and looking nice, break out the camera, and take some photos for marketing purposes. Better yet, hire a Realtor that knows how to photograph homes. The better your pictures look, the more people will want to come and see the house in person.
Pictures are fantastic tools to bring in buyers, but they need to be done well to work.
Even if you have gone to the trouble of doing all of these things before selling a home and for some reason, you don't end up listing at least, you will have some good photos to provide your Realtor.
One of the things that can be helpful, for example, is when you are selling a home in the Winter and give a buyer what the yard looks like in Spring and Summer when everything is in full bloom!
Outstanding photography makes the presentation of your home that much better. Quality photos also help the Realtor get their job of selling done easier.
All of the above items are essential considerations to tackle before selling your house. Scratch each one off your list for better results.
More Home Selling Resources
Use this advice before the sale of a home to increase the chances that you come out on top both financially and emotionally. What you do before selling a home will go a long way towards your bottom line.
---
About the author: The above Real Estate information on ten things to do before selling a home was provided by Bill Gassett; a Nationally recognized leader in his field. Bill can be reached via email at [email protected] or by phone at 508-625-0191. Bill has helped people move in and out of many Metrowest towns for the last 34+ Years.
Are you thinking of selling your home? I have a passion for Real Estate and love to share my marketing expertise!
I service Real Estate Sales in the following Metrowest MA towns: Ashland, Bellingham, Douglas, Framingham, Franklin, Grafton, Holliston, Hopkinton, Hopedale, Medway, Mendon, Milford, Millbury, Millville, Northborough, Natick, Northbridge, Shrewsbury, Southborough, Sutton, Wayland, Westborough, Whitinsville, Worcester, Upton, and Uxbridge MA.