Preventing the Cause of Ice Dams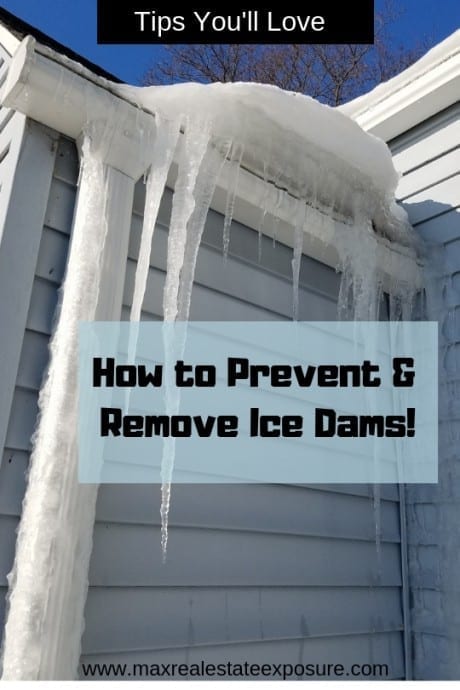 Preventing ice dams is just smart as they can cause major damage to your home including mold in areas you might not be able to see.
Ice dams are a common problem in areas of the country where normal snowfall occurs. If you own a home with poor roof ventilation and a warm attic, you may already be dealing with ice dams.
When ice dams are not treated effectively, they can lead to major problems with your gutters, roof, insulation, drywall, paint and structure of the home.
They can also result in mold infestations. In other words, you should do your best to remove any existing ice dams and prevent the future accumulation of ice for the long term.
Keep reading and you will see the guide on how to prevent and remove ice dams!
What Causes Ice Dams?
Before learning how to fix ice dams, you will need to know what causes them. Ice dams are created after a heavy snowfall when the warmth from the attic creates a roof surface that rises above freezing.
Heavy snow acts as an insulator, trapping this heat and causing the snow closest to the roof to melt. This water then flows down the roof, where it promptly freezes again as soon as it goes beyond the warm part of the ceiling.
Usually, this is the last section of the roof, closest to the gutters and beyond the walls of the house. Travelers insurance has a nice diagram of how an ice dam forms on your roof.
Damage From Ice Dams
The accumulation of ice can cause a myriad of problems. The most obvious are weight, as the ice gets heavier it can pull off gutters and cause structural damage to the roof edge. But this is not the end of the destruction.
As the name suggests, ice dams form into dams along the edge of the room. As the water above continues to melt and flow down, it eventually rises behind the dam to the warmer section of the roof.
This standing water will find a way through the shingles and the under layers of the roof, eventually making its way into the building.
The water from behind the dam can wreak all sorts of havoc inside the home. It can ruin insulation as it saturates the material, causing it to perform no longer. It can also lead to mold growth in your home, and will eventually cause paint to peel or blister as the moisture attempts to exit.
The worst part of it is, most of the time you do not notice the water intrusion until long after the damage has occurred. All you see is a mound of snow on the edge of your roof, and beautiful icicles hanging from your iced-over gutters.
While your initial thought may be that the icicles look amazing, getting rid of them should be your number one priority. Unless of course, you don't mind the idea of having ice dams and potential damage inside and out of your home!
Ice Dam Prevention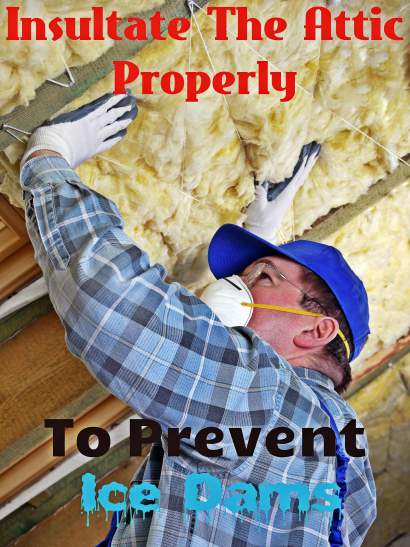 Ideally, you want to avoid ice dams from ever forming in the first place. To do this, you will need to tackle the problem at its source – your attic and your roof.
You want to create a situation where the roof always remains close to the outside temperature, which requires removing heat sources within the attic and creating sufficient ventilation through the attic and roof.
Soffit-and-Ridge Ventilation System
The best type of ventilation to prevent ice dams is a continuous soffit-and-ridge vent system. When installed with baffles along the lower edge of the roof, this can create the necessary ventilation to maintain the roof temperature.
Soffit ventilation allows air to come in from outside along the bottom edge of the roof, which then cycles up through the baffles and exits out the roof ridge at the peak of the building. This cold air is enough to keep the roof surface cool, preventing melting.
The best roofing contractor will also install several feet of an ice and water shield product to help guard against water damage due to ice dams.
If you know, your home does not have this product it may help to have a roofing contractor take up the first four feet of roofing in your worst problem areas and install the ice and water shield product.
Eliminating Attic Heat Sources
Creating ventilation is just the first step. You also need to remove all heat sources that would create heat in the attic. There are some areas to check in this regard, including:
Attic insulation. The attic floor needs proper insulation to keep the heat generated on the lower floors from exiting through the ceiling. The Department of Energy has a nice calculator to help you determine what type of insulation you should use, based on your zip code. Use this calculator and install the suggested insulation. If you are not sure going with the highest R-value would be the best choice. It is better to be over insulated than under insulated. This calculator is an awesome tool as it can give you a reasonable estimate of what you need based on a few factors including your heat source and whether the home is new or not.
Recessed ceiling lights. If there are recessed ceiling lights installed into the roof of the lower floor, they need to be insulated. These lights can produce a surprising amount of heat, all of which can contribute to the ice dam problem.
Folding stair openings. The stairs that you pull down to go up into your attic need to be insulated as well. There are some excellent options now that provide an insulated cover that can be put at the base of the top of the opening to the stairs. Having an insulation cover will protect quite a bit of the heat from entering the attic. This, of course, will also allow you to save on your home's energy bill. A nice side benefit!
Attic fan. If your home has an attic fan, this is a huge area where heat can escape into the attic. Make sure you purchase an insulated cap for this as well.
Bathroom vent fans. Any bathroom vent fans installed in the floor below should not vent directly into the attic. Sometimes people cut corners and do this, but if this is the case in your home, you should have a contractor address the issue. These vent fans can pour a lot of heat into the attic.
Heating equipment. Furnaces or other heating equipment can sometimes be found in the attic in some homes. These things naturally produce a good deal of heat, which you don't want in the attic. Have a contractor look over the heating equipment and provide you a solution for your particular attic.
Duct work. Any duct work flowing through the attic needs to be properly insulated.
Miscellaneous. Plugging gaps around plumbing vents, wiring, recessed lights and chimneys also can prevent warm air escaping into the attic.
Keep Your Gutters Clean
Keeping gutters clean is something that every homeowner needs to stay on top of. Although cleaning out the gutters can be unpleasant, especially if a lot of leaves have been allowed to accumulate and rot, cleaning is still necessary to prevent roof problems.
Ice dams will have a harder time forming if the water is allowed to flow off of the house and down the gutter as intended. Cleaning out the gutters has the added benefit of preventing damaged gutters when a freeze comes, as accumulated debris that is wet will freeze. The debris can become thick enough to rip off the gutters.
If you are selling a home in the winter, it becomes even more paramount to make sure you are keeping up with the maintenance of your gutters. In fact, this is one of my top tips on selling a home in the winter. The last thing you want is to have your home become the victim of an ice dam issue right in the middle of the selling process.
Getting Rid Of Existing Ice Dams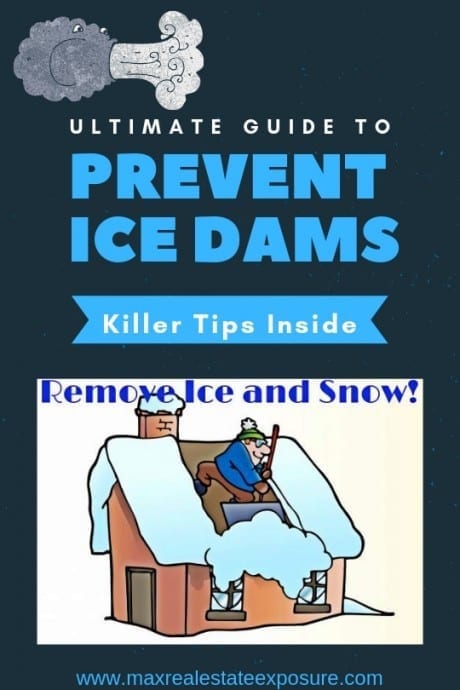 There are two things you can do to get rid of an existing ice dam or ice dams that continue to form.
Ice Melt Products
There are some ice melt products out there that you can spread over the ice. Most contain calcium chloride, which can safely and reliably melt ice on your roof. Just be careful when you are applying the product, as ice is slippery and will only become more so as it starts to melt.
Do not use salt as this can damage your roofs shingles and gutters.
Most standard high-performance ice melting products such as calcium chloride or magnesium chloride will indeed melt the ice, but they may also cause staining of the shingles and could also cause corrosion of the gutters as well.
Salt will leave a white residue and is very corrosive to metals so you might turn your black roof edge into a chalky mess with salt. Wooden gutters will be adversely affected by nearly all chloride deicers, so they are not recommended.
Roof Rake
Each time you get a heavy snow, quickly head outside and use a roof rake to remove the snow from the edge of the roof. If you can get the bottom four feet of snow off, you can usually prevent the ice accumulation.
Avoid Other, More Dangerous Removal Methods
As tempting as it can be to hit the ice with a hammer, a blow torch or an ice pick, do not do this. You are more likely to hurt yourself than the ice.
Sometimes getting rid ice dams is a job that is best left to professionals. You should be able to find a local contractor who will provide ice dam removal services.
Don't plan on this being cheap, though. When an area is hit hard by a brutal winter, ice dam removal can become a service that is in high demand.
In fact here in Massachusetts 2015 has been one of the most difficult winters on record. With the amount of record snowfall homeowners have not been able to stay on top of snow removal.
Not staying on top of snow removal has caused thousands of homes across the state to be plagued by ice dam issues.
Here in my real estate office, I have personally seen offers to remove snow and ice from roofs coming into the tune of thousands of dollars. While removing ice dams is hard work, there are quite a few companies that are making a killing!
Filing an Ice Dam Insurance Claim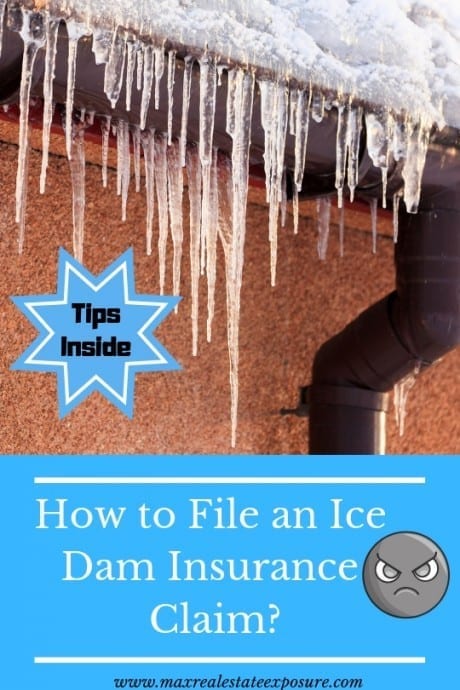 So what happens when you find that your home has become the victim of an awful ice dam problem? Your first thought will probably be whether or not your home's insurance policy will cover it. This, unfortunately, is not a yes or no answer.
It will depend on a lot of things including what is written in your policy. There is a decent chance however that your home insurance will cover the damage created by an ice dam problem.
The majority of most insurance policies provide coverage on an "all perils basis," meaning all losses are covered unless they are specifically excluded. Most often ice dam problems are not excluded.
If your roof is old and already needs replacement, there is a chance your claim could be denied. The theory being that the age of the roof was a contributing factor in why the ice dam was able to cause damage to the interior of the home.
You may have damaged shingles on the outside and all sorts of issues on the inside from ruined insulation, damaged wallboard, paint and is some instances damaged flooring.
Besides the obvious damage, you can see the threat exists that you could also have mold growing in places that you can't see.
When you file a claim, the insurance adjuster will come out and assess the damage. The adjuster will then report back to your insurance company with an estimated cost to repair the damage.
Your insurance provider will usually issue you a check minus the deductible to repair the damages caused by the ice dam.
Video on How to Prevent Ice Dams
Watch the video by This Old House that explains how to prevent ice dams by insulating and ventilating your attic properly. The prevention of ice dams can often be rectified by looking over your attic carefully. Seal up any potential areas where you find drafts.
Make sure you additional insulation where necessary. If you take the proper steps you can easily minimize your chances of ice dams forming.
Without a doubt having an ice dam is not a pleasant experience. All of the above tips will certainly minimize your chances of getting a problem you don't need!
---
About the Author: The above Real Estate information on how to prevent and remove ice dams was provided by Bill Gassett, a Nationally recognized leader in his field. Bill can be reached via email at [email protected] or by phone at 508-625-0191. Bill has helped people move in and out of many Metrowest towns for the last 32+ Years.
Are you thinking of selling your home? I have a passion for Real Estate and love to share my marketing expertise!
I service Real Estate sales in the following Metrowest MA towns: Ashland, Bellingham, Douglas, Framingham, Franklin, Grafton, Holliston, Hopkinton, Hopedale, Medway, Mendon, Milford, Millbury, Millville, Natick, Northborough, Northbridge, Shrewsbury, Southborough, Sutton, Wayland, Westborough, Whitinsville, Worcester, Upton and Uxbridge MA.