Things to Consider Before Picking an Offer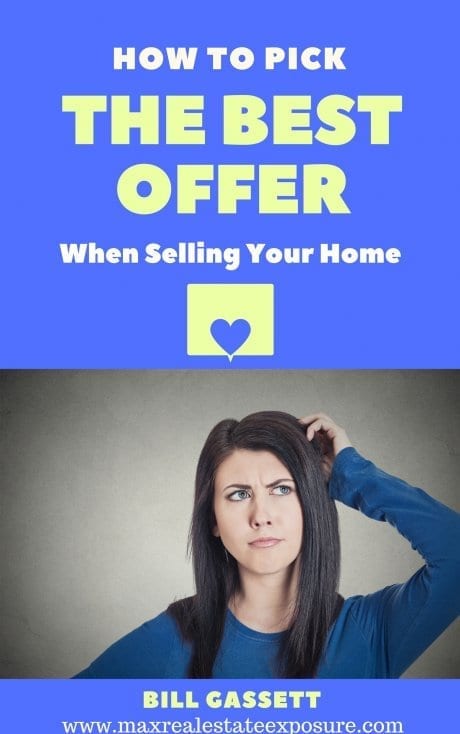 Do you know how to pick the best offer when selling a home? Most people automatically assume you go with the highest bid. It is an exciting time, and it can be tempting to jump on the first offer or even the highest offer immediately.
But it is best to slow down for a moment and look more closely at the offers you are getting. There is more to consider than the amount being offered. You want to take the offer that is right for you, which may not necessarily be the highest one.
Whether the real estate market right now favors sellers or buyers, it is always wise to analyze the offers being presented to you. When it's a seller's market, it is not uncommon to receive multiple offers on your property. This, of course, is a seller's dream because it almost always guarantees the terms and conditions you want.
When it's a buyer's market, this, of course, is not always the case. Even in a buyer's market, though, it's possible if you own an appealing property, you'll get more than one offer.
Whatever the case might be, it is essential to understand how to pick the best offer. Here are some of the most important considerations before settling on an offer.
1. What are the net proceeds?
The net proceeds refer to the amount of money you will walk away with after meeting the agreement's terms. There are some things a buyer can request that will reduce the net proceeds of the purchase, which is why it is so important to read the fine print before you commit to an agreement.
Some of the costs that you may encounter include:
Seller concessions. Sometimes buyers will request that sellers make concessions to help cover buyer costs like closing costs and down payments. The request for seller concessions is often in the form of a dollar amount of the sales price. As long as it is a fixed amount, then you will know exactly what you are getting from the sale. You should always understand what you will walk away with after concessions before you agree to them.
Repair costs after the buyer's home inspection. Sometimes sellers don't realize this, but the home inspection is quite often where there will be a second round of negotiations. The buyer may discover there are some substantial issues that they did not otherwise know about. When this happens, it is not uncommon for the buyer to ask for you to make repairs or give a price reduction on the house.
Repair costs after appraisal. Any buyer who is borrowing money from a lender to purchase your home—which most will be—will have to get a bank appraisal before the lender hands over the money. A bank appraisal can turn up issues that must be repaired before the transaction can be finalized. These repairs will come out of your pocket, so they need to be included in your decision on which offer is best.
The unknown of the inspection and appraisal. Unfortunately, the latter two items here are not known up-front when the offer is made. Sometimes buyers will waive a home inspection, which can be a substantial perk in an offer. Keep this in mind when picking an offer. It is like the buyer is telling you they will accept the home in as-is condition. Obviously, this can be a huge perk when selling a home!
2. Is the buyer pre-qualified or pre-approved for a loan?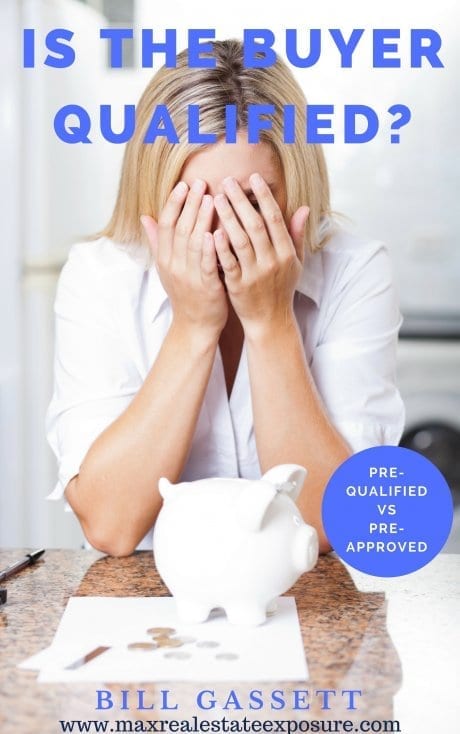 Pre-qualified and pre-approved can sound like the same thing to the uninitiated, but there is a significant difference. A pre-qualified buyer may be able to get the loan—maybe, but it is far from guaranteed. Getting pre-qualified is much less involved than getting pre-approved.
A pre-qualified buyer may go to apply for the loan and be turned down. It happens often. On the other hand, a pre-approved buyer has to go through a more rigorous process. A pre-approved buyer will probably be able to get the loan. Pre-approval is not guaranteed, of course.
There are things a buyer can do to get turned down for the loan even after being pre-approved. But if you are going to choose between pre-qualified and pre-approved, always go with pre-approved.
It is vital to understand the differences between being pre-approved and pre-qualified. When working with a real estate agent, insist on any buyer submitting an offer have a pre-approval letter.
3. What kind of mortgage is the buyer getting?
Different mortgages come with various potential issues. Some mortgages allow a buyer with a lower credit score and no money down to purchase a home, while others require a higher credit score and a certain amount of down payment. There are also specialized mortgages, like FHA loans and VA loans.
While you do not want to rule out a buyer just because of the way they obtain financing, you want to know what to expect from different types of loans. A buyer with a decent down payment, for instance, is probably more likely to be able to complete the purchase with minimal surprises than a buyer with no money down.
However, low down payments do not necessarily mean that a buyer is less likely to get a mortgage.
In fact, when interest rates are low, some buyers may prefer to put as little money down as possible. The logic is to invest their money in other places to make their money work for them. You should always find out a buyer's complete financial picture before assuming they are less desirable.
With an FHA or VA loan, there are various requirements that the home must meet before the loan with goes through. If your home does not meet these FHA mortgage minimum requirements, you could find yourself rushing to make changes at the last minute to save the sale. Here is what you need to know about FHA mortgage approval for your home. VA mortgages have similar requirements.
In the end, you obviously just want to sell, get your money, and be done with it. But things are rarely so simple. The type of mortgage involved will often indicate how simple or complicated; the circumstance may become.
4. What is the formal mortgage commitment date?
The formal mortgage commitment date indicates when the buyer should be able to get the money to buy the home. Even when a buyer is pre-approved for a home purchase, there is always a possibility that the loan could fall through. The buyer could make a mistake with their finances and find that a loan is no longer an option.
That is why a formal mortgage commitment date is so important. Once the mortgage commitment date is made, then it is much more likely that the loan will come through.
Once the mortgage commitment date has passed, the buyer no longer has this as a "contingency." What this means if for some reason, the buyer lost their mortgage commitment before closing, you would be able to keep their earnest money deposit.
You want to look at the commitment date and verify that it works for your schedule. A date that is two weeks away means you can probably close quickly. A time frame that is three months away will involve a lot of waiting and should have you questioning why it is so distant.
5. How much is the earnest money deposit?
As mentioned above, the buyer should be putting down earnest money. Earnest money is essentially what an escrow agent (typically the listing agent) holds in an escrow account until closing. This money is to ensure the buyer performs under the conditions of the contract. If they don't perform, this money becomes the sellers as liquidated damages.
Of course, the amount of money held in escrow becomes essential. The more money that is held, the least likely the buyer will be to walk away from it. In many places across the country, the typical escrow deposit is 5% of the sales price.
If one buyer is only putting into escrow 2 percent and another buyer is putting in 5%, all other things being equal, the 5% buyer is more attractive.
6. What time frame works for you?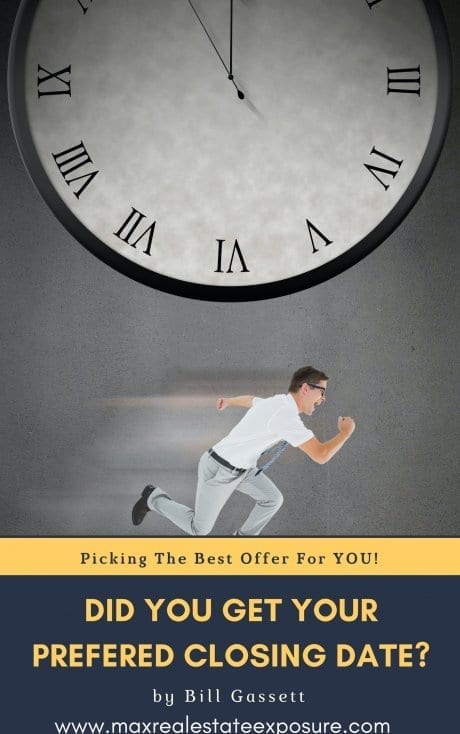 Some sellers can wait indefinitely to sell their home, while others need to do it as fast as humanly possible. Most are somewhere in between. You need to know where you are on this spectrum. What are you planning to do once the home sells? Are you going to go and buy another one immediately, rent, travel?
The ability to close within a specific time frame will be vital if you need to finish the sale and move on. It may be more important than the price. Closing dates are typically one of the most critical terms in a real estate contract.
The closing date could become a critical aspect, especially if you are buying and selling a house at the same time. You may be trying to time your sell and buy for the same day, so you don't have a double move. Many sellers hate the thought of putting their things into storage, and with good reason – it's a pain in the ass!
You might, in fact, consider taking a little less for your home if a buyer can meet your desired closing date.
7. What are the contingencies?
A buyer can attempt to put in all sorts of contingencies into a contract. While you may get a great offer, you may also discover that the buyer requires you to do A, B, and C before you get your money once you read through the agreement.
Do you want to go through the hassle of meeting these requests? Or, do you want to take less money and get the sale over with?
Know what is most important to you, and make your decisions based on your priorities. For example, you might get a great offer from someone, but they have a home sale contingency in the contract.
While on the surface, their offer amount may seem fantastic, a home sale contingency means you might end up with nothing.
The is no guarantee the buyer will ever sell their home. By accepting a home sale clause, you take control of the transaction out of your own hands.
You have no idea if the buyer's home will be priced correctly, marketed well, or sell in the time frame you are looking for. In most real estate contracts, however, there are more common contingencies in addition to the mortgage clause. Some of these contingencies include the following:
A general home inspection – as mentioned previously, home inspections quite often result in the original sale price being re-negotiated.
A radon inspection – radon is a radioactive gas that comes up through the earth. It is a known carcinogenic. Most buyers will want it remediated if the levels fall above the EPA guidelines of 4.0 pCi/L. Remediation costs generally fall within the range of $1000-$2000 depending on how difficult it is to install a remediation system.
Well, water inspection – if a home is not serviced by public water, it is not unusual for the buyer to test the well for both the quantity and quality. Buyers expect to drink safe water as well as to get enough to service the needs of their household.
Mold inspection – mold has become a serious health concern for many home buyers. Quite often, buyers will test for the presence of mold in a home. Very few buyers will not require the mold to be remediated when found.
Radon in water – while most people check for radon in the air, fewer buyers check for radon in the water. This can be a mistake as radon is much more expensive to remove from water. On average, you are looking at around $5000-$6000.
Check for the presence of lead paint – homes built before 1978 may or may not have lead paint. Buyers who have children under the age of six are required to remove lead paint from a house. A seller needs to understand the federal lead paint law, especially when selling a multi-family home.
Miscellaneous inspections or other contingencies – there could be many other things that a buyer may be interested in checking out or adding to the contract.
The best way to look at a contingency is a hurdle—the fewer the complications in a transaction, the better when it comes to selling a home. When a seller asks if it is a good idea to have a home inspection before selling, most of the time, the answer is yes. You can take many of these issues off the table.
Hopefully, you realize that picking the best offer when selling a house doesn't always come down to price.
Click To Tweet
Would it be worth it to you to take a few thousand dollars less from a buyer who had no contingencies in their offer? I hope you are nodding your head in the affirmative!
There is a lot of factors that go into picking the best offer when selling your house. Take the time to review the offers carefully and pick the one that best suits your life circumstances.
Additional Home Selling Resources Worth a Look
Dig into these excellent resources from other top real estate pros around the country.
---
About the author: The above Real Estate information on picking the best offer when selling a home was provided by Bill Gassett, a Nationally recognized leader in his field. Bill can be reached via email at [email protected] or by phone at 508-625-0191. Bill has helped people move in and out of many Metrowest towns for the last 34+ Years.
Are you thinking of selling your home? I have a passion for Real Estate and love to share my marketing expertise!
I service Real Estate Sales in the following Metrowest MA towns: Ashland, Bellingham, Douglas, Framingham, Franklin, Grafton, Holliston, Hopkinton, Hopedale, Medway, Mendon, Milford, Millbury, Millville, Northborough, Northbridge, Shrewsbury, Southborough, Sutton, Wayland, Westborough, Whitinsville, Worcester, Upton, and Uxbridge MA.