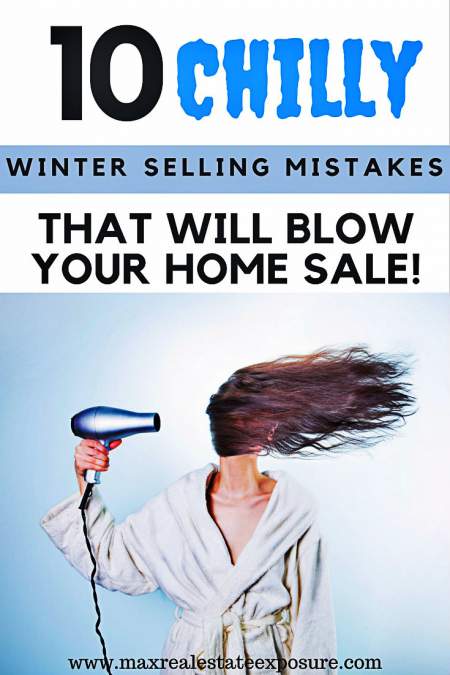 Mistakes to Avoid As A Winter Home Seller
Selling your home in winter presents a unique set of challenges. There are still buyers out there, which means there is a good chance you can sell your home, and for a great price. But to do so, you will need to avoid the most common mistakes sellers make in the season of snow and cold temperatures.
While the blunders below pertain to the winter season, there are also other mistakes sellers make when selling a home in every other season as well. Be a well-informed homeowner and avoid all of these potential problems for a much smoother sale.
In fact, take a look at some of the best tips for selling a home in the winter. The advice found here will go a long way in helping you sell for top dollar in an expeditious time frame. Keep in mind there is a mindset that buying a home in the winter is advantageous for those looking for a new place.
You are going to need to be on top of your game to ensure you sell your home for the money it deserves to command. Avoid these winter home selling mistakes, and you will be well on your way to accomplishing your goals.
1. Going at it alone
Choosing the for sale by owner route is always appealing because doing so conjures up an image that you will save money. Going for sale by owner can be especially attractive during the winter because sellers wonder if there are any buyers out there in the first place.
But going it alone is rarely ideal, particularly in a more challenging selling season like winter. An agent can help you ensure that you do things right and improve your odds of making a sale. He or she can also provide much-needed energy and emotional support.
Before going the for sale by owner route much sure you analyze the pros and cons of selling without a real estate agent. While the prospect of avoiding paying a real estate commission is very enticing, it is also tough to achieve. Make sure you think things through carefully before going this route. If you are under the gun to get your home sold, it may not be a wise move.
With time on your side and a commitment to sell without an agent just be sure you understand the best methods of selling a home by owner. So many sellers go at it willy-nilly but just sticking a for sale sign out in the front lawn thinking that will do the trick.
2. Trying to save on your utility bill by keeping the house cold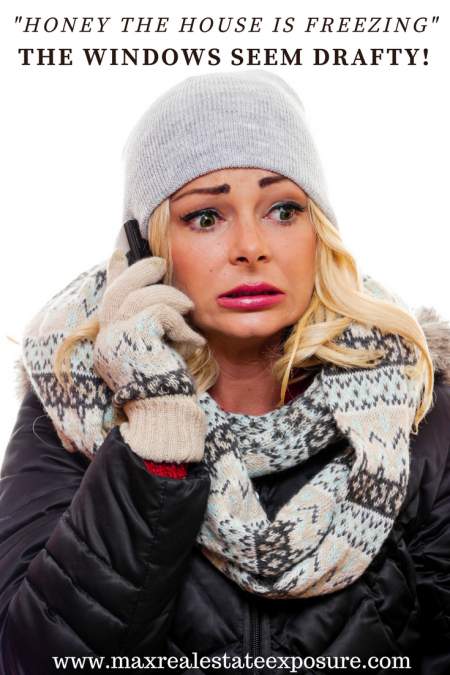 Energy conservation is important, and your commitment to saving money and the environment is commendable. But the fact is, buyers need to be drawn in and seduced by your home – which requires a warm interior. You want to make them feel like your home is warm and cozy, a safe haven in the coldest of winters. That means turning up the thermostat and keeping things comfortable
Another thing to consider about keeping your house warm for showings – if your home is cold, buyers may suspect something is wrong. The heating system might be about to crap the bed. The home may not be properly sealed. Your insulation may be old and worn out. The windows may be drafty.
Some people even go so far as to put plastic over their windows. Covering your windows is a mistake in and of itself. It screams I have a problem! There are a lot of reasons a home may be cold in the winter, and few of them are good ones.
3. Failing to clean your windows
Nobody likes cleaning all the windows in their home, particularly on the exterior (well, some people might, but there are not many). But as much of a pain as it may be to get those windows clean, it is something you need to do if you are going to be showing your home in the winter.
The leaves are gone from the trees, letting sunlight in and exposing every speck of dirt on your windows. A clean home is much more likely to attract buyers, so break out the Windex or hire someone to do it for you. Good Housing Keeping has some window cleaning advice worth a look.
4. Not clearing your walkways
Depending on where you live, the winter weather may make your walkways treacherous and difficult to use. You want potential buyers to have an easy time getting in, out and around your home. If you're selling a home in the winter, it means clearing the walkways and making sure they are safe and easy to use.
Shovel the snow, throw out some ice melt where necessary and keep up with the cleaning as the snow and ice continue to accumulate. Making sure the walkways are clear is important not only because it makes it easier to look at the house, but it also makes it safer – which protects you legally.
Sometimes I see sellers skipping the cleaning of the walkway to the front door and instead have buyers come through a secondary entrance. Doing so is a big mistake. The best presentation on 95% of all homes is through the front door. This is especially true if you are selling a luxury home where there may be a dramatic entryway or staircase. Avoid this winter home selling mistake.
5. Trying to Hide Problems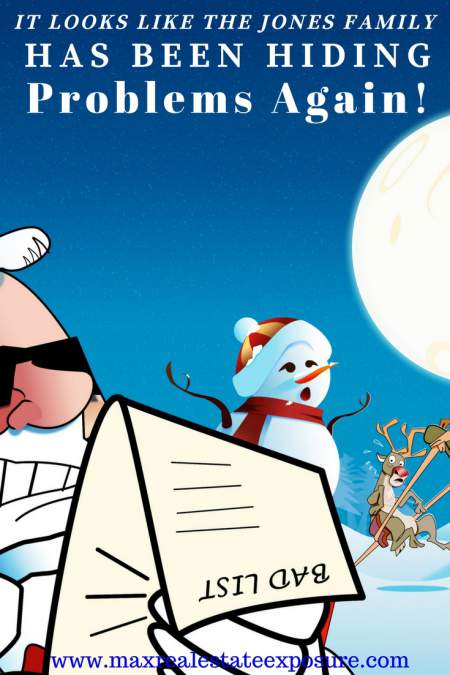 Concealing problems in any season is never a good idea. Winter brings with it harsh weather that can certainly do damage and wreak havoc on a home. One of the more common winter home problems owners have to deal with is ice dams.
While those icicles may look pretty hanging off your home, letting ice back up has some serious downsides. For this reason, all homeowners need to pay particular attention to this issue and understand ice dam prevention in the first place.
The biggest concern of home buyers when it comes to ice dams is the water penetration. Mold is at the forefront of fears when it comes to home buying these days.
The last thing you want is a buyer loving your home but then not wanting to move forward because of an ice dam. Painting a ceiling or wall with an issue to cover up a bigger problem is foolish. Deceiving a buyer could come back to haunt you.
Water issues also can occur when selling a home and not winterizing properly.
6. Not using photos from a more attractive season for your listings
If snow is piling up, icicles are hanging, and the trees are bare, your spring pictures of your home could be a big help to a buyer. When buyers see photos from another season, it is very helpful because they can get a sense of things they would otherwise miss in the winter.
For example, you might have beautiful gardens or a stunning pool. A buyer is going to miss out on these unique features in the winter months.
Instead, you should make sure your real estate agent has a good balance of the photos. By all means, you want the photos to be appropriate for the season you are selling in, but it is always great to have warm weather photos as well!
Your real estate agent should get new photos taken that are seasonally appropriate if your home has not sold coming out of the winter. Not changing photos in a timely fashion is a huge selling mistake I see lots of agents making.
Spring has arrived, and there is snow in the photos – REALLY? This is a huge turn-off and indeed an awful presentation. Frankly, an agent that has snow in their photos come spring time deserves to be fired!
7. Failing to spruce up your home with color and scent
Summer and spring bring their own appeal, but when it comes to winter, sometimes you need to add a little something to make your home seem more welcoming. With all the color gone outside, you will need to find some ways to brighten up your home and make it feel more inviting.
You can use seasonal decorations, pops of color in different areas and scents – such as candles or potpourri – to make your home comfortable and welcoming. Make sure to decorate before your agent gets more pictures of the home so that the listing photos put your best foot forward. Don't however, keep your decorations up beyond the season.
For example, you shouldn't have Christmas decor up in January!
Additionally, you can use these winter curb appeal tips from numerous real estate agents from around the country. There is some really great winter home selling advice in this resource!
8. Being too busy to show the home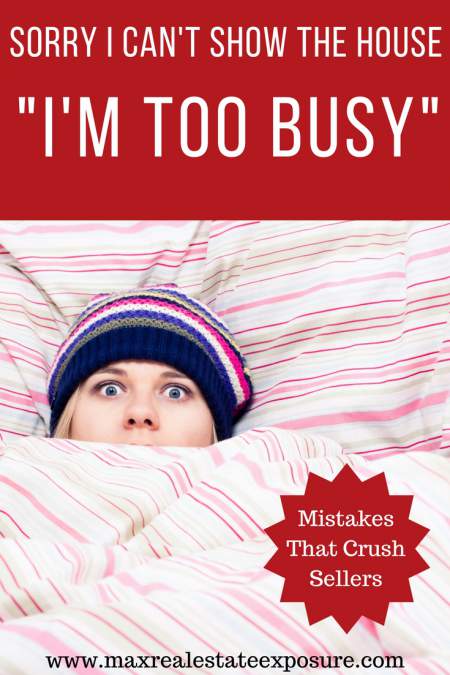 The holidays are a busy time for people, even homeowners who are trying to sell their home.  Don't however, get caught up in the festivities and give in to the desire to deny potential buyers the opportunity to see your home. Stop for a moment and reconsider. Just having your home on the market puts you under considerable stress.
There is a lot on the line, and you naturally want to sell your home for the best price you can. Every time you deny a showing, you are lessening the chance that you will achieve your overall goal.
Every buyer that does not get to see your home is a missed opportunity. In fact, I remember quite vividly last year while selling a home in Westborough Massachusetts; the seller did not let a buyer see the home because it wasn't convenient. The buyer was transferred into the area and in for the weekend to buy a home.
The buyer ended up purchasing a very similar home. This is one of those cases of "you never know." Every missed showing is a lost opportunity for a sale.
9. Letting the cold weather and short days get you down
Winter can be tough even when you are not trying to sell your home. For home sellers, though, it can be even harder to avoid getting down in the dumps. You may be tempted to think that nobody would buy your home in winter, that going through all the effort to sell your home is a waste of time.
But it's not. Seriously. Lots of people buy homes in the winter, and there is a good chance you will find the buyer you are looking for and be able to sell your home for the price you and your Realtor agreed upon. Stay active, try to think positively and keep pushing.
10. Pricing The Home Wrong
The number one winter home selling mistake is the wrong list price. In fact, the top reason a home does not sell in any season an incorrect price! Winter home sales are harder to come by so it is even more critical to get your home priced right from day one. Pricing a home is an art, and skill all rolled into one.
Look for a local real estate agent who is skilled at evaluating market value. Avoid the agent that tells you what you want to hear at all costs. You will be stuck with a less than desirable agent who will more than likely not get the job done.
Additional Helpful Home Buying Content Worth a Look
Use these additional winter home sale resources to make better decisions when you have your home on the market.
---
About the Author: The above Real Estate information on the winter home selling mistakes to avoid was provided by Bill Gassett, a Nationally recognized leader in his field. Bill can be reached via email at billgassett@remaxexec.com or by phone at 508-625-0191. Bill has helped people move in and out of many Metrowest towns for the last 30+ Years.
Thinking of selling your home? I have a passion for Real Estate and love to share my marketing expertise!
I service Real Estate sales in the following Metrowest MA towns: Ashland, Bellingham, Douglas, Framingham, Franklin, Grafton, Holliston, Hopkinton, Hopedale, Medway, Mendon, Milford, Millbury, Millville, Northborough, Northbridge, Shrewsbury, Southborough, Sutton, Wayland, Westborough, Whitinsville, Worcester, Upton and Uxbridge MA.
Enjoy This Real Estate Article?
"Subscribe To My Blog - It's FREE and No Spam EVER!"
Get my blog articles in your inbox as soon as they are published!