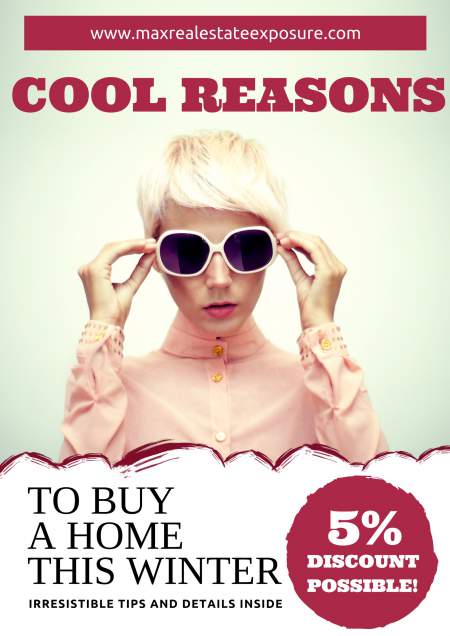 Over the years quite a few people have asked me if they should buy a home in the winter. The question is usually "is there any advantage to buying a home in the winter Bill?"
When it comes to shopping for a home, winter is not the most popular season. Cold, the wind, snow and short days all make hunkering down and staying inside appealing. Real estate sales slow down, fewer homes are on the market, and many people wait to buy or sell till spring hits.
But as a home buyer, you may benefit from going against the grain and looking for a home in the winter. There are some perks to home shopping at this time – advantages that may make the buying process easier and more productive.
Keep in mind many sellers will ask real estate agents if they should take the home off the market for the holidays. Those sellers who do not remove their homes from the market could have a situation that makes it dire for them to sell right away.
Below you will find ten reasons why buying a home in the winter makes sense.
Advantages To Buying A Home In The Winter
1. There are fewer buyers.
The number one reason why you should buy a home in the winter is there are fewer buyers! As a buyer, you want to be special – you want to walk into a home and have the owner to be excited that you are there. In the spring and summer, there is no shortage of potential buyers, meaning that in more vibrant markets you face competition. More potential customers increase the possibility of a bidding war. You may even struggle to get an opportunity to make an offer, as houses are snatched off the market at record speed.
In the winter, sellers will get less attention and in turn will be more eager to work with you. The laws of supply and demand are always at work in real estate sales. The current inventory of homes for sale will always have a bearing on how the real estate market is fairing.
If you are looking to buy a home in the winter and there happens to be a ton of homes for sale you may get an even better deal!
2. You may get a better deal.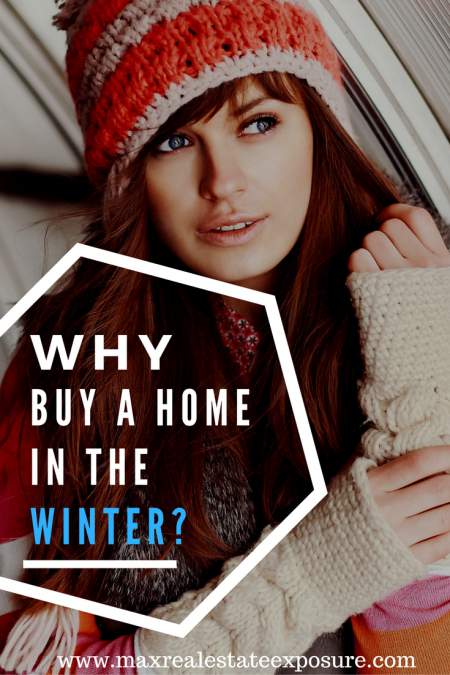 If there are fewer buyers in the market, then you may be able to get a better price on the home you do buy. The seller will not have as many offers and may be willing to negotiate a better price to make the sale. There is no guarantee that you will find something for a steal, but the natural flow of supply and demand will increase your odds of finding a home for a fair price in the winter.
Getting a better price for a home is even more likely if the owners home has been on the market for a while. With a long winter ahead of them, sellers may be more willing to discount their price to get their home sold.
3. There are tax motivations for sellers in the winter.
Selling a home offers certain tax advantages that can come in handy when it is time to file. As you hunt for houses, you may find that some owners desire to take advantage of selling their homes to improve their tax situation, which works to your benefit. Eager sellers are exactly what you want as a buyer – someone who is motivated to sell and will be willing to negotiate.
Just be sure you don't insult the seller by giving them a low ball offer that causes them not to want to work with you. Some buyers thinking they are "expert negotiators," piss a seller off to the point of no return. Being a tough negotiator is fine just know when you are looking a gift horse in the mouth and don't take it too far.
4. You get to see how a home works in harsh weather.
Depending on the market you are buying in, winter may be the toughest season for a home. The cold, moisture and wind will test the ability of the home to insulate and protect its residents, something that you want to know about if you are going to buy. If the insulation is no good, for instance, you are more likely to notice it as you view the home. Significant problems are also more liable to appear as well like an
Serious problems are also more liable to appear as well like an ice dam. Such information can be extremely useful in your decision making and your negotiations about the final price of the home.
If you find the home to be drafty for some reason, it might make sense to get an energy audit done after purchasing the home. Buying a home in the winter affords you the opportunity to discover these things which otherwise might not happen in a warm weather season.
5. You may not have to negotiate as much.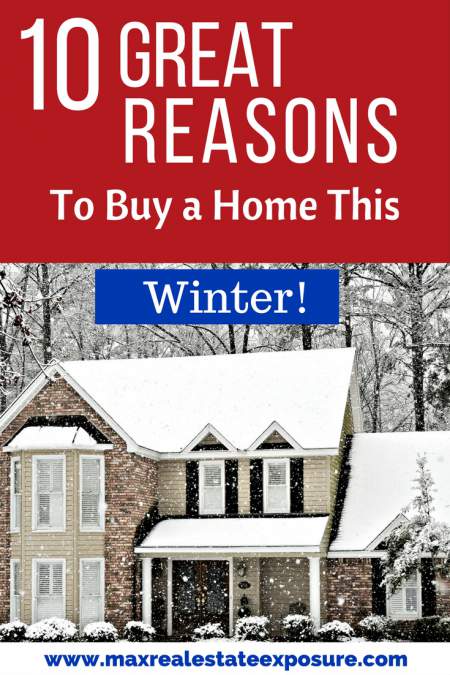 No one wants to go through long, drawn out negotiations if they don't have to. It can be stressful to haggle back and forth when you just want to get it over with and get a good deal in the process. One of the nice things about homes being sold in winter is that many sellers are already aware that the season requires compromises, which means you will find many homes priced to sell. If they are working with an experienced Realtor, the sellers will know that winter is the time for quick, decisive deals that save everyone time and headaches.
If they are working with an experienced Realtor, the sellers will know that winter is the time for quick, decisive deals that save everyone time and headaches.
When you discover issues at a home inspection, the seller may also be far more willing to negotiate repairs or additional money off the house. You might be able to get concessions that otherwise would be less likely in a more competitive seller's market like spring time. Bargaining for concessions is certainly something worth discussing with your agent when the time comes.
6. Mortgage rates may go up next year.
You want to get the best mortgage rate you can. Buying during winter, before rates have a chance to increase, is a clear winning strategy if you want to save extra money. Of course, interest rates don't always go up, so you have to be aware of the financial climate you are buying in. If, however, you think that interest rates are likely to increase next year, buying your home before the rate hike is a good idea.
Rates have been at historically low levels for quite a while, so the odds of them going up are certainly there. Be sure to speak with your mortgage broker to get their take on the best time to lock an interest rate.
7. You may need to buy a home now.
While it might be nice to wait until the weather is more pleasant to go home shopping, if circumstances dictate that now is the time to buy, you might not have much choice. Fortunately, the advantages of buying in winter can be significant – more than enough to make you feel right about your need purchase a home.
Be sure to remember the tax deductions when buying a house. Many buyers who have been renting have no idea they can save some significant money becoming a homeowner. Go through the list and keep it in a safe place for when you itemize your deductions. By forgetting any of these tax deductions, it's like throwing money away!
8. The seller may be moving out of necessity.
Homeowners are just like everyone else – many of them would prefer to sell in the spring or summer. However, they could be in a situation where selling is necessary due to circumstances beyond their control. They may be moving for work, for family or due to financial hardship. Whatever the reason, these sellers are ready to unload their homes now. As a buyer you benefit from their need, closing sooner and for a better price than you would in the more popular months.
Whatever the reason, these sellers are ready to unload their homes now. As a buyer you benefit from their need, closing sooner and for a better price than you would in the more popular months.
9. Everyone is less busy – including your Realtor and your lender.
Realtors are eager to work with motivated buyers in the winter, and lenders have more time on their hands to process paperwork. Trying to buy in a more popular season may mean waiting longer to get your Realtor's attention, and it increases your chances of waiting on your lender to get the ball rolling and get the money in your hands.
If you desire to close quickly, purchasing a home in the winter may make it easier to do so.
10. The holidays may make everyone a little nicer.
People are more likely to offer a good deal to someone they like. People tend to feel more open to strangers, and more generous, during the holidays. You may just get a better price based on holiday cheer. While this may not be the case with all sellers, many are in much greater spirits.
The Downsides to Buying a Home in The Winter?
So what are the downsides to buying a home in the winter? Below are some things that could potentially give you pause for purchasing a home in the winter.
There are usually fewer homes for sale making your choices much more limited. Many home sellers will opt to wait until Spring.
It is the worst time of year to look at a home due to the cold and potentially snowy/icy conditions.
You may not be able to see the yard all that well if there is a lot of snow on the ground.
You will have to start maintaining the home like plowing the driveway and shoveling the walk.
You will start paying for utilities at a time that where they are much more expensive. Be sure to check out these home energy savings tips.
There are more holidays which could limit your time to focus on home shopping.
Days are also shorter with less daylight available for looking at homes.
If you already own a home and are thinking about selling, make sure you check out our winter home selling tips. You will see lots of great advice on how to increase the odds you will sell quickly and for the best price during the winter season. I hope you have enjoyed these great reasons to buy a home in the winter!
Additional Home Buying Articles Worth Checking Out
Use these additional articles to make smart home buying decisions.
---
About the Author: The above Real Estate information on the home why you should buy a home in the winter was provided by Bill Gassett, a Nationally recognized leader in his field. Bill can be reached via email at [email protected] or by phone at 508-625-0191. Bill has helped people move in and out of many Metrowest towns for the last 29+ Years.
Thinking of selling your home? I have a passion for Real Estate and love to share my marketing expertise!
I service Real Estate sales in the following Metrowest MA towns: Ashland, Bellingham, Douglas, Framingham, Franklin, Grafton, Holliston, Hopkinton, Hopedale, Medway, Mendon, Milford, Millbury, Millville, Northborough, Northbridge, Shrewsbury, Southborough, Sutton, Wayland, Westborough, Whitinsville, Worcester, Upton and Uxbridge MA.