Things You Can Do When Your Home Isn't Selling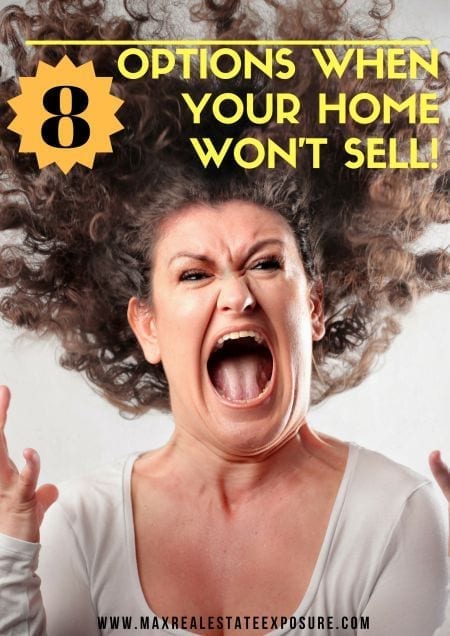 There are few situations more frustrating than struggling to sell your home after you put in on the market. You tried to do everything right.
You have spent considerable time and effort, and possibly money, trying to get the word out and get some offers. But no real luck. Real Estate agents get asked all the time why won't my home sell. There are usually some straightforward common denominators.
Well, what are your options when your house doesn't sell? Is there anything else you can do instead?
Fortunately, there are things you can do when your home isn't selling. They may involve compromise. They may be less than ideal. But sometimes your situation dictates that you need to take action.
Below are some of the more popular alternatives you can take when your property just won't sell.
1. Wait to sell.
Although it is possible to sell a home in just about any market, there may be a more advantageous time to sell your home. Maybe right now just isn't a good time. You may be selling in the middle of winter, when there are fewer buyers, over the holidays, when people are expecting deals, or you may just have had bad luck and hit a market slump.
Whatever the disadvantage you are dealing with, waiting to sell might shift the odds in your favor. For example, here in the Northeast the Spring is always the best time to sell a home. In fact, the spring is head and shoulders better than any other point in time. Why? There will be more buyers looking for a house in the Spring than at any different season. Not only do homes sell quicker, they go for more money as well.
In the spring your odds of a getting multiple offers go up exponentially. So not only do homes sell quicker, the chances of having more than one person interested increases significantly.
If you are selling a home and don't have any time constraints, it's always wise to speak to a local real estate agent to find out when is the best time. Keep in mind when talking to an agent that NOW should not always be the correct answer.
There are always going to be a percentage of agents that will be thinking more about themselves than you. Unfortunately, getting their next paycheck will be the agent's top concern and not giving you the best advice.
You will get much better advice from a real estate agent who doesn't need a commission check!
Click To Tweet
Make sure the agent explains when the best time is to sell your home and why! Postponing your home sale just might be the best option.
2. Find renters.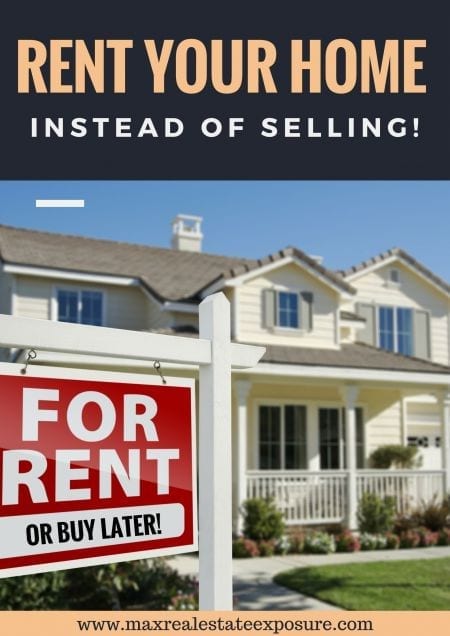 If hard financial times have you struggling to pay your mortgage, finding renters could be a feasible solution to your problem. You may or may not be able to find renters willing to pay the full mortgage, but if you can get close, then your part of the bill would be much more manageable than the entire cost.
Just remember, being a landlord is a lot of work. You will need to have a plan to manage the property, whether you do it yourself or hire a property management company to cover you. Renting your home, however, could be a good stop gap measure if selling your home has been impossible.
People quite often will rent their home as an alternative to when they first considered buying and selling at the same time. Sometimes it doesn't work financially and renting becomes a quicker turn-around.
3. Rent to own.
Rent to own offers, or lease options, are a favorite way to attract buyers who are not sure that they want to be buyers. They can rent the home at what is typically a higher cost than market rent to have the option to buy the home for a specified price.
You may even be able to convince the renter/future owner to agree to be responsible for the repairs on the home, which can save you even more money. Rent to own tenants are also more likely to take better care of your home, even if they don't wind up buying.
4. Change your real estate agent.
Sometimes the problem with your sale is not your home. The real estate industry is like any other; some agents are better than others. And it may not even be that your agent is not good at what he or she does.
It may just be that they are falling short on your particular sale, for whatever reason. From lack of experience with your specific type of home to personal problems that are distracting from work, it is possible for even a great agent to be a bad fit for a seller.
Changing your agent may be a simple, effective way to get a different perspective and skill set involved in your sale. On occasion, there are legitimate reasons that a real estate agent should be fired. From being unprofessional to not spending any time or effort in marketing your home, to just not getting the job done. There is a wide range of skill sets with agents. Some are much better than others at what they do.
Sadly, some real estate agents spend no time or money in doing what it takes to market a home well. In the real estate industry, these agents are what's know as "post and pray." They post your listing in the multiple listing service, put a sign in the yard and pray. In other words, they do nothing to earn the thousands of dollars you will pay them.
If this is how you feel after you speak to your real estate agent, it may be time for a change.
Don't settle for a cut-rate real estate agent. Instead, seek out and search for a top producer in your area. Look for a track record of success – there is no better recommendation than that!
5. If you are relocating for work, inquire about a guaranteed purchase program.
If your company is wanting you to relocate, you may have access to a guaranteed purchase program that you are unaware of. Many companies that require workers to transfer employ relocation companies specifically to deal with home sales. Who knows, you could not even have to worry about the sale of your home. Your employer may be able to take care of all of it.
Relocation programs where the employee's company agreed to buy the home used to be far more common. Today companies are not offering home buyouts like they used to. It is always worth asking though. At the very least you may find the company is willing to pay your real estate agents commission. This alone could be amount to substantial savings.
6. Consider another mortgage.
For sellers who are selling based on financial troubles, sometimes taking out another mortgage is an option for generating cash. It is apparently the kind of choice that you need to be careful with because taking out another loan is not without its own problems.
But there are various financing options out there for homeowners, like getting a home equity loan or refinancing a mortgage to get a better rate. Be careful with this particular choice, though. Make sure to speak with a financial adviser that has no vested interest in the sale of your home before you make a final decision.
Getting a home equity loan is only a short-term fix to a more significant problem.
7. Sell for less than market value.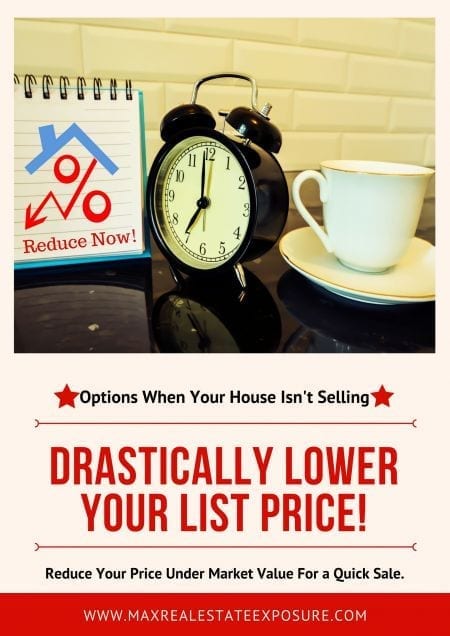 Making a steep price reduction can be a last resort when nothing else seems to be working. No one wants to sell for less than market value, but sometimes it is the most obvious way to unload a property.
There are always investors and real estate buyers out there hunting for such deals, so you will probably not have to wait very long for a buyer if you take this step.
These sales are referred to as Fire Sales in the real estate industry, and they have a distinct drawback. You will make less from the sale than you wanted to. But if you need to sell, then a Fire Sale is one of the easiest ways to accomplish your goal.
Selling to a real estate investor is not that uncommon. I am sure you have seen the signs plastered on telephone poles and street signs that say "We buy houses" or even "We buy ugly houses." These are investors who are looking to pick up properties on the cheap.
Selling for less than market value is an option that should only be used if you really can't come up with a better way to sell the home. Changing your real estate agent, drastically lowering the price or even waiting for a better time to market, are usually better options.
8. It may be time for a short sale.
When you have no other financial options, a short sale can give you the best chance of getting out from under your home. The recent troubles with the real estate market and financial markets, in general, put many people in a position where they owed more on their home than it was worth.
Most people fortunate enough have found that real estate markets have recovered enough that they now have a small amount of equity.
If you are one of those unfortunate enough who is not out of this position yet, it may be difficult to sell for a price that will pay off your mortgage.
In such a situation, sometimes the best option is a short sale. Some lenders will accept less than what is owed on the mortgage. Some won't. And not all owners are eligible for a short sale. So do your research and speak with a real estate attorney before you make a final decision.
Short sales are often the last resort when you don't have any other more traditional options for selling your home. There are downsides to short sales including a hit to your credit and possibly tax ramifications. These are an important consideration you should research.
Final Thoughts
Hopefully, you have enjoyed the suggestions on what you can do when your home is not selling. Keep in mind timing is everything in real estate sales. Sometimes the best approach is to take a step back and try again at a different time. In any event best of luck getting your home sold!
Additional Important Home Selling Articles
Use these additional home selling references to make the best decisions to have a timely and smooth sale.
---
About the author: The above Real Estate information on options when your home isn't selling was provided by Bill Gassett, a Nationally recognized leader in his field. Bill can be reached via email at [email protected] or by phone at 508-625-0191. Bill has helped people move in and out of many Metrowest towns for the last 30+ Years.
Thinking of selling your home? I have a passion for Real Estate and love to share my marketing expertise!
I service Real Estate sales in the following Metrowest MA towns: Ashland, Bellingham, Douglas, Framingham, Franklin, Grafton, Holliston, Hopkinton, Hopedale, Medway, Mendon, Milford, Millbury, Millville, Northborough, Northbridge, Shrewsbury, Southborough, Sutton, Wayland, Westborough, Whitinsville, Worcester, Upton and Uxbridge MA.