Myths About Mortgages When Buying a Home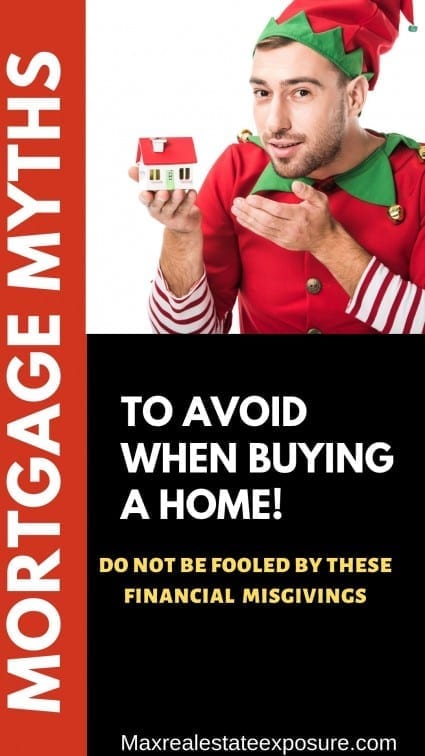 If you are like most buyers, you are going to need a mortgage to buy a home. Unfortunately, there is a lot of misinformation out there about mortgages. These mortgage myths can make the challenge of purchasing a home even more intimidating, so it is worthwhile to learn what is true and what is not.
Check out the following mortgage myths to ensure you do not fall for any of them as you move forward with buying your home. Many of these mortgage falsehoods can be avoided by finding an exceptional lender or mortgage broker to work with.
Like any other industry, the best mortgage professionals will take the time to answer all of your mortgage questions. Getting a mortgage for the first time is a huge financial step in one's life. It comes with a lot of financial responsibility that should not be taken lightly.
It's vital to take the time and pick a lender that offers not only the best rates but also exceptional service as well. Many problems with purchasing a home can be related to a lender being lax on their responsibilities.
1. You can't buy a home if you have no credit or very little credit.
While lenders do prefer you to have solid credit, some will accept applications from those with little or no credit. There are ways to check out alternative credit so it may be possible to get a mortgage anyway.
Alternative credit can be checked in various ways, like seeing if you have paid your rent on time, whether you paid your utility bills regularly, etc. There are definitely lenders who will not accept these alternatives, but there are also lenders who will take them.
2. You need 20 percent down to buy a home.
One of the biggest mortgage myths is that you need twenty percent down to purchase a home. If you have 20 percent down, it makes buying a home slightly easier. You get better interest rates, and many sellers will find your larger down payment attractive.
But you should know that plenty of buyers do not have 20 percent down. There are lots of options for buying homes with less than 20 percent down. Many loan programs are available for those with less than 20 percent down, including FHA, VA, and USDA financing.
In fact, you can even get conventional loan financing now with only three percent down. There is a reason, however, that many borrowers strive to have a twenty percent down payment and that is to avoid paying private mortgage insurance which can be a costly yearly proposition.
Most home buyers who don't have a twenty percent down payment and are paying PMI will be conscious of ending the private mortgage insurance as soon as possible. PMI is a useless fee that does nothing for a homeowner.
3. Twenty percent down borrowers are better buyers.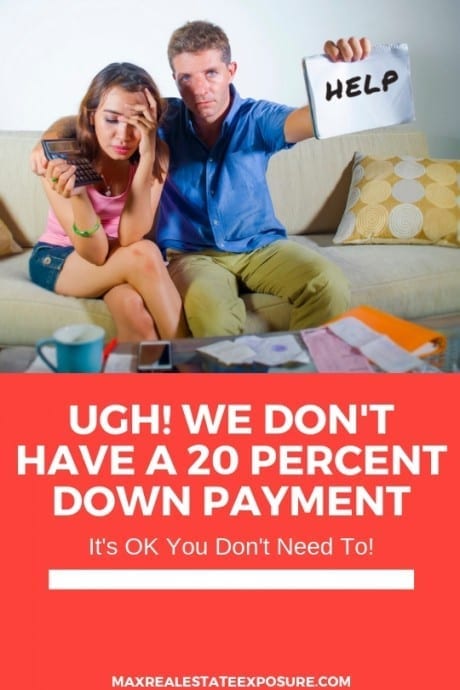 Along with the myth of needing twenty percent down to buy a home is that having a larger down payment automatically makes you a reliable buyer. Unfortunately, this could not be further from the truth.
Did you know there are plenty of multi-millionaires who would rather finance as much as possible when interest rates are at rock bottom?
When money is cheap, it might make financial sense for someone with wealth to do just that. Many financial experts will tell you that they would rather have their money available for investing than having it tied up in a home.
You should never rule out a home buyer because they have a smaller down payment. What you should do instead is to research their qualifications. Any exceptional buyer's agent will explain their buyer's financial qualifications when making an offer. It should be explicitly shown that a lower down payment is by choice and not a necessity.
Unfortunately, far too many real estate agents have it stuck in their head that twenty-percent down is a magic formula for home sale success. You see this quite often when in a multiple offer situation and an agent advisors their seller client to pick an offer based on down payment.
3. Adjustable-rate mortgages are entirely unpredictable.
There are reasons why buyers prefer fixed-rate mortgages—the fixed rate means that you can predict what the mortgage rate will be a year from now, five years from now and ten years from now.
Adjustable-rate mortgages are adjustable, so they can and will change over time. However, the amount that they can shift is not something that the lender just pulls out of thin air. The amount of change allowed in the interest rate is defined by the contract you sign, so it is relatively predictable as well.
If you do get an adjustable-rate mortgage, your contract will dictate how much the rate can change and how often. There will be a market interest rate, referred to as the index, and a margin.
The market interest rate is whatever the current rate is at the time, while the margin is how much additional interest can be charged. Most adjustable-rate mortgages wind up being around the same rate as the fixed-rate mortgages are at the time.
Whether to go with an adjustable rate or fixed rate can depend on a few factors. The most notable two are how long you plan to stay in the home and the spread between the two rates.
For example, if you are a transferee and know you will only be in the house for a couple of years, it might make sense to go with an adjustable rate mortgage. Of course, the rate difference should reflect your risk tolerance for rates increasing dramatically.
4. You cannot buy a home with no money down.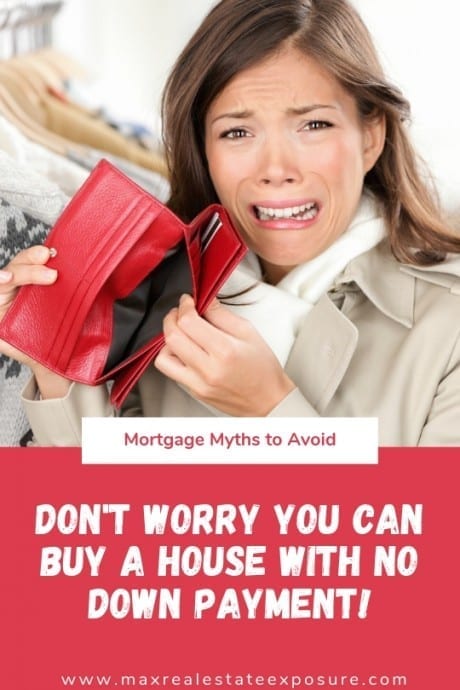 With all the new rules that were applied to the mortgage industry after the financial crisis, many buyers assume that buying without a down payment is no longer an option. But this isn't true. Multiple loan programs allow buyers to purchase a home with no money down. If you qualify for one of these loan programs, you can definitely buy with no money down if you want or need to.
Two of the loan programs that feature no money down options are the USDA loan program and the VA loan program. If you are interested in buying a home but do not have any money to put down on the purchase, research these programs and any others that you might qualify for. Even if you do not qualify for absolutely no money down, you may be eligible for a program where you have to put very little money down.
FHA mortgages allow a down payment as low as 3.5 percent. You can also get a conventional mortgage at a three percent down payment as well. One important thing to note; however, with FHA and VA loans, the property needs to meet minimum condition standards. Take a look at the resource to see what the FHA and VA will accept. Either a buyer or seller can make the necessary repairs to bring the home up to an acceptable condition.
5. Insurance and taxes have to be paid with the mortgage.
Plenty of buyers choose to have their lender pay the insurance company and the County Assessor when it is time to pay the insurance bill and the tax bill. However, you do not have to agree to this arrangement if you do not want to—as long as you had put down 20 percent or more when you bought your home.
With a 20 percent down payment, you do not have to have an escrow account. When you have an escrow account with your lender, you pay your insurance and taxes through the lender. But if you do not have to have an escrow account and you do not want to have an escrow account, you can choose to pay these bills yourself.
The reason why some buyers choose this option is that they want to keep their money in their accounts as long as possible so they can earn interest on that money.
Of course, even if you pay 20 percent down, you can still choose to have an escrow account with your lender and have the insurance and tax bill be paid by your lender. It's up to you how you want to arrange things.
6. You cannot get a mortgage if you have bad credit.
Most lenders prefer buyers with excellent credit. This is understandable since good credit indicates that you can and do pay your lenders on time. However, there are lots of buyers who approach lenders with less than stellar credit and get loans.
The key is to show lenders that you pay your debts. Usually, the way you show them that you pay your debts is through your credit report. If most of the information on your credit report indicates that you pay your debts, you can most likely get a mortgage—even if there are a few dings on the report. Very few borrowers are perfect. You don't have to be, either.
Of course, the less perfect your credit is, the more challenges you can expect to face when getting a mortgage. You may have to pay a higher interest rate or deal with other less favorable terms. But even if you have bad credit, you can still probably find a lender who will give you a loan. There are actually lenders that specialize in lending to people with bad credit. They just tend to charge more than lenders that stick to borrowers with proper credit.
Getting the best mortgage terms shines a light on the importance of increasing your credit score before buying a home.
Even if you have to go with an undesirable mortgage, that adverse loan will still get you into a home that is yours. And mortgages are excellent for rebuilding credit. You can restore your credit with the mortgage and then get a more favorable loan later on.
There are some lending institutions that specialize in giving loans to buyers who do not have stellar credit
Click To Tweet
. Be prepared, however, to pay a much higher interest rate on the loan as you are considered a higher risk.
7. You cannot buy a home when you have a lot of student loans.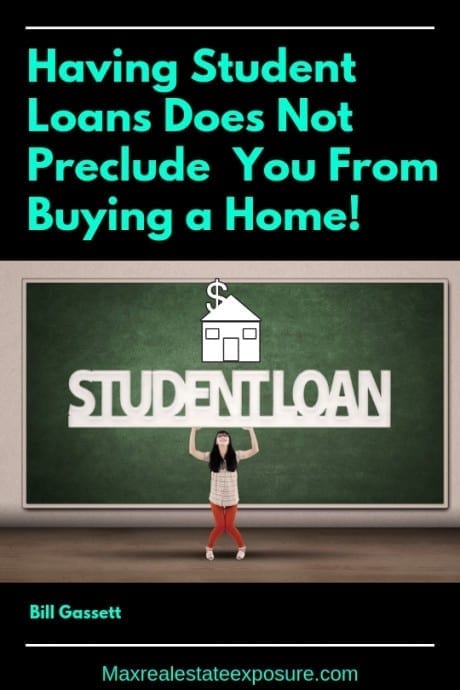 As long as your income to debt ratio meets the requirements of the lender, you can still get a mortgage with high student debt. There are even lenders who will roll student loans into mortgages, which might be an excellent option for your financial situation.
Like any other situation do your due diligence.
8. Pre-qualification and pre-approval are the same things.
Pre-qualification for a mortgage is not terribly useful when it comes to buying a home. The standards for pre-qualification are much lower than for pre-approval. Pre-approval requires a lot more work on your part, but once you get that approval, you are likely to get the loan as long as nothing changes with your financial situation. Get pre-approval before you start hunting for a home.
The difference between a pre-approval and pre-qualification can be dramatic depending on the lender. In some lending institutions, a pre-qualification is nothing more than taking a borrowers word on the money they say they make.
With a pre-approval, on the other hand, the lender runs credit, verifies income, and checks on employment. A sharp real estate agent will always require a pre-approval letter when accepting an offer.
9. Pre-approval is a loan guarantee.
A lender pre-approves you based on the information available at the time. If something happens that messes with your finances, like you, lose your job, or you take out a car loan, then when the lender goes rerunning the numbers, it will throw things off, and you will probably not get the loan. Be very careful with your finances if you have been pre-approved and are trying to buy right now.
See some of the many ways your mortgage approval could get canceled if you stupid financial mistakes. Remember a mortgage pre-approval is not a guarantee to lend. Having been in the real estate industry for thirty-two plus years, I've seen my share of buyers make silly mortgage mistakes that end up either costing them the loan or delaying the closing.
These are unpleasant problems you'll want to avoid at all costs.
10. A thirty-year mortgage is the best way to go.
Without a doubt, thirty-year mortgages are the most popular. This is usually out of financial necessity though and not desirability. If you asked most people if they would rather be mortgage free in fifteen years, you know the answer would be YES!
Monthly mortgage payments will be significantly higher on a fifteen-year mortgage when compared to a thirty-year mortgage. The amount of total interest paid on a fifteen year is considerably lower. The amount of equity that a buyer has in their home naturally grows faster with a fifteen-year mortgage than with a thirty-year mortgage.
There is no right or wrong answer when it comes to picking a loan time frame.
11. You should always pay off your mortgage as soon as possible.
For many people being mortgage free is worth its weight in gold. Having a massive debt like a mortgage gone can bring down your stress levels. For some folks paying off their mortgage first might not make the most sense.
There might be other debts that should be paid first like credit card debt, student loans, etc. You'll find this to be even more evident when these loans have significantly higher interest rates. Another reason people like to pay off other debts first is the fact you can still deduct mortgage interest on your taxes. The bottom line is everyone's financial situation is different.
Final thoughts
When buying a home, it is essential that you don't fall into the trap of one of these mortgage myths. Your purchase a sale will go a lot more smoothly when you have taken the time to do all of your mortgage research.
Additional Helpful Home Buying Articles
Take a look at these additional outstanding home buying resources to get the most out of your next property purchase.
---
About the Author: The above Real Estate information on mortgage myths that are not true when buying a home was provided by Bill Gassett, a Nationally recognized leader in his field. Bill can be reached via email at [email protected] or by phone at 508-625-0191. Bill has helped people move in and out of many Metrowest towns for the last 32+ years.
Are you thinking of selling your home? I have a passion for Real Estate and love to share my marketing expertise!
I service Real Estate sales in the following Metrowest MA towns: Ashland, Bellingham, Douglas, Framingham, Franklin, Grafton, Holliston, Hopkinton, Hopedale, Medway, Mendon, Milford, Millbury, Millville, Natick, Northborough, Northbridge, Shrewsbury, Southborough, Sutton, Wayland, Westborough, Whitinsville, Worcester, Upton and Uxbridge MA.