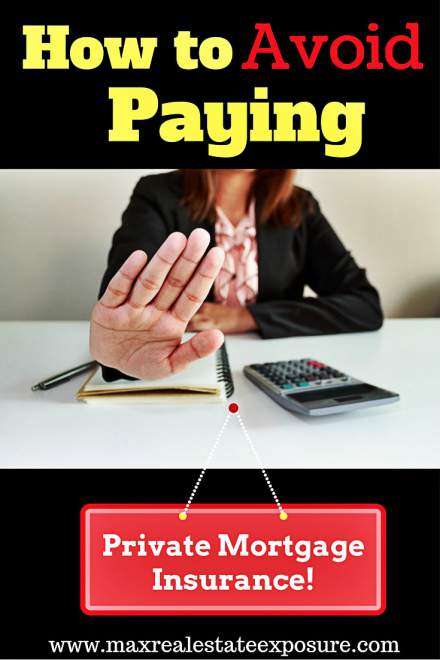 Private mortgage insurance (PMI) adds an extra cost to your monthly mortgage payment, something that most buyers understandably want to avoid. Fortunately, there are ways to avoid paying private mortgage insurance, options that you want to be aware of as you go to buy a home. Understanding what PMI is, why it exists and what you can do to avoid it, is worthwhile if you want to save money on your home purchase.
Below you will see a detailed explanation on how to avoid paying private mortgage insurance by using a few different financing methods including:
A piggyback mortgage loan.
Lender backed mortgage insurance or LPMI.
Opting for a different type of loan like a Veterans Mortgage. If you qualify.
Using a credit union for getting a mortgage.
Getting a jumbo loan.
Private Mortgage Insurance – What is it?
Private mortgage insurance, commonly known as PMI for short, is a type of insurance policy that homeowners are expected to purchase if the equity in their home is less than 20%. Whether you are buying a home or refinancing, if you cannot maintain a 20% equity, such as bringing a large enough down payment to the table, then your lender will require you to purchase and maintain PMI until you reach 20% equity.
PMI is "private" insurance because you purchase it from a private company, as opposed to government organizations where you may be getting your loan, like with FHA loans.
The 20 percent down payment is a requirement of both Fannie Mae and Freddie Mac, which back or purchase most mortgages here in the US. To avoid paying private mortgage insurance, the entities require the 20 percent down payment funds.  Buyers who want to get a mortgage for more than 80 percent need to buy insurance to protect these agencies, or another party must provide it for them.
Why Do You Have to Pay it?
Lenders are taking a risk when they hand over money to you for your home purchase. There is a chance that you could default on your loan and lose the home, which leaves the lender holding on to a piece of real estate that it does not want or need. When a creditor winds up with a home, they will sell it at an auction to get back their money, but homes selling at auctions will often sell for less than they are worth. Buyers at auctions expect homes to be in less than perfect shape and pay accordingly.
To cover the difference between what the lender gives you to purchase the home and the amount that the home will sell for should you default, lenders require you to carry private mortgage insurance.
The 20% equity requirement to avoid PMI represents the financial position you need to be in for the lender to consider you unlikely to default. Of course, lots of borrowers do not have the twenty percent to put down. For those buyers who don't have the necessary funds, their first consideration is knowing how to stop paying private mortgage insurance. Eliminating private mortgage insurance is smart because it is a useless fee that offers little benefits. Cancelling PMI as soon as possible is smart!
The argument for PMI is that it allows buyers with less than 20% down to purchase homes. For a relatively small monthly fee, you can buy a home for lower down payment. You get your home; the lender is protected. That is all fine and dandy to be able to purchase the home you want. After you own the home, however, you will be thinking to yourself how do I cancel paying this fee.
How Much Will PMI Cost?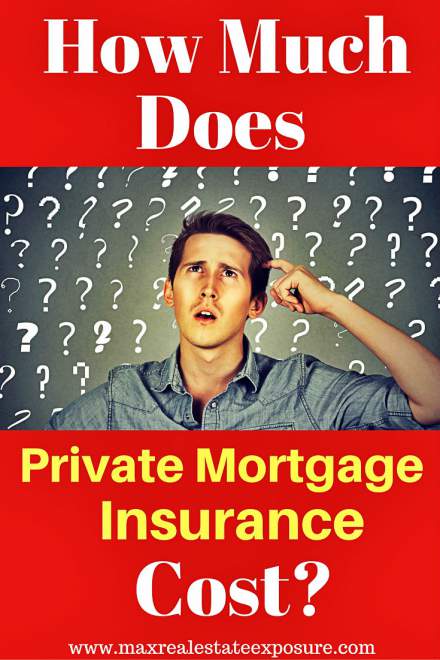 PMI is calculated based on the risk you present to the lender – just like every other insurance policy. One of the primary variables is the size of your down payment. The less you pay down, the higher your PMI payment will be. You will need to pay the fee monthly, so it will be necessary to calculate private mortgage insurance costs into your finances when you are determining how much home you can afford.
PMI can range from less than $100 a month to several hundred – or more, depending on the cost of the home and your down payment – so you want to be prepared.
Here is a private mortgage insurance calculator you can use to get a ballpark estimate of how much you will pay in PMI.
How to Avoid Paying PMI
Now that you know what you are getting into, the question is, "What can I do to avoid it?" Below you will see the ways around paying private mortgage insurance.
Make a 20% Down Payment
The simplest solution is to pay 20% or more down for your home. You may need to look for a more affordable property – something smaller, in a less desirable area, etc. – or you may need to get creative in your financing. Obtaining an extra boost from family members to reach 20%, for instance, would free you from PMI.
If you are close but are quite there yet with saving for the 20 percent down payment, it may also make sense to put off purchasing a home for just a little while. The savings from not paying private mortgage insurance can be pretty substantial. That savings each month could go towards your investment accounts, saving for retirement or any number of other expenses.
Get a VA Loan
Unfortunately, if you are like most buyers, hitting the 20% mark right off the bat will be hard, if not impossible. Another option to avoid private mortgage insurance is to get a VA loan. Obviously, you will need to meet the requirements, the most fundamental of which is previous military service, but if you can get the VA loan you will be able to skip the PMI step. In the article referenced above, you will see a complete guide to Veterans loans.
Get LPMI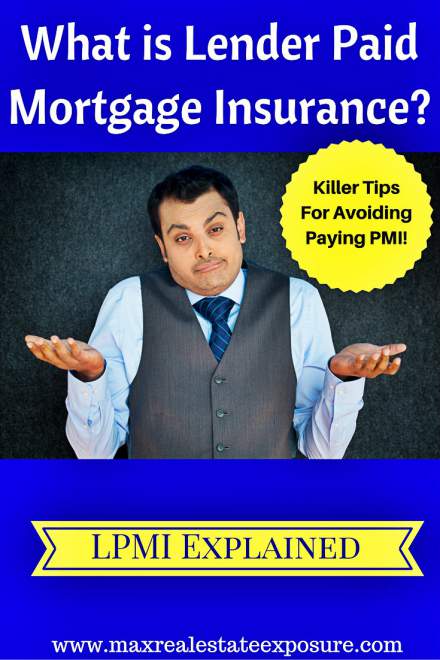 The two options above are the easiest and most financially sound ways to avoid PMI, but many people will not be able to take advantage of either one. There are some other ways to avoid PMI, but they need to be looked at more carefully because they can cost more than they are worth if you are not careful.
Lender-Paid Mortgage Insurance (LPMI) is one option that you might hear about from your lender. Unlike private mortgage insurance, which is paid for by you, with LPMI the lender is the one that covers the cost of the insurance. To get LPMI, you will need to agree to a higher mortgage rate. Getting LPMI may raise your rate by .375 to 0.75%, so do the math before you agree. Check out how to get the best mortgage interest rates, so you do not end up with terms that could have been much better for you.
Piggyback Financing
With a traditional mortgage, you get all the money to buy the home in a single loan. With piggyback financing, you take out an additional mortgage to fill in the gap between your down payment and the 20% cutoff for avoiding PMI. If you had a 10% down payment, you could get a loan for 80% of the purchase price, then another loan for 10%.
But keep in mind that piggyback financing is less common for a reason. It will be more complicated and could cost you more in the long run. You may be better off just paying the PMI.
Use a Credit Union
Some borrowers to avoid paying private mortgage insurance, are using credit unions instead of traditional banks or other lending institutions. Credit Unions often hold their loans "in house," avoiding selling the loans on the secondary market. By using a credit union Fannie or Freddie may not be involved in the loan.
Jumbo Mortgage Lenders
It is possible to avoid paying PMI if you are getting a jumbo loan with some lenders. Generally speaking, a jumbo loan is a larger loan amount, typically over $417,000. Some jumbo lenders may allow for a 90% loan to value ratio and let a borrower skip paying the private mortgage insurance. Since Jumbo lenders are not selling their loans to one of the government agencies, they do not have to require PMI. Don't expect every jumbo lender to do this.
Check With Your Lender Once You Reach 20%
If you have no other choice but to purchase a home with private mortgage insurance, remember that you only have to pay for the extra coverage until you reach 20% equity. The insurance is supposed to drop automatically once you hit the mark, but keep track just to make sure. When you reach 20%, contact your lender to verify that the insurance has been dropped. Banks are required to drop the PMI once you hit 22 percent equity in your home.
Other Helpful Mortgage and Financing Articles
Use these additional resources to make smart financial decisions when buying a home!
---
About the Author: The above Real Estate information on the home how to avoid paying private mortgage insurance was provided by Bill Gassett, a Nationally recognized leader in his field. Bill can be reached via email at [email protected] or by phone at 508-625-0191. Bill has helped people move in and out of many Metrowest towns for the last 29+ Years.
Thinking of selling your home? I have a passion for Real Estate and love to share my marketing expertise!
I service Real Estate sales in the following Metrowest MA towns: Ashland, Bellingham, Douglas, Framingham, Franklin, Grafton, Holliston, Hopkinton, Hopedale, Medway, Mendon, Milford, Millbury, Millville, Northborough, Northbridge, Shrewsbury, Southborough, Sutton, Wayland, Westborough, Whitinsville, Worcester, Upton and Uxbridge MA.