False Assumptions About Home Selling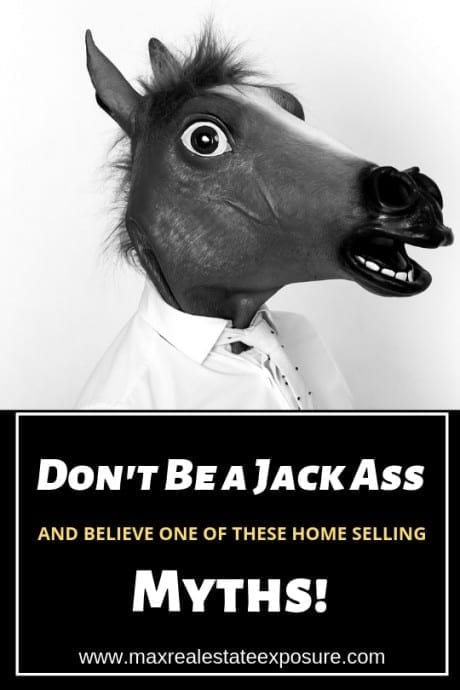 It is an unfortunate reality that homeowners are often operating on a lot of incorrect information when they start trying to sell their home. There are many reasons for this. While there is plenty of information online about selling homes, not all of it is accurate.
There is also no shortage of info out there in the real world—from friends, family, co-workers, someone you know who once had a real estate license—that it is easy to get ideas in your head that are untrue.
The problem is that these myths can make it much harder to sell your house. Your home is probably the most valuable investment you own. You cannot afford to make expensive home selling mistakes based off of "facts" that are not only useless but misleading.
Before you even think about listing, take some time to do your research and speak with several qualified Realtors that can tell you the truth about selling. To get you started on your real estate education, here are some of the most common house selling myths out there.
Most Popular Home Selling Myths
1. Reality TV is NOT how real estate really works.
There are lots of real estate reality TV shows out there including Property Brothers, Flip or Flop, Million Dollar Listing, Love it or List it, House Hunters, and a host of others.
Your favorite reality TV show about real estate is a lot of fun to watch, but it is still a show designed for entertainment. The real world of real estate is much more complicated and is often completely unlike what you see on your screen.
Considering how much money is at stake, it only makes sense to trust a reputable real estate professional over what you see on TV.
It is rare a buyer purchases a property after looking at three homes. When you list your home for sale, it rarely sells at an open house. These are just a couple of reality TV myths.
There is a host of other home selling myths that lots of people believe, including these sixteen.
2. You need an open house to sell a home.
When you picture a real estate agent at work, there is a good chance you imagine an open house. Letting the world into your home in hopes that someone will want to buy it can seem like a good idea on the surface, but it doesn't hold up well when you examine the practice more closely.
Most of the people who come to your open house are not going to be in a position to buy it. Even those who are legitimate buyers usually have something they NEED to sell first. The vast majority of people visiting will be curious neighbors, those who are looking for something to do, people without the means to buy a home of your caliber and possibly criminals looking for a score. Open houses aren't worth it for sellers. They dramatically increase the chances of theft. All for what, when the same serious buyers visiting the open house would schedule a showing anyway.
Agents talk about the importance of open houses because they can find new clients through the process, not because they think it will sell a home. Many of the myths about open houses being necessary are pushed by real estate agents who wouldn't know where to find their next prospect without doing an open house.
3. Dual Agency is acceptable.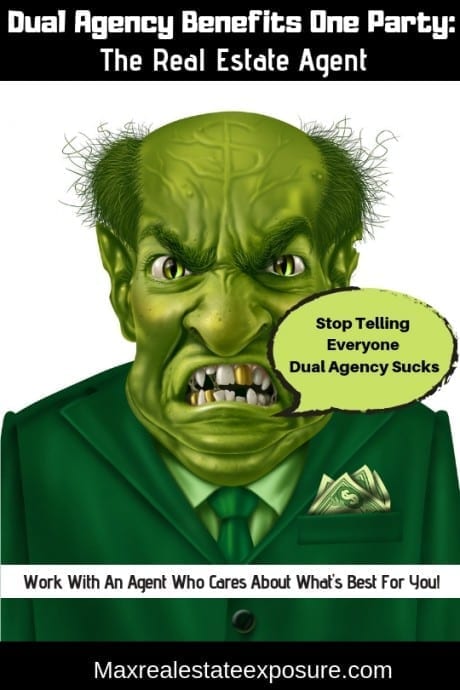 When you are selling your home, you should never allow your real estate agent to be a dual agent. Single-agent dual agency is when a real estate agent works with both the buyer and seller in the same transaction.
When you are selling your home and hire an agent you want them to be working for YOUR best interests. You are paying your real estate agent thousands of dollars to represent you. The key word here is REPRESENT.
When you allow dual agency the real estate agent becomes a neutral party in the transaction. They no longer represent your best interests. Unprofessional real estate agents fail to honestly explain dual agency to sellers all the time.
The agent has a vested interest in a seller agreeing to dual agency – hence the reason to sugar coat the downsides. Don't let your real estate agent talk you into accepting this arrangement.
If a buyer wants to work directly with your agent, they can still do that. Your agent will remain as a seller's agent NOT a dual agent. A seller's agent represents you – a dual agent does not.
Practicing dual agency is a trait of many bad real estate agents. Don't be suckered by a self-centered, greedy agent.
4. You set the price when you sell your home.
Your home is your property, something that is most certainly yours to do with what you like. But it is a mistake to think that you can set a price that you prefer and sell your home. The seller does not set the price. The Realtor does not set the price. The market sets the price!
Market conditions trump how individuals feel and what individuals want every day. Of course, you want to sell for the highest price possible. The highest price, though, is not a number determined by one person or even a group of people.
It is determined by the market—all the homes being bought and sold leading up to and at the time of your sale.
Failing to respect the market is a guaranteed way to struggle with your sale. Buyers know what the market is doing and so do their agents. There is no way to fool them, so you might as well do your best to take advantage of the conditions you are dealt.
5. You should set your price as high as possible.
There are very few homeowners who don't want to set the price of their home as high as possible. This is understandable. You want to make as much money as you can from the sale. But there is a big problem with this strategy. Homes that are priced too high don't sell.
They are avoided by the vast majority of buyers—why look at the highest-priced home in the area when there are five other homes more reasonably priced?
Even if you convince someone to pay above market value for your home, the lender will still as for an appraisal and will refuse to spend any more than the appraisal amount.
Overpriced homes sit on the market for too long. Eventually, the owners give in and lower the price. But now buyers and agents have seen the house for a month, see the price drop, and they assume something is wrong with it. Better to price it competitively from the beginning. Don't fall for one of the typical home pricing myths. When you believe one of these falsehoods, you end up with home sale failure.
As far as home selling myths go, pricing should have its own subsection as there are so many of them. Here are a few of my favorites:
Pricing a home higher brings a higher sale price.
Pricing a home higher leaves more room to negotiate.
I priced my home too low because I got an offer right away.
My home should be on the market longer – this will bring a better offer.
None of these are accurate!
6. Realtors won't overprice properties to land clients.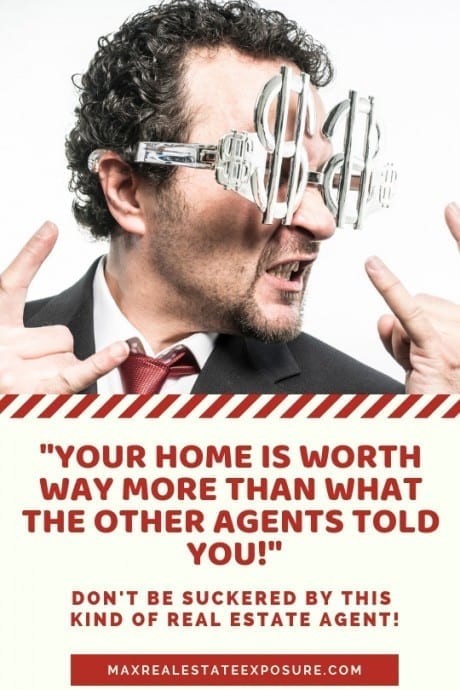 Real estate is like every other profession. There are some great agents, some mediocre ones, and some bad ones. The bad ones can be unscrupulous in their dealings.
To get your business, they may tell you your home is worth way more than it is. They know the house will sit unsold. But when you finally do lower the price, the lousy agent will still get a commission whatever the sale price winds up being.
They will also use your home as an advertising vehicle to get additional business elsewhere.
Real Estate agents list homes for sale too high all the time. It is part of the business that professional agents have to deal with on a daily basis.
7. You want a Realtor who asks for the lowest possible commission.
Very often in life, you discover that you really do get what you pay for. Realtors are no exception. On the surface, it can seem like a deal to pay a low, low commission. But what does that commission get you?
A sign in the yard and an MLS listing and probably not much else isn't what professional agents do. In contrast, an agent that knows he or she will get paid well is likely to work harder. Better marketing, better negotiation, and probably a higher sale price.
You can see why a commission matters when selling a house. Those who try to beat the system rarely ever save money. What happens instead is they end up costing themselves money in their pocket. You never want a buyer's agent NOT to want to sell your home.
8. You want a real estate agent who isn't busy.
This is one of the age-old real estate myths. So many sellers think that they should not hire the real estate agent who is busy because they won't get excellent service.
WRONG! Most top producing agents have systems in place that make them successful. They usually have great staffing to do menial tasks that allow them to focus on what matters most.
There are reasons why agents aren't busy – most of the time it's because they aren't that good. Don't fall for the myth that you should hire an agent who has no business. Hiring the wrong real estate agent is one of the biggest home selling mistakes homeowners make.
When you need surgery or someone to defend you in a lawsuit you don't seek out the doctor or lawyer without any business. Don't think this way when it comes to your most significant asset either.
9. For Sale By Owner will save you money.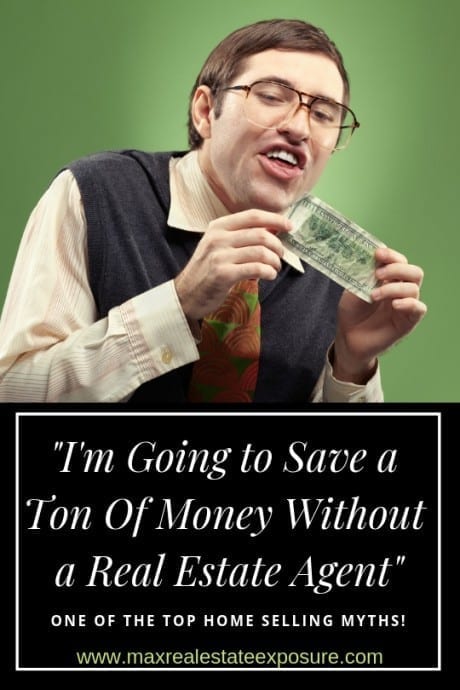 It is an excellent idea—you sell the home yourself and don't have to pay anyone a commission. If houses were easy to sell it might actually be a good deal, but they aren't. And even when you do get someone to buy the home, chances are you won't sell for as high a price as you would have with an exceptional real estate agent.
Selling your home for the best possible price requires extensive, targeted marketing, great photos/videos, online marketing, strong negotiation skills and a knack for sales.
If you have all of these things being a for sale by owner might make sense for you. Selling for sale by owner without a real estate agent typically does not include these things. For most people, it is far less stressful and far more profitable to hire a great agent.
10. You don't have to do anything to get your home ready to sell.
Actually, this can be true—but only if you don't care what you get paid for the home. Some homes are so far gone that they have to be sold "As-Is." But for most homeowners, taking the time to prep the house for sale can pay big dividends.
Not only do you need to clean the house up and prepare it for potential buyers, but you also need to try and fix serious issues now—before a buyer decides to use such items to negotiate a lower price.
11. You have to wait until the right season to sell your home.
Some people claim that the summer is the best time to sell a home. Others the spring. Still, others argue that you never want to sell in winter. When you ask for explanations why, though, you will find that these people do not have a lot of data to back up their claims.
Yes, more homes tend to sell in certain seasons. But plenty of homes sell year-round. With a skilled agent, you can sell your home at any time of the year you like. Every season offers its advantages, so don't hesitate to talk to your agent if you are ready to sell.
The fact of the matter is that all real estate is local. The best time of year to sell a home here in Massachusetts is the Spring. It is not even close. Other parts of the country this could be completely different. You need to check the situation in your local market to find the best season to sell.
Here are some tips to sell your home in every season.
12. Online valuations are all you need to price your home.
Going online and looking up your home will give you a price, but it is not the price you should use when you are actually listing the home. There are a lot of factors that need to be considered when pricing a home, factors that online valuations do not take into account.
Quite often sellers will think a Zillow home value is really what their home is worth. NOPE – more often than not the Zillow value is off by tens of thousands.
You are far better off having a Realtor experienced in your area run the comps and give you an estimate of what the home could sell for.
13. Your Real Estate agent does not need to be at the inspection.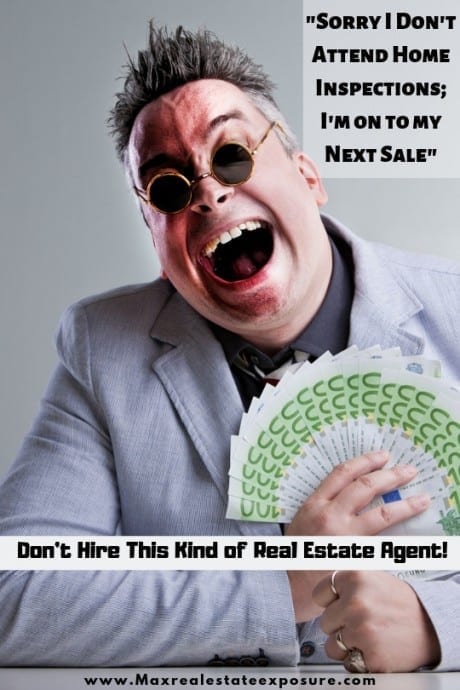 When you hire a real estate agent, you want someone who is going to represent you throughout the transaction. One of the most significant hurdles for a home seller to clear is the home inspection. More sales fall through at the home inspection than at any other time during a sale.
Sometimes sales fall apart because of what is said or not said at a home inspection. Anyone who is in the business and regularly attends is aware of the disconnect between what is said by home inspectors and what appears in their report.
Sometimes minor issues are exaggerated beyond belief. It is impossible for a real estate agent to counsel a seller on home inspections when they don't show up to see what's really an issue and what isn't.
Your listing agent should be at the home inspection! Don't let your real estate agent talk you out of representing you well. Lots of real estate agents love to create the myth that they shouldn't be at the inspection.
14. Going with a gimmick like a guaranteed home sale.
One of the downsides of the real estate industry is that there are people in it who will come up with gimmicks to con sellers. The perfect example is the guaranteed home sale program. Let me put it to you this way – any real estate agent can buy your house if you are willing to let it go cheap enough.
Guaranteed home sale programs are just a gimmick to get you to list your house with a crappy agent. Do yourself a favor and pick a great agent, not false promises.
15. I can tack on the cost of all my improvements to the sale price of my home.
This is one of the seller myths that make me smile all the time. Probably because more sellers believe this falsehood than any other. It just strikes me funny because it is so off base. Not every home improvement is worth doing. Why? Because you don't get anywhere close to what you invested.
Most improvements sellers make to their home don't bring the kind of return they expected. Quite often this is the disconnect between what a seller thinks their home is worth and what the value is.
Here are some of the repairs when selling a house that bring the highest return on investment. If you are going to be selling a home, don't over improve.
16. Selling a home will be stress-free.
If you have sold your home more than a couple of times then you know it is not always a breeze. In fact, at times it can be downright miserable. Here are some of the worst things about selling a home.
You can do your best to avoid some of these problems, but sometimes it just isn't possible. Keep a stiff upper lip when selling a home.
Know the Facts—Speak to Your Real Estate Agent

A skilled Real Estate agent is highly trained and experienced in the real estate market. The best ones usually have years under their belt. When you really need your car fixed, you take it to a professional.
The same is true for selling a home. Consult with a trusted Realtor and find out the truth about how to best sell your home!
Don't believe the selling myths that can end up putting you behind the eight ball!
Additional Home Selling Articles Worth Reading
The preceding articles are all excellent references written by top real estate agents from around the country. Quite a bit of the advice debunks common house selling myths that owners have.
Use the home selling tips to have a successful sale.
---
About the Author: The above Real Estate information on home selling myths that are completely false was provided by Bill Gassett, a Nationally recognized leader in his field. Bill can be reached via email at [email protected] or by phone at 508-625-0191. Bill has helped people move in and out of many Metrowest towns for the last 32+ Years.
Are you thinking of selling your home? I have a passion for Real Estate and love to share my marketing expertise!
I service Real Estate sales in the following Metrowest MA towns: Ashland, Bellingham, Douglas, Framingham, Franklin, Grafton, Holliston, Hopkinton, Hopedale, Medway, Mendon, Milford, Millbury, Millville, Natick, Northborough, Northbridge, Shrewsbury, Southborough, Sutton, Wayland, Westborough, Whitinsville, Worcester, Upton and Uxbridge MA.