Open Houses Are Magnets For Crime
Listen to the audio version of why open houses increase your odds of a burglary.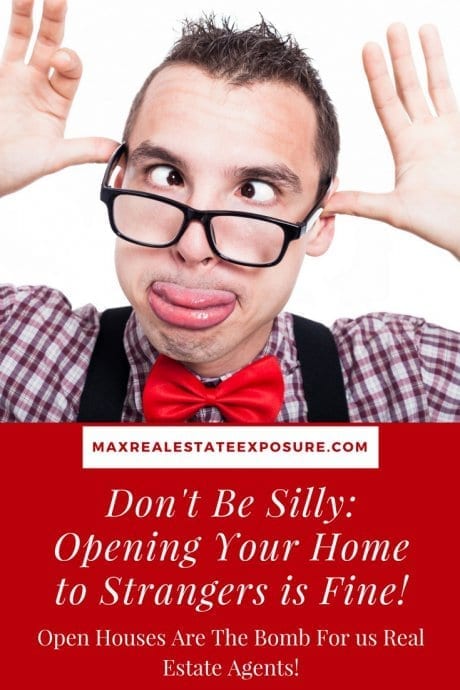 When you are trying to sell your home, you probably expect your real estate agent to hold at least one open house. After all, you have seen the signs in your neighborhood and oodles of cars parked in front of the open house right?
Many Realtors are big proponents of open houses, and it makes sense to do what your real estate agent advises – right?
Well, not when it comes to open houses. An open house offers little benefit in the sales process and puts you at risk of having your home burglarized.
Unfortunately, lots of unprofessional real estate agents will never discuss this fact with you. That's strange, isn't it? Why would an agent not want to let you know the downsides of an open house?
It's straightforward. Real Estate agents use open houses as an opportunity to prospect for business. A large percentage of agents don't want you to say NO to an open house. In fact, these agents will gladly put your home at risk for their personal gain.
One of the biggest myths in real estate sales is that open houses are necessary. They are not!
Do open houses increase your risk of a burglary? Of course they do! Is your real estate agent going to tell you this? Probably not. But why?
Don't Accept Dual Agency
What the agent is hoping for is the chance to sell the home themselves. While not all that common, it can be a gold mine for a real estate agent when it does.
Whatever you do, don't agree to dual agency where YOUR real estate agent becomes a neutral party, no longer representing you.
Dual agency benefits one party and one only – the real estate agent. Don't be suckered!
Lots of real estate agents will gloss over how dual agency works. When it's not explained well guess what happens? You end up agreeing to it! Here is the problem – the agent explaining dual agency has a vested interest in you saying YES to it.
In real estate, there are two types of agents. Those who think about their clients first and those who think about their wallets first.
You obviously don't want the latter! Make sure you read the article above on dual agency. Also, see more ways real estate agents fool home sellers. Avoid these type of agents.
When people ask "do open houses work," my response is work for who. If you are working with an outstanding real estate agent and the house is priced correctly, it will sell regardless of whether you hold an open house or not.
Open for Theft – How Open Houses Put You at Risk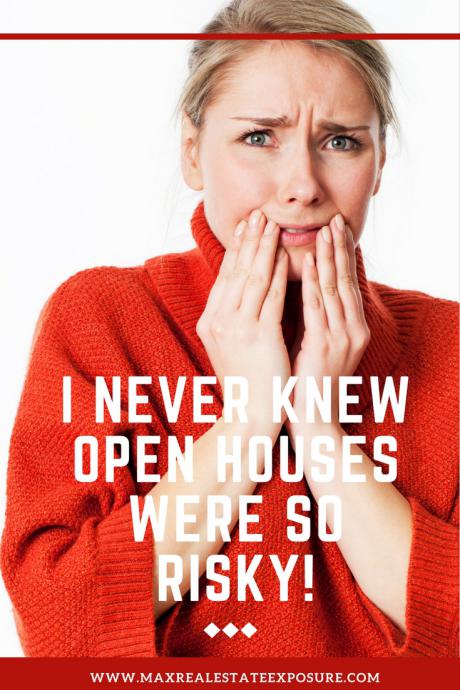 If you have never been to an open house, you have probably at least seen one represented on television or in a movie. A Realtor puts up signs and advertises the fact that a home will be open for viewing on a particular day at a specific time.
Anyone interested in viewing the home can come through the door, meet with the Realtor, and explore the house.
Unfortunately, opening up your home to the public puts you at considerable risk. There is no vetting process with an open house. While there may be a book or form to sign-in as visitors come into the home, there is no screening process to determine if each visitor should be allowed inside the house.
That means that anyone – including burglars – can come inside and scope out your home.
While the Realtor may be there to greet visitors and answer questions, he or she can only provide so much coverage. Once the Realtor begins speaking with one visitor, all the other visitors are left to fend for themselves. They can pretty much do whatever they want.
In a hot seller's real estate markets it is not uncommon at all for a home to be flooded with people. Have you ever seen cars lined up and down the street viewing an open house?
Scheduled showings by a real estate agent are very different. The real estate agent doesn't want to waste their time with a buyer who isn't qualified to buy a home. Agents take the time to make sure their buyers are pre-approved for a mortgage.
As a seller, you can rest assured that the buyer is someone who belongs in your home. With an open house that isn't the case.
So while it may seem cool that a ton of people are prancing around your home, what's the point if only a fraction of those people are qualified buyers?
Whether you allow an open house or not make sure you follow these safety tips when selling a home.
Theft Now or Later
The individuals that come inside your home for the open house can undoubtedly attempt to steal things during the open house, but additional risk comes later.
Most homeowners will put away valuables and make it difficult for visitors to steal precious items during the open house.
Keep in mind, however, some burglars are not going to try to take things during the actual open house with so many people around.
Instead, they will scope out the home for burglary later – and may even pave the way by unlocking windows or doors.
Being in your home, most likely unobserved, lets potential burglars plan their theft. They can look for where you keep your valuables, identify entry points, security measures, etc. They can gather all the information they need to plan a successful burglary for later.
Real Estate agents who promote open houses rarely if ever will let you know the risks or how common theft has become. Here in my local market, I know of multiple homes that have been robbed during an open house. Where I live by the way is a LOW crime rate area. Theft from an open house can happen anywhere!
One owner while selling their Milford Massachusetts home, lost over $15,000 in jewelry including diamond rings. How would you feel if this happened to you? You should ask yourself why you would take that chance.
Frankly, if you believe having an open house makes one bit of difference, then you are speaking to the wrong real estate agents. Serious buyers always schedule showings. They don't pass on homes they want to view because you aren't holding an open house.
Here is a sneak peek at a real estate agent explaining to a seller in an interview that an open house is necessary.
Facts about Burglaries
Although the term "robbery" is used most often to refer to having things stolen, in legal terminology "burglary" is the term used to refer to entering a property with the intention of theft. Robbery is the attempt to take ownership using threats or intimidation. So when someone sneaks into your house to steal your things, they are committing a burglary. In contrast, if someone were to try to take your wallet by brandishing a knife or gun, they would be committing robbery.
According to an FBI crime report from 2012, one in every thirty-six homes will be burglarized – with the average loss of property valued at $2,230. A burglary happens every 15 seconds in the U.S. The risk is real for every homeowner, but it only goes up if you start letting people into your home that you do not know during an open house.
What many people don't realize is that burglaries happen most often during the day. Unlike the movies, where burglars creep around at night, in reality, the majority of burglaries occur from 10 am – 3 pm, when most people are at work or out of the house doing things. Burglars are not looking for confrontations; they are looking for an easy way to grab stuff of value. They want to enter and leave your home with minimal fuss.
The target of most burglars is the master bedroom, for obvious reasons. The valuables that most people keep in their master bedroom – such as jewelry and cash – are the easiest to steal and the easiest to gain financial benefit from on the street.
How Not to Get Robbed From an Open House
Of course, the obvious answer is to skip having an open house, to begin with. You might disappoint your real estate agent but who cares. Selling your home isn't about them, it's about you!
If you insist on having an open house for some reason, there are some things you can do to minimize your chances of theft occurring. Here are some tips to reduce your chances of being robbed:
Put all your valuables away in a safe place where it would be challenging for someone to find them. If you have a safe, put them there. Don't leave any critical financial documents hanging around. You don't want any of your account numbers stolen.
Consider installing security cameras to monitor people in your home from a different location.
Ask your real estate agent to bring an assistant who can be a second set of eyes while people are visiting the home.
Take pictures of all the rooms in your home to document things of value.
Go over your home with a fine tooth comb after the open house has ended. Make sure all of your windows and doors are locked.
While there is no sure fire way to ever prevent theft from an open house, taking precautions can help.
Click To Tweet
What to Do if You Have Been Burglarized
If you are unfortunate enough to be burglarized, the first thing to do is call the police. Once they have arrived and filed a report, you can clean up the mess left behind and try to get your life back in order.
A burglary can be emotionally exhausting as well, leaving you feeling less secure. You may consider installing a security system and making adjustments that will protect your home better in the future – including avoiding open houses.
Open Houses Are Risky For Agents Too
Holding an open house can be risky for an agent as well, especially if the property is down a long driveway or in a remote location. Criminals look for opportunities such as these. The open house gives them the perfect opportunity to commit some violent act. Crimes against real estate agents at open houses are more prevalent than people realize.
Social media has become an easy to use a tool by criminals to track their prey as real estate agents leave a web trail on places like their website, Zillow, Facebook, and Twitter.
Real Estate agents gleefully announce their open houses, informing would-be criminals know exactly where they are located. Stalkers can target them at an open house or rob their homes, thanks to the information shared on social media.
Open Houses Are Not Necessary to Sell Your Home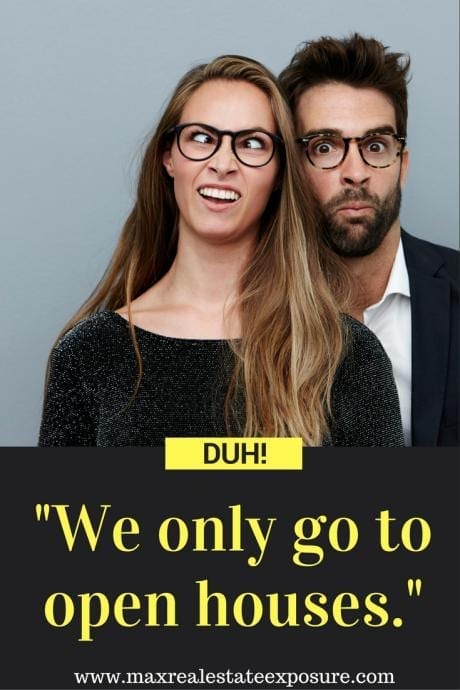 When you realize how much risk you put yourself in by holding an open house, it is normal to question whether you need an open house at all.
Do you really need an open house, with all its risks, to sell your home? The answer is definitely "No".
On the surface, an open house seems like a great way to attract buyers. You let everyone know that you are selling, you invite them to see the home, and you allow your Realtor schmooze them as they look at what you are offering.
The problem with the idea of an open house is that it doesn't account for the realities of selling a home. There are only so many buyers out there who will be interested in your home.
A skilled Realtor knows how to find those particular buyers and draw them in to consider your property. It is far better to have five buyers who are primed to purchase a property like yours, then to draw in 20 buyers who are unlikely to want your home.
The people attracted to open houses include:
Nosy neighbors
Window shoppers who aren't buying homes
Other homeowners who want to sell
Potential criminals
You may get lucky and draw in a buyer with real potential, but probably not.
So why does your Realtor want to hold an open house? Because it's a great way he or she can drum up new business. There will be potential buyers who may visit that don't qualify to buy the home but none the less can afford a lower priced home.
There could also be someone who is in the neighborhood that is thinking of selling who visits. These are the perfect prospects that an agent wants to shake hands with.
The odds of the agent selling your home as a direct result of an open house are remote. Keep in mind some real estate agents will have no problem putting their interests ahead of yours.
The choice is yours whether or not you hold an open house. The best agents will educate you on both the pros and cons of holding an open house. Remember that when choosing your next agent. Let it be your decision to have an open house, not your agent.
Do Burglars target an open house? They sure do! Do open house increase the chances a burglary will occur. Hopefully, common sense tells you yes!
Additional Helpful Open House Articles
Use these additional resources to educate yourself on open house during the home sale process.
---
About the Author: The above Real Estate information on hold an open house to increase your odds of getting burglarized was provided by Bill Gassett, a Nationally recognized leader in his field. Bill can be reached via email at [email protected] or by phone at 508-625-0191. Bill has helped people move in and out of many Metrowest towns for the last 31+ Years.
Are you thinking of selling your home? I have a passion for Real Estate and love to share my marketing expertise!
I service Real Estate sales in the following Metrowest MA towns: Ashland, Bellingham, Douglas, Framingham, Franklin, Grafton, Holliston, Hopkinton, Hopedale, Medway, Mendon, Milford, Millbury, Millville, Northborough, Northbridge, Shrewsbury, Southborough, Sutton, Wayland, Westborough, Whitinsville, Worcester, Upton and Uxbridge MA.