How Much Value Does a Finished Basement Add?
One of the questions I often get is "does a finished basement add value to my home?" This question is often followed by "how much value will a finished basement add to my home?" Finished basements can add a lot of extra living space, so it is understandable that so many owners choose to renovate the space under their homes.
Whether you want to add an extra bedroom, a theater or a workout room, the basement gives you options that you otherwise wouldn't have – unless you wanted to add an above-ground addition to the home, which would be more expensive. Besides adding space, a finished basement could also increase the value of your home.
It is important, however, to recognize that you may not get every dollar back when you sell. Basements are evaluated differently than above-ground space, something to consider when you are thinking about remodeling.
Basements, however, are improvements that increase home value. The finished area in the lower level of your home will add value to the price of your home; it just won't be the same as above grade space on a dollar per square foot basis.
Basements, however, can be very attractive areas to finish due to the amount of square footage you can pick up relatively inexpensively vs. adding an addition. While the value added to your home from finishing your basement may not be as much as you were hoping for, you will save money by adding living space under the house as opposed to above-ground.
Building an addition above-ground is expensive, while the basement already has a floor, walls, wiring, plumbing, and a roof – making it relatively affordable to renovate.
Understanding How Finished Basements Are Valued
When an appraiser considers the value of a home, he or she needs to make apples to apple comparisons – which means that living space above-ground is valued separately from space below-ground. Space above-ground is worth more. This makes perfect sense as the cost of finished basement space is far more inexpensive to add than above grade living area.
If there is a home similar to yours with the same square footage, similar features and in the same neighborhood, the value of both homes would be somewhat equal. But if a quarter of your square footage is in the finished basement – underground living space – then the value of your home would be less than the home with all above-ground square footage.
You can find various estimates of the value of basements, ranging between 50% and 70% of the above-ground value. While these estimates are useful to get an idea of what your finished basement will be worth, you will need to talk with professionals working in your particular area to get a clearer picture of how much value you can get from your renovations.
Estimates are just that! Never use an estimate to put a value on your home correctly. It is advisable to reach out to a local appraiser or professional real estate agent to understand how much value a basement will add to your home.
In addition, DO NOT use Zillow estimates as a means of valuing your home! This is a sure fire way to get the wrong value for not only your property but your basement space as well. Zillow has no idea what kind of basement space you have, never mind the rest of your house!
Types of Basement Space Have Different Values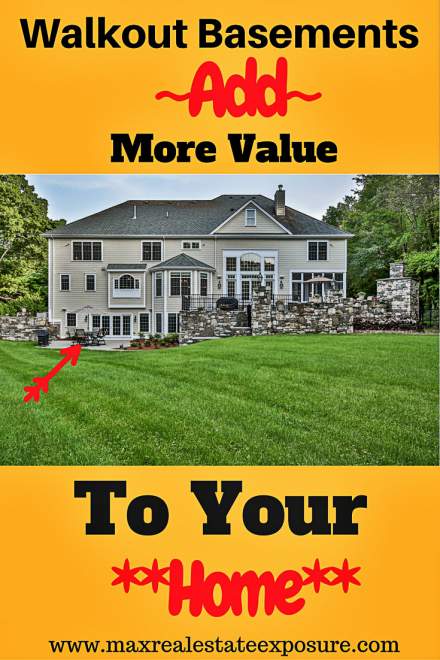 The kind of finished space in the lower level of your home can have an enormous impact on the value a buyer will be willing to pay. Essentially there are three types of grading on a home site that will determine the value in which you can get out of a finished basement. The three kinds are:
A full walk-out basement – this is the most valuable type of living space because you can have regular size windows, sliding glass or atrium door. A full walk-out basement allows you to have a significant amount of natural light. With natural light, a finished lower level often does not feel like a basement at all. The other benefit of a full walk-out basement is to be able to exit the home through a regular door and not a bulkhead. The walkout basement often allows for a great area to have a beautiful patio and other landscape features. You can see some great examples of walkout basements at Houzz.
A partial drop in grade – with this set up you are still able to have some full-size windows. However, you may or may not have the ability to have a full-size door. The grade of the land does not allow for it. This type of set up is not quite as attractive as a full walk-out lower level. The other term used for this situation is a garden level lot.
A non-walk-out basement – this is the least attractive type of basement space. You have four concrete walls and no natural light other than through some tiny standard basement windows. Never under estimate the value of having natural light in a cellar area!
While these are three forms of basement space based on the grading of the lot, there is also other general characteristics that can change the value of a basement. For example, does the area have a "dropped ceiling" or is it plastered like the above grade levels? Does it have the same finish trim work and doors the upstairs has? The more a basement feels like above grade space, the better value it will command!
Basement Improvement Options – Personalized Vs Resale Value
One of the best things about finishing the basement is that you can make it into a space that fits you, your needs, your hobbies, etc. But the problem with being more personalized is that it can make selling the home more challenging if and when you decide to sell. When you are deciding how to finish the basement, you will need to weigh your desire to have exactly what you want with the possibility of wanting to sell the home.
Adding things like a living room, bedrooms, and a bathroom may be relatively boring options, but they are going to be the easiest to sell later on. People like having extra space and basic rooms allow buyers to decide what they will use the basement for.
The more specialized you get, such as a home theater, workout room, wine storage, etc., the greater chance that some buyers will not be willing to pay for these things. They may have no interest in these additions, or at least not be wiling to pay any more to have them in their new home. Of course, the opposite could be true depending on the area where your home is. Wine storage in Beverly Hills could be a selling point, while it may be less appealing in Topeka, Kansas.
Good Lighting, Walk-able Space, and Proper Drainage

Whatever configuration you choose for your finished basement, ample lighting and ceilings at least 8 feet tall should be included throughout the area. Neither you nor any new owners will want to spend time in the basement if it is too dark. You want lots of light to make the space comfortable. Ceilings need to be a minimum of 7'6" high, but 8 feet or higher is preferable.
If you cannot manage to get high enough ceilings when you renovate, it is probably better to save your money and avoid finishing the area. Digging down to create more room is generally not a good idea, as it can be expensive and risks undermining the structure of the house.
If you are considering finishing your basement make sure that you plan ahead for any water or moisture issues. One of the biggest nightmares you will deal with is pouring a ton of money into your lower level, only to find out you have a water problem. Take the time to seal any foundation cracks and if need be install French drains or a sump pump if necessary. Spending the money on these items is the kind of insurance that is well worth it!
Lastly be sure to take out a construction permit for work done on your basement. Your home will be much harder to sell when it comes time to sell and you may even find that the local inspector makes you rip out walls!
What Are Popular Finished Basement Features?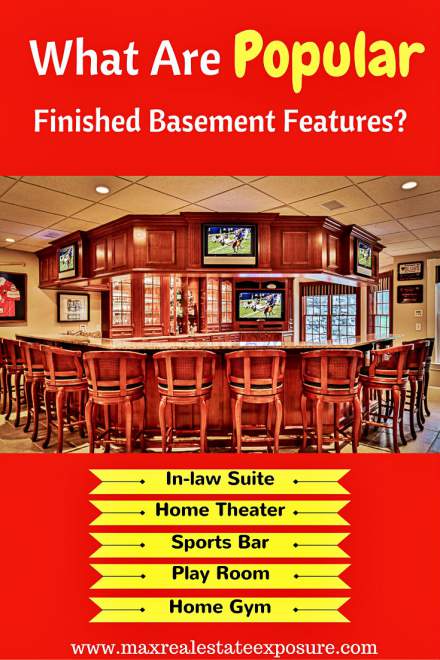 In my area of Metrowest Massachusetts, which I am sure applies to other areas of the country as well, there are certain features that buyers love to find in a finished basement space. Here are some of the popular uses for a basement:
An In-law suite – there are lots of home buyers who look for the opportunity to have a parent live with them. Finding an in-law suite in a finished basement is sometimes easier to find than an addition added above grade. If the home has a walk-out basement it's even better as it allows for easy access in and out for an older adult. Just be sure to research whether you will be allowed to add a second kitchen. Some cities and towns have regulations that prohibit adding a second kitchen to a home.
Home theater – Some of the theaters in homes today are just incredible. You don't even need to go to the movies anymore to get a similar kind of experience in your own home. HGTV has some awesome home theater ideas with photos worth a look.
Sports Bar/Man Cave – ask any male if he would like to have a place to hang with friends having a beer and he is bound to say "hell ya"! The sports bar has become a very popular feature to have in a luxury home.
Play Room – there are lots of buyers who want a place for their kids to hang out with friends. Even if buyers have younger kids, a finished basement allows the perfect opportunity to get the toys and games out of other areas of the home.
Work Out Room or Home Gym – There are lots of buyers who love the thought of being able to work out in their own home rather than join a gym. Home gyms are a great feature to have for numerous buyers in a finished basement space.
Wine Room – there are a small percentage of buyers who would kill to have a dedicated space for their wine. See some cool examples of wine cellars here.
Guest bedroom – some buyers don't need a full in-law suite but a place for an occasional guest or family member who visits every now and again.
As mentioned above, just remember some buyers may or may not be willing to pay for these kind of basement features.
Watch Out For Agents Who Make Valuation Mistakes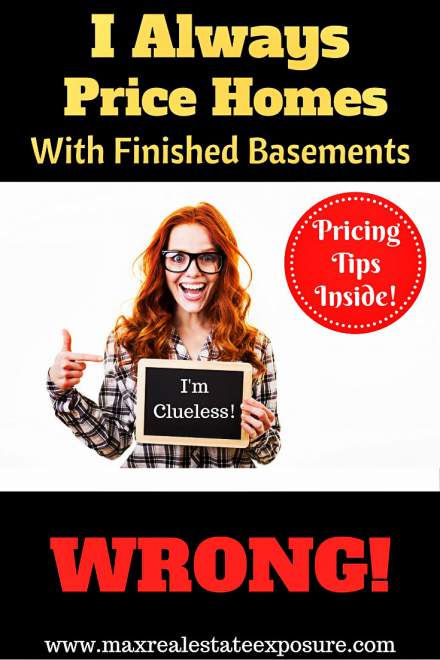 If you are thinking of selling your home and have a finished basement, you are probably wondering how much value it adds and therefore how to price your home. Pricing a home correctly is an art and a skill. Unfortunately, there is a fairly high percentage of real estate agents who do not know how to accurately price a home. When there is finished basement space involved the chances for error increase even more.
Making valuation mistakes happens more frequently with finished basement space because some agents like to lump the basement finished space into the overall square footage of the house. This is a HUGE mistake. As mentioned previously, finished basement space does not have the same value as above grade space!
For example, lets say there are two homes located in the same neighborhood with similar amenities and features. Home "A" has 3000 square feet all above grade. Home "B" has 2500 square feet above grade and 500 square feet in a finished lower level. All other things being equal home "A" will have a higher value than home "B". Home "A" is worth more because above grade space is considered more valuable.
There are some agents who would incorrectly use these two homes as "comps" and justify the value based on gross living area. This is why price per square foot is not a good value indicator. Real Estate agents who use price per square foot as a means to value a property almost always get the price wrong.
From Fannie Mae appraisal guidelines on how appraisers should value finished basement space:
"Rooms that are not included in the above-grade room count may add substantially to the value of a property, particularly when the quality of the finish is high. For that reason, the appraiser should report the basement or other partially below-grade areas separately and make appropriate adjustments for them on the Basement & Finished Rooms Below-Grade line in the Sales Comparison Approach adjustment grid.
For consistency in the sales comparison analysis, the appraiser should compare above-grade areas to above-grade areas and below-grade areas to below-grade areas." This is how a real estate agent should value a basement as well!
Other than comparing living areas correctly, this is how to price a home accurately. Here you will see that valuation needs to be done "apples to apples". Sold properties should be emphasized along with homes under contract. What is for sale is important but not nearly as much as what has sold. Remember your neighbors home price can change at the drop of a hat. Who know if it is the right price. Sold properties offer concrete data points that can be used to establish accurate values.
Should You Finish The Basement If You Are Planning To Sell?
A finished basement is not a clear winner when it comes to possible renovations that aid in selling a home. Sure, you can spend the money and hope that buyers will get excited about the improvement, but there is no guarantee that they will. They may be more excited about an unfinished basement, because it gives them a clean slate to create their own customized living space. While you may really enjoy a home theater, buyers may prefer a workout room – or vice versa. Besides, there is no guarantee that you will make back all of your money from the renovations.
If you are planning on staying in the home for several years, or longer, finishing the basement may make more sense. You should enjoy your home while you are living there. If a finished basement will improve your living experience over the long-term, it could be worth the money and the effort.
Talk To Your Realtor
Whatever renovations you are thinking about before selling your home, it is worth sitting down with your agent to go over the cost and benefits of each option. Many home owners are under the mistaken impression that renovations and additions just add to the price of their home. In reality, there are only certain improvements that are worth the investment. Talk to a professional real estate agent or two before you make any big decisions about adding to your home.
Additional Helpful Real Estate Resources
Use the additional resources to see how a finished basement and other improvements affect the value of a home.
---
About the Author: The above Real Estate information on the home does a finished basement add value to my home was provided by Bill Gassett, a Nationally recognized leader in his field. Bill can be reached via email at [email protected] or by phone at 508-625-0191. Bill has helped people move in and out of many Metrowest towns for the last 29+ Years.
Thinking of selling your home? I have a passion for Real Estate and love to share my marketing expertise!
I service Real Estate sales in the following Metrowest MA towns: Ashland, Bellingham, Douglas, Framingham, Franklin, Grafton, Holliston, Hopkinton, Hopedale, Medway, Mendon, Milford, Millbury, Millville, Northborough, Northbridge, Shrewsbury, Southborough, Sutton, Wayland, Westborough, Whitinsville, Worcester, Upton and Uxbridge MA.