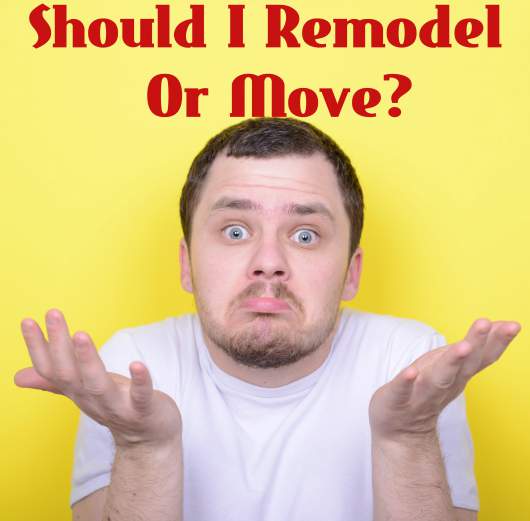 There are plenty of reasons to remodel a home – from dated designs to changes in lifestyle. However, if you have considered remodeling you may also have considered the idea of buying another home.
As the real estate market continues to recover your options for selling your current residence and purchasing another look better and better.
All of this makes deciding whether to remodel or move a bit of a challenge, but it is possible to make a final decision you are comfortable with. You just need to get clear on what you really want and need.
Deciding whether to remodel your house or move is a process that many homeowners go through. Whether to move or improve can be a tough decision.
Take a look at some of the considerations you should be thinking about when making what could be a life changing plan.
What is Missing From Your Home
Over the thirty-one years I have been selling real estate, the question "should I remodel my house or move" has been asked a number of times! The first thing I recommend is to take a long hard look at your current home and list where it falls short.
Where are the areas that your house misses the mark? Your kitchen may be too small and dated or your bathroom may be missing some key components that you have always wanted. The carpet could be worn and stained or the yard may be so uninviting you never set foot on it.
Many of these issues can be resolved with a home remodel and often the cost will be less than going for a brand new home. Granted, if everything in your home is just wrong it could be prohibitively expensive to gut the entire thing and start from scratch. But if the cabinets in your kitchen is the biggest complaint a remodel is much more reasonable.
Floor plan problems may or may not be fixable without spending too much money. More than likely you will find this to be one of the biggest factors in your decision. The size of your rooms can usually be altered to better fit your current lifestyle. The way the space in your home is used may not be the most efficient and this can begin to make you feel a bit claustrophobic.
Why is there a wall between your kitchen and your dining room? Why is the master bathroom so small and the master bedroom so uselessly large? A remodel can change these dimensions and make you feel life you are living in an entirely new house.
Cost vs Practicality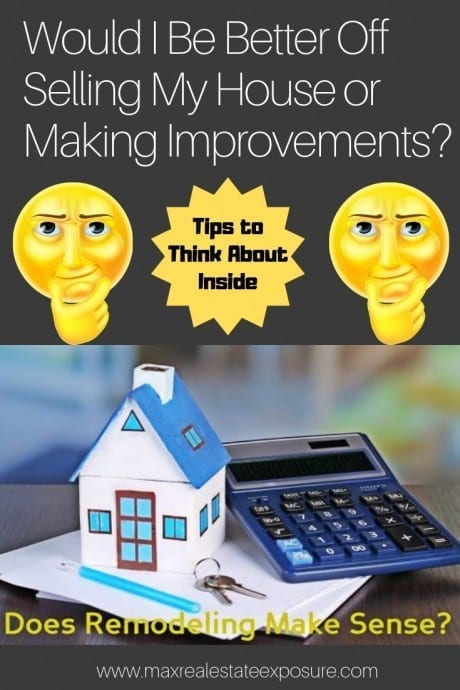 When trying to decide whether it makes more sense to move or add an addition onto your home, the cost vs the practicality of what you want to do needs to be considered.
The thought process on cost vs practicality should lead you to think about a few things including the following:
Does the addition and improvements I want to make price me out of the neighborhood? In other words will I get my money back by investing this money into the property when it comes time to sell?
Does the addition solve all of my problems? For example you might need a 4th bedroom and have the space to accommodate one. The problem however, could be you only have 1.5 baths and by adding a 4th bedroom you really should have a 2nd full bath as well. What if you don't have the space for a 2nd full bath without spending additional money? A four bedroom, 1.5 bath home could be a detriment when selling because of that lack of a 2nd full bath. Now you have additional money invested into the home that may not get the proper return. A few years ago I met with a homeowner in Franklin Massachusetts who was dealing with this exact situation. She ended up staying in the home and putting on the addition she wanted. Unfortunately I think the money she re-coups with be less than stellar due to the fact there are still only 1.5 baths in a home that should have 2.5.
Maybe you can accomplish one of your goals but not another. The backyard may be plenty big enough to handle the large family room addition but your sideline set backs don't allow for the garage you want. In some cases making the home too large and not having a garage could be a monetary mistake.
Are you over improving one area and leaving another area untouched? You would be surprised how many times I see people spending thousands on a kitchen remodel and the rest of their home looks like it belongs in the 70's. If you are going to make a major investment in your kitchen leaving the shag carpet, green toilets and peeling wallpaper is a mistake. Do it all or don't do it at all.
Consider Functional Obsolescence
The term functional obsolescence is one that is lost on many people until it is explained by a real estate professional. Function obsolescence is essentially a design flaw that impacts the market value of the property. Here are a couple of examples of functional obsolescence:
Having all the bedrooms in a home on the second floor and the only bath in the home is located on the first floor.
You have to walk through a formal dining room to get to the master bedroom.
Walking through one bedroom to get to another.
Having to walk through a formal room in order to get to a garage.
Too much square footage allocated to one area of the home and not the rest – example all of the bedrooms are tiny but the rest of the home is large.
These are all good examples of functional obsolescence in a home. If you have one of these type of things in your current home will the remodeling plan remedy the problem? If not, you could be digging yourself a deeper whole. The more money you sink into a home that has a functional obsolescence problem, the more money you will lose!
Is Location an Issue?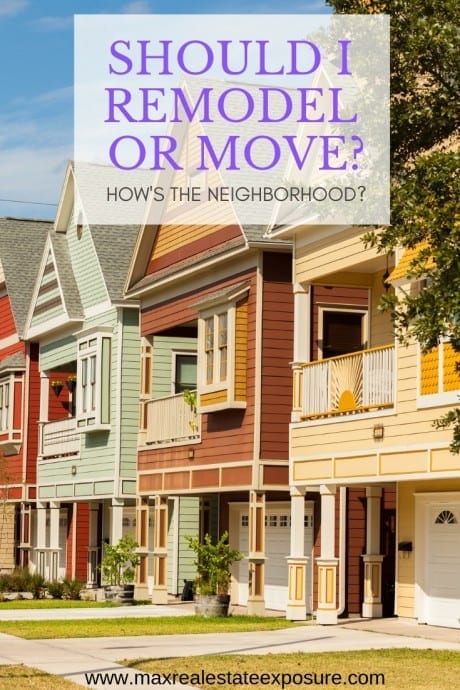 While remodeling can do a lot to fix the look and feel of your home, there are some problems it cannot fix. Where your home is located has a large affect on what it is like to live there.
While its current location may have been fine when you first bought it, either because the price was right or your life circumstances were different, now that location may cause a variety of frustrations.
Knowing how to pick a neighborhood that will you enjoy is one of the things that I am constantly bringing up to first time buyers. At times it can go in one ear and out the other due to an emotional attachment to a particular home.
This is a mistake that a lot of people don't realize until years later when life's circumstances change.
You could now be located in an area with no easy access to the things you now enjoy the most. Access to restaurants, shopping and social gatherings is important to many people and your neighborhood may have never developed the way you hoped it would.
On the flip side of this your area could have developed in a way you don't like. A new shopping center for example could have created traffic congestion that you don't want to put up with, even for the convenience.
Maybe when you bought the home you didn't have kids and now you do. Over the years one of the biggest reasons I will see people end up moving is because of their kids education.
First time buyers without kids will opt for a bigger less expensive home in an area where the schools may not be quite up to par as other similar locations. This can change in an instant and make it necessary to move. How schools can affect home values is not something every buyer will think about when purchasing, especially when they are young and it's not a priority.
Proximity to friends and family is also another concern. As homeowners get older being near their loved ones often becomes more important. The big old house you raised a family in may feel empty and very far away from the ones you care about.
Sometimes the home site itself is the problem. If you have groundwater issues, foundation problems or other problems to lay at the feet of mother nature, fixing them can be extremely expensive if not impossible.
A bad view or a bad neighbors are also things you cannot remodel your way out of.
Consider Your Time and Money
Knowing how long you plan on staying in your current home is important when you are making remodeling decisions. If you see yourself hitting the road in an RV in a few years or moving closer to the kids or to a warmer locale, the time and investment of some remodeling jobs may not be worth it.
You should also understand exactly what all of your remodeling tasks will cost you before you jump in. Bringing in an experienced and reputable company to give you an estimate is a must, even it it requires paying for the professional's time.
You want to know exactly what you will be spending. The money and time involved for the remodel may lead you to consider shopping around for another home. Better to know now in the planning stages than to be surprised later on.
Shop Around With A Realtor

Contact a reputable real estate agent to look at some of your buying options. You might as well know what is out there before you commit to a bunch of major renovations and a good agent will know exactly how to find what you are looking for.
He or she should also have some worthwhile advice on renovating versus buying in the market as it is right now. Things are always changing and your agent will be the best equipped to explain the present market.
A top notch agent should also be able to tell you the present value of your home vs what it will be worth if you go through with the renovation. When trying to decide between whether to move or remodel this should be a major consideration.
All other things being equal it could make sense to sell the home and move on. On the flip side it could make sense from a cost perspective to stay right where you are.
The agent who does this evaluation must not only be skilled but should be someone you trust completely. If you move the agent stands to make a lot of money. If you stay put they won't make a dime.
Given this circumstance you need to have someone you know will be completely impartial. This can certainly be hard as there is a lot of money involved. Choosing an agent that is extremely successful and doesn't worry about where their next check is coming from will be the person to speak with.
What You Can Sell For vs What You Can Spend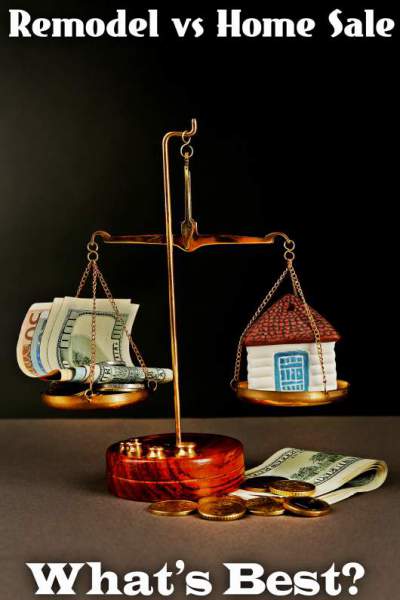 If you don't think it will be possible to find an unbiased Realtor it may make sense to have a real estate appraiser come in to look over your current home can give you an idea of what it is worth at the moment.
The appraiser can also take a look at your blueprints and specifications of the remodel and give you an estimate of value once the project is complete.
If you are just kicking the tires and haven't gotten serious yet check out the remodel or move website which offers some handy calculators and advice on this subject.
It will also be important to speak with your lender to find out about you qualify to spend should you decide to purchase instead of remodel.
With these two numbers you can get a pretty good idea of what could make more sense for you at least from a financial standpoint. Make sure you look over each with a keen eye.
Will buying a different home give you everything you want? Will staying put with a remodel be a fiscally responsible decision? Only you can answer these questions.
Do What Will Make You Happy
Each homeowner's wants and needs are different. Going through all of these steps should give you a better idea of why you are looking for a change and what changes are available to you. Deciding whether renovations or buying is best for you will ultimately come down to what is most important for you.
Putting together a checklist can be beneficial for many people. Put the pro's and con's of both the remodel and moving on paper. Seeing things in black and white can often make your decision a lot easier.
Additional Helpful Articles on Remodeling and Moving
Use these additional resources to help in the process of deciding whether to sell your home or remodel. Staying put or remodeling is not a decision that should be made quickly as it is a major life decision.
---
About the author: The above Real Estate information on should I remodel my house or move was provided by Bill Gassett, a Nationally recognized leader in his field. Bill can be reached via email at [email protected] or by phone at 508-625-0191. Bill has helped people move in and out of many Metrowest towns for the last 32+ Years.
Are you thinking of selling your home? I have a passion for Real Estate and love to share my marketing expertise!
I service Real Estate sales in the following Metrowest MA towns: Ashland, Bellingham, Douglas, Framingham, Franklin, Grafton, Holliston, Hopkinton, Hopedale, Medway, Mendon, Milford, Millbury, Millville, Natick, Northborough, Northbridge, Shrewsbury, Southborough, Sutton, Wayland, Westborough, Whitinsville, Worcester, Upton and Uxbridge MA.