How Do I Increase The Value of My Home Inexpensively?
Most homeowners are aware that renovations have the ability to potentially increase the selling price of their home. Many people have a limited budget, though, and they want focus on the most cost effective projects that will yield the greatest return on their investment.
What many sellers have asked me over the years is what improvements can be made before putting their home on the market that won't cost a lot of money.
Whether it makes the house sell faster, or for a higher price, they want advice that works. This is why real estate agents often get asked "how do I increase the value of my home inexpensively"?

Low cost improvements are are usually well worth the time and effort when your are selling real estate.
You may be selling a starter home or something more luxurious, but you can expect the renovations that improve sales to be fairly similar across the board.
Whether you are selling a home in Framingham Massachusetts or Salem Washington, you need to do what is necessary to draw buyers in and help them fall in love with your home. This means paying attention to the details and putting your best foot forward – neither of which, fortunately, requires spending a lot of money.
Small renovation projects can do big things for selling your home.
Affordable Home Renovations with Good ROI
Do you want to know what some of the most affordable home improvement are when selling a home? The improvements mentioned below will give you the biggest bang for your buck without breaking your wallet!
There are many smart things you can do before putting your home for sale many of which do not cost a lot of money. Many but not all of these things just require your time and a little bit of sweat equity. If you are looking for low cost improvements to increase a homes value these will do the trick!
Landscaping
You need to pull in buyers from the first moment they see your home – both in pictures and in person. Your yard and landscape delivers the first impression, hopefully one of cleanliness, order and beauty. Luckily, you can do most basic landscaping work yourself, and for not a lot of money.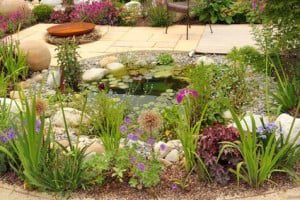 A few things that will really spruce up your landscape include:
Flowers and Plants – Installing flowers and other plants is easy to do, and adds color, texture and appeal to your landscape.
Mulching – Mulching is probably one of the cheapest ways to dramatically improve the look of your landscape. Covering your flower beds in mulch afterwards can give the finished look you want, and will do wonders for the health of your plants.
Boarders – If the boarders of your flower beds are old and worn out, consider replacing them with wood or rock options.
Sod – If your lawn has serious dead spots, hire a yard specialist to install sod to fill in the gaps.
You have several options when renovating your yard. You can make all the decisions and do all of the work yourself, or you can hire a landscape designer to help you with the design part.
You can also hire a landscaping company to do everything for you. Which you choose will depend on your budget and your experience.
Painting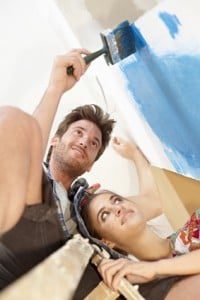 Paint is an inexpensive way to make an old house look new again, both inside and out. Obviously the bigger the project you take on, the more expensive it will be. But you do not have to do a full house painting unless it is necessary. Just using paint to add accents and improve the feel of your home can make it much more inviting to buyers.
Painting is the number one way to improve your home without spending a significant amount of money. Here is where to put your focus when selling a home:
The Front Door – Something about a rich, vibrant front door seems to draw people to your home. Choose a color that works with the rest of your design, and make your front door appealing with a new coat of paint.
Interior Rooms – If you have interior design skills, you already know the power of a well-painted room. Most people are lacking in this area, though, so it usually pays to hire an interior designer as a consultant in choosing your colors. Buy the colors he or she recommends, do the painting yourself, and see the difference.
Exterior – Painting the exterior of your home does not necessarily fall into the category of inexpensive renovations. However, if your home's paint is peeling, cracking and in general disrepair, dishing out the money for a new coat may be worth the cost.
Replacements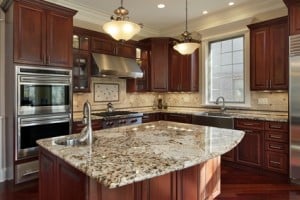 Some things in your home are easy to replace, and can modernize the look and feel of your home. These items below can offer some serious bang for your buck.
Fixtures – Things like old light fixtures can really make a home look dated. Although they may still work, your old brass fixtures are small and inexpensive details that make the home less appealing. Replace old fixtures with more modern ones.
Counter tops – Faded yellow counter tops do not draw in home buyers. Unless they are looking for a fixer-upper, features like this are sure to knock the sale price of your home. Replace counter tops with modern versions. Keep in mind, though, that it does not necessarily pay to out-do your neighbors. If everyone in your area has granite features, then upgrading is a good idea. If not, though, it may just be a waste of money. For most moderately priced homes, adding granite can be well worth it as it is a big "hot button" in home sales.
Windows – Whether you should replace your old windows or not is debatable. Some Realtors insist that the price you will pay is not worth what you will get back. However, it is worth considering that energy efficiency is a popular selling point now. If you have old single pane windows, upgrading may be worth the cost. You should also be able to take advantage of tax credits for energy efficient installs. According to MSN Real Estate windows have around a 69% rate of return on investment. Only make window replacements if you aren't selling immediately, as you will not get back what you spend. You'll need a few years for this to happen.
Appliances – Replacing your appliances can be expensive, but it is a choice that buyers are sure to notice. No one likes the idea of using someone's old stove or dishwasher. Newer versions demonstrate your investment in the home, and may be the tipping point to entice buyers to make an offer.
Cleaning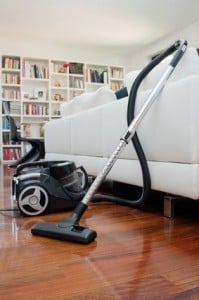 Most realtors you talk to will recommend hiring a professional house cleaning service before you put your home on the market. De-cluttering a home is a very important exercise in order to get top dollar for your property.
For very little money, cleaning and decluttering can change the appearance of your house. Remember in real estate sales first impressions are very meaningful!
Clean homes sell, and a professional service is sure to make your home looks spotless. However, if you would rather do the work yourself, make sure you clean all areas of your home thoroughly, including:
Windows – Dirty windows make a house look uninviting. Clean inside and out, and experiment with removing the screens to achieve a more open look. You can always put them back on, but clear glass makes a home look more inviting.
Carpets – Shampoo your carpet before you start showing the house. Even if you think it looks clean right now, you can bet that a shampooing will pull up all kinds of dirt, and will help minimize odors you may not even be noticing.
Garage – If your garage is filled with boxes, consider renting a storage shed until your home sells. A clean, open garage demonstrates the space of your home to full effect. If it is filled up, buyers will have a more difficult time seeing the potential for their own things.
Clutter – Now is the time to remove all clutter from your home. Put things away, and eliminate any clutter in your yard. You want to present your home in its ideal state, and clutter can ruin that impression.
Seek Good, Targeted Advice
If you want to sell your home for the most money, and as quickly as possible, you should consult an experienced real estate agent in your area. All of these tips will prove useful to you in selling your home, but advice targeted to your specific property will be even more valuable.
There are some sellers I have seen in the past who have made home improvements that have no return on investment. In many of these cases the so called "improvement" is actually decreasing the value of the home. If you are concerned with how you invest in your home you should always consult with a pro who can tell you what adds value and what doesn't.
A good Realtor will know what you can do now, with the budget you have available, to make your home sell. When there is lots of competition make sure you also exercise the best home selling tips. This advice will become priceless and lead you down the right path to home sale success. Adding value to your home does not have to come at great costs as long as you know what you are doing!
Other Home Improvement Resources
Use the above home improvement resources to get the most value out of your home as possible for when it comes time to sell. Remember that little things can go a long way to not only increasing the value of your home but helping it to sell quicker.
---
About the author: The above Real Estate information on the lost cost improvements to increase a homes value was provided by Bill Gassett, a Nationally recognized leader in his field. Bill can be reached via email at billgassett@remaxexec.com or by phone at 508-435-5356. Bill has helped people move in and out of many Metrowest towns for the last 31+ Years.
Are you thinking of selling your home? I have a passion for Real Estate and love to share my marketing expertise!
I service Real Estate sales in the following Metrowest MA towns: Ashland, Bellingham, Blackstone, Douglas, Framingham, Franklin, Grafton, Holliston, Hopkinton, Hopedale, Medway, Mendon, Milford, Millbury, Millville, Northborough, Northbridge, Shrewsbury, Southborough, Sutton, Wayland, Westborough, Whitinsville, Worcester, Upton and Uxbridge MA.