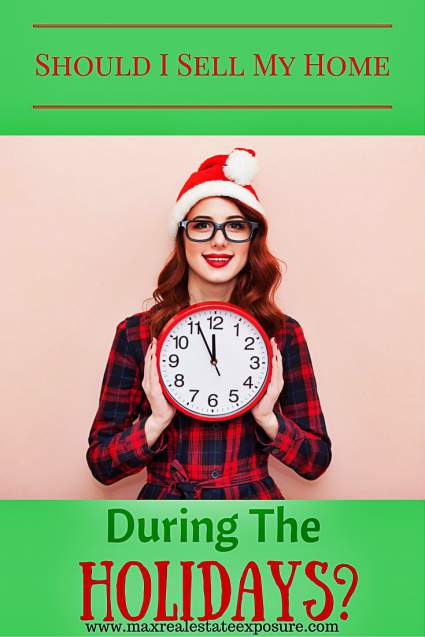 Holiday Home Sales
One of the questions that real estate agents often get from homeowners is "should I sell my home during the holidays"? They will follow up that question with is it better to wait until after the New Year or Springtime.
There is no clear-cut, and dry answer as everyone's personal circumstances are different.
An additional question real estate agents often get is "should I take my home off the market for the holidays"? This question comes from the folks that already have their home on the market.
Selling a home during the holidays, however, was once something that very few people did. The argument was that there were fewer buyers during the busy holiday season, so sellers might as well wait until there were more people available to look at the house.
But times have changed, and in many cases it can be just as effective, to list your home during the holiday season. Although there can be some drawbacks, you may be facing less competition and have an easier time making a sale.
If you decide to make the leap, understanding these winter home selling tips will become necessary. You will want to take a look at some of the best tips for selling in the winter season.
With Thanksgiving and Christmas just around the corner, these tips will become helpful if you decide to move ahead.
The Busiest Time Of The Year
There is no denying that the holiday season can be a busy one in our personal lives. The increased social demands, the dinners, and the parties, not to mention the gift giving and traveling – all of these can make the holiday season hectic for many households.
The busiest time of year does not seem at first glance to be an excellent time of year to sell a home. Who will have a chance to look at houses and go through the mortgage lending process during the holidays?
Well, the answer may surprise you. A lot of potential buyers are primed to buy a home during the holidays. They do a significant portion of their house hunting online anyway, so they can locate potential properties more quickly.
The fact that they are still looking in spite of the increased demands of the season also indicates that they are probably more motivated to buy.
The Best Kind Of Buyer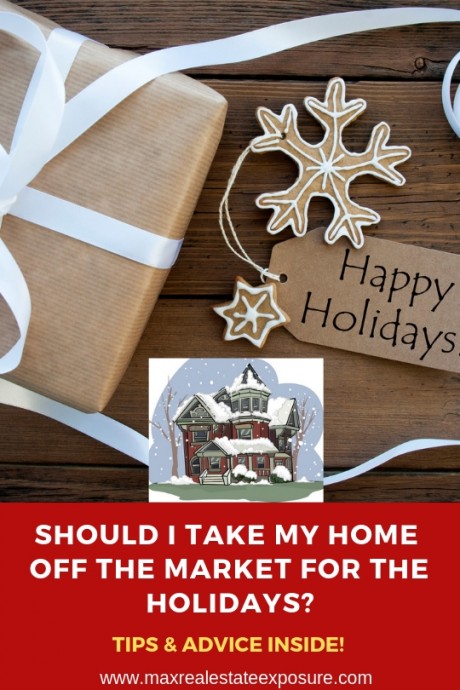 If you are willing to go through the extra work to put your house up during the holidays, you may be rewarded with the kind of customers every seller wants to attract. The old way of doing things, of waiting to list a home until January, is quite prevalent still.
A significant portion of sellers will even wait until Spring to list their home for sale. The thinking being this is the absolute best time. When these motivated buyers go looking for homes during the holidays, there will be less housing stock to choose from. Fewer homes for sales makes it more likely that buyers will check out your home.
Holiday buyers are also going to be caught up in the season, where emotions are running high and where they are thinking of the past, and more importantly, the future. Buyers can often be more enthusiastic about purchasing things when they are emotional, as the retail sales records around during the holidays demonstrate.
Where they may have been a little more hesitant to make a purchase before, during the holidays they may be the opposite – more likely to make a purchase, just because it makes them feel good.
The fact that buyers are often thinking of family during the holidays can also motivate them to buy homes that they can see raising a family or having family over for the holiday season. These motivations can lead to purchasing a bigger house than they may otherwise have.
The marketing efforts of your Realtor can appeal to these sensibilities, selling your home as a great place to raise kids. Some of this is discussed in the article above in which I explain some of the best sales tactics for selling a home during the holidays.
Keep in mind that anyone looking at purchasing a home during the holidays is more than likely very serious. You are less apt to find a bunch of "tire kickers" looking at houses during this time of year.
Last year a client was interviewing multiple top Grafton Mass Real Estate agents, and they were all telling him to wait until the Spring.
The problem, however, was that he was in a bit of dire financial straights. All of the Realtor's being interviewed were saying not to put the home on the market between Thanksgiving and Christmas.
He ended up listing with me. The house ended up going under agreement a week later with a relocation buyer who was looking to make an immediate purchase. A win-win! Sometimes your advice on whether to sell your home during the holidays depends on the individual's circumstances!
Faster Sales
One additional benefit of selling during the holidays is that buyers can usually get their loans approved much more quickly than they would during the Spring or Summer markets when everyone starts selling again. Lenders are less busy during the holiday season because, again, there are just not as many home sales happening.
They can usually process the loan faster, which means you can get the money you need for your home, and possibly for the purchase of your next home, much quicker. This is the perfect time to shop for the lowest mortgage interest rate possible. There will be mortgage officers who will love to put a loan together to get one last deal under their belt for the year!
Tax Benefits
Smart home buyers are looking for any break they can get, which can make buying at the end of the year particularly beneficial. The buyers that are hunting during the holidays are probably aware that they can write off some of the expenses of the home purchase on their taxes.
There are usually some tax benefits of owning a home they can take advantage of, including deductions for mortgage interest, private mortgage insurance premiums (PMI) and tax credits for real estate taxes. The possible tax benefits may also increase the buyer's motivation to get a house bought before the New Year.
Homes Look Their Best During The Holidays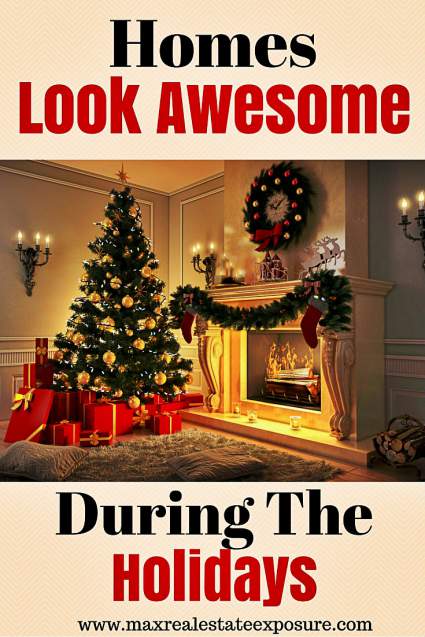 There is nothing like winter to make a house look like a home. A fire in the hearth, cookies baking, holiday decorations – all of these can be played up to appeal to the buyer's senses.
As long as your Realtor or the home stager does not overdo it, these trappings from the holidays can draw in buyers and make them feel like they could live in your home, that they could have their own warm and cozy holiday season.
Remember to make sure your home has a comfortable atmosphere including turning up the thermostats a bit before the showing. While it is always good to follow sound energy savings tips for your home, keeping the thermostat down could lead to a less than stellar showing environment.
Be Prepared For Your Next Move
When selling during the holidays, you need to have the mindset that someone may come along and want a quick close. This could put a real cramp in your style especially if they ask for an inconvenient closing time like right smack dab in the middle of Thanksgiving and Christmas.
You also need to have your ducks lined up in a row when it comes to where you will be living. Do you have a home already located for purchase? Buying and selling a home at once can be tricky. This is something that should be well thought out in advance. Your stress levels will go through the roof when you have not thought about all the "what ifs"!
You have probably asked yourself the same question – "if someone comes along and I have not found another home to buy where will I go"?
This is a common dilemma many people face when trying to buy and sell simultaneously. As long as you have things planned in advance, everything usually falls into place.
Selling For More Or Less?
There is no way to tell if your home will sell for more or less than it would outside of the holiday season. There is the argument that because there are fewer houses to choose from, that you could get closer to your asking price due to a less saturated market.
But you will also be dealing with less demand, as there will not be as many people looking for homes.
Research does not indicate that home sale prices are connected to seasons, so your results may vary. There is no reason why you shouldn't be able to sell your home for a reasonable price about the current market, however.
Especially if you hire a Realtor that is familiar with selling homes during the holidays. Every market is different so you should consult with a local professional who will give you the best advice on whether selling during the holidays or waiting until Spring is best.
Here in Massachusetts we have a very seasonal real estate market. Spring is almost always the best time of year to sell a home. Sometimes circumstances dictate that selling during the holidays is necessary. Do what you can to make the best of it.
If you don't have a pressing need to sell, taking your home off the market for the holidays may make some sense. This is especially true if your house has been on the market for a while. In areas of the country where the weather is less than desirable, a complete reset in the spring might make the most sense.
Other Helpful Winter Home Selling/Buying Articles
Use the additional helpful articles to get answers surrounding selling your home in the cold winter weather season. These tips will help whether selling your house takes place before or after the holidays are over.
You may decide taking your home off the market for the holidays is the right move for your personal circumstances.
---
About the Author: The above Real Estate information on should I sell my home during the holidays was provided by Bill Gassett, a Nationally recognized leader in his field. Bill can be reached via email at [email protected] or by phone at 508-625-0191. Bill has helped people move in and out of many Metrowest towns for the last 31+ Years.
Are you thinking of selling your home? I have a passion for Real Estate and love to share my marketing expertise!
I service Real Estate sales in the following Metrowest MA towns: Ashland, Bellingham, Douglas, Framingham, Franklin, Grafton, Holliston, Hopkinton, Hopedale, Medway, Mendon, Milford, Millbury, Millville, Natick, Northborough, Northbridge, Shrewsbury, Southborough, Sutton, Wayland, Westborough, Whitinsville, Worcester, Upton and Uxbridge MA.