Renting a Room in Your Home – Things to Think About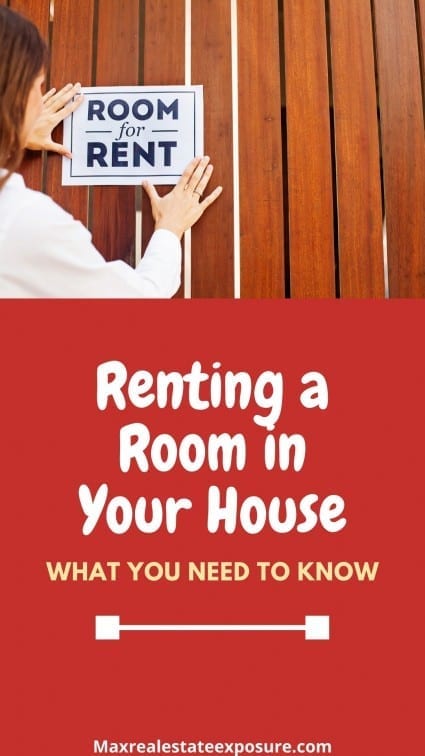 Are you considering renting a room in your home? If you are struggling each month to pay your mortgage and your other bills, you are not alone. Many homeowners find themselves in a similar situation. For some, the answer is to rent out a room in their house.
Of course, renting out a room has its pros and cons. You get rent money, which can provide a much-needed cushion. But you have to find and manage a renter, which can be challenging. While renting out your house is a much more common decision, it is possible renting out just a room or two could be a better solution financially.
Deciding whether to rent out a room in your home is a very personal decision. Here are some things you should know before you make up your mind.
1. Renting a room offers some serious benefits.
There are multiple potential benefits to renting a room out in your home, including:
Money. This is the most obvious and usually the most desirable benefit of renting out a room. You get regular income in the form of rent from your tenant. You can use this money to help pay your mortgage, pay off debt, and to cover expenses. If you don't need the money to cover bills, you can put it in savings or invest it. Who knows, if the tenant falls in love with your place, they may even want a rent to own agreement.
Help around the house. Some homeowners value help around the house as much or more than they do rent money. If you want a tenant that will take care of tasks in and around your home, you could offer a discounted rental rate for the extra work they will do. Having someone who is handy and knows their way around a tool belt can be a godsend for some folks.
Peace of mind. Some senior homeowners choose to have a renter in their home because it offers peace of mind. They like knowing that if they really need help, there will be someone there who can provide it.
Having company. If you have had a partner for a long time and suddenly don't, you may feel the need to have others around. Renting a room in your house provides that person who could become a great friend.
2. You have to weigh the benefits against the drawbacks.
Getting extra money and help around the house is well and good, but it does come at a cost. Some of the potential concerns you might have about renting a room out could include:
Safety. Unless you rent a room to a friend or family member, you probably don't know much about the person you are letting into your home. You give them a key and permission to be in your home at all hours – which could provide them with an opportunity to steal your things or allow potentially dangerous people into your home. Vetting your roommate is going to become a serious consideration.
Lifestyle differences. If you are the kind of person that likes to be in bed by nine and you rent to a college student who loves to party, you are going to run into lifestyle differences that may be insurmountable. It's possible that the roles could be reversed, too. If you are a noisy night owl and you rent to a person who needs to be up at five each morning, you are going to have problems as well.
Cleanliness and order. This is a significant factor for some homeowners that make renting to others difficult. If you like to keep a clean and orderly home and you rent to a messy person, you will get irritated and frustrated. It is unlikely the renter will change on your account, either, so you may be stuck with your frustrations until the lease runs out.
Bad habits. Checking things upfront that you might have a significant problem with like smoking will be vital. Whether it is cigarettes or marijuana, if either makes you uncomfortable, you'll really regret leasing a room to someone who does.
3. You have to adhere to local laws and the rules of your HOA.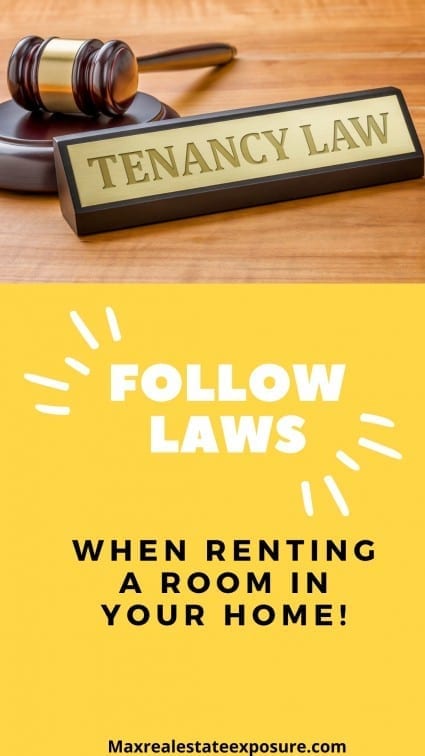 The laws of your city or municipality will specify what you can and cannot do as a landlord. You may be able to rent out a room – but only if you provide the tenant with running water and plumbing.
You may also have to have a window in the room big enough for the renter to exit from in case of an emergency. Or you may not. It all depends on your local laws. Understanding the definition of a bedroom could become critical.
Before you put an ad on Craigslist for a tenant, you definitely want to learn what local laws apply to you and make sure you adhere to them. Otherwise, you risk running into trouble, getting fined, and other hassles that will wipe out any benefit of renting out the room.
If you are part of an HOA, you likely also have rules that you need to follow as part of the association. Your HOA probably has specific guidelines for renting out rooms in your home. Ignoring those rules is just asking for trouble – because eventually, one of your neighbors will recognize that you are renting a room and report you.
Before you make your final decision about renting out a room in your home, you definitely want to know what laws apply to you and what hoops you may need to jump through. That way, you can move forward without worrying about getting in trouble, being fined, or similar problems.
4. Your insurance provider is going to have rules about renting, too.
Insurance companies write policies for specific situations. Those specifics are what dictate your coverage and your insurance rates. If you change the details – like renting out a room to a tenant – then your insurance coverage may not be sufficient to protect you from liability.
You need to speak with your insurance company about your decision to rent to a tenant so they can give you feedback and let you know what to expect from them. Some insurance companies may not make a big deal out of your decision. They may not even change your insurance policy or your rate. But others will decide to rewrite your policy and raise your rate.
Not telling your insurance company can get you into a bind if you do need to make a claim. If you file a claim and they find out you have a renter – and they probably will – they could deny your request. You want to avoid such a situation, so make sure you speak to them before renting.
If your insurer finds out you have a tenant, they could also ask you to get landlord insurance, which usually costs 15% to 20% more than homeowners' insurance.
5. Renting a master bedroom will generate more income.
Most homeowners start off renting their second bedroom while they live in the master bedroom with an attached bath. This is obviously the most comfortable configuration. The tenant gets the smaller room and has to walk through the hall to get to the bathroom. But if you want to maximize your rental income, you might want to think about renting your master bedroom instead. If you rent the master bedroom and it has an attached bathroom, you can charge more rent – sometimes a lot more rent.
You may be fortunate enough to have a basement that includes a bedroom and a bathroom – maybe even a kitchenette. If this is the case, you can rent the whole basement as an apartment if you like. This is especially true if the basement has a separate entrance.
Ultimately, you will need to decide if your comfort is worth more than the rent you could make. If you want to get the most rent, offer the best room in the house. But if you don't want to sacrifice your comfort for more money, that's ok, too. It's your house, after all.
6. When renting an in-law apartment – know the zoning laws.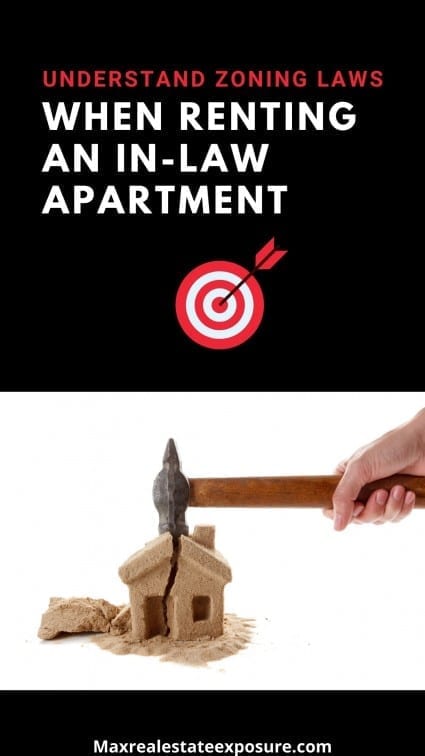 When you are renting out more than just a room, it is vital to know the zoning laws in your city or town because you could be violating them. If you live in a single-family home and happen to have an in-law apartment, renting it out to someone who is not related could be illegal. Doing so could violate local zoning by-laws.
Having a multi-family is not the same thing as having an in-law. In many communities, there are people that try to skirt the laws and rent out their homes to multiple people.
7. Take advantage of strategic listing options.
There are options for listing your room for rent that offer more customization and screening options than the standard Craigslist ad. The following platforms offer listing rooms that help you connect with potential tenants that have similar lifestyles and habits to yours.
They are kind of like online dating sites. You answer a bunch of questions about what you like and don't like, and potential tenants do the same. Then, the platform connects you with those that responded to questions in ways that indicated they share a lot of your preferences.
8. Try to give a complete picture of your listing.
You want to put everything on the table with your listing, so you don't surprise potential renters, and they don't surprise you. Make sure you take high-quality pictures of the room that give a good idea of what it's like.
Explain in your listing what you are interested in sharing with the new roommate, such as your swimming pool, laundry room, and kitchen.
You know what you want to share and what you don't want to share – let them know, too. That way, they don't come to look at your room for rent and think that they are going to get something that they aren't.
Writing a good listing description is something that takes effort, but it is worth it in the end. Save yourself unnecessary headaches by being comprehensive from the start.
Tips For Renting Out a Room in Your House
Prepare your home for renting. Just like selling a home, you will want to make it show exceptionally well. You will want to remove all the clutter and do a deep cleaning. Pay particular attention to the kitchen, bathrooms, and family room.
Figure out what area of the home you'll be renting out. It will be essential to have a game plan before inviting potential tenants into your home. The tenant is going to ask what's included, so make sure you know how you'll respond ahead of time.
What will you charge for rent, and will there be any negotiating? It will be important to see what local rates are for renting a room in your home. You'll want to be competitive in the market.
Advertise accurately. You should be upfront about what you will include, along with what you won't tolerate. For example, if you won't allow smoking, make sure your advertisement says so.
Remember, fair housing laws. Do keep in mind you cannot discriminate when renting a room in your property. You cannot discriminate based on race, sex, religion, familial status, disabilities, national origin, or ethnic background. Here is some helpful info on the fair housing laws.
Get references and check credit. Two of the most crucial tasks when screening tenants will be getting a credit check done and having them provide references.
Consider a background check. Once you have narrowed down your selection process, you might want to do a background check. Doing so will allow you to see if there is anything negative you should know about the person who will be living with you. Landlords are required by the Fair Credit Reporting Act to use a Consumer Reporting Agency (CRA). A CRA is required to maintain specific standards of privacy to protect both you and your tenant. When turning down a potential tenant because of something discovered in their background check, you are required by law to provide a reason. The Consumer Financial Protection Bureau (CFPB) states that a landlord must give the tenant with an adverse action notice that has the name and contact information of the consumer reporting agency that the landlord got the consumer report from.
Have a written agreement. Another smart consideration when renting a room is to have a written agreement. The contract should detail all of the terms, much like when you're renting out your home. Be specific about the tenant's responsibilities, such as pitching in with mowing the lawn or shoveling the walk. Having a local real estate attorney draw it up would be smart. Another critical point of discussion may be the tenant having guests. Can you imagine having a tenant who has a boyfriend or girlfriend who leaves in the middle of the night waking everyone up?
Collect a security deposit. You should think about collecting some money on the off chance there is damage done to your property.
Have a condition statement form signed. The tenant should fill out a condition form that identifies any issues with the space they are renting, such as dings on the wall or other imperfections. The statement will be reviewed before the tenant leaves to see if they will be able to get their security deposit back.

Your Rental Agreement Should Contain These Things
When renting space in your home, the agreement should cover the following items:
How much you will be charging the tenant.
What date the rent will be due.
Whether the tenant will share in the cost of the utilities and if so, what percentage.
How common areas will be handled.
Will the tenant share in responsibilities for upkeep around the home.
Any restrictions of use at the property. For example, taking a space in the garage if one exists.
These are the key things that should be in your contract when renting a room in your house!
Click To Tweet
Don't Forget About Tax Consequences
Do remember that you will be collecting rent and that money is considered income that should be reported to the IRS. You should also be aware that you may have some rental deductions as well that can be claimed. For example, did you replace the carpet in the bedroom during the time of tenancy?
Items you may be able to deduct on your taxes include any advertising, insurance, repairs, cleaning and maintenance, supplies, utilities, depreciation.
Problems You Could Run Into
One of the most significant problems you could run into when renting out a part of your home is the tenant, not leaving. Let's say your finances change, or you no longer have the need to rent a room. You ask the tenant to leave at the expiration of the tenancy, and they don't. Unfortunately, housing laws heavily favor tenants in most states. It could take you months to get the tenant out of your home.
Can you imagine what the tension would be like in a situation like this? There are certainly pros and cons to renting a room, and this would undoubtedly be a significant disadvantage! Selling a home with tenants can also be extremely difficult. They can make your life miserable by doing things to stop your sale. Remember, they don't want to leave!
Final Thoughts on Renting a Room
Without a doubt, there can be upsides and downsides to renting out a room in your home. Hopefully, after digesting these tips, you have a better understanding of some of the most essential considerations.
---
About the author: The above Real Estate information about renting a room in your house was provided by Bill Gassett, a Nationally recognized leader in his field. Bill can be reached via email at [email protected] or by phone at 508-625-0191. Bill has helped people move in and out of many Metrowest towns for the last 33+ years.
Are you thinking of selling your home? I have a passion for Real Estate and love to share my marketing expertise!
I service Real Estate Sales in the following Metrowest MA towns: Ashland, Bellingham, Douglas, Framingham, Franklin, Grafton, Holliston, Hopkinton, Hopedale, Medway, Mendon, Milford, Millbury, Millville, Natick, Northborough, Northbridge, Shrewsbury, Southborough, Sutton, Wayland, Westborough, Whitinsville, Worcester, Upton, and Uxbridge MA.