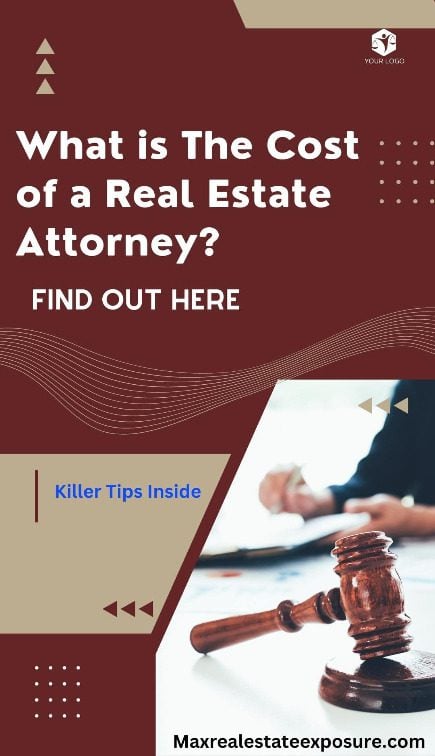 Are you wondering how much an attorney for real estate charges for their services?
Several factors come into play regarding the cost of hiring a real estate attorney. Factors such as the type of case, complexity, and the attorney's location can influence the overall cost.
Attorneys may charge hourly rates or flat fees, ranging between $150 and over $400 per hour or between $500 and $2,000 for closing on a house.
Additional expenses like title insurance, transfer taxes, and registration fees may apply. Hiring a real estate attorney is crucial in ensuring a legally sound property transfer and protecting the interests of all parties involved.
In some states, a title company is used in a real estate transaction rather than a real estate lawyer. We will explore everything you need to know about the cost of a real estate attorney.
Factors Affecting the Cost of a Real Estate Attorney
When determining the cost of a real estate attorney, several factors come into play. These factors can influence your overall expenses when hiring legal representation for real estate transactions.
Type of Case: The complexity and nature of your real estate case will significantly affect the cost of hiring an attorney. Different circumstances, such as commercial property transactions or disputes, may require additional expertise and resources.
Geographic Location: The location of the attorney's practice can impact the cost. Attorneys in metropolitan areas or regions with a higher cost of living tend to charge higher rates than those in more rural areas. The pricing can go up quite a bit, going from a suburban to an urban setting.
Attorney's Experience: The level of experience and reputation of the attorney can also influence the cost. Attorneys with a proven track record and extensive knowledge of real estate law may charge higher fees based on their expertise.

The Complexity of the Transaction:

The complexity of your real estate transaction, including any potential legal issues, can impact the cost of hiring a lawyer. Complicated cases that involve multiple parties or intricate legal matters may require more time and resources.
Time and Effort Required: The amount of time and effort the attorney needs to dedicate to your case will affect the overall cost. Factors like negotiations, document review, and court appearances can increase the expenses associated with legal representation.
Keep these factors in mind when seeking the services of a real estate attorney. Understanding how they influence costs can help you budget and make informed decisions for your real estate transactions.
Hourly Rates vs. Flat Fees: Understanding the Pricing Structure
When working with a real estate attorney, it's essential to understand the pricing structure they use. Attorneys may charge either hourly rates or flat fees for their services.
Hourly Rates: Some attorneys calculate their fees based on the number of hours they work on your case. Hourly rates can vary depending on the attorney's experience level and location. Generally, real estate attorneys' hourly rates can range from $150 to over $400 per hour.
Flat Fees: Alternatively, some attorneys may charge a flat fee for specific services. For example, they might offer a fixed rate for handling the legal aspects of closing on a house. Flat fees for real estate attorneys can range from $500 to $2,000, depending on the complexity of the transaction.
It's essential to consider the nature of your case and your budget when choosing between hourly rates and flat fees. Hourly rates may be more suitable if your case requires extensive legal work or ongoing representation. On the other hand, flat fees can provide predictability and may be more cost-effective for straightforward transactions.
In most home sales, attorneys are paid a flat fee vs. an hourly rate.
Remember, your fees can also depend on the attorney's experience, reputation, and geographic location. Discussing the pricing structure and any potential additional costs with your chosen real estate attorney before proceeding is crucial.
Range of Costs for Different Types of Real Estate Cases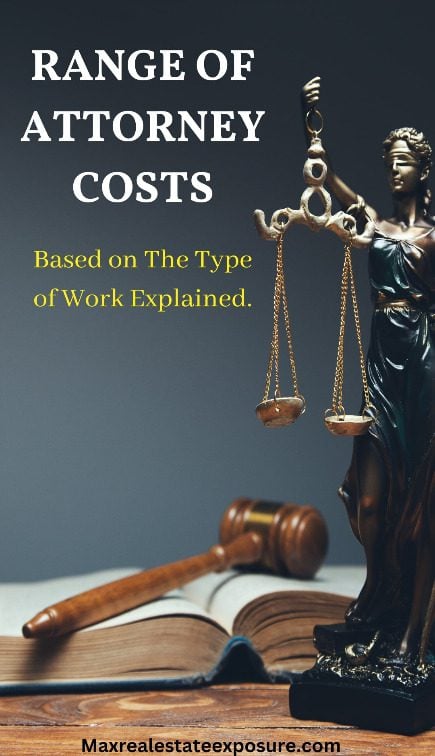 The cost of hiring a real estate attorney can vary depending on the type of case.
Here is a breakdown of the range of the expenses for different types of real estate cases:
Residential Transactions: The cost for a real estate attorney can range from $800 to $2,000 or more for a typical residential transaction. This includes reviewing and preparing documents, conducting title searches, and overseeing closing.
Commercial Transactions: For more complex commercial transactions, the cost of a real estate attorney can be higher, ranging from $5,000 to $10,000 or more. This is due to the intricacies of dealing with commercial properties, negotiations, and potential legal complications.
Foreclosures: Hiring a real estate attorney can cost between $2,000 and $5,000 if you are involved in a foreclosure process. They can help you negotiate with lenders, assess legal options, and guide you through the foreclosure proceedings.
Property Disputes: Resolving property disputes through legal means can cost between $3,000 and $10,000 or more, depending on the complexity and duration of the case. Real estate attorneys can provide representation in court, conduct investigations, and navigate the legal process.
Remember that these costs are estimates and can vary based on factors such as the attorney's experience, location, and the specific details of your case.
It is advisable to consult with multiple real estate attorneys to understand their pricing structure and obtain accurate cost estimates for your particular situation.
How Much is a Real Estate Attorney For Closing?
The cost of a real estate attorney for closing varies. The fee can be lower if the attorney represents the buyer and the bank. You can expect pricing to range between $1000-$2000. Attorneys fees will be part of a buyer's closing costs.
When selling a home, a real estate lawyer can also attend the closing under a power of attorney on the seller's behalf. They will sign the necessary documents, and the seller doesn't need to attend.
So, if you are wondering who pays attorney fees at closing, it can be the buyer and seller.
Additional Expenses and Fees in Real Estate Transactions
Aside from the attorney's fees, other expenses and fees are involved in real estate transactions. These costs can vary depending on the location and value of the property.
Here are some additional expenses to consider:
Title Insurance: Purchasing title insurance is typically necessary to protect against any potential legal issues or claims to the property's ownership. The cost of title insurance varies based on the property's value.
Transfer Taxes: When transferring property ownership, certain jurisdictions impose transfer taxes. These taxes are typically calculated based on the property's sale price or assessed value.
Recording Fees: Documenting the transfer of property ownership usually requires filing and recording fees with the appropriate government agency. These fees also vary depending on the jurisdiction.
Home Inspections: Conducting a thorough property inspection before completing the transaction is crucial. While not directly related to the attorney's fees, it is an additional expense worth considering. The cost of a home inspection is worth every penny.
Appraisal Fees: Lenders often require an appraisal to determine the property's market value. The buyer typically pays the appraiser's fees separate from the attorney's charges.
It's important to remember that these additional expenses are necessary for a real estate transaction. When budgeting for your purchase or sale, it's essential to factor in these costs on top of the attorney's fees to ensure a smooth and legally compliant process.
The Importance of an Attorney For Real Estate when Buying a Home
When buying a home, hiring a real estate attorney is paramount. They are crucial in ensuring a smooth and legally sound transaction, protecting your interests as a buyer.
Let's explore why their expertise is essential:
Legal Guidance and Advice: A real estate attorney is licensed to provide valuable guidance throughout the buying process. They understand the complex legalities and can help you navigate potential pitfalls.
Document Review and Preparation: Your attorney will carefully review all documents related to the purchase, such as contracts, titles, and seller disclosures. They can help spot any discrepancies or issues that may cause problems in the future.
Negotiation Support: An attorney can assist in negotiating the terms of the purchase agreement, ensuring your interests are protected. They can advocate for necessary repairs, contingencies, or other favorable terms.
Closing Process: Your attorney will oversee the closing process, ensuring all legal requirements are met, and the transfer of ownership goes smoothly. They will also ensure that all necessary funds are appropriately disbursed.
By working with a real estate attorney, you can have peace of mind knowing that your interests are safeguarded, minimizing potential risks and complications.
While it may involve an upfront cost, their expertise can save you from future legal disputes and financial burdens.
How a Real Estate Lawyer Can Help with Contract and Document Preparation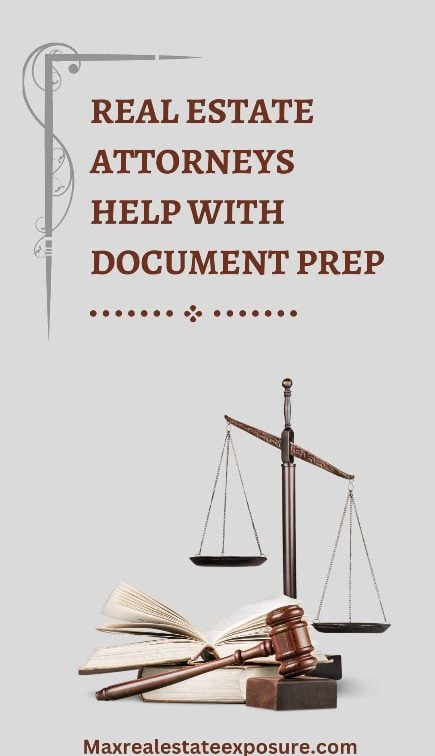 The contract and documents can be complex and overwhelming when buying or selling a property. This is where a real estate attorney plays a crucial role in ensuring everything is in order and protects your interests.
A skilled real estate attorney is well-versed in contract law and has extensive expertise in drafting and reviewing documents specific to real estate transactions. They can help you navigate the paperwork, ensuring that all necessary terms and conditions are included and protecting you from legal issues.
Here's how a real estate attorney can assist you with contract and document preparation:
Reviewing and explaining the terms and conditions of the contract to ensure your understanding.
Identifying any potential legal pitfalls or loopholes and making necessary amendments.
Drafting clear and comprehensive agreements that address all relevant aspects of the transaction.
Ensuring compliance with local and state laws, regulations, and requirements.
Providing expert advice on any contingencies, disclosures, or addendums that may be necessary.
Negotiating terms with the other party or their legal representative to protect your interests.
Coordinating with other professionals, such as lenders or title companies, to facilitate a smooth transaction.
By working with a real estate attorney for contract and document preparation, you can have peace of mind knowing that your interests are protected, and the legal aspects of the transaction are appropriately handled.
The Role of a Real Estate Attorney in the Closing Process
When it comes to the closing process of a real estate transaction, a real estate attorney plays a crucial role in ensuring a smooth and legally sound process. Their expertise and knowledge in real estate laws and regulations are invaluable in protecting the interests of both buyers and sellers.
During the closing process, the attorney thoroughly reviews all the relevant documents, including the purchase agreement, title documents, and any required disclosures. They ensure that all legal requirements are met and identify any potential issues that may arise.
One of the attorney's primary responsibilities is conducting a title search to ensure the property is free from liens, encumbrances, encroachments, or legal disputes. They also handle the funds transfer between parties and ensure all financial obligations are fulfilled, such as paying off existing mortgages, property taxes, and fees.
In addition, the attorney oversees the execution of all necessary legal documents, such as the deed, mortgage contract, and other closing documents. They explain the terms and conditions to the parties involved and ensure everything is properly signed and notarized.
Furthermore, the attorney represents their clients during the closing meeting, ensuring their interests are protected and negotiating any necessary amendments or contingencies. They mediate between the buyer, seller, lenders, and other parties involved.
Overall, having a real estate attorney involved in the closing process provides peace of mind as they navigate the complex legal aspects and safeguard the rights and investments of all parties involved.
Potential Cost Savings of Hiring a Real Estate Attorney in the Long Run
Hiring a real estate attorney may seem like an additional expense upfront, but it can lead to significant cost savings in the long run.
Here are some key reasons why:
Preventing Legal Issues: A real estate attorney thoroughly reviews documents and contracts to ensure legal compliance. Identifying and addressing potential issues early can help avoid costly disputes and litigation.
Negotiating Power: An experienced attorney can negotiate favorable terms and conditions, potentially saving you money on purchase agreements, lease agreements, or other real estate transactions.
Avoiding Costly Mistakes: Real estate transactions involve complex processes and legal intricacies. A knowledgeable attorney can oversee the entire process, minimizing the risk of costly mistakes or oversights that could lead to financial consequences.
Protection of Interests: A real estate attorney protects your rights and interests throughout the transaction. Their expertise can help identify potential pitfalls or risks, allowing you to make informed decisions that save you money in the long run.
Minimizing Future Risks: A real estate attorney helps reduce the likelihood of future disputes or complications by addressing potential legal issues and ensuring proper documentation. This proactive approach can save you significant costs arising from disputes or legal challenges.
While having a real estate attorney may involve an initial investment, their guidance and expertise can lead to substantial cost savings and provide you with peace of mind throughout the real estate transaction process.
Considerations When Choosing a Real Estate Attorney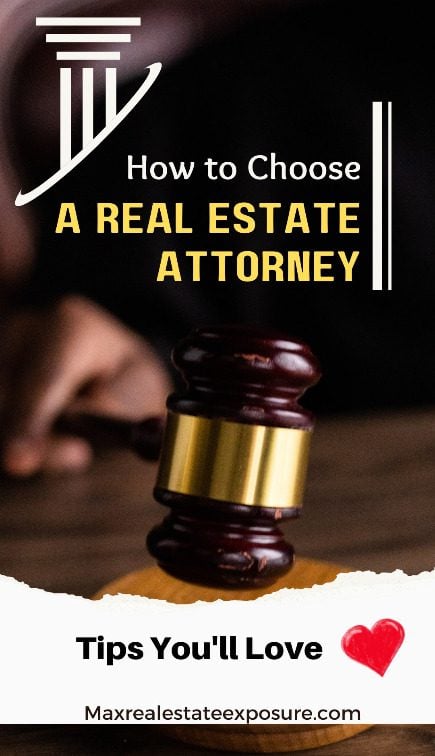 When selecting a real estate attorney, it's essential to consider a few key factors carefully:
Experience and Expertise: Look for an attorney specializing in real estate law with extensive experience handling similar cases. This ensures they have the necessary knowledge and skills to navigate complex transactions.
Reputation and References: Research the attorney's reputation and seek references from previous clients. Online reviews and testimonials can provide valuable insights into their professionalism, reliability, and success rate.
Communication and Accessibility: Effective communication is essential throughout the legal process. Choose an attorney who is responsive, attentive, and keeps you well-informed. Accessibility and availability are crucial when time-sensitive matters arise.
Transparent Fees and Billing Structure: Understand the attorney's fee structure upfront and ensure it aligns with your budget. Request a detailed breakdown of costs, including any additional charges beyond legal fees.
Personal Compatibility: Building rapport and feeling comfortable with your attorney is vital. This fosters open communication and trust, enhancing the attorney-client relationship.
By carefully considering these factors, you can select a real estate attorney who meets your needs, ensures a smooth transaction, and provides legal guidance to protect your interests.
Alternatives to Full-Service Real Estate Attorneys for Cost Savings
While full-service real estate attorneys provide comprehensive legal assistance, alternatives are available for cost savings. Consider these options:
Limited Scope Representation: Instead of hiring a real estate attorney for the entire transaction, you can opt for limited scope representation. This allows you to seek legal advice and assistance only for specific aspects of your real estate case, reducing overall costs.
Online Legal Services: Various platforms offer affordable legal services for real estate matters. These platforms connect you with licensed attorneys who provide guidance, document review, and assistance at a fraction of the cost of traditional representation.
Consulting a Real Estate Paralegal: If your case is relatively straightforward, consulting a real estate paralegal can be a cost-effective alternative. Paralegals know real estate law and can assist with document preparation, helping you save on attorney fees.
Pro Bono Representation: Explore pro bono programs or legal clinics that provide free or low-cost legal services for individuals who qualify based on income or other criteria. These programs can connect you with volunteer attorneys who can assist with your real estate case.
Explore these alternative options carefully and consider your specific needs and budget when deciding on legal representation for your real estate matter.
Remember, while cost savings are essential, ensuring that any chosen alternative meets your legal requirements and protects your interests is crucial.
Common Legal Issues in Real Estate Transactions and How an Attorney Can Help
Regarding real estate transactions, several common legal issues can arise. Hiring a real estate attorney can provide valuable assistance in navigating these challenges and ensuring a smooth process.
Here are a few examples of the issues where an attorney's expertise can be beneficial:
Contractual Matters: Real estate attorneys can review and draft contracts to protect your interests, ensuring that all terms and conditions are fair and favorable. They can also handle negotiations and modifications to ensure your rights are protected.
Title and Ownership: Attorneys can conduct thorough title searches to identify any potential liens, encumbrances, or ownership disputes that could affect the sale or purchase of a property. They can also assist in resolving these issues to ensure a clear and marketable title.
Disclosure and Due Diligence: Attorneys can guide buyers in understanding the seller's obligations to disclose any material defects or issues with the property. They can also assist in conducting due diligence to uncover hidden or undisclosed problems that may impact the transaction.
Financing and Mortgages: Real estate attorneys can help negotiate favorable terms in financing agreements and ensure compliance with applicable laws and regulations. They can also assist with issues related to the transaction's mortgages, liens, and other financial aspects. Excellent attorneys will remind you about contingency dates.
Disputes and Litigation: In the unfortunate event of a real estate dispute or litigation, having an attorney on your side can be crucial. They can represent your interests and work towards a favorable resolution through negotiation, mediation, or litigation.
By seeking professional legal advice and representation, individuals involved in real estate transactions can mitigate potential risks, resolve conflicts, and ensure their rights are protected throughout the process.
Click To Tweet
Tips for Managing Costs and Negotiating Fees with a Real Estate Attorney
When it comes to managing costs and negotiating fees with a real estate attorney, there are several strategies you can employ:
Research and Compare: Take the time to research and compare different attorneys in your area. Look for reviews, testimonials, and their track record in real estate cases. This will help you find an attorney with reasonable fees and a good reputation.
Ask About Pricing Structure: Inquire about the attorney's pricing structure upfront. Understand whether they charge hourly rates or offer a flat fee for their services. This will give you a better idea of what to expect regarding costs.
Negotiate a Fee Agreement: Don't be afraid to negotiate the attorney's fee. Discuss your budget and see if they will accommodate or offer alternative billing options. Some attorneys may be open to negotiating a reduced price or a payment plan.

Clarify Scope of Work:

Communicate your needs and expectations to the attorney. Make sure you both have a mutual understanding of the scope of work involved. This can help avoid any unnecessary charges or misunderstandings later on.

Request a Fee Estimate:

Ask the attorney for a detailed fee estimate outlining potential costs. This should include their fees and any additional expenses that may arise during the legal process.
Open communication and transparency are key when managing costs with a real estate attorney. By following these tips, you can work towards finding an attorney who fits your budget while still providing quality legal representation.
When to Consult an Attorney for Your Case
If you're embarking on a real estate transaction, it's crucial to know when to seek the expertise of a real estate attorney.
Consider consulting a real estate attorney:
When dealing with complex legal issues: Real estate transactions can involve intricate legal processes, such as zoning complications or dispute resolution. A real estate attorney can navigate these complexities and provide valuable guidance.
When facing contractual challenges: If you encounter issues with contracts, negotiations, or terms that require legal interpretation, a real estate attorney can review and advise on the legal implications.
Before signing any legal documents: To ensure your best interests are protected, it's essential to have a real estate attorney review any contracts, agreements, or necessary paperwork involved in the transaction.
When encountering potential legal risks: If there are concerns about title defects, liens, or other legal risks related to the property, a real estate attorney can conduct thorough due diligence and help mitigate any potential issues.
Consulting a real estate attorney for your case at the right time can avoid costly mistakes, protect your legal rights, and ensure a smooth and legally sound real estate transaction.
Some States Require a Lawyer For Real Estate at The Closing
It is worth noting that in some states, a real estate attorney is mandatory at a closing. They include Alabama, Connecticut, Delaware, Washington, D.C., Florida, Georgia, Kansas, Kentucky, Maine, Maryland, Massachusetts, Mississippi, New Hampshire, New Jersey, New York, North Dakota, Pennsylvania, Rhode Island, South Carolina, Vermont, Virginia, and West Virginia.
Final Thoughts on the Cost of Real Estate Attorneys
When hiring a real estate attorney, understanding the cost is crucial. Factors like the complexity of the case and the attorney's experience can influence the fees. Hourly rates and flat fees are common pricing structures, with a wide range of costs depending on the type of real estate transaction.
Considering the long-term benefits and potential cost savings of hiring a real estate attorney is essential. They can provide invaluable contract and document preparation guidance, covering all legal aspects. Additionally, real estate attorneys play a critical role in the closing process, safeguarding the interests of all parties involved.
Understanding the value and benefits of hiring a qualified real estate attorney is crucial in navigating legal complexities and protecting your interests. Consulting a real estate attorney for residential or commercial transactions can save you significant time, money, and potential legal issues.
---
About the Author: The above Real Estate information on the cost of a real estate attorney was provided by Bill Gassett, a Nationally recognized leader in his field. Bill has expertise in mortgages, financing, moving, home improvement, and general real estate. Learn more about Bill Gassett and the publications he has been featured in. Bill can be reached via email at billgassett@remaxexec.com or by phone at 508-625-0191. Bill has helped people move in and out of Metrowest towns for the last 37+ years.
Are you thinking of selling your home? I am passionate about real estate and love sharing my marketing expertise!
I service Real Estate Sales in the following Metrowest MA towns: Ashland, Bellingham, Douglas, Framingham, Franklin, Grafton, Holliston, Hopkinton, Hopedale, Medway, Mendon, Milford, Millbury, Millville, Natick, Northborough, Northbridge, Shrewsbury, Southborough, Sutton, Wayland, Westborough, Whitinsville, Worcester, Upton, and Uxbridge MA.
Summary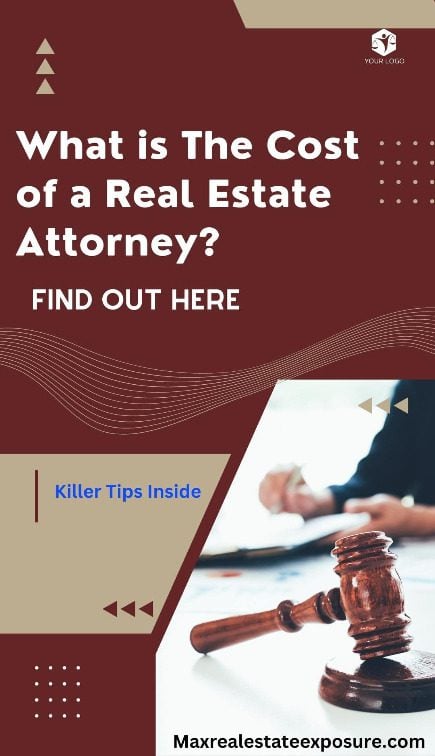 Article Name
Cost of a Real Estate Attorney: Lawyers Fees Explained
Description
See the cost of a real estate attorney. Learn what an attorney for real estate does to earn their lawyer fees for buyers and sellers.
Author
Publisher Name
Maximum Real Estate Exposure
Publisher Logo