Popcorn Ceiling Removal Tips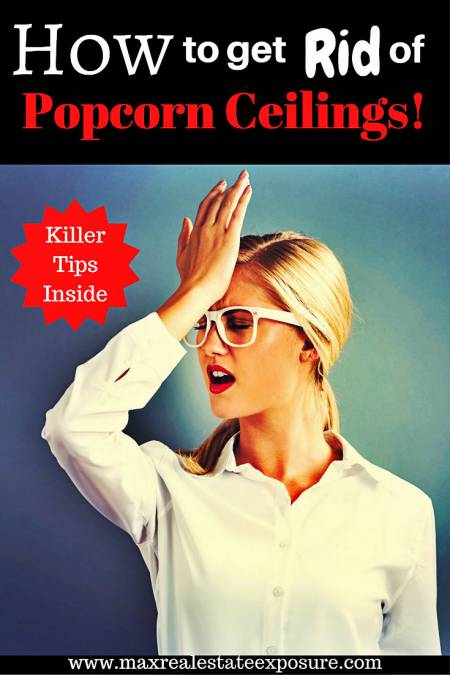 One of the more popular home renovation searches is how to remove a popcorn ceiling.
With good reason as popcorn ceilings are no longer an appealing feature in today's homes. In many areas of the country, popcorn ceiling removal has become a big business.
Popcorn ceilings were all the rage in the 1960s and for many years after – partly because people liked them and partly because they made building homes that much easier.
As a builder, you didn't have to create a perfect ceiling with all its tough angles and lines. You could just popcorn the ceiling instead, which covered up any imperfections.
Today, few buyers are interested in retaining the popcorn material on their ceilings. The material and texture is unattractive, tends to hold on to dust, and makes a space seem smaller and less appealing.
So how hard is it to get rid of the popcorn ceiling? Fortunately, there are several ways to take back your ceiling, one of which is sure to fit your needs and your goals for your home.
If you are going to be selling your home, removing a popcorn ceiling can go a long way in helping it sell quicker and for more money.
Today, many buyers lack the time, motivation, or inclination to take on a popcorn ceiling removal project.
Heck, many buyers will see a home filled with wallpaper and will balk if they have to remove it. This is why so many real estate agents talk about making homes more appealing before they hit the market.
Removing wallpaper certainly falls into that category. Wallpaper dates a house. Most buyers don't want it as it is extremely personalized.
Removing things like popcorn ceilings and wallpaper is always a good thing when it comes time to sell your property. If you think that popcorn ceilings may come back in style, don't count on it!
How to Remove Popcorn Ceilings
1. Scrape First When Removing a Popcorn Ceiling

Most resources will tell you to spray the ceiling material and then scrape it off. While there are advantages to spraying – the material comes off more quickly – there are also risks to applying water to your ceiling. The ceiling may absorb water and become damaged. The popcorn material will also absorb water and become difficult to manage.
To use the scraping method, it is best to use a utility knife and chip away at the popcorn material to break it away from the ceiling material underneath. Chances are, there will still be imperfections in the ceiling, so you will probably want to smooth over some joint compound and sand the ceiling before you paint.
You can do all your scraping from a ladder, but consider getting a lift or at least a platform to use while you scrape. You may be scraping for hours, and having a stable base to work on will be worth a little extra cost.
Scraping will also be involved if the popcorn was painted, as the material most likely soaked up the paint. A utility knife won't be sufficient to scrape through the paint. If asbestos or lead paint is a concern, choose another option below.
Watch Out For Asbestos in Popcorn Ceiling Removal!
CAUTION: Popcorn ceilings were often contained lead and asbestos before 1979. Do not scrape your ceiling if the popcorn was applied before 1979.
If you are not familiar with asbestos, it is a substance that has been known to cause cancer. It has been banned in more than fifty countries, although surprisingly not the United States. Asbestos is not something you want to take chances with as it is highly toxic! Asbestos is a primary cause of Mesothelioma cancer.
Here is a good reference on how to find out if your popcorn ceiling has asbestos. Testing a popcorn ceiling for the presence of asbestos can be done by carefully scraping a small sample into a plastic bag and having it tested at an EPA-accredited lab.
Homeowners are permitted to remove popcorn ceilings that contain asbestos; however, it would be more prudent to hire an asbestos remediation company to do the work. By hiring a specialist, you won't have to worry about disposing of the popcorn ceiling.
Removing popcorn ceilings has its risks so think it over carefully before proceeding.
2. Use Drywall to Cover The Popcorn Ceiling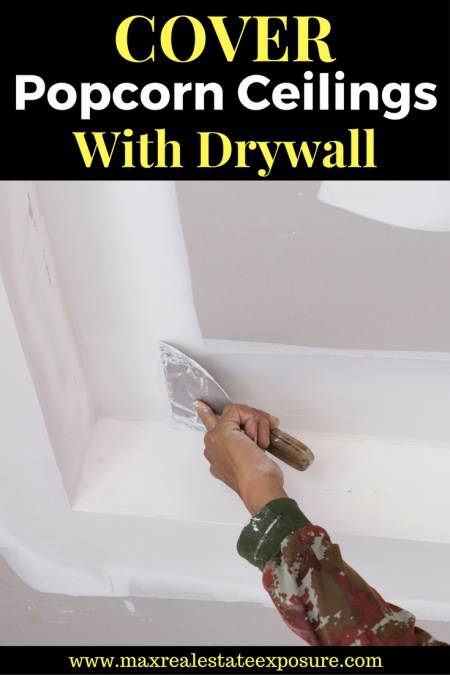 The danger presented by asbestos is only significant if it becomes airborne. If you can keep the asbestos contained, it won't present any threat.
There are drywall products available that are lighter than the drywall you put on your walls, products that are perfect for mounting on the ceiling – on top of the popcorn – to create a smooth surface and to contain the dangerous material.
When removing a popcorn ceiling, using drywall can be more challenging than scraping, and it does require more money, tools, and some help from another person.
You will need to screw in the drywall and apply mud and tape to get the look you want – one that is smooth instead of showing seams.
Having someone to help you move and position the boards is a great help too. Keep in mind that while you can use a few ladders to get up to the ceiling, you will be much happier if you rent a small lift to provide a raised platform to work from. Less fatigue for you, and an easier time ensuring that every little detail is right.
If you are not comfortable with putting up the drywall, you are not alone. Doing it correctly does take a bit more skill than just scraping away the popcorn. It may be worth hiring a contractor to come in and do the job if you want to make sure that your ceiling looks exactly like you want it to.
The Family Handy Man has an excellent article on how to cover a popcorn ceiling with drywall. It is worth checking out!
3. Applying a New Design With a Skim Coat
Although smooth ceilings are desirable in many home renovation projects, there is still a place for texture other than popcorn. Some owners want to achieve a textured look in older homes to regain the original look – the one that existed before popcorn ceilings become a hit.
You can create your own texture with some drywall mud, joint compound, and a finishing compound. Using a tool like a knife or a trowel, you can create your own design for a custom texture that is much more expressive than a simple, smooth ceiling.
The process you use is important here, as trying to apply a ready-mixed joint compound directly on the ceiling may cause some shrinkage. You want to apply quick-set drywall mud first, directly on the ceiling, to create a base that you can then apply the joint compound.
Before you start slapping up mud on the ceiling, bring in a contractor to verify that your ceiling is capable of handling the added weight of the mud and joint compound. Older homes can be brittle at times, and the last thing you want is for the ceiling to fall in after you have gone through all the hard work to improve it.
4. Going Over The Popcorn Ceiling With Wood Instead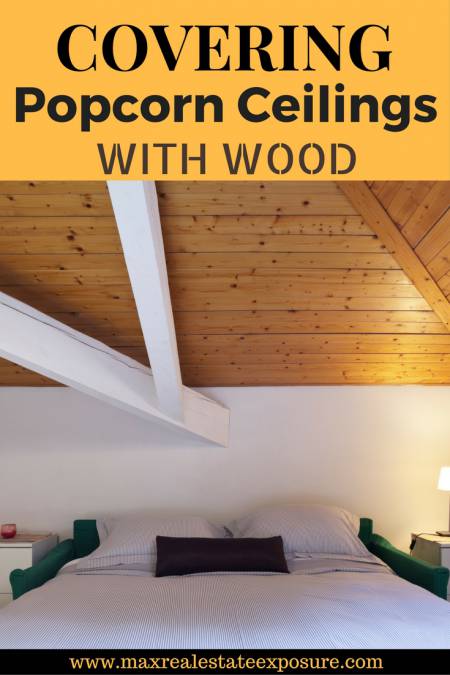 Given that popcorn ceiling removal is such a challenge, you may want to consider another option. One possibility is to skip removing the popcorn ceiling altogether and instead apply wood over it.
Using wood can make a room far more impressive. By adding wood, you are not only making the room look more handsome but are in the process of making the popcorn ceiling go away.
Homebuyers love to see details such as wood ceilings. Of course, adding wood ceilings to every room in your home would be quite a project and not one worth taking on.
You would use a wood ceiling in a couple of rooms. Maybe your family room and master bedroom would be good options. These are two important rooms in the home that wood would add charm and character.
Armstrong also has some other alternatives to make a bold statement with your ceilings. Check out some of the other alternatives for covering those ugly popcorn ceilings.
Real Estate agents are always recommending ways to make a property more desirable. Add touches such as this can make an impression on home buyers.
DIY vs. Contractor For Popcorn Ceiling Removal
The popcorn ceiling has got to go. You know that much. But is it best for you to do the job, or for you to hire someone else to do it?
DIY means you will save money, so it has distinct advantages. However, you want a good finished product, so do your research and verify that you feel comfortable with the process you choose.
Scraping all day may be doable, while fitting drywall, mudding, and seam taping may be less appealing.
Remember, it is better to spend a little more money and be happy with the final product than to find yourself in the middle of a botched job that may be much harder to repair and correct halfway through.
You could try giving it a shot in a smaller room, and if it doesn't work out, hire a contractor instead. Remember, shoddy workmanship will be just as bad as having the popcorn ceiling when it comes time to sell your place. Ceiling popcorn removal almost always looks better when done by a pro.
How to Find a Popcorn Ceiling Removal Contractor?
If you decide that popcorn ceiling removal really isn't something you want to tackle yourself, you'll need to find a local professional. If you don't know of any specific popcorn ceiling removal contractors, you may want to ask around with other construction professionals. They may be able to offer some recommendations.
Another thing you can do is an online search. I would recommend a search term such as popcorn ceiling removal near me, removing popcorn ceiling near me, or ceiling popcorn removal near me. You should see some potential contractors in your general location.
How Much Does Removing Popcorn Ceilings Cost
The biggest concern among homeowners when it comes to removing popcorn ceilings is how much it will cost. Removing a popcorn ceiling does not have to be a huge expense. On average, popcorn ceiling removal costs anywhere from $1 to $2 per square foot. For an average size home, you are looking at around a couple thousand dollars.
Getting your ceilings textured and painted after removal could certainly add expense. Going with a smooth ceiling will more than likely add cost as it is more labor-intensive to install.
You can try to reduce the cost by removing all furniture before professionals arrive. It would also be prudent to test the ceiling for asbestos to determine whether removal can be done safely without assistance. Otherwise, you can plan on these items being an additional expense.
See a Video on How to Remove Popcorn Ceilings
Sometimes watching a video on certain home improvements can be really helpful. Knowing how to get rid of a popcorn ceiling is one of them. Take a look here at the video on popcorn ceiling removal.

Final Thoughts on How to Remove Popcorn Ceilings

Removing a popcorn ceiling can be a wise move especially when you are selling your home. Be sure to research your method of popcorn ceiling removal carefully. Always do your due diligence in discovering whether there is asbestos or not.
Getting rid of a popcorn ceiling can be easier than you think as long as you plan ahead. Hopefully, you have found this guide to popcorn ceiling removal to be useful. Best of luck!
Additional Helpful Home Improvement Advice
Improvements that make your house easier to sell – do you want to make your house far easier to sell? Easy question, right? See some excellent improvements you can make that will make your home selling experience a better one.
Remodeling mistakes to avoid – when you will be selling a house, you can't afford to make remodeling mistakes. Learn what some of the more common mistakes are so you can avoid them.
Improvements that increase a home's value – there are some specific home improvements you can make to a property that will make a real difference when it comes time to sell. Learn the improvements that have a healthy return on investment.
Use the above additional resources to make wise choices when it comes to home improvements. Don't assume every home improvement you make adds money when it comes time to sell. This is one of the biggest misconceptions with homeowners.
---
About the Author: The above Real Estate information on how to remove a popcorn ceiling was provided by Bill Gassett, a Nationally recognized leader in his field. Bill can be reached via email at [email protected] or by phone at 508-625-0191. Bill has helped people move in and out of many Metrowest towns for the last 34+ Years.
Are you thinking of selling your home? I have a passion for Real Estate and love to share my marketing expertise!
I service Real Estate Sales in the following Metrowest MA towns: Ashland, Bellingham, Douglas, Framingham, Franklin, Grafton, Holliston, Hopkinton, Hopedale, Medway, Mendon, Milford, Millbury, Millville, Northborough, Northbridge, Shrewsbury, Southborough, Sutton, Wayland, Westborough, Whitinsville, Worcester, Upton, and Uxbridge MA.